I feel valued by my teammates and staff here. I don't really worry about being unsung because everyone in this team is valued the same whether we're scoring the goals or not.
Keira Walsh
Keira Walsh, like several England players, is enjoying a social media detox during the European Championships.
While some are happy to share their thoughts on Twitter or Instagram during the tournament and others have left their accounts in the hands of agents, some have switched off altogether.
For 25-year-old Walsh, a full shutdown is understandable given the criticism she experienced three years ago as a mere 22-year-old in her first tournament with the England senior team.
It therefore feels somewhat of a shame that she's not experiencing the current praise she is receiving. While the goals of Beth Mead, Alessia Russo, Ellen White, and company have caught the eye, the Manchester City midfielder has been superb in all three of the Lionesses games so far, and is arguably one of the players of the tournament.
Walsh, though, says she is enjoying this tournament more than the last ahead of Wednesday's crunch quarterfinal against Spain, which in the end of is all that matters to the midfielder.
"Sarina [Wiegman] definitely takes the pressure off the whole team in general," she said. "She puts a massive emphasis on positivity, she knows if we're enjoying it we will play our best football individually and collectively.
"There's been a whole buzz around the tournament and I think you can see that in the team's performances."
While initially keen to stay away from social media because of the negativity it can bring, Walsh admits it's important for her and the team to not get swept away in all the positivity now being aimed toward the squad.
"We don't want to disrespect the opposition in thinking we will win. Whatever people are saying, there are some very good teams in this tournament and for us, we want to play good football and make the nation proud.
"If we're doing that, that takes the pressure off and we don't really have to worry about anything else."
Walsh has played every minute of the tournament and excelled in all of them, with her performance in the middle of the park against Norway in Brighton particularly catching the eye.
At 25, Walsh is entering the peak years of her career and highly thought of by many in the game, and the midfielder admits she feels "valued" and isn't worried about being the hero or the key player.
"I've been really enjoying the games so far," she said. "I feel valued by my teammates and staff here. I don't really worry about being unsung because everyone in this team is valued the same whether we're scoring the goals or not."
It's fair to say Wiegman's attacking approach has also suited Walsh, although she believes it's been a change off the field rather than on it that has brought out the best not just in her, but in the whole squad.
"For me personally, it's not about your ability, it's about the mindset. Sarina takes the pressure off in that sense, she's always encouraging us to play forwards.
"She's not going to shout at us or belittle us for making mistakes, that's part of the game and that helps give me the confidence and I know the other girls feel the same."
Walsh became a regular in the England team under previous head coach Phil Neville and has retained that status under Wiegman, and offered an insight into the differences England has experienced as they remain unbeaten under the Euro 2017-winning head coach.
"I think, first off, her and her assistant [Arjan Veurink] have a really good balance and work well together. That's been the biggest thing I've noticed — they make a good pair.
"Sarina's so controlled, everybody knows their job, everyone's enjoyed playing under her and she's very meticulous in how she works, very to the point. You know where you're stood with her, there's no questions, or talking behind the scenes. Everyone's on the same page, it's really positive and you can see that in how we're playing."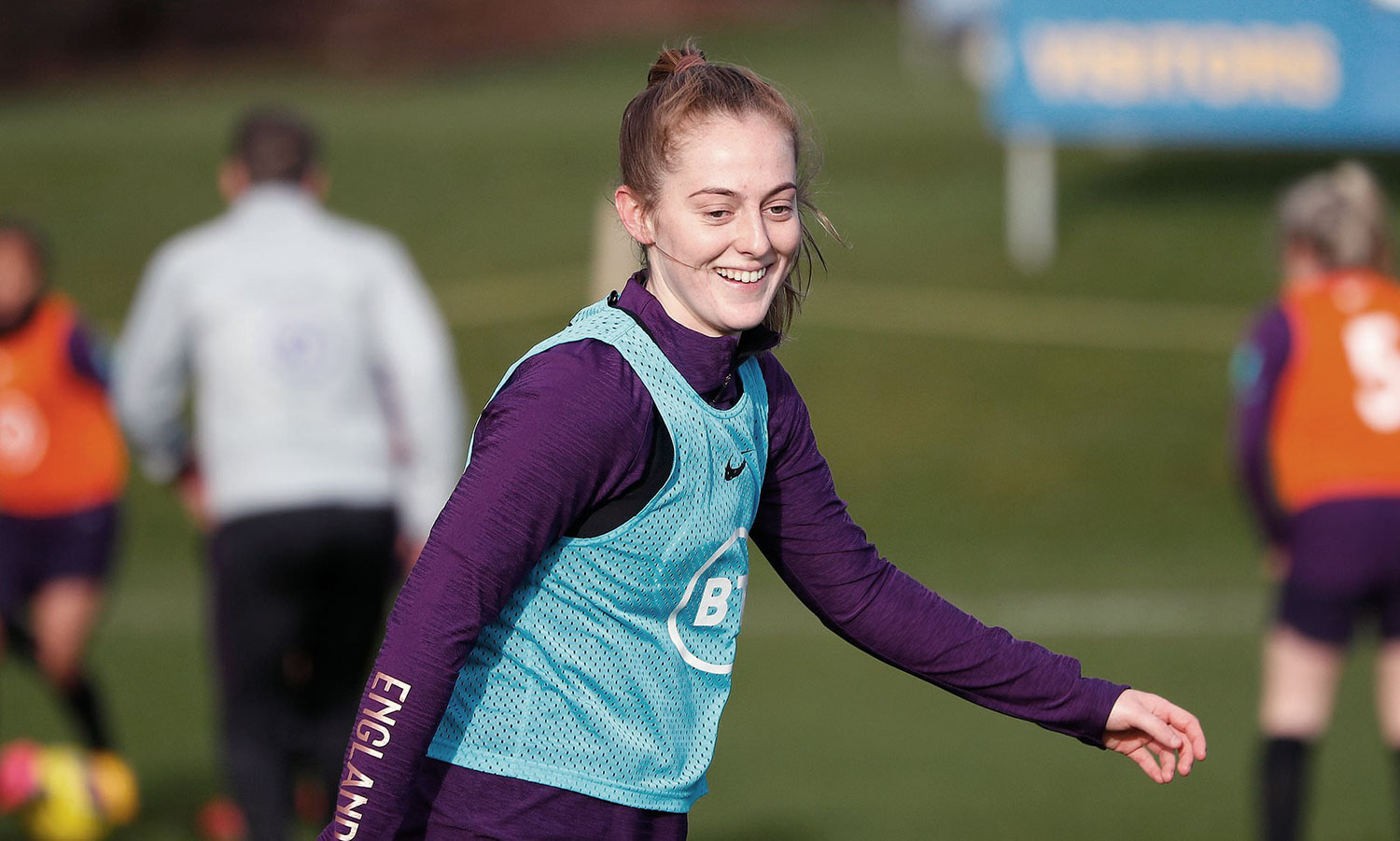 Wiegman is yet to rotate in the tournament, a hallmark of her previous runs to major finals with the Netherlands, and bar injuries or COVID-19, it's hard to envisage any changes to the starting XI on Wednesday night either.
But as was visible in the team's warm-up games, Wiegman's substitutions have had a huge impact in the tournament, and Walsh credits the head coach by bringing in a newfound belief that everyone has a role to play, and therefore doesn't believe a lack of rotation is affecting morale in those not starting.
"I think for us as a group, we have more belief in each other," she admitted. "That's the main thing Sarina's brought in. In the past, we probably spent a lot of time looking at other teams too much. If you're in a meeting talking about how good other teams are or other players are, it does get in your head a little bit.
"She's no-nonsense like that, on the training pitch it's about us and what we do. We're not doubting Spain and their ability, but for her and us it's about our style and working on that.
"For us, we don't know what the team is going to be," Walsh added. "The rhythm we've kept in games has been important. The emphasis on the subs, the impact they've had has been incredible.
"You've seen top performances and what's been so special is everyone's had an impact. It's not just about any specific players, it's about the whole 23."
After three wins, 14 goals, and three clean sheets, a Spain team with top-class talent should be the toughest test for Walsh and her teammates so far, but Jorge Vilda's side has been less than convincing after a defeat to Germany followed up by a nervy late win against Denmark.
Walsh of all people, however, is well versed in Spanish football, having grown up with a father who both watched and admired the game in Spain.
"I definitely grew up watching the Spanish players. My dad definitely tried to get me to grow up being influenced by them — I don't know if he succeeded or not! They're incredible; watching Barcelona, they're incredible, but we have incredible players I play with day in, day out. For me, like I said, it's about us and we want to have a real positive attitude towards it.
"My dad is just a massive football fan. He always had games on and a lot was Barcelona and La Liga. When Man City played, he'd say, 'Look at [David] Silva and [Yaya] Touré and how they play.' it was their movement and how they check their shoulders. How I see the game was influenced by that really."
While England have enjoyed the lion's share of possession in games so far, unsurprisingly, the only team which has had more is Spain.
It might mean England doesn't have the ball as much against a team that likes to dominate the game on the ball, but Walsh says they won't go out purposefully to change their game plan.
"Obviously, they'll be looking to keep the ball a lot, but the emphasis for us is keep doing what we're doing and been doing. We don't want to play into their hands and keep giving the ball back. We're coming up against some top players and for us, we want to keep them quiet and I'm sure they'll want to do the same to us."
However, preparation hasn't been 100 percent ideal. Record-breaking temperatures on Monday meant a shift to an earlier training time to avoid the peak afternoon heat, and with temperatures set to rise again on Tuesday, things haven't been quite as smooth as usual, particularly with Wiegman still missing after testing positive for COVID-19 before the Northern Ireland match.
Regarding the weather, Walsh had a typically English sense of humor about the whole thing.
"I'm definitely glad we went out a bit earlier, it would have been unbearable in the afternoon. We have our process, drinks are always available. I'm from Manchester, so I'm used to a bit of rain, so it's not too bad to have a little bit of nice weather in England for once.
"It's fair to say nobody expected it to be this hot. It's unusual for England. The biggest thing for us is hydration. We weigh ourselves before and after training to make sure we haven't lost too much. We do a lot of recovery — there's a lot more girls going in the ice bath today, it's fair to say!"
W
ith no Wiegman, assistant head coach Veurink took charge of the 5–0 win over Northern Ireland, and Walsh credited the whole setup for how normal things have remained, even with their head coach only able to influence things virtually for the time being.
"It's a bit strange that she's not been here, but the rest of the staff have made it seamless," she said. "She's on the big screen in meetings and I think processes have been put in place beforehand and the players have been great.
"We do miss her, but it's not been as big a transition as people on the outside might think. We have things to be doing, things to focus on. She's been on the meetings, watching training from a distance, so she's still very much involved."