I drove to work this morning and there's Leah Williamson on a billboard, there was none of that back then.
Hope Powell
"We weren't prepared for that, nobody was prepared for that," recalled Hope Powell, the head coach of England back in 2005 and the woman tasked with leading her team out the last time a European Championships was hosted in the country — and the event in question was the opening game at the City of Manchester Stadium.
At a time where women's football wasn't professional, Powell's players all had jobs away from the pitch and supporters were not exactly filing through the turnstiles to watch a league that received zero TV coverage and very little media coverage, the 29,000-strong crowd that greeted Powell as she headed out for the warm-up was a shock to the system.
"When I walked out for the warm-up and heard that roar, I didn't expect that at all. I had to walk back in and just prepare the players," Powell continued. "This was going to be a bit different. You saw it in the game, some players weren't used to it, you couldn't hear each other.
"I'd never played in front of a crowd like that. In the dugout, you zone out, I do anyway, but for the players it was a bit different. The fact we won, the manner in which we won, that was brilliant. But when we walked out it was like, 'Oh my god.'"
A Different Time
The year 2005 was a different time for the women's game in England. While today the Lionesses are expected to challenge for the trophy and at the very least reach Wembley's showpiece final at the end of the month, the nation lagged behind the likes of Germany at the time, and their group opponents from Scandinavia just as much, particularly Sweden and Denmark.
The tournament was held solely in the northeast, with Manchester only hosting the opener before giving way to the other venues in Blackpool, Preston, Warrington, and Blackburn, with the latter's Ewood Park hosting the final.
While supporters flocked to see Powell's England, crowds at other games were more modest, with just more than 3,000 attending the opening game between the other two sides in England's group.
Despite the lack of buildup compared to today, it was no less exciting for those lucky enough to be involved.
"To play in a home Euros is exciting whatever time it is," said Kelly Smith, one of the team's icons at that point in time. "I don't think a lot of the country really knew the Euros was going on because there wasn't the publicity, all the media stuff the players are doing now.
"There were no sell-out crowds. There were 29,000 at the Etihad against Finland, but the overall hype wasn't there, but it was still special to represent England at a home tournament."
Smith's Arsenal teammate Faye White was the player tasked with captaining her side into a home tournament. A tough and commanding center back, White was the player most tasked with promoting the tournament as the captain.
"I remember the amount of media work I had to do around that to try and get it out there," White recalled. "29,000 came to the Etihad, but if you weren't in the northwest, you didn't really hear about it.
"I remember being on the coach on the way up and when we went to move our camp nearer to Manchester, there were banners and posters and that started to feel very real, but if you weren't there you wouldn't have known."
Night and Day
In a tournament with just eight teams, England was always destined to be placed in a tough group, and were drawn with not just one team from Scandinavia, but three:  Finland joining Sweden and Denmark in Group A.
It would be Finland who were first up in Manchester, before their toughest tests came in the days later, games which would decide whether they progressed to the semifinals or not. Even if expectations were somewhat different 17 years ago, the players felt the pressure to succeed as the game struggled to grow domestically.
"The pride was the really big thing," said White. "That feeling of pressure, of wanting to deliver. We knew the further we could go, the more likely the coverage would get picked up.
"It felt like a major tournament. Families were walking up to the stadiums, to me that was the first real time it felt like a men's game. It had happened in other countries when we'd played in Germany or the USA, but it was the first time any of us had experienced it in England."
The buildup was more football-related for some players, with youngster Amanda Barr on a football scholarship at Loughborough University at the time as part of the FA's work to try and improve standards within the women's game, which meant the Birmingham City midfielder was able to train regularly in order to get up to speed ahead of the tournament.
"We did have some quite regular meet-ups in the months building up to the tournament," recalled Barr, who now coaches children to prepare them for grassroots level. "We spent more time together as a squad than we did at home and that was just Hope preparing us the best she could with what we had.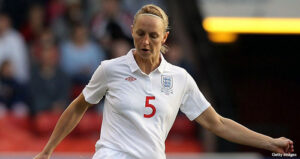 "We were still in a fortunate position that the FA could fund those meets and that we could come together as a squad. I remember the hard work, the early mornings, the late nights, just preparing for that tournament."
While many players were in full-time education, Barr admits she was one of the "lucky ones" in that her scholarship largely her allowed to train full-time, something other nations around Europe had the luxury of, but for England it was reserved to just a handful of young players.
"For me, it was 6 a.m. wake-up calls, then first training session at 7 a.m., out to lectures, and then another training session around 4 p.m. Go home, have some food, and sometimes then even a third session in the evening.
"England had a good relationship with the colleges and universities. Even if we needed time away, we could do it, but it was stressful knowing I'd have a month of catching up to do when I got out of a tournament."
For Powell, it meant she was up against it compared to nations who had been pushing women's football for some time, with Sweden having already won a European Championships and Denmark also regulars at the deep end of tournaments.
"It's absolutely night and day," said Powell. "The players weren't professional, as much as I would argue the setup was good for the resources we had, we made it relatively professional.
"The players were pretty much unknown, there was limited attention around it, and the expectation was very different. Everything that's going on now was completely different to what it was then, but that shows the progression and the interest now, which is fantastic."
Dream Start
By the time the first game came around, the blue side of Manchester was at least ready for the occasion, with close to 30,000 in the stadium, something which at the time was unprecedented for the women's game in England post-ban.
White, Barr, and Smith all started that first game against Finland, a match that many hoped would set the tone for a special tournament for the hosts, and the match switched from end-to-end, with a dramatic finale.
"It was really special," said Smith. "I don't know how many tickets were freebies, nowadays people can't even get a ticket, the final has already sold out and we don't even know who's in it yet."
"It was a good four or five days before that game that I started to get nervous," White added. "Normally, it would be a day or two, but there was such a buildup to that specific game, the Etihad, it was all the adrenaline of it.
"I remember at the end of the game I felt so much more tired because of all the excitement. Seeing the crowd just added to that, it was such a strange mix of emotions."
After an early own goal had put England in the lead, it looked like the dream start to the tournament when Barr made it 2–0 shortly before the break, and for the Birmingham City player, it was more than just her goal that made the match one to remember.
"There were a few things really for me in that opening game," she recalled. "It was in the northwest and I'm from the northwest myself. It was at Man City's ground and my mum is a Man City fan and at the time she wasn't very well, so that was special for me. To score, that just topped it off, and the fact my mum was there to see it was such a great moment for me.
"When we would come out for games, you'd expect maybe one stand full, to have the whole stadium look really busy was definitely an eye-opener for me as a player. Fortunately for me, I played better in front of a crowd and I think as a team, the bigger the crowd, the better we played."
It was a nervy last half an hour when Anna-Kaisa Rantanen halved the deficit, and it looked like being a night to regret for England when Finland's star forward Laura Kalmari equalized with just two minutes to go.
But 17-year-old Karen Carney had other ideas. The creative midfielder looked like she'd set up the winner, only for Eniola Aluko to be denied by a good save, with the ball coming back to Carney who kept her composure in the second minute of stoppage time to send the ball past three Finnish defenders on the line and send the City of Manchester Stadium, and her teammates, wild.
"It was lovely," recalled Powell. "Karen being so young, scores the winning goal, Karen was such a talent. It was funny, I could see her running and I'm like, 'She's going to run to the bench, I can see her running to the bench, she's going to run to the bench, she's going to jump on me!' I could see it coming, but it was such a nice moment. The roar, winning the game, it was just special."
Media Matters
It's a sentiment and a memory that stands out for all of Carney's teammates too when asked about which one moment they all still recall, even nearly two decades on.
"Kaz coming on at 17 and scoring that goal," said Smith. "For her to get that acknowledgement as a young player coming through that system and to burst onto the scene like that was special for her and for us as a team."
Carney suddenly became the one everyone was talking about, but with a shy personality and being just a teenager, Powell admits she had to step in to stop things getting out of control.
"The press were all over Karen, all over her family, and I had to stop that, it was too much. She was 17 and it all just got a bit silly. Today, it would be managed better, the staff around it, it wouldn't fall on me which I felt it did at the time."
The fairy-tale start looked like it was continuing three days later when a penalty from youngster Fara Williams gave England a second-half lead against Denmark, and potential progression to the semifinals.
But a superb free kick from Merete Pedersen with 10 minutes to go, followed by an 88th-minute winner by Cathrine Paaske-Sørensen condemned England to defeat, with no late goal to save them this time.
In a make-or-break decider against Sweden, Anna Sjöström's early strike was the only goal of the game and sent the hosts out early, with Sweden and Finland heading into the semifinals.
"We were aware teams like Sweden were a little bit ahead of us at that moment in time because of what they were doing and how long they'd been doing it," said Barr. "We weren't stupid as a squad, we knew what we were up against, but we did believe to be honest.
"We'd done a lot of hard work and preparation and as a group and as an individual I felt we could compete and the scores reflected it. They were close games, one goal in every game, and you could tell by the disappointment in everyone's faces we believed we could get out of the group."
"We didn't really get much attention after it was over," Powell added, "it died off very quickly. We won at the Etihad, there was a lot of media attention around that and Kaz, but that was it. I drove to work this morning and there's Leah Williamson on a billboard, there was none of that back then."
Smith, one of the stars of the game anywhere in the world at that point, endured some bad press after the Sweden game for pulling the hair of an opponent, but she echoes Powell's view that any attention focused on the team died off very quickly once it was over.
"I was coming back from a metatarsal injury and one of the Swedish girls stood on my foot," she recalled. "I reacted and pulled one of her pigtails, I just remember that. They were the better side, though, they were always a big force, even back then and still now.
"It was a big opportunity for us to get more eyes on the game and develop it. There's an added pressure on you to perform and get an excitement around the team and we failed to do that, we weren't good enough for the quality of players we had at the time. The buzz died pretty quickly. The domestic league wasn't well publicized. We had poor crowds, nothing really changed. It was kind of like, 'Here's your tournament, here's your national team,' and then it just faded away again because you couldn't watch the league unless you were there."
A
s Powell put it earlier, the attention is "night and day" to what it is like building up to Euro 2022 when England hosts Austria, this time with the red side of Manchester playing the host.
With 70,000 supporters expected, the game has grown exponentially in the last 17 years, and all of those who took part in 2005 feel a sense of pride in playing a part in the game's growth to where it is now, even if it didn't benefit their own careers personally.
"I've been in it when you'd turn up on a Friday and play a game Sunday," said Powell. "I've slept on an airport floor before an international fixture. I'm just pleased the game has been afforded the luxury, the kudos, and the accolades it deserves, for both the players on the field and the people who have supported it off the field. For me, it's been a 40-year journey, it's been a long time."
"I do feel like we played our part," White said,  "like the players before we did. People like Hope, Gill Coultard, Debbie Bampton, et cetera. I felt that and when I speak to Steph or Jill or Ellen, they know it's their chance to profile the game. We knew when we were in a major tournament, it was our chance to showcase what we could do, but also drive the game on and Euro 2005 was the best chance to do that in front of our home fans."
"I think we've paved the way for the girls taking part this year," said Barr. "The good thing about us back in 2005 was there wasn't a lot of pressure on us. Other countries didn't expect much for us, but now they are expected to do well, to be out of their group, and go on and do well. As long as the players can soak that up, which I believe they can, take in the information given to them, they will do, but they have high expectations to live up to."