Next Wednesday will be a special night for every member of the 23-strong Lionesses squad when Euro 2022 kicks off in front of a sold-out Old Trafford when England hosts Austria, but it will be extra special for two Manchester United fans, and indeed, Manchester United players.
More so given perhaps Ella Toone and Alessia Russo wouldn't even have been involved had the tournament taken place as scheduled 12 months ago.
Twenty-two-year-old Toone may have had a better chance given she'd made herself at home in the England squad a few months earlier toward the start of 2021, but despite making her debut back in 2020, Russo didn't become a regular in the squad until the back end of last year.
Between good form for both club and country, Toone and Russo haven't just made their own individual cases for selection in the squad, but both will be in contention to start on Wednesday, with Toone again perhaps having the stronger case after 10 goals in 13 appearances so far and an eye-catching cameo against the Netherlands last week.
"I must have said thank you about six times," said Toone, when discussing being told she would be part of the squad by head coach Sarina Wiegman. "I honestly didn't know what else to say. It was just amazing and something that I've worked really hard towards this season.
"To hear her say she wanted me to be a part of the squad was really special and I couldn't wait to go and ring my mum and dad and just let them know."
Russo echoed her club-and-country teammate's thoughts, admitting it was a "nerve-racking" day waiting to find out if she'd be heading to her first major tournament.
"Everyone was apprehensive going into it because we have such a big pool of players and they are all so talented," said the 23-year-old. "Once you got that call it was like a weight lifted off your shoulders and we could really focus and kick on for the tournament."
While Toone will likely be deployed in her familiar role as a No. 10, where she has enjoyed so much success for her club, Russo can play a variety of roles across the forward line, with the ability to play as the striker or out on the wing.
Russo, though, says she's had no specific conversation with Wiegman about her role in the team and is enjoying learning from more experienced players such as current No. 9 Ellen White.
"No, I think I'm just carrying on soaking it all in and making sure I train hard every day and we'll see what happens. Obviously, it's my first major tournament, so I'm just really excited to be here and enjoy it and see how it goes down."
On learning from White's experience, Russo added: "I think it's nice actually, because you don't feel like there's that competition. I love learning off her, she's done it at the highest level for so many years and she's so successful as England's top scorer.
"For me, as a striker, I aspire to be that one day. To have her to learn from in the squad is really important for me and to train with her every day is great."
Both are two of nine players heading to their first major tournaments with the Lionesses this summer, albeit Toone was part of Hege Riise's Team GB squad last summer in Tokyo, as were several others.
Toone, too, has plenty of competition for places in her attacking midfield role and believes it helps having a mix of exciting young players to compete for places, but she is also learning off the more experienced heads like fellow midfielder Jill Scott.
"I think there's a great blend between youth and experience," she said. "Obviously, being a young player, having those people like Jill who has been there and done it and has been to major tournaments and has so much experience, it's so good for us to learn off her and to learn different things from her.
"if we're ever struggling, she'll probably be the one to kind of put her arm around us because she knows what it's like. I think the mix we have in the squad is really good and I feel like that's why we're really together because we have those older people to look up to and they always put their arm around you if you need any help."
With less than a week to go to the opener at Old Trafford, both players will be dreaming of the chance to score in the city they call home, with both players growing up as United fans in United families.
"I think there's a real excitement around all my friends and family and obviously, the girls here," said Russo.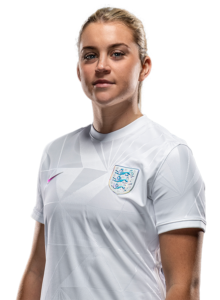 "I think not only is it great to have a Euros, but a home Euros is even better. The first game at Old Trafford and in front of a sold-out crowd, I think you couldn't really write a better story, so I think we're all super excited and raring to go now."
Toone is also dreaming of that chance to star on home soil and in one of the world's most historic football stadiums, even admitting she's always dreamt of scoring at Old Trafford and is plotting her celebration, just in case.
"I mean, it still doesn't seem that real," she laughed. "I feel like when the first game comes, that's when it will probably feel real. I think as a group we are quite good at just taking each day as it comes and not thinking too far ahead."
On what we can expect if she does find the net next week, Toone added: "I've always in my head ran over to the Stretford End, no matter where I'm scoring, I'm running to the Stretford End.
"I never usually do a knee slide, but for some reason when I dream about scoring at Old Trafford, I'm knee sliding, I've dreamt that a lot of times, way before this tournament!"
There's no doubt both players have benefited massively from Wiegman taking over as head coach, while also taking advantage of somewhat of a transition within the Lionesses squad, which has opened the door for half a dozen young players to secure first-time spots in a major tournament squad.
Both have looked at ease in the team when on the pitch under Wiegman and while both were merely teenagers when the former Netherlands head coach led her home nation to glory five years ago, they both value what Wiegman's history of winning will bring, especially to the younger players.
"It's massive," stated Toone. "I mean, she's been there and done it. I think that's why she's got the whole group behind her because we know what she's achieved and how much of a good coach she is. We're really buying into how she wants us to play and I think it's just really exciting. We've got a coach that we can really learn from.
"I think when she came in, she made that quite clear that she wanted a squad that was very together. I think since she's come in, we've really bonded as a group. Everyone has the same goal and everyone wants to achieve the same thing, I think that's what brought us really close together."
Russo added: "I think obviously since Sarina has come in we've adapted to her style of play and it fits us great, we've loved learning from her. She's a winner and we all want to be winners here too. There's lots of work to do, obviously, but yeah, it's great to have someone like her in and leading us up to this."