"She hasn't been on the conventional route, but that's what makes her story great."
Carlos Parra, former coach
T
hose are words of Carlos Parra, one of several coaches who worked with new Manchester United signing Martha Thomas during a childhood that saw the English-born Scotland international spend most of her years across the pond in the United States.
To say the striker's route to one of the biggest names in the world has been less than conventional would be an understatement. Having spent most of her life outside of England, Thomas joined French second division side Le Havre after leaving the U.S. before getting her FA Women's Super League break at West Ham United.
Origin Story
Those who know her best paint the picture of a humble, determined, and genuinely kindhearted young woman who has fought her way to the top while never forgetting nor letting go of where she came from.
Now 25, Thomas was born to a Scottish mum, Christine, and England dad, Andrew, and grew up in Dorchester with her parents and two older brothers, both of whom played football. Her great uncle, Jim Kirkland, also played football professionally in Scotland for Aberdeen.
Like many with older siblings, Martha keenly joined in and played coed football at every opportunity, even teaming up with dad Andrew to take on her two older brothers on trips to the local beach.
The pathway she would end up on began in 2001 when the family moved to Atlanta in the U.S. when dad Andrew got a new job across the Atlantic. There, she also spent time playing for a coed team before the family briefly returned to Dorchester in 2003 where she played for Dorchester Town for a season.
One year on and the family returned to the U.S., this time to Florida, the state where Thomas's fledgling career would kick into gear and where her family would call home for 16 years until they recently returned to Atlanta after their daughter began her professional career in Europe.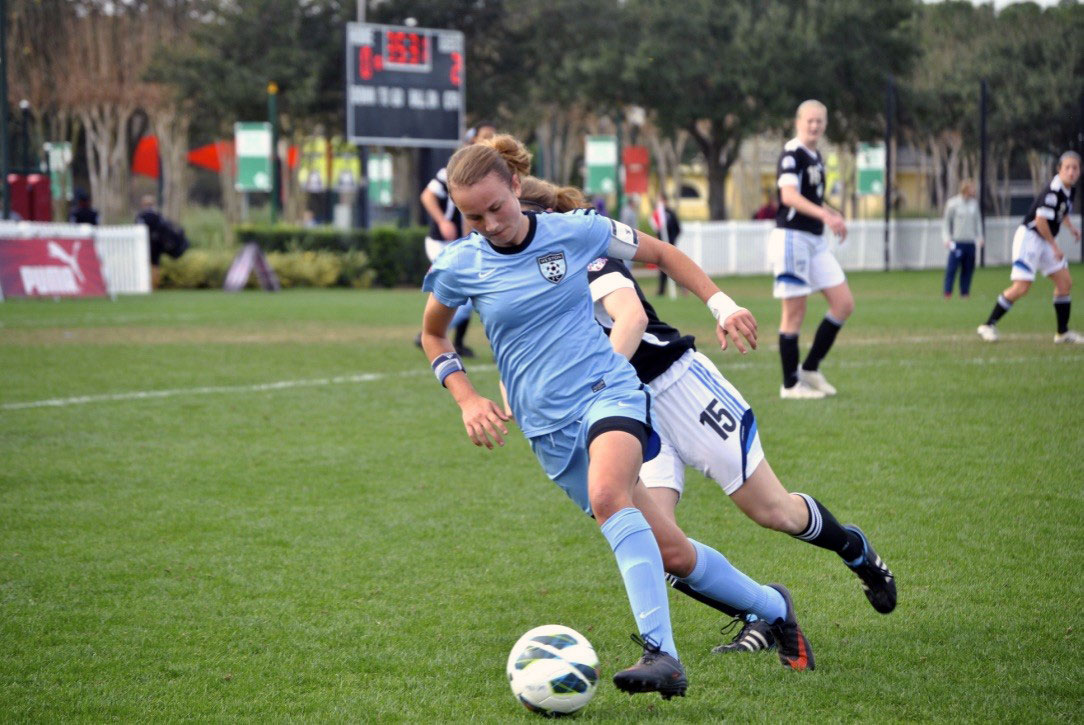 Thomas joined Weston FC, one of the largest youth clubs in the U.S., and initially played three-a-side.
In 2004, while just eight years old, Thomas was initially coached at Weston by Brian Dooley, now the head women's soccer coach at Arkansas State University.
"One of the things which stood out for me was she was one of the smallest, if not the smallest, players we had, but she wanted to be a goalkeeper," laughed Dooley.
"She always volunteered, you don't really have positions that young. She always had her gloves on and I just always remember the gloves being about as big as she was! She was very good to be fair, that's my first memory of Martha."
Early Success
Weston's stature as a top youth club meant they could attract several top coaches who would occasionally come and work with the girls, including Finland legend Anne Mäkinen and Scotland international Rhonda Jones, who would go on to amass more than 100 international caps for her country.
"With Martha at that stage it was about the fundamentals," recalled Dooley. "Ball control, rotating positions. Certain kids have a tendency to be better in certain areas, but they need an opportunity to move around at that age.
"Martha would excel no matter where you put her. She could score goals, she could create, and she was a good dribbler because she was small. You could see the potential was there to develop."
Weston soon became a sanctuary for the Thomas family. Both of Martha's older brothers also played for the club while dad Andrew was a volunteer assistant coach on Martha's team, and mum Christine still works for Weston to this day as an executive administrator.
"Her brothers actually worked with my sons at a local soccer store," said Dooley. "My eldest is still really close to them. Soccer brought us very close together and they're all still very close to this day."
After Dooley left and a change of coaches took place, Thomas and several other girls her age left Weston to play for rival side West Pines, located just next door to Weston. Thomas also started high school at the private American Heritage School in Plantation, Florida.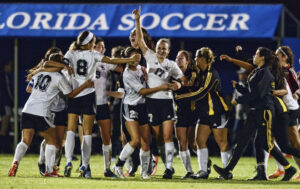 With West Pines she won the Florida State Cup and also won the high school state cup with American Heritage, before she and most of her teammates returned to Weston for their last three seasons before embarking on their college careers. This time she would work with top coach Carlos Parra, a former MLS and U.S. youth team international.
"Soccer was always on her mind," recalled Parra. "She'd come to the field wearing a Watford shirt because both her dad and her brother were Watford fans. That was my first impression, you can tell the girls who want to continue to play. She had a great attitude, she knew what she was doing right off the bat."
It was Parra who forged Thomas into the attacking midfield role she would hold down during her final seasons at Weston, despite now being best known as a center forward in England and for the Scotland National Team.
"She had a great IQ. She could shoot, pass, read the game. She was good at decision-making, she flourished because she could read the game, she would get into the right decisions and she had the vision to put the ball in behind, she was good for us in that position, but she could fluctuate between being a number 10 and a striker."
At 16, Thomas's personality as a genuinely humble person began to shine through. She would help Parra coach the younger girls at Weston who were embarking on the journey she herself had been on several years earlier.
"She was like a role model, the kids gravitated towards her," said Parra. "I had an Under-12s team and they loved Martha. They would come and watch her and she'd always go and talk to them, in her spare time she would travel with me and help coach them. Those girls are now in college and still ask about Martha and how she's doing — that says a lot about her character and her personality."
College Setback
As Thomas headed toward her college career, Weston FC embarked on several showcase tournaments around the country, games organized for college coaches around the U.S. to watch for potential players to sign for their college programs.
At one showcase, dad Andrew was tasked with handing brochures out to attending coaches that held information on each player, their shirt numbers, age, high school, their grades, and where they wanted to go to college.
One coach, John Cullen, from the University of North Carolina at Charlotte, guessed which player Andrew's daughter was based on her European playing style, and eventually persuaded both dad and daughter that Charlotte was the place for Thomas to spend her college career.
"I was watching a game at random, that's just what you do at these tournaments, and I saw Martha," recalled Cullen.
"She was a midfield player at the time on a steady team, an organized team, and what I liked about her was she was playing passes you'd expect a good striker to be leading onto. I just remember thinking, 'If she can pick out the pass, she'd be good enough to recognize them and get on the end of them too.' I thought if we could get her to Charlotte and get her as a number nine there was potential there."
Cullen watched her several times more over the coming months and was impressed by what he saw, and Thomas's college career in North Carolina officially got under way.
"I started to talk to her, talk to her family, and get to know them a bit more. I knew we weren't the only school pursuing her, but I think she was impressed by the vision we had for her. I told her I thought she had the ability to impact games higher up the pitch, she had the movement and intelligence to make that impact and that's just what I told her."
Thomas didn't take long to adapt. The now striker ended her first year with 11 goals, the best on her team, and was voted Conference USA Freshman of the Year.
"I don't think it took her any time at all," said Cullen. "She's got a football background, a football family, she watches a lot of football, she used to watch a lot of the Premier League over here.
"When you talked to her about players, who she admired, who she followed, you could see she knew her way around a football pitch. What I thought might be difficult was did we have the players who could get her the ball? But all I knew was I wanted to get this girl closer to the goal, she had an efficiency about her."
By the time she was ready to leave at the end of 2017, Thomas had racked up several more awards, both individually and with her team and was continuing to show the determination, leadership, and attitude which all her coaches have praised her for.
"She was the kind of girl who would ask questions at the end of every session. I told her in her freshman year I believed she could be the captain, and she was very young then, but she just wanted to learn and develop and drive both herself and her teammates on."
That attitude and willingness to be a team player was tested no stronger than in her last game for Charlotte in the Conference USA final at the end of 2017. Toward the end of the first half, Thomas tore her ACL, an injury that not only ended her game but also put her spot in the upcoming National Women's Soccer League draft at serious jeopardy.
"Heartbreaking moment for us, and her," recalled Cullen. "She knew she'd done something. We got her into the tent at halftime, we knew it was bad.
"But even in that moment where we all had a bit of numbness, she just turned it around on the girls and said, 'You've got this,' and we played really well in the second half and only lost on penalties. Her persona as a leader and as a captain — she was heartbroken that's where her college career was going to end — but her attitude gave us all the chance to focus on the game."
Cullen added: "She stood right behind me on crutches in the second half cheering the girls on, not back in the tent crying her eyes out feeling sorry for herself. She was stood behind me coaching and cheering. I don't think I could have reacted like that, she was just brilliant. She probably had all those things in her head, the draft and whatnot, but in that moment, she was all about the girls. That's why she was not just our best player, but our best teammate."
As it turned out, the inability to therefore enter the NWSL draft led to a move to French side Le Havre, along with several other U.S. college players including eventual West Ham teammate Courtney Brosnan, plus Ellie Leek and Rhian Cleverley, who both would eventually join Lewes FC.
Thomas, though, didn't forget her roots and sent Cullen a Le Havre jersey as soon as she moved to France as a thank you.
A
fter her goals helped Le Havre to promotion, Matt Beard, West Ham manager at the time, came calling. Following a glowing reference from U.S. Under-23s head coach BJ Snow, Beard took Thomas to England where her talents have now earned her a move to one of the biggest club names in the world — Manchester United.
"She's a special person," said Cullen. "I had no doubt this kid would get every ounce out of her talent. I think the United fans will gravitate towards her because she will work, she'll represent the badge. She's honest, she has integrity, she won't be petulant, she'll close defenders down, she'll put in the running, she'll win free kicks, she will hold the ball up.
"We'll be talking about her here in Charlotte for years to come. She doesn't forget where she's come from and the people who helped her. I don't think Man United will faze her because she believes in herself and it's no shock to me. She had a four-year career here and was named MVP all four seasons, you don't usually get that as a freshman. She brings it every game, every training session. She doesn't let adulation get to her head, she will represent Manchester United in a phenomenal way."
Dooley added, "She always had a smile on her face. She was always competing, always working hard, she was a joy to work with."
Parra, who had a big influence on Thomas's career, says, "Her route hasn't been conventional, but that's what gives other girls and boys that hope — there's other ways of getting to your final goal."