The reception was phenomenal. It was like the president arriving back after winning a war. Everything came to a standstill, everyone just wanted a piece of Banyana Banyana, it was like we'd won the World Cup.
Janine van Wyk
Janine Van Wyk says she "fell to the ground in relief" when South Africa qualified for their first Women's World Cup a year in advance of the 2019 tournament in France.
The 33-year-old captain of her country is her nation's most capped footballer and is approaching 200 caps, but had endured the torture of missing out on several tournaments before finally making it 12 months ago.
Speaking to Our Game Magazine as part of a new series looking back at the tournament in France one year on through the eyes of those who were there, Van Wyk describes how much the perception of women playing football in South Africa has changed, even before their journey to Europe last summer.
"It has changed tremendously," she said. "We still have some way to go to compare to American and European football. We're on the map, people are now recognizing women's football in the country, they recognize players walking down the street. It has come a long way and since I started, back then nobody really knew about the women's national team or even [if] there was women's football.
"The turnaround was after qualifying for the World Cup, but also the 2016 Olympic Games. We got our names out there, women's football was being talked about and then that led nicely into the World Cup. It was broadcast at home, people gathered in bars and clubs to watch us play and when we came back we had an amazing reception even though we didn't win one single game. People still came to celebrate us because we'd done so well and that was the point people really started to take interest. The up-and-coming girls are playing, our junior national teams are doing well, and that's despite not having a professional league. What we've done over the years is extraordinary, without the resources other countries might have. We've come far and hopefully in the next 10 years we'll be spoken about and known to the world."
2019 World Cup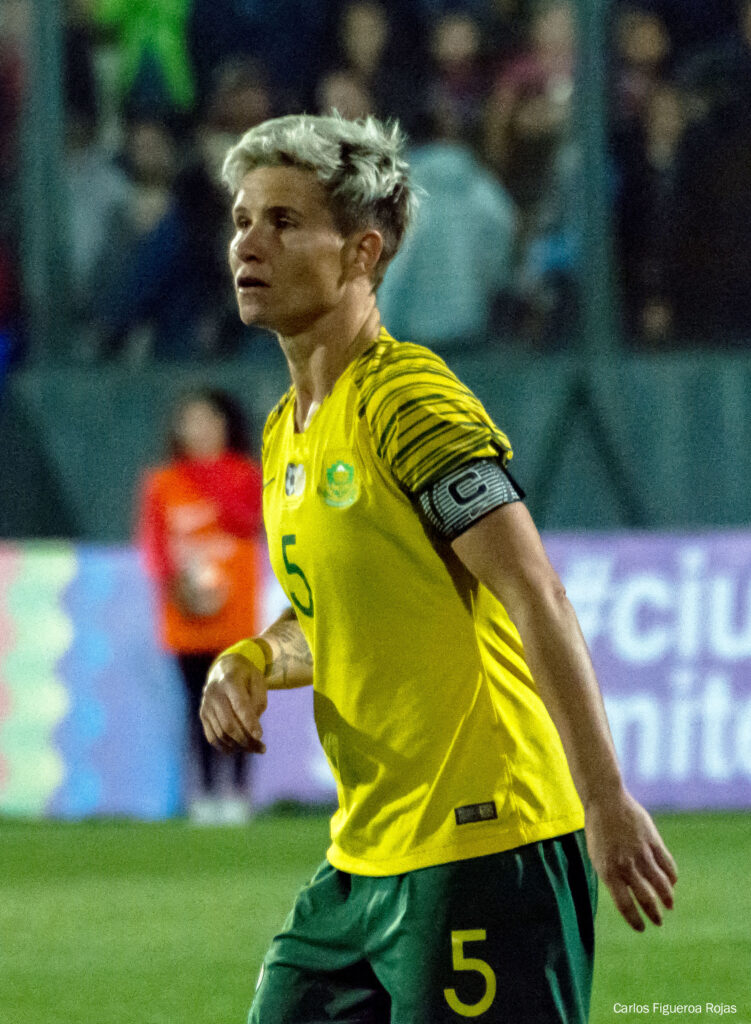 With women's football on the rise both on and off the field after South Africa made it to the 2016 Olympics in Rio de Janeiro, 2018 brought their best chance yet to make it to the biggest stage, an African Cup of Nations semifinal against Mali that stood between them and a plane to France.
A 2–0 win sealed Van Wyk's and her teammates spots on that plane, a moment that had been far too long in the making for the center back.
"That feeling, that moment. There were many moments before that we had failed to qualify against weaker teams and they were some of the saddest moments of my career, every time we failed to qualify.
"That moment we qualified against Mali, it wasn't one of the best football games we ever played, but we managed to win it and I remember just falling to the ground just from pure relief, joy, and emotion, I really couldn't believe at that time we had actually made it. I remember teammates jumping on me, we were all just crying tears of joy and I still have goose bumps still just thinking about that moment."
Twelve months on and South Africa joined their fellow 23 nations in France for the biggest Women's World Cup tournament to date. Back home, all the attention was on Van Wyk and the team as many around the country flocked to local bars and clubs to watch the team in their opener against a strong European side in Spain.
Group B also meant Banyana Banyana would come up against giants former World Champions Germany and former finalists China. They would go home without a point but would by no means disgrace themselves, actually taking the lead in their opening game and on another day it could have been a very different result.
After taking a 1–0 lead, two penalties from the 70th minute onward turned the game in Spain's favor, before Lucía García added a third in the final minute, but Van Wyk has only positive and proud memories of the occasion.
"It was very memorable, one of the biggest highlights in my career and my journey," she recalled. "I was thinking about it the other day, the feeling of walking out on the pitch knowing you're leading your team and your country onto the Women's World Cup stage for the first time. It was something I always dreamed of as a player and it was a goose bump moment knowing you're doing it for your country.
"It was pretty indescribable, that feeling when you're standing there singing the national anthem. I couldn't even sing because I had a huge lump in my throat. I knew if I had one word come out I would probably burst into tears, just because you have flashbacks of your whole journey, all the obstacles you faced in your childhood and through your career, the times you wanted to give up because women's football didn't always look like it had a promising future in our country. It was the same for many of my teammates — the first 10 minutes I remember not even just our fans were cheering when we scored the first goal. It was an incredible journey and an unforgettable moment."
On the game itself, Van Wyk believes her side could easily have shocked the more established European side but believes they proved they could go head-to-head with the best, backed up by a narrow 0–1 defeat to China in their second game.
"We could have done better looking back at it. The penalty, was it a penalty, wasn't it? Two penalties in one match can always be disputed but that's how it went and the game itself was a really good game, we were on fire. We were making our debuts against players who were well known around the world and we wanted to go out and prove a point that we belonged there and could compete against some of the best players in the world. By scoring that goal first, we already proved something but how it ended was a shame, it was game one but there were moments we could have done better and moments where we could have actually won the game."
The talent head coach Desiree Ellis has at her disposal is proven by the fact some players, including the defender, have received offers to go and play abroad.
Van Wyk spent two years in the National Women's Soccer League (NWSL) with the Houston Dash, joined in her second year by national teamteam mates Linda Motlhalo and Thembi Kgatlana. The latter pair would then head to China before splitting off to Sweden and Portugal. respectively, while Van Wyk also had a brief spell with Danish side Fortuna Hjørring before returning home.
"I always said once we qualified for a major tournament, the world would actually recognize the talent in South Africa, but until then we wouldn't be noticed or seen. I'm really happy because that's one of the reasons women's football has evolved in our country, players are going abroad to play and it's fantastic to see."
Making Progress
Despite coming back from France with no points, no wins, and only that solitary goal against Spain, Van Wyk says the team were welcomed back like "winners" given how far they'd progressed in such a short space of time.
"The reception was phenomenal," she said. "It was like the president arriving back after winning a war. Everything came to a standstill, everyone just wanted a piece of Banyana Banyana, it was like we'd won the World Cup. Even though we didn't do well and didn't win a game, it was as if we had given how people came and backed us from our own country. It was fantastic and special to see that support."
It's now one year to the day since that match against Spain and Van Wyk has also been reminiscing about the occasion on her social media feeds. Life is different for everyone now given the current situation with the COVID-19 pandemic, and particularly in South Africa where the football association had just launched a women's football league for the first time, which was supposed to kick off next month.
Van Wyk's own team which she launched in 2013 — JVW FC — will be a part of that league when it does finally kick off, and they signed world renowned athlete Caster Semenya to their side in 2019; Semenya has even spoke of her ambition to represent her national team in the future.
"It's not a professional league but it's a step towards it," Van Wyk said. "We still have that struggle of players juggling football and their daily jobs but it's a step in the right direction.
It's being played in all provinces. JVW have qualified for the national league which was meant to kick off in July but obviously that won't happen just yet, so we have to wait a little longer. We're locked down, the COVID-19 situation has happened, so everything's on pause but everyone's looking forward to the start of the new league."