Manchester United center back Millie Turner says every player "dreams" of playing in a Manchester derby ahead of next weekend's first clash between the two teams since their relative relaunches in 2014 and 2018, respectively.
The England Under-21 international, a self-confessed Manchester City fan growing up, was a constant at the back for Casey Stoney's side as they won promotion from the FA Women's Championship last season, and now she's looking forward to going head-to-head with one of the best sides in the country in front of thousands of fans at the Etihad Stadium next Saturday.
"It's a massive game," said Turner. "Every player dreams of playing in a Manchester derby so we're all really looking forward to it. We're all excited about it. We'll be ready for it. I actually called it, you know. I predicted that we were going to have City.
Both sides have recruited over the summer and there should be plenty of new faces on show when the two sides walk out next weekend, with United in particular having to recruit more quality and experience ahead of the step up to the Barclays Women's Super League.
Manager Stoney brought in Jane Ross, Hayley Ladd, Abbie McManus, and Jackie Groenen, with Mary Earps and Lotta Ökvist signed in response to Siobhan Chamberlain's pregnancy and Alex Greenwood's departure to Olympique Lyon.
"They've all brought a lot of experience in," said Turner. "That's what we needed. We're a young team in our second year of being a new club, so we needed a bit of experience coming in and they have brought that. It's been really good for us to learn off them. They'll push us on as a team."
With Stoney constantly referring to how tight-knit her squad was during their first season together, Turner shrugged off suggestions the arrivals, teamed with several departures, have disrupted the team's chemistry ahead of the new season.
"It's not broken up at all. The players that have come in have been perfect for us. They're all very good people and that's what Casey really prides herself on when bringing people in. They've all been great additions to the club. We're all just as tight as we have been — I feel like they've been here for ages."
Like many players who signed for the club last summer, Turner began her career in red but like her teammates, had to walk away at 16 with no pathway into a first team at the time.
Turner headed to Everton and then onto Bristol City where she earned a reputation as a talented young defender who could also play midfield, and it's no surprise she was instantly interested in returning to United when they got a place in the FA Women's Championship last summer.
"I spoke to my Dad about it and straightaway he said, 'That's going to be an unbelievable club,' and he wasn't wrong. It's been the best thing that I've personally ever done, and the best decision that I've ever made too, to come to a club like this.
"Just Katie Zelem was in my actual [year] group but we've got a few of the younger players who were there too. They were all buzzing just as much as me about coming back."
It's fair to say Turner is reaping the rewards of being involved with such a prestigious club too, recently flying first class to Shanghai for a club event, though the treat was a one-off, but shows some of the perks of playing for Manchester United.
"Things like that, it's just incredible. We flew first class on a plane — you get to lie down on it and everything! Even going to London on a first-class train, I'd never done that before, so things like that are just incredible. And just the support you get from the men's side and all the staff at Carrington, it's just incredible.
"We appreciate it massively. It just brings out how much we're all just one club, we want everyone to succeed in every department."
It's little more than six years since Turner was forced to leave behind United's academy and move to Everton, where she would sign her first professional contract at the start of the 2014 season and make her debut shortly afterwards.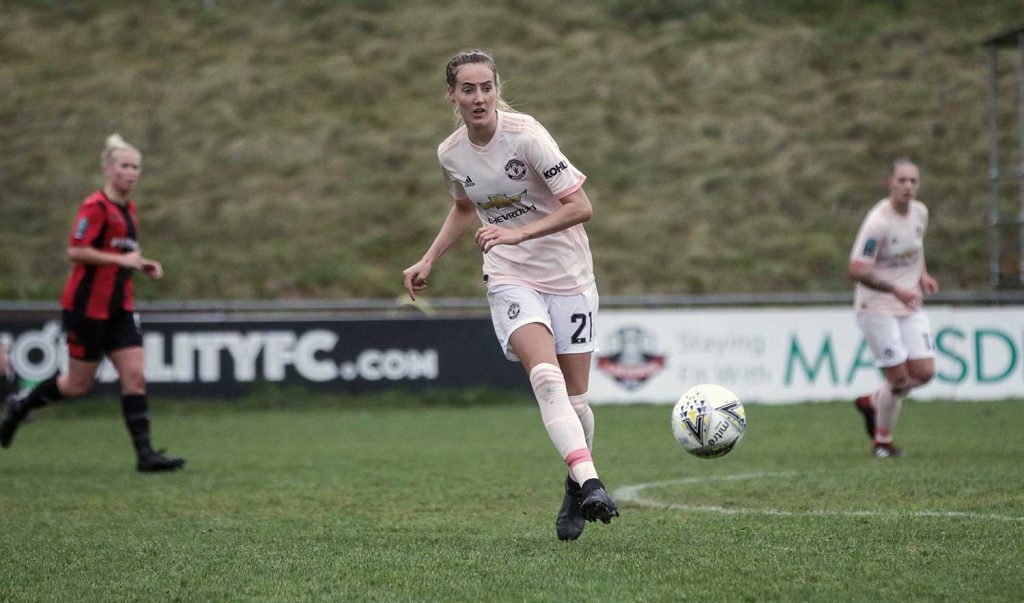 As an 18-year-old, she started the 2014 Women's FA Cup final in which Everton lost to an Arsenal side that had Stoney in the team, but as a midfielder at the time. Turner admits she wasn't "taking notes," but has learned a lot from her manager in the 12 months she's played under her in Manchester.
"I didn't really have many heroes in women's football growing up, but coming to United and learning off Casey, I think she is unbelievable, especially her being a center back and me being a center back. I've learned so much from her and I wouldn't want to be learning from anyone else.
Turner added, "She wants to win. She's very driven. She gets up at 5 a.m. and does a Wattbike session before we have training. That mentality that she has drives through all of us. It's important that she sets the standard and we work off that. She wouldn't want us to do anything she wouldn't do."
While not quite getting the hairdryer treatment, Turner admitted Stoney isn't afraid to give the team a stern talking to when necessary.
"No, she's definitely not! We've been on the receiving end of that a few times, but it's important. It keeps us on our toes. She's just got the perfect balance of everything. She's a very good person. She's strict when she needs to be but she's such a good leader for us to have."
Now back at the club she left six years ago, Turner says she has a "newfound respect" for Manchester United despite growing up as a City fan, adding she is "grateful" and "honored" to be a part of the club.
Turner gave serious thought to following in the footsteps of many players, including England internationals such as Lucy Bronze and Demi Stokes, in going to the United States when she departed United, but is glad she made the move into first-team football.
It's a club that has changed significantly since Turner departed, a far cry from training part-time, using artificial pitches, and cleaning their own boots.
"We still clean our own boots — we've not got anyone to do that yet," laughed Turner. "But when I first started playing, we used to train part-time at nights, I used to go after school and people used to come after work. We used to train in the dark, under floodlights, on artificial pitches, and now it's just incredible to see where it's gone. We've got our own pitch at Leigh Sports Village where we can train, and you get everything given to you. It's unbelievable to see how far the game's actually come, and it's still growing.
"I remember we used to just turn up, go to the gym, and take our bags out and put it on the pitch, and now we can actually leave our stuff in the changing rooms. It's the little things that you do really appreciate when you look back and see what you've had and what you do now. You really appreciate things. But I think that keeps your head on the ground as well, because you realize that you're lucky to be where you are."
Like many, Turner has sacrificed a lot to be in the position she is, but when she walks out at the Etihad next week she'll remember that focusing on football and not an alternative career was probably the best decision she ever made.
"Football's always been massive in my family, so it's all I've ever wanted to do. I never wanted to be anything else. People always used to say, 'Be a vet' or something, and I'd be like, 'No, I want to be a footballer.'"