Manchester City defender Demi Stokes says she wouldn't "change her path" as she prepares for the first Manchester derby of the FA Women's Super League era at the Etihad Stadium next week.
Off the back of this summer's World Cup with England, Stokes will be playing at the club's main stadium for the first time as the new FA WSL season kicks off in style against Casey Stoney's local rivals next Saturday afternoon.
The 27-year-old, like many, has been on quite a journey to reach the current stage of her career but back when the left back was breaking through in a talented Sunderland side, she didn't always enjoy the benefit of what the game offers her in 2019.
"We wouldn't change our paths if we could because it makes you the person you are and you probably wouldn't be there if you didn't have all that hardship," said Stokes.
"Like Jill [Scott] says, she had to do a job, then drive to Everton, then it's grab a cheese sandwich and you've got to train, be good in training, but then drive back up and do a bit of work before going back down. I think that is why, if you look at my generation and a bit older, they appreciate what they have and I think it is important, and it is our job, to make sure the youngsters know that. It is not character-building but we just need to make them aware that, actually, it hasn't always been like this."
Stokes added, "I think Rachel Brown, Rachel Yankey, they did that and put us in a good position but it is because of what they have done, not what we have done. I think for the youngsters coming through, even a chat with them at dinner, just sharing stories like when I had to ride my bike, I would play a game and ride by bike back home. It is just sharing experiences, because you can see them thinking, 'Bloody hell, my mum packed my bag and dropped me off!'"
It's eight years since Stokes waved goodbye to the north east and accepted a four-year scholarship at the University of South Florida, a journey which would end in a move to Manchester City, where she remains today as she prepares to begin her fifth full season with the club.
There aren't many firsts left to experience once you've won all three domestic trophies and played in the Champions League but a derby against United next week will provide a first for every single member of each squad, and it's an experience Stokes is thoroughly looking forward to.
"I feel like the interest for this game [is huge], everyone wants to come and they want to bring so-and-so and so-and-so and I am like, 'Alright!' I think it is really exciting because it is new opposition, we don't know what to expect from them, so I think it will be a good game.
"I think especially for me personally, for a first game of the season, loads of people want to come down and are asking, 'Is there a spare room?' and I'm like, 'Yeah, but there are already ten people coming!' But that is what we want, we want to fill stadiums and I think it is just the start of something."
On the game being played at the Etihad for just the second time since the club relaunched in 2014, Stokes added, "It was a massive boost to get the game at the Etihad. We're not the only ones, there are others playing at other stadiums and that is what we want, we want it to become the norm and not to be a surprise. I think it will just be the start of getting more games in bigger stadiums."
For many years in the men's side of the game, United was the primary target for any club, let alone their local rivals.
In recent years the power has shifted to the blue side of Manchester and in the women's game it is certainly that way, with Man City winning both domestic cups while Stoney's side was earning promotion to the top tier of women's football.
The desire for cups and league titles may still be a couple of years away for a side that is a mere 12 months old, but Stokes says her side will try and treat the occasion like any other match.
"You've just got to take it as another game," she said. "If you get too caught up in the derby and where it is at then you're just going to lose sight of it and you're not going to be able to enjoy it. So, I think just embrace it as another game, some people might say not to think like that, you'll enjoy it more. If you get yourself all anxious and worked up the moment will pass you by and you'll think, 'Oh, what happened there?'"
It's rare that a season has started in which the Manchester City defense hasn't had a familiar look to it, but the departure of Jen Beattie to league champions Arsenal and the additions of Aoife Mannion and Portuguese right back Matilde Fidalgo ensures the City defense may look a little different come next Saturday, with Stokes one of the few remaining constants.
There have been additions and departures in other areas too, most noticeably the departure of Nikita Parris to Olympique Lyon, replaced by England's Ellen White, but Stokes believes change is "good" as City looks for just their second league title and their first since 2016.
"New is good. We have brought Aoife in and she's very versatile, can play center back or full back, and the way City play as well we are bringing people in because we play a certain way so it is not difficult, nothing changes too much because of how we play. The way the recruitment is done people come in and settle right in.
"It's always gutting to see players leave. They are good people, Nikita is a good person, but I think at the same time you have got to respect that people have goals for themselves, what they want to do and it is no surprise, Nikita had a very good season. She was on fire last season and when players are consistently performing that is just part and parcel, people are going to shift and go to new teams and try new experiences and you have to respect people for that."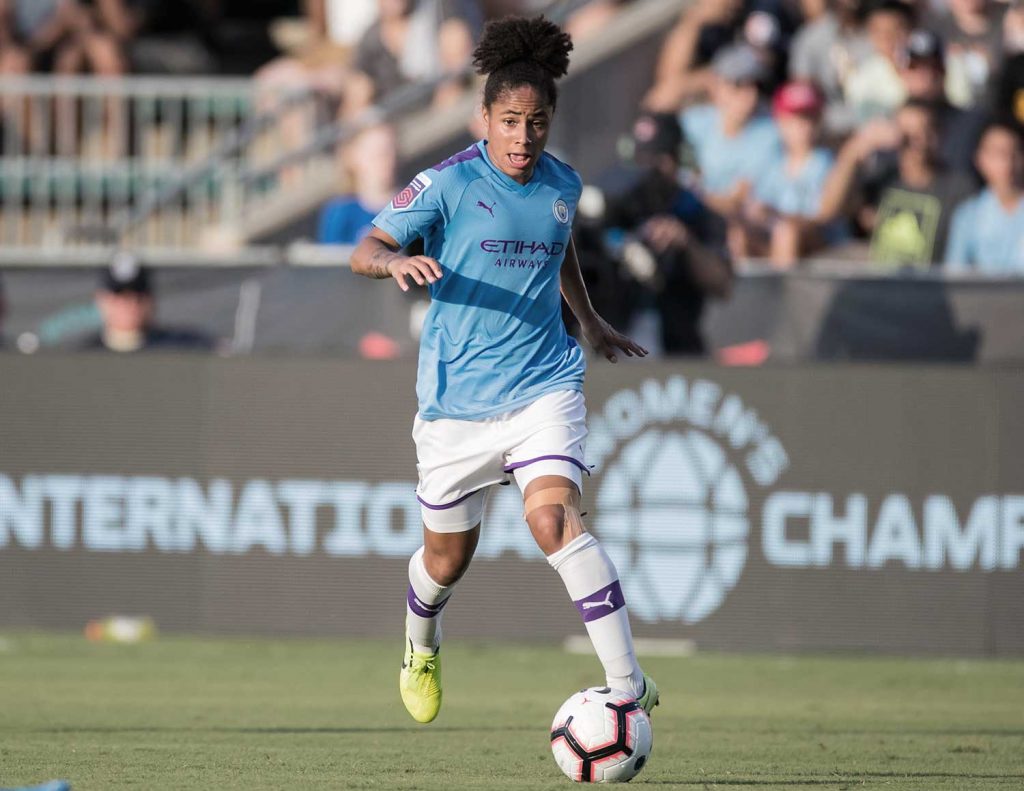 Stokes herself is simply raring to go after missing the start of last season and indeed the majority of the first half of the campaign with a hip issue picked up at the end of the 2017/18 season against Arsenal.
It was an issue that kept the England international out for longer than anticipated and Stokes is looking forward to getting down to business from the off on this occasion.
"I think last year I missed nine months, which is a long time. This preseason I was actually really excited to be in it from the beginning, get going with the girls. It is going to be an intense season and that is what I am looking forward to, the challenge of can we keeping going and going and going."
City has failed to win the FA WSL since the move to a winter season in 2017. At the first attempt, a lack of squad depth ensured their title challenge faded in the final weeks of the season, while last season a combination of Arsenal's scintillating early season form combined with some sloppy results on Man City's part once again left them empty-handed when it came to the nation's top women's football division.
"I think what we have learnt, and as an individual, is that the league isn't easy," admitted Stokes. "The league is getting harder, different players coming from all over the world that want to play in the WSL. I don't think teams beat us, I think we beat ourselves.
"If you look, we played Bristol and drew 2–2 and 1–1 home and away. If you look at those two games we could have won it. This season is going to be tough, it is important we prepare properly and get our mind-set right and know that every single game is hard, there are going to be no easy games."
Stokes now will be fully focused on next weekend's opening game as Man City looks to get off to the best possible start in pursuit of a second league title, but off the back of the World Cup, which was watched by record numbers around the country, the left back, like many of her teammates, is continuously adapting to the fact people now recognize them on the streets.
While games at major stadiums show progression on the pitch, it's clear the changes off the pitch are constantly catching even the biggest names by surprise.
"When I went home [after the World Cup] it is really funny because grown men are stopping us and saying, 'The game was really good, I was with the lads and we went to the pub.' That is how the men's World Cup was, everyone going to pubs and it was up on the boards and that is what we want, and that is how it was. We didn't see it but from speaking to people they've said the buzz was really good.
"It is funny because when you're out, and I'm not from Manchester, but people do stop and you think, 'Why are they staring?' and then they do come over and ask for a picture and you think, 'What… oh, yeah.' I just see myself as a normal person, I'm just Demi, but I know to other people we are inspiring people and they look up to us. It is a bit weird, I'll think, 'What are they looking at?"
But newfound fame is a far cry from what Stokes was used to back in her time at Sunderland a decade ago, and she won't let herself forget how far she's progressed in a sport that's changing quickly around her and everyone else involved in the game.
"At Sunderland you had to pay money for your own kit," she recalled. "Girls had to bring food for the other teams to eat. To go from that to now, and they are small things, after games you are getting your pre-match done and getting your meals provided, and I know people will say they are so small but it is actually something that you can't take for granted because we never had it.
"That is why it is important as women and footballers we keep checking ourselves, being professional, and doing the right things because it is only us who can keep moving the game forward."