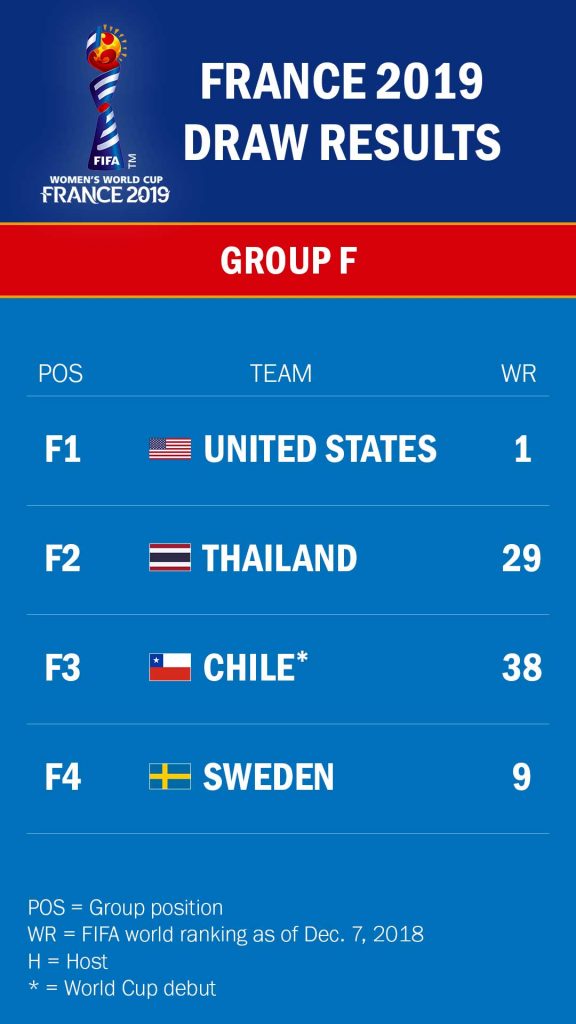 United States head coach Jill Ellis says the defending champions will be attacking, not defending the World Cup after the draw was made for next summer's tournament in Paris.
The U.S. was placed into Group F alongside Thailand, Chile, and familiar foes Sweden, ensuring an encounter between the sides for a fifth World Cup group stage in a row.
But Ellis was defiant after the draw when asked if there was extra pressure as defending champions.
"When you've won the World Cup it's about how you approach the next one," she said. "This is a completely different team playing a whole different system.
"The approach is we're not defending it, we're attacking it. Half of these players didn't go to 2015 and as a team we're going to attack it — that's what we're about."
The draw certainly could have been worse for the U.S. Group F offers a favorable schedule with little travel between matches and beyond Sweden, the team will likely be expected to progress before the sides meet in the final group game.
"The draw itself pits us against a couple of teams we're not that familiar with, which I like, and I like having Sweden in the third game, I think that allows us to blend into the tournament.
"It's three very different styles of teams so to advance you're going to go against three different styles and be prepared for the next round."
On Thursday, the U.S. announced a packed schedule of matches leading up to the tournament in France next summer, including a match against the hosts in Le Havre next month.
With their group opponents now confirmed, Ellis says work will start immediately to prepare for the challenge and believes their schedule over the next six months will prepare them well for what's ahead.
"I've got a tremendous staff and we'll start to zero in on these teams immediately. We've set ourselves a really good schedule and we're going to get a lot of answers from these games and try a lot of different things. I feel we'll be battle-tested by the time we get to the World Cup.
"I think our schedule will test us but that's what we need. We're playing South American teams, Asian teams, European teams; for us it's about us getting better and better and that's what these players are excited to do."
While not confirming she's close to knowing her squad for the tournament, Ellis did admit the group has been narrowed down and she also believes there's much more depth in the squad than four years ago.
"Over the last 12 months we've looked at a lot of different players but we've narrowed it down to a smaller group and we're really happy with this group — we have a lot more depth in every line than we did in 2015."
The main talking point from the draw was the USA's final group match against Sweden, an encounter which has taken on some history in recent encounters but Ellis credited the Swedes and admitted it will be a tough game when they meet in the final group match.
"They're a good team, hard to break down," she said. "I watched them against England and they've got a nice balance of newer players with some of their more experienced players. They're always tough to beat in a tournament: they invite the pressure in and look to hit you on the counter."