The U.S. Women's National Team opened up 2018 with a 5-1 win over Denmark in front of 17,526 at SDCCU Stadium in San Diego, California, on January 21.
It was the first meeting between the teams since Denmark's 5-3 win in the 2014 Algarve Cup. The 2017 Euros runner-up struck first in the 14th minute after Nadia Nadim's header found the back of the net.
The U.S. equalized in the 17th minute after Alex Morgan knocked in a cross sent in from Mallory Pugh. Julie Ertz put the U.S. ahead in the 19th minute off a Julie Ertz volley past Denmark's Stina Lykke Petersen. Tierna Davidson, in her international debut and start, headed Abby Dahlkemper's pass toward the goal to earn her first assist on the play.
Pugh added the first of her two goals in the 47th minute after taking advantage of a Denmark defensive miscue. She completed her brace on the night in the 65th minute after pouncing on a poor clearance from Denmark's Petersen and splitting the center backs on the dribble and knocking the ball into the back of the net to put the U.S. up, 4-1.
Crystal Dunn made it 5-1 in the 81st minute when she put away a rebound off a Christen Press close-range shot that Petersen saved.
Savannah McCaskill entered the game in the 70th minute to earn her first cap at the senior level for the U.S.
Images + Reaction
All images by Manette Gonzales.
I would never say the door is shut, it can't possibly be because sometimes players are late developers […] Lynn Williams was pretty much unknown, obviously with her college team, but unknown going into the NWSL, it grew and helped her confidence. I think Lindsey's [Horan] confidence this year playing at Portland, suddenly that experience can add to a player and I would always be open to that, for sure. But having said that, I really like this group a lot. — U.S. head coach Jill Ellis on whether the door is open for new players based on league play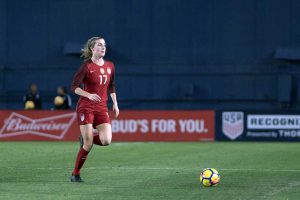 The past few camps I've been at, I've only been able to be there a couple of days so I think that having an extended period of time to kind of calm down, get to know people a little bit better, start playing with them a little bit more, was really helpful for me to just be able to get the nerves out. — Tierna Davidson on her first game
For her first game, you wouldn't know that and I think that's the biggest compliment to give her is you would think she's been there a while. — U.S. head coach Jill Ellis on Tierna Davidson's performance
Amazing… I see this all the time in practice so it's not a surprise to me at all. — Julie Ertz on Mallory Pugh's performance