In the final game of the National Women's Soccer League's (NWSL's) opening weekend, FC Kansas City defeated the Boston Breakers, 2-0, at Children's Mercy Victory Field, Kansas City, Missouri. Sydney Leroux and Amy Rodriguez scored in their returns to action after sitting out a year on maternity leave.
FC Kansas City started strong and took advantage of Boston's shaky defensive shape in the first 20 minutes. In her return to action, Leroux put the Blues up in the 7th minute, running onto a terrific ball from defender Becky Sauerbrunn and first-timing a right-footed shot past Abby Smith.
Welcome back @sydneyleroux!

That ball by Sauerbrunn. Swoon. pic.twitter.com/4t0cpkMApo

— Our Game Magazine (@OurGameMagazine) April 16, 2017
Moments later, Rodriguez fed a wide-open Leroux who had Smith beat but saw her left-footed shot hit the far post.
Boston's defense settled and the Breakers had an opportunity in the 28th when Rosie White's got a left-footed strike off from the top of the box that forced Nicole Barnhart into a save.
In the second half, Rodriguez got on the score board in the 48th minute to increase Kansas City's lead to two. Rodriguez started and ended the play by finding Shea Groom out wide. Groom took the ball to the end line and cut the ball back to the center of the box and found a trailing Rodriguez, who slotted a right-footed shot past Smith at the near post.
AROD! pic.twitter.com/97qKgjTu0o

— Our Game Magazine (@OurGameMagazine) April 16, 2017
Sloppiness in the defensive third almost cost Boston in the 71st minute when Leroux intercepted a bad pass and fired off a shot that hit the post.
It was a solid, workwomenlike win for FC Kansas City but concern shifts to Rodriguez, who was carried off the field in the 57th minute with a left knee injury. Rose Lavelle, the No. 1 overall draft pick in the 2016 NWSL College Draft, was quiet in her debut but showed flashes of skill.
FC Kansas City will travel to Chicago to face a Red Stars team looking for its first win after losing 0-2 to the Houston Dash. The Breakers return to Boston for their home opener and face a Sky Blue FC that took a road point from Seattle in a 1-1 draw on opening day.
Attendance: 3,340
Just Because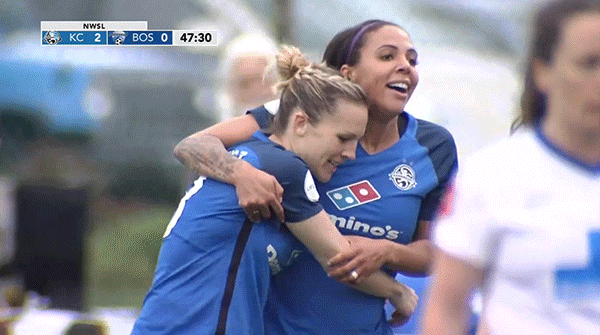 Lineups
FC Kansas City
18-Nicole Barnhart; 31-Christina Gibbons; 10-Yael Averbuch; 4-Becky Sauerbrunn; 13-Brittany Taylor; 88-Alexa Newfield (3-Becca Moros, 73′); 1-Lo'eau LaBonta; 6-Katie Bowen; 14-Sydney Leroux (44-Maegan Kelly, 81′); 8-Amy Rodriguez (5-Alex Arlitt, 57′); 2-Shea Groom
Boston Breakers
14-Abby Smith; 2-Allysha Chapman; 20-Christen Westphal; 4-Megan Oyster; 21-Margaret Purce; 11-Rose Lavelle; 10-Rosie White (25-Morgan Andrews, 81′); 5-Amanda Da Costa (22-Ifeoma Onumonu, 63′); 26-Angela Salem; 9-Natasha Dowie; 19-Adriana Leon (18-Tiffany Weimer, 71′)