Editor's note — Quotes translated by the author and have been edited for clarity and length.
"For everyone who has something going on that is withholding them from happiness: Trust yourself, know what you are capable of, and never give up."
Belgian international Tine Schryvers grew up with a football. Her father is the principal of a local soccer club and even though the current Vålerenga Fotball Damer forward wasn't allowed to play with the team, she spent weekends at the facility and played soccer with friends in her spare time instead.
"My childhood was pretty amazing. I played soccer from morning until night," Schryvers said. "Unfortunately, my parents didn't want me to join my dad's club because I was too skinny."
Schryvers also played volleyball, like all her friends did back then. She was successful and her club even made it to the national championships, but it didn't fulfill her.
"I knew at a very young age already what I wanted to do, and that was playing soccer. It was always on my mind, no matter what I was doing during the day."
During a lesson at school, the 12-year-old Schryvers was asked to draw a picture of what she dreamed about the most. The 23-year-old remembers drawing a soccer pitch.
"The teacher asked me why I drew a soccer pitch and I explained that my biggest dream was to play a real soccer game," she said. "I was hoping that one day it will be possible."
It was a lesson that changed everything: Her teacher called her parents and arranged for her to attend her first real soccer practice. It was a moment that also influenced her relationship with her dad.
"I have never seen my dad cry or even be emotional," she said. "But when he heard what my dream was, he cried. It changed his idea of what he wanted for me. From that day on he knew he was going to do whatever he could to help me become a professional player."
Two years later, Schryvers received a call-up to the youth national team and continued to play on squads at every stage from the U-15s through to the U-19s with players like Tessa Wullaert, who currently plays for Frauen-Bundesliga side VfL Wolfsburg in Germany. It was the start of a terrific friendship that has grown as both players continued to get called up to the national teams.
As teammates on the U-19 national team they qualified for the U-19 European Championship. It was a great accomplishment and Schryvers' performances were so impressive that a scout suggested she should play for a university in America. Schryvers ignored the offer at first.
"But a few months later, I started to think about my future," Schryvers said. "I wanted to become stronger, mentally and physically. So I emailed all those people back."
After a company helped her arrange the visa, Schryvers' American adventure began, and Schryvers went to study and play soccer abroad. Her journey started at the University of Memphis but Schryvers later transferred to the University of Tulsa because it was a better fit for her.
Friendship Through and Through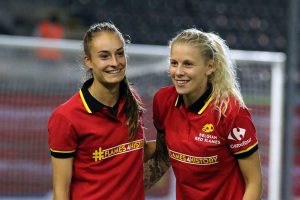 "Tine is a player with a lot of character. She always keeps on pushing for the better, and that's what made her how she is today. She went to America all on her own at such a young age. Not many of us would've survived that. Even when her world was falling down because of the injury, she kept on believing. When I think of that, I still get tears in my eyes, but look where she is today," Wullaert said.
"I'm so happy she kept fighting, or we would never be able to play together again. It's just so much fun to play in a team with one of your best friends. I play professionally in Wolfsburg and life's not always easy. But she's always there to support me. She keeps me motivated and on top whenever I have doubts or feel down. I think this is why our bond is so strong," she added.
"I'm proud of her and she is proud of me, both for different and same reasons."
"We have been friends for so many years now and I believe she will be my friend for a lifetime. Her story is exceptional and I hope a lot of people get inspired by it and keep the faith to keep on pushing to fulfill your dream, just like she did."
The Injury
What was supposed to be the start of her soccer career almost ended in August 2013. Schryvers jumped up for a header during a game against Gonzaga while her defender remained landlocked, standing on her foot. The middle part of her foot stretched out completely and dislocated. The forward finished the game on adrenaline and everything seemed to be okay. However, the pain woke Schryvers up in the middle of the night. It was unbearable. Tulsa's trainer took her to the doctor the next day.
"Apparently I sprained the metatarsals in my foot. I got put in a boot for two weeks and they told me it would be okay," Schryvers explained.
Two weeks went by and Schryvers tried her best to perform again, but she was still in pain. Trainers gave her a cortisone shot and she played a game. But it didn't feel right.
"I was in so much pain again," she said. "The doctor said there was nothing wrong with my foot."
And thus began a back and forth: Schryvers' foot was put in a boot again and the forward was forced to walk on crutches. She tried practicing again but it didn't work out. So the boot was put back on.
"Weeks went by where I got a cortisone shot, went to rehab, practiced, and was put in a boot again. It was miserable," she remembered.
The constant pain changed Schryvers. Her attitude changed. She became angry. Impatient. Her whole life had revolved around soccer until the injury happened and now she had to adjust to life without soccer. In September, Schryvers and her coach discussed the possibility that the pain was made up. Schryvers started to doubt herself. Was she really making all of this up? Was it a mental issue? The doctors had already told her there was nothing wrong with her foot.
"I was a mess. All by myself in America. I'm usually a very independent person. I figure out everything by myself. I had to figure out how to push myself through the immense pain I had. I kept telling myself it was all in my head during the season. I managed it somehow until spring break came closer."
In January, Schryvers was rushing to class. She had a test coming up and was already running late. The moment she approached the entrance of her university, her foot collapsed. Schryvers' body shifted to the left and she heard a crack. At that moment she knew the pain wasn't made up in her head. Schryvers was desperate to fix this. She met with the doctor again, and he seemed to have a solution: a blocked nerve in her foot. To correct the injury he would need to perform surgery. Finally, the Belgian international was happy because there seemed to be light at the end of the injury tunnel.
Schryvers underwent the surgery but when she woke up, she couldn't feel her toes.
"The surgery hit a nerve that was responsible for the muscles in my foot. I was so scared. One of my teammates told me that I was most likely temporarily paralyzed in my foot. So there I was again, in a lot of pain, not feeling my toes, laying in a hospital bed, and I did not see an outcome to this," Schryvers said.
Recovery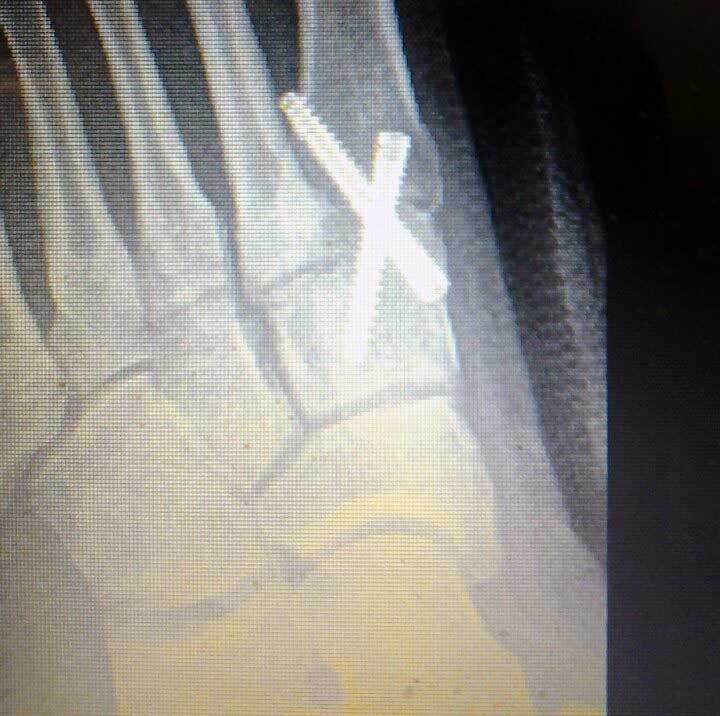 Schryvers was able to start rehab three weeks later. But when she started running, the pain came back. It was the same pain that had made her miserable and angry, the pain that was supposed to only be in her head. The doctor in Tulsa told Schryvers that he couldn't do anything for her anymore and she had to quit soccer.
"That was never an option for me. You can't just tell a 19-year-old that she has to quit soccer for no reason," Schryvers said. "Just because the doctor couldn't find the problem. That's when I called the physio of Belgium's national team. One of the absolute best. He worked with personalities like Eden Hazard, Marouane Fellaini, Romelu Lukaku, and Andrij Schewtschenko. Even Zlatan Ibrahimović has been to him. He told me to come back to Belgium."
So she finished her exams and went home. The physio sent her to one of the best foot doctors in Europe. He identified the problem and told Schryvers he could fix the problem and stop the pain. But he also had bad news. The operation would require being in a wheelchair for three months and require her to stay in a hospital bed that would be delivered to her home for four weeks.
The doctor said that it would take Schryvers months until she could walk properly again. Her chances of becoming a professional athlete were less than five percent. The doctor could not guarantee that the forward would be able to walk normally again. Playing soccer at the highest level would be a miracle, he explained.
But he had faith in Schryvers.
"He said, 'I believe in you. We are going to beat the odds.' The doctor saw how much soccer meant to me, that it wasn't just a sport. It's who I am."
If Schryvers' doctors in the United States would have figured out the problem sooner, the recovery would have been up to six weeks. It was a complicated injury: Schryvers tore a joint in her tarsometatarsal during the soccer game with her university. The fact she still kept playing and pushing through the pain resulted in her tarsometatarsal and joint breaking. Her foot simply couldn't take it anymore and split in two pieces.
Schryvers underwent her second surgery within two months. Only screws kept her foot together. It was a difficult time: she became anxious and started to have panic attacks. She was dependent on everyone around her and she hated it. She was close to giving up — on everything. Her college coaches allowed her to stay in Belgium for rehab, which became the number one priority in her daily agenda. Schryvers would spend between three and five hours rehabbing every day. Ultimately, she had to learn how to walk again.
"I was a mess. I couldn't walk and couldn't feel my foot one hundred percent because the surgery in America damaged nerves and they would never [be] restore[d]. I was stuck. In life," Schryvers said. "I'm so grateful for my friend Michiel Goosenaerts. He helped me throughout this whole process. I'm not sure what I would've done without him and my parents. I was a brat. I yelled at them, was always angry, sad, and pushed people away. But they never left my side."
In December 2014, Schryvers was able to start running again. She was tired after just three minutes, however. All of the pain killers she took in America and the medication after surgery in Belgium affected her body. That's when the real fight started — the fight to get back in shape that included all of the possible ups and downs.
Schryvers moved back to America and returned to Tulsa. Her coaches were initially happy with her progress, but she wasn't. When she couldn't regain her fitness, her coaches became more impatient. The striker eventually had to quit practicing because the screws in her foot hurt too much. It was a rough year.
"I did not consider myself healed. In July 2015, I needed yet another surgery. Same foot, this time on my toe. That meant another four weeks out of action. There was no way I could get back in shape."
Schryvers was able to play a couple of games for Tulsa but mostly sat on the bench. It was a rough time for the 23-year-old who still has trouble remembering most of it up until now.
"I'm not going to lie. I can't remember how many I played. I sat on the bench more that year. I still try to block out a lot of memories," she explained.
Miracles Happen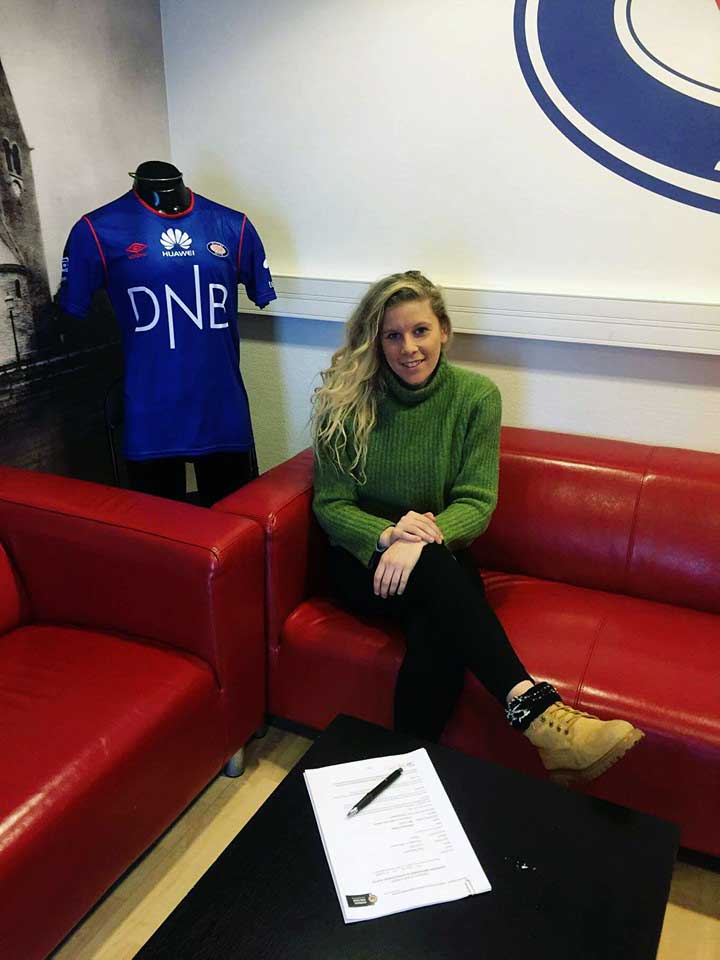 Schryvers left America in December 2015.
"I couldn't handle it mentally anymore. I wanted to become myself again. I was so scared because of the state of my mental health. The experiences in America mentally killed me. I became an angry, selfish, and cruel person. Pain gets to you sometimes and my pain level was high every day," the striker explained.
A few days after the striker returned to Belgium, Vålerenga Fotball club contacted her. The Norwegian team is coached by fellow Belgian David Brocken who had heard about Schryvers before. When he found out about her making a possible comeback the club signaled its interest. The club took a huge risk by signing Schryvers but wanted to give her a chance. The 23-year-old cried for hours after she signed her first professional contract. Vålerenga Fotball Damer were willing to give Schryvers six to twelve months to fully recover, mentally and physically.
"Vålerenga Fotball is a club that will always have a special place in my heart. They literally saved me," she said.
For the first time in years, Schryvers stepped on a soccer field without being in pain. Norway is where she officially returned as a soccer player. A professional one.
After three months of intense training, putting all doubts aside, yet another miracle happened. Schryvers got called up to the national team. Officials reached out to Brocken and they agreed on giving it a try. Schryvers was a part of Belgium's team that competed at the 2016 Algarve Cup in Portugal.
"I cried, once again. And you better believe me when I tell you that I am a very tough person and usually don't cry that much," she joked.
National Team Debut
When they were 15 years old and scoring goals for Belgium's youth teams, they said they had one dream: to play together on the national team at the highest level possible. After years of being separated, Tessa Wullaert and Schryvers were finally going to be reunited while repping the Belgium jersey. The dream would become reality. Wullaert has never left her best friend's side during the difficult time, no matter how many miles were between them.
Schryvers made her senior national team debut during the 2016 Algarve Cup against Canada and played a few minutes.
Belgium faced Russia in the last game at the Algarve Cup and Schryvers was subbed in early to replace an injured player. She played well and recorded her first assist as Belgium increased the lead to 2-0. She was exhausted, however, and felt like throwing up at half time. She was still out of shape, but the coach needed her. Ten more minutes, he said. Ten more minutes.
Then, 51 minutes into the game, Schryvers scored her first goal for the senior national team.
"I knew this was a new start for me. I cried after I scored the goal. All the emotions. It took me three years to fully come back," she said.
But there were still things to improve. And best friends are also there to push you to your limits. Wullaert wasn't happy with how Schryvers approached the goal and told her.
"I made wrong decisions in front of the goal and she explained to me how I should do it."
Advice to remember.
In April, the UEFA Women's Euro qualifying campaign continued and Schryvers was called up again. She had the chance to be a part of a Belgium squad trying to qualify for the UEFA Women's Euro for the first time. The team began qualifying with a 1-1 draw with England in front of a crowd of more than 10,000 fans. Schryvers was overwhelmed but wanted more.
A week later, Belgium faced Estonia. Schryvers' family and friends were there in the stands to watch her play. She was subbed in after 45 minutes. Her first touch was on point. She felt good. The moment came in which she had to position herself in front of the goal again and this time it was perfect. Wullaert, out on the side with the ball, laid it back to Schryvers, who had no trouble finishing it.
"My best friend who always supported me handed me the perfect assist for a goal in front of my friends and family. I hugged Tessa and knew it was going to be okay. From that moment on I trained harder and harder," she said.
The 23-year-old started scoring for her club as well. At first for the reserve team but then in the Norwegian Women's Football Cup (Cupen), which is Norway's national championship, and then in the Toppserien. She was finally in shape after three years and six months. The game against Estonia changed everything: all the tears, hard work, months of rehab, and trying to get in shape again had paid off in that game against Estonia.
[dropcap]S[/dropcap]chryvers has played a total of 190 minutes for the Belgium national team this year and has scored three goals and garnered one assist. Belgium went on to make history by qualifying for the Women's Euro for the first time, which means you should keep an eye out for the Red Flames next year in the Netherlands. Schryvers was rewarded with her first start against Russia on October 23 and scored to increase the lead to 2-0. She will continue to compete in the Toppserien for Vålerenga Fotball Damer. Vålerenga recently finished the season in ninth place with a total of 23 points. The 23-year-old made eight appearances and scored one goal.
Schryvers never once gave up, even though she wanted to.
"God needed me to be strong. And to share his word. So that's what I did. I trusted him and he trusted me," she said.
"I have a message for everyone who is suffering, for people who get told they can't do something. For everyone who has something going on that is withholding them from happiness: Trust yourself, know what you are capable of, and never give up. You never know what lays in front of you or around the corner. Have faith. Never turn your back on your family and friends. Don't put your anger on other people. Try and turn your anger and sadness into the power of pushing. That's what I did and what I will continue doing. Like one of my tattoos says, 'For nothing will be impossible with God. Luke 1:37.'"