Ten Squads, Ten Stories is a series that concentrates on one team in the National Women's Soccer League (NWSL), and highlights a player or theme. This installment features Chicago Red Stars players Arin Gilliland and Courtney Raetzman, University of Kentucky alumnae playing together again the professional level.
"We just get along really well and I'm enjoying the experience playing with her again." — Courtney Raetzman
"If you want to be a pro, there's a level of work and a level of attention to detail that is involved. I'm going to help you get there but you are really going to need to focus on being your best," Jon Lipsitz, head women's soccer coach at the University of Kentucky said.
"And it can't be just about the three, four months of the college season. If you want to be a pro, you have got to act like that and train like that on a year-round cycle. It doesn't mean you have to be your best every day, there's always ups and downs, but you have got to be training at that level. And we are excited that is something that we are creating here at Kentucky."
Lipsitz has been creating that atmosphere in Lexington since he took over the head coaching position prior to the 2009 women's soccer season at the University of Kentucky. His job was to establish the program as a women's soccer power, as well as create an environment in which players build and grow to their maximum potential. It's paid off — the Wildcats have appeared in the SEC tournament in the past six seasons and qualified for the NCAA Tournament in four of the past five seasons.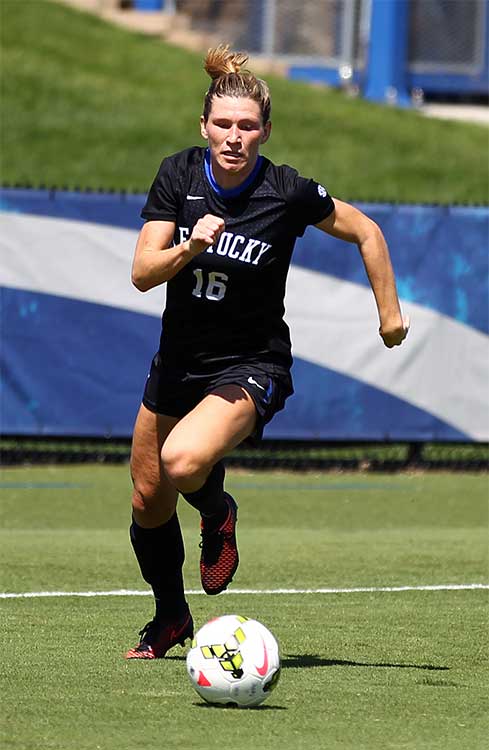 Out of that success, Kentucky is seeing players make the jump from the college game to the professional ranks. Two such players are Arin Gilliland and Courtney Raetzman, who are teammates once again in Chicago after playing together at Kentucky for three seasons (2012–2014).
Gilliland, now in her second year with the Red Stars, and a two-time All-American in college, credited the way the Kentucky program has established itself as a strong program and was surrounded by great players, which helped her improve to get to the next level.
"Starting in the class in front of me, there were girls who had that drive and could have played at bigger schools but wanted to play at Kentucky and build the program, and that was exactly what I wanted to do."
"When you have that, your team starts to get better and go farther. Like making the NCAA Tournament, and making the second round, and third round. I think people took notice of that and realized like 'Oh, wow, where did Kentucky come from? I want to go there.' and then that's when we started getting real quality into our program."
Growing, Learning, and Taking the Next Step
"I thought that one of the things that I saw [Arin] do is that she is a very quick learner about what she needs to do to be successful," said Lipsitz. "When she meets new challenges and scenarios, she quickly learns and uses her strengths."
Gilliland said she played almost every position during her four years at Kentucky, from target striker to outside back. Developing the skills necessary to be an all-around player while in college is one reason Gilliland feels she's had a successful start to her professional career.
Whether it was the one year where she led the team in shots (100) and assists (10) in 2013 or goals (14) in 2014 or helping the defense pick up clean sheets as a defender, she did a little bit of everything for the team.
"I played almost every position while at Kentucky and I think that is one of the best things that could have happened to me because I got better well-rounded," she said. "I carved myself to be able to do every trait there is and maybe I'm not the best at every trait, but at least I can do all of them. So I think that was the best thing that he taught me while I was there."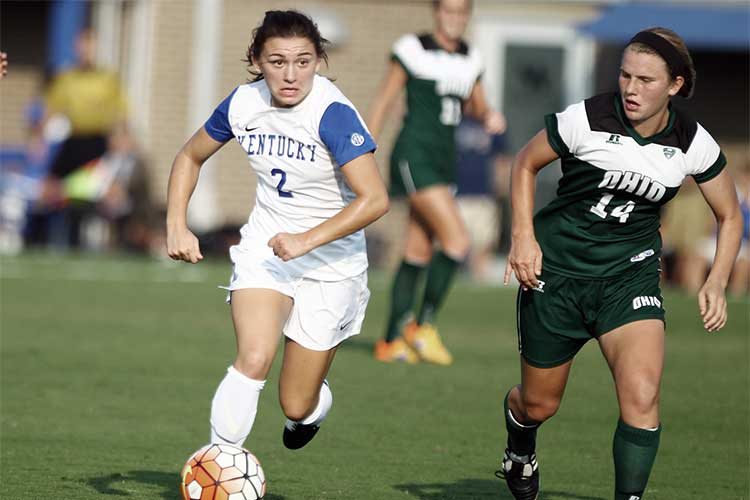 Unlike Gilliland, who played all over the field, Courtney Raetzman filled a different role on the field for Lipsitz. After making the transition to the college game and recovering from a medial collateral ligament injury in her sophomore year, she made the move to a deeper-lying position in the midfield the following season.
It was when the midfield move happened that Lipsitz saw Raetzman's drive and will and knew she had what it takes to transition to the professional level.
"There are some players that you have to coach and make sure they do see what they need to work on," he said. "Courtney is the opposite. You need to say to her, 'Actually, you played really well,' but she would come to me and say that 'But remember in the 42nd minute that the touch I had wasn't smart.' That's how she is."
"And so what I started noticing was that she was becoming a student of the game, was asking me who to watch online, and what videos to look at. When you take her incredible intensity and intelligence on the field and her training work ethic, and then you add that piece, which is that film study, that's when I realized that she knows that [becoming a professional] could happen and she is going to go for it."
Raetzman's tireless work ethic dates back to her younger days. She's always wanted to do her best, work hard, and be the ultimate team player. At Kentucky she was surrounded by players who worked with that same mentality, which ultimately pushed her to work harder.
"I had Jon as a coach and I was playing with quality players as well," Raetzman said. "I think that's always been in me with wanting to do well in school as I had my sights on trying to play after school as well. I just always wanted to learn more and become a better player, and I knew that it was going to take work rather than just showing up every day."
"So I knew I had to do extra work to do those things and a lot coaches always said to study film and to watch other players. So I definitely noted that."
Landing Together In the Windy City
After Gilliland was selected in the first round of the 2015 NWSL Draft by the Red Stars, she put together a very strong rookie campaign en route to being named to the All-NWSL Second Team. She started in 17 of the 19 games she played in during the regular season and chipped in a pair of assists and started in the semifinal against FC Kansas City.
While Gilliland was enjoying her rookie season in Chicago, Raetzman was having a standout senior season at Kentucky. She was named to the All-SEC First Team and started all 20 of her team's matches, adding her name to the pool of possible NWSL draft picks.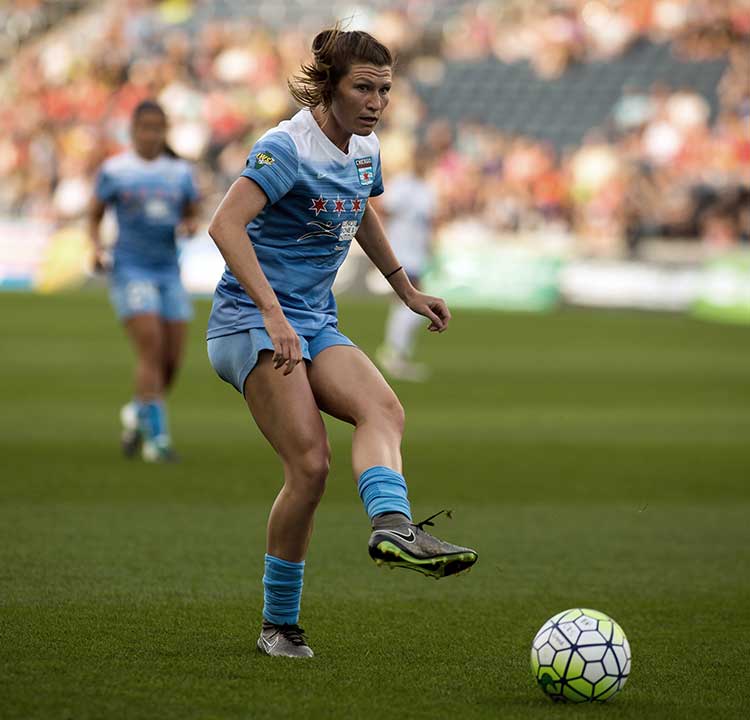 The Red Stars already have a duo who share an alma mater in Julie Johnston and Sofia Huerta, both of whom attended Santa Clara (Huerta finished school one year after Johnston). And with Raetzman being a Chicagoland native, the possibility of becoming a Red Stars prospect almost seemed natural.
"Rory is always looking at people," said Gilliland. "If he drafts someone from a certain place, he is obviously going to have interest in that area. If you know people and you let him know about them, he is going to take a look. He's never going to turn a blind eye on someone who came from the same university, and I think Courtney is great for this league."
A year before, Lipsitz started getting phone calls from Rory Dames, the head coach of the Red Stars, about Gilliland when she was a senior. There was some prior familiarity between the two coaches; Lipsitz started the Ohio Premier soccer club in Columbus and often coached against Dames, who coached the Eclipse Soccer Club. When the phone rang again in Lipsitz's office in late 2015, it was again Dames, who wanted to talk about Raetzman. Lipsitz couldn't have been more thrilled, just as he had been when he spoke with Dames about Gilliland.
"Our relationship goes way back but when the relationship got to the point where we truly got to know each other so much better was in the last few years when this started happening," he said. 'I felt from very early on that Chicago was the right place for Gilly. I felt like how much he believes in the wide backs attacking and being a key part of the attack. So when that worked out, we talked about it a lot beforehand and since then, and that continued this past year with questions about Courtney and her development."
When NWSL Commissioner Jeff Plush called out Raetzman's name this past January at the draft in Baltimore, she knew she was headed back home to play the game she loved.
"It's been a great experience," Raetzman said. "I've dreamed of doing this since I was a little girl so to actually get this opportunity to live out my dream, I can't ask for anything better than that, and to be playing with such great soccer players all around and everyone who has also had the same dream, it's kind of awesome."
"I was so excited for her," added Gilliland. "I knew that this was her dream to play here in the NWSL and for a moment before the draft, she thought that it wouldn't happen and would have to go play overseas. And she wanted to play professional here in her hometown, and I couldn't have been more happy for her. Seeing her live out her dream and watching her grow from her freshman year to now has been awesome."
Excelling at the Next Level
Coming into the final stretch of the season after the Rio 2016 Olympics break, the Chicago Red Stars find themselves in fourth place and four points out of first. Both Gilliland and Raetzman know that it will be a grind to the finish after the break and hope to help guide their team to the playoffs for a second consecutive season.
Gilliland says the team's goal is the same from a year ago, but the team wants to have a different mentality. She now believes things are starting to click as the season heads toward it's final few weeks.
"For a team that has got a lot of very, very good soccer players with very good soccer IQs, rather than being that blue-collar team [from 2015] that pushed through to get results — that's still something we still want to have but we are trying to evolve ourselves to being a blue-collar, soccer-minded team — I think we have been struggling to find our identity with that and to make it work, but it has been coming together these past few games and our practices have been really good," she said.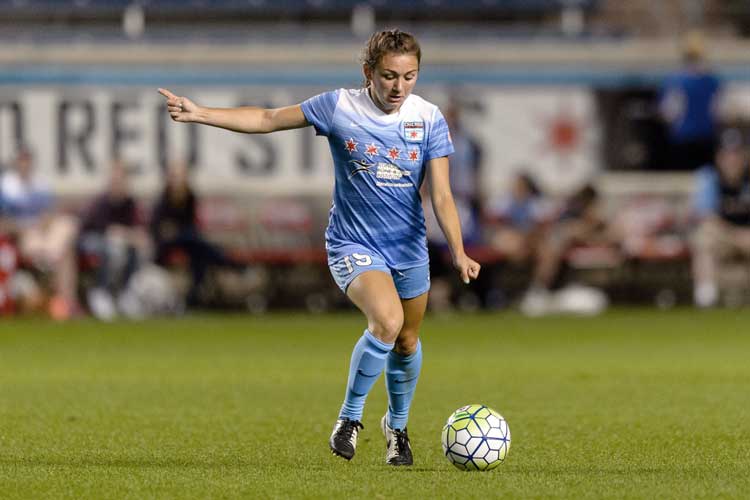 While Gilliland continues to lead by example on the field, she has also been a mentor to her former UK teammates as well. Raetzman, like many NWSL rookies, has to deal with a big transition from college to the professional game. It always helps having someone you know well in your corner and who you can go to for guidance on being successful in the NWSL.
"Arin and I have always gotten along great. Whenever we are with each other, our relationship grows," said Raetzman. "We spent one of our whole summers in Canada playing soccer together and I think that really helped our relationship. We just get along really well and I'm enjoying the experience playing with her again. I look to her for guidance and help since she has gone through a lot and has been in the NWSL longer than I have, so I can definitely go to her and ask her questions and she is always there for me."
W
hile both players continue to set goals, be it a call-up to the national team or establishing themselves in the league, Lipsitz knows that his two former players have the energy and will to keep pushing toward reaching those goals.
"[Arin] is ready for the moment and that time but that is up to the national staff to decide, and I respect them and when they decide that Gilly can be successful at that level, they will call her. She has dramatically changed her level to play technically and to connect, and I know Rory is really working with her about what she needs to do to get to that level."
"Courtney is continue to prove that she belongs and is doing a great job of doing that. I've never coached a player that works harder in training on a daily basis than Courtney Raetzman. She will continue to prove that she is a true professional because of what she does on a daily basis."