Canada won its second straight Olympic bronze medal in women's soccer after defeating host Brazil, 2-1, in São Paulo, Brazil, on Friday.
Canada and Brazil.
A matchup with significance for both programs that extended past taking home hardware. A matchup bolstered by the presence of two of the greatest to play the game in Christine Sinclair and Marta. For Canada, the win would validate the program's youth movement that head coach John Herdman has been cultivating. For Brazil, a medal on home soil would cap a tournament in which the general public embraced a team long neglected by its confederation and perhaps pave the way for increased funding and support for the program.
Both sides made changes to their starting lineups. For Canada, 17-year-old Deanne Rose started in place of Canada's leading goal scorer, Janine Beckie. Cristiane returned to Brazil's lineup after resting a muscle strain.
Third-place matches can be a psychological and emotional minefield as teams must cope with the disappointment that comes from not contending for the gold medal. However, it was a fairly even first 10 minutes, if not interrupted by fouls. Canada created the first chance in the 9th minute. Christine Sinclair, in her 250th international cap, struck a free kick cleanly to the upper left corner that beat goalkeeper Bárbara but not the crossbar. Sinclair, unusually quiet against Germany in the semifinal loss, was active early.
Canada attacked heavily on the right, where Josée Bélanger, Rose, and Diana Matheson gave Brazil's left flank trouble all game. In the 18th minute, Matheson sent in a cross from the right but Barbara did well to hold onto the ball as Canada sent numbers into the box.
Brazil had a number of set pieces but despite excellent service, usually to the back post, no Brazilian player could get on the end of any to trouble Canadian goalkeeper Stephanie Labbé.
Canada struck first in the 25th minute, and it was Rose, the surprise starter, who put the Canadians up. A recycled opportunity off a free kick landed to Rafaelle in Canada's box. However, the midfielder was indecisive with the ball and Shelina Zadorsky dispossed her and sent a ball out to the left side to Ashley Lawrence, who ran onto the well-weighted ball and blew past Fabiana up the left flank. Lawrence's left-footed ball across the mouth of the goal found two Jessie Fleming and Rose filling the middle and back post channels unmarked. Rose was there to slot a right-footer past Bárbara, who did well to slide over and get a foot on it but it wasn't enough.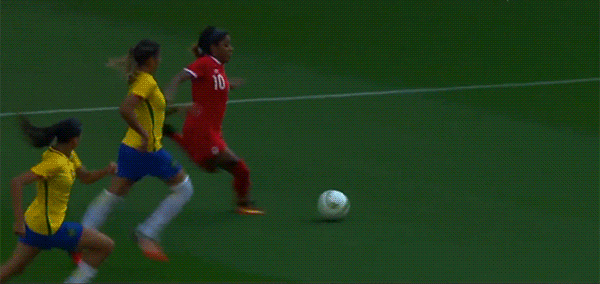 The goal snapped Brazil's 356-minute shutout streak and made Rose the youngest goal scorer in women's Olympic history.
Canada was solid defensively in the first half, surrounding and swarming Brazil's attackers, and as the half wore on, Brazilian players become more demonstrative, signalling frustration. Nevertheless, the teams went into the locker rooms with Canada leading,, 1-0.
At the half, Brazilian head coach Vadão subbed on Debinha for Cristiane. The move worked as Brazil pressed, looking to find the equalizer.
Despite Brazil's early pressure, Canada doubled its lead in the 52nd minute. Jessie Fleming dispossessed Tamires on the right, cut in to her left foot, found Rose in behind Rafaelle. Rose headed for the end line and cut back a pass to Sinclair, whose first touch got away from her a bit, but had created enough time and space with her run to bring the ball down and beat the keeper near post for her 165th international goal.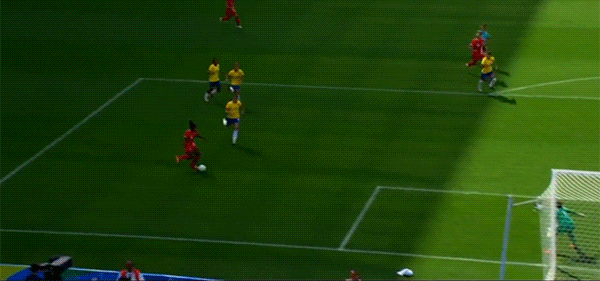 Brazil had a notion shortly thereafter when Fabiana sent a shot in from the right, which Labbé parried away. In a recycled ball in, Rafaelle was just wide off her header. Canada was briefly on its heels due to poor clearances off set pieces.
However, Canada showed how quickly and how dangerous it is when Rose got in behind the defense in the 58th minute after Mônica made a defensive miscue. Brazil was fortunate not to be down by three after Rose's resulting shot hit the crossbar.
Brazil, with a new sense of urgency, pressed once again, but created nothing to trouble Canada's back line.
Canada's right side continued to cause problems for Brazil In the 67th minute, Lawrence took on three defenders and got a shot off to the far post that forced Barbara into a save. Second-half substitute Poliana was there to clear the rebound away from a step-too-late Sophie Schmidt.
Perhaps smelling blood in the water, Herdman subbed on Beckie in the 68th minute to go at a tired Brazilian team that had played 60 extra minutes of soccer in its previous matches against Australia and Sweden. He was mindful of the counter though and left Beckie up top alone and dropped the rest of the team into a defensive shell with five in the back.
In the 76th minute, Marta, quiet in the second half up to this point, found space on the left and sent in a cross that Debinha missed just wide. Brazil, buoyed by a crowd that cheered each time Brazil possessed the ball, didn't fold and were rewarded in the 79th minute when Beatriz cut the lead in half.
Beatriz's controlled touch, turn, and bouncing shot beat Labbé far post after Érika's glancing header fell to her feet in the box. Life for Brazil as the crowd came alive.
Brazil poured in shots with the remaining energy it could muster, sensing an equalizer from perhaps Canadian clearances that were not sharp. Canada defended with its life.
Smart game management by Bélanger and Schmidt kept the clock ticking down as the two took a counter chance into Brazil's corner. Time ran out for Brazil, however, and the Canadians held on to win their second consecutive Olympic bronze medal.
Sinclair and Marta. Both for so long have carried programs without the supporting cast on the field as well as the support needed off of it. Canada has made giant strides both on and off the field. Now it's the Brazilian confederation's turn.