Ten Squads, Ten Stories is a series that concentrates on one team in the National Women's Soccer League (NWSL), and highlights a player or theme. This installment features McCall Zerboni and her recent return to the Western New York Flash, where she spent four years of her professional career.
"I've had a lot of success here before. I've won a couple of league titles and championships here before and when you win like that, you will always remember a place." — McCall Zerboni
Friday, June 17, Rhinos Stadium in Rochester, New York
The young, upstart Western New York Flash were hosting the Portland Thorns FC in an important match as the National Women's Soccer League was closing in on the halfway point of the season.
Moments before the second half, a familiar face stood by the fourth official; McCall Zerboni, who spent four years with the organization between 2011 and 2014, made her long-awaited return to the Rochester area as a member of the Flash.
Zerboni, a former UCLA Bruin and now a veteran professional, was part of the glory years for the Flash, helping the team to the 2011 Women's Professional Soccer title and 2012 WPSL-Elite crown, along with captaining the side to a NWSL Supporter's Shield in 2013. Even with spending a season and a half away from the area, she felt right back at home in a comfortable position.
"Obviously, I have had all of the good memories here and a lot of friends and family and people who had supported me for four years," said Zerboni. "So it was nice to be back playing in front of them and when I put on that [Flash] jersey, I feel like I am fighting and battling for them so I was excited to put it back on and work for those people again."
Just three days prior to her return, Zerboni was acquired in a trade from the Boston Breakers for a second-round draft pick in the 2017 NWSL College Draft. Head coach Paul Riley wanted to add an experienced player into his midfield that could help the team continue to develop while making a run for the postseason. Two matches into her return with the Flash, Riley has been pleased with how quickly Zerboni has settled into her role.
"She's an experienced professional and has such a great personality with players," he said. "I think she's stepped into our midfield very well already and has helped [Makenzy] Doniak and Michaela Hahn and Sam Mewis out. We have a very young midfield, most of them are just 22 years old. She's done a really good job at just settling them in. There's not much that McCall can't do on the field and she's a great leader both on the field and off of it so [bringing her in] was a win-win for us."
Accepting a New Role
We often see mid-season trades in American sports, most notably by teams on the cusp of making the playoffs. These types of trades, no matter the sport, present challenges for both the incoming player as well as the rest of the squad. In this case, Zerboni spent the preseason and half of the season with the last-place Breakers.
The results on the field were not going her or the team's way, plus her fiancé and several close friends are based in the Western New York area, so it was clear to her that she needed to be back in New York.
"It was just a struggle of a transition for me in Boston," Zerboni said. "They brought me on to be the best player I could be and when I am emotionally struggling or when it's not going well, then they can't get the best out of me and I cannot give my best to them and it's not fair for the club. So I think that all parties came to an agreement to move me to Western New York and they offered something in return that Boston was willing to take and I will always have a special place in my heart for Boston for doing that for me and for caring about me as a person as well as a player."
Now she comes to a young Western New York team making waves in the NWSL. Unlike the Breakers, the Flash have been able to pull through and muscle out some results early in the season and are now clicking on all cylinders.
When Zerboni walked into the locker room for the first time, the team welcomed her in quickly, helping her to gel with the team in a short time.
"Mid-season trades are kind of interesting because teams have already established their style, their philosophy, who they are hanging out with off the field, and have that energy already set within a club," she said. "And the last thing that I want to do is to come here and shake that up. But right away the team was welcoming me with open arms and I think that energy that they started by saying that 'Hey, by bringing her in this is only going to make us better,' and lets focus on the team. That made my transition to the Flash a lot easier because they are so kind to me."
Riley acknowledges that one of the reasons why Zerboni's transition has been so smooth is that his young players want to be around veterans like her and learn from her experience so that they can be better professionals themselves.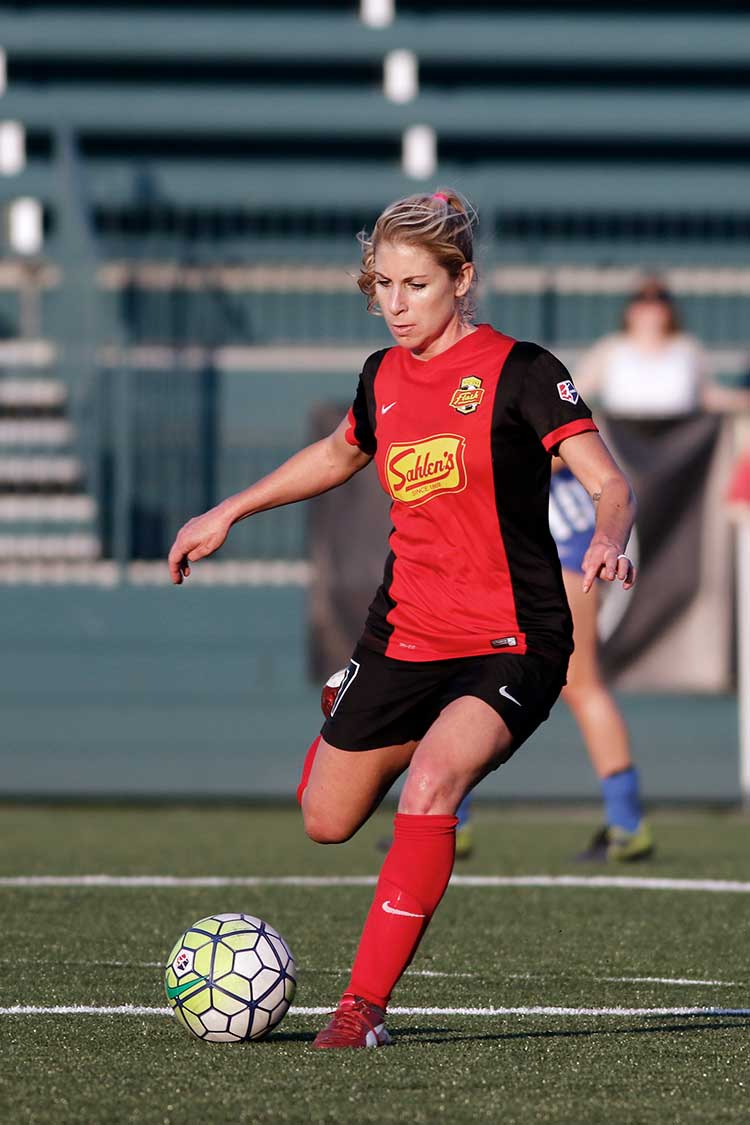 "Bringing a player like McCall into our team, she's really settled in and has helped the younger players. Michaela Hahn came over to me recently and said, 'You know what Paul, I think I'm going to be better now that McCall and Lianne [Sanderson, another recent veteran arrival] are now here.' I think she [Zerboni} realizes that players like that are going to make Michaela a better player and at the end of the day, when you're 22 years old and you realize that this development is crucial, she will become a better player."
That is a role that Zerboni is now relishing as being one of the team's elder stateswoman and has bought into that team-first mentality the Flash have created.
"We want to put out the best XI on the field and if that's not me for one week, it's not, and I'm happy to have someone else in front of me so we can be successful as a team. I gladly take on that role and having that accountability and responsibility that I can have and I just want to know that I am helping the team and the players get better," she said.
Familiarity and a Fan-Favorite
"I've had a lot of success here before. I've won a couple of league titles and championships here before and when you win like that, you will always remember a place. But when I came here, I was really looking for something impactful in my life, not just on the field but off of it as well. There are a lot of good people here and you want to be surrounded by good people and that makes for a healthy and successful environment."
When an athlete has the opportunity to play for a lengthy period in one city, they can become a fixture in the area off the field as well. With this now being the fifth season Zerboni has played for the Flash, fans have become accustomed to the number 7 jersey and her work ethic on and off the field.
Of all the moments that have stood out to Zerboni when looking back on her days with the Flash, the one that comes to the forefront dates back to 2011 when the Flash won the WPS Championship in penalty kicks over the Philadelphia Independence in front of more than 11,000 fans at home.
"We were tied in the WPS Championship game and went into PKs, and I hit the fourth PK and buried it," she recalled. "That was a great moment for me. The stadium was packed and we wanted to give back to the fans and get the job done at home. And to feel like I contributed the best that I could towards that championship made me feel really good. And that was my first national championship in the pro ranks."
Moments like that resonate with a fan base and she made a name for herself that year as she continued playing for the club in the years after. Riley believes that having that fan connection and coming back to a place she knows so well and loves can only help a player's transition go smoother.
"She's obviously fan friendly and she's such a quality player. She's in an area where she knows everybody and the fans absolutely love her. The players love her already as well and when you hear that, it's really cool."
Flash Back to the Playoffs
While years 2011, 2012, and 2013 were good ones for the Flash organization (along with 2010 as they won the USL W-League before moving to WPS in 2011), the past two years in NWSL haven't been so good. The team finished in the bottom half of the table in the past two seasons and saw a mass exodus of players and coaching staff as well.
Now with Riley at the helm and a young nucleus mixed with key veterans, the Flash are in a position to return to the playoffs, something they haven't done since 2013.
Which is why having Zerboni on board was a key move for Riley; bringing in a player who has won before and can help players around her improve will ultimately help push the team to reach their goals.
"She has seen everything in her career. She's been in a championship team and the expectations that come with those teams and she's been with poor teams as well," Riley said. "And I think she's better honestly than she was three or four years ago. She understands the game more, she's more thoughtful of her game now than she was before. She's had the ups and the downs through her career and understands now how to take care of herself as a professional."
[dropcap]Z[/dropcap]erboni knows that this team is much different from the championship-winning squads she played with before. However, she believes this is also a team that can thrive this season and make a run at the title.
"The team is making some noise and grabbing some attention, they are a young team that's full of a lot of energy, and they are eager to please and eager to learn. And this group has the mentality of that 'Yeah, even though we are young that doesn't mean that we can't get the job done,' and I think that's been great with having Paul come in and give this group a fresh start and a new mentality about the Flash. They work hard and want to get better every day. Paul has set the table for improvement here and pushes us to be better and makes us feel comfortable and good about themselves. And that is an environment that any player wants to be in."