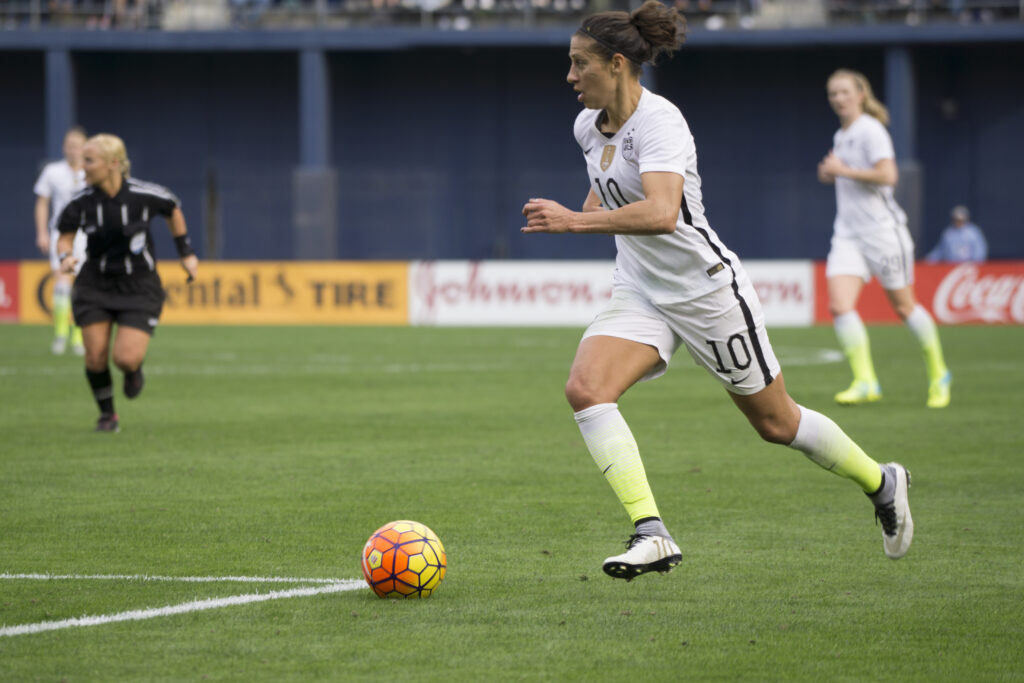 New Jersey is only 70 miles wide. It's only 170 miles long. As area goes, it's a tiny portion of the vast United States.
Sure, Jersey packs people in — it is eleventh among the United States in population. Even so, the 8,938,175 total population of the state, per a 2014 estimate, is just 2.9 percent of the United States total.
How, then, to explain the massive number of successful women's soccer players from the Garden State?
There's Sports Illustrated Sportsman of the Year nominee Carli Lloyd, who you might remember from such places as scoring three goals in 16 minutes of a World Cup final, merely the latest heroics in a career overstuffed with them.
Nor was Lloyd of Delran, New Jersey, the lone Jersey product on the most recent World Cup championship team. See also: Tobin Heath of Basking Ridge, Heather O'Reilly of East Brunswick, and Christie Rampone of Point Pleasant. Disparate geography throughout the state produced these four  — Lloyd from the Philadelphia suburbs, Heath in the north, O'Reilly in central Jersey, and Rampone from the Jersey shore.
Accordingly, it is reasonable to imagine that whatever edge New Jersey held in development would subside as the rest of the country adopted these methods.
That hasn't happened.
Structured Development
No fewer than eight of the 20 members of the All-American East team played on December 5, 2015, at Cardinal Gibbons High School in Raleigh, North Carolina. hail from New Jersey — goalkeeper Erin Seppi, defender Morgan Busacca, defender Jaylyn Thompson, defender Amanda Visco, midfielder Sophia Gulati, midfielder Casey Richards, and forward Nicole Whitley. Just for good measure, defender Erin Convery is on the West team, as if no women's soccer team is complete without New Jersey representation.
So what is the explanation for all this New Jersey dominance? Rachel Breton, the Sky Blue FC attacker and pride of Manalapan, New Jersey, sees it as part of the state's larger sporting tradition.
"It's in the water," Breton said in an email. "All jokes aside, I say it all the time that I do believe New Jersey breeds champions, on and off the field. Off the top of my head, New Jersey has given us athletes such as: Dennis Rodman, Shaquille O'Neal, Vince Lombardi, Derek Jeter, Tim Howard, Christie [Pearce] Rampone, Carli Lloyd, Heather O'Reilly, Tobin Heath, Yogi Berra, and the list goes on — athletes who are not only professionals but Olympians as well. I do believe we [New Jerseyans] truly understand the grind because we are not blessed with having beautiful weather as a constant. This quirky variable sometimes limits our accessibility to train, but it in turn leaves with the realization that we must get it done — however, whenever and wherever."
But as a number of the most recent All Americans explained, much of the success comes, unsurprisingly, from a superstructure of development that allows girls the chance to play at an elite level from the earliest moments of their careers.
"I think that New Jersey produces so many All Americans and top-level soccer talents in general because of the high-level clubs that are available for players around the state," Whitley, a Freehold product heading to college at Rutgers, said in an email interview.
"PDA, Match Fit, and many other clubs have such high-level coaching and training that it is inevitable to not get better when you put the work in. So many girls come out of New Jersey extremely successful in the soccer world because of this, and this will not change for a while because New Jersey sets itself to such a high standard in soccer to bring out the best in its players and to compete at the best level there is."
Seppi, out of Monroe and heading to Maryland next year, echoed this sentiment. She also pointed out that the proximity of so many top developmental teams meant the chance to not only play amid high-level talent but against it as well.
"Over the past few years playing at the ECNL and academy level most players have either played with or against each other numerous times," Seppi said. "For example, my first academy team was NJSA where I played with both Amanda Visco and Nicole Whitley. We eventually broke up and spread to numerous teams all over the region. Although my team, FC Bucks, is located in Pennsylvania, I still am in contact with the top New Jersey players all the time because of both high school matches and ECNL matches. Good players make other good players better, which is what seemed to be happening all over New Jersey."
The impact those trailblazers, the Lloyd/Rampone generation, had on today's newest stars can't be ignored, either. I asked Maya Hayes, a Sky Blue FC forward who grew up in West Orange, which mattered more: the success of those who came before her, or the development system itself that produced all this talent.
"In my opinion, it's almost even between the two," Hayes replied. "Seeing players like Christie Rampone, Tobin Heath, Heather O'Reilly, and Carli Lloyd play at the highest level of our sport really creates a desire to be the best and never settle. In addition to those players, having the proper development and countless environments to really challenge you to be the best each and every practice and game, pushes that desire to become a reality."
A Bright Future
It isn't merely aspirational, however. The players who have helped to make the state's reputation on the biggest stages in the sport can actually be found on the fields of New Jersey, making certain the future U.S. national teams benefit from their expertise.

"Growing up, I have had encounters with many of these soccer figures like Heather O'Reilly, Tobin Heath, and Carli Lloyd," Whitley explained. "Heather O'Reilly and Tobin Heath are both well-known athletes as being a part of the United States national team. They played youth soccer at the PDA soccer club, which I currently play for at the U-18 ECNL level, and always give back to the club. When they get the chance, they always make time to show their faces at the PDA complex and give back to its current players by tagging along in a training and giving feedback."

"Also, Carli Lloyd has been a great player to look up to especially since she has been doing so well on the United States national team and professionally. Graduated from Rutgers, it has really allowed the university to not only make a name for itself by their performance but from her accomplishments prior."

"As a Rutgers soccer commit, this allows me to feel comfortable knowing that success can be obtained in the environment of the university and after knowing someone like Carli Lloyd has achieved so much from there. Having these players go through the same training I am going through now allows me to have confidence in taking my game to the next level knowing that someone, who was once in my shoes, has done it already."

S

o the future is bright for New Jersey's women's soccer scene. Can the other 49 states ever catch up? Opinions were mixed on this front.

"I do thinks states are stating to catch up," Seppi said. "Being able to play all over the country shows the talent in many other great athletes. Pennsylvania, Texas, California, Colorado, proves the popularity of women's soccer is on the rise and I cannot wait to see what it holds in the future."

But Whitley sounds like she isn't ready to give up the title of America's soccer leader anytime soon.

"I believe that the other states cannot catch up because we are already so far ahead," Whitley said. "Since New Jersey has had the label as one of the best soccer states for a while now, it makes it that much harder for the other states. We have created our programs and shaped them in ways in which they have already peaked in some aspects — like winning national championships or other high level honors — that some states are too far behind to compete with."

"New Jersey's program and coaching style starts kids off with premier training at such a young age that it already becomes first nature on the field. By this time, other states are just beginning to train their players this way, making it hard to compete. All-around, New Jersey strives to shape the best women's soccer players, and this expectation allows the state to strive in order to keep that label. Keeping the label is not easy, but when you have such amazing programs and coaches that work in order to keep [up] this expectation, success is earned and well deserved."

As for Breton, her theory is a simple one: "They must be too busy watching Jersey Shore."