"… I was looking for a change and I definitely want to make it at this level and improve both my game and myself as a person." — Christen Westphal
"We have a trade to announce…"
[dropcap]T[/dropcap]he Portland Thorns FC were on the clock with the third overall pick at 2016 National Women's Soccer League (NWSL) Draft on January 15 until league commissioner Jeff Plush walked onto the stage to announce the first trade of the day.
Earlier that morning before the draft began, Portland traded the second overall pick to Sky Blue FC for the third overall pick and forward Nadia Nadim. Then, moments later, the NWSL announced a new process for player allocations, which included the order in which teams can obtain the rights to allocated players currently unattached to a team in the league. In essence, how the league ranks teams in line for these players is based on the reversed standings of the prior season, called the Allocation Ranking Order. For the 2016 season, that means 2015's last-place Boston Breakers were ranked first, Sky Blue FC second, and so on.
To move up in the Allocation Ranking Order, Portland traded its newly acquired third overall pick, its fourth spot in the Allocation Ranking Order, and future consideration to the Boston Breakers for the top spot in the allocation rankings.
And that is how the Boston Breakers, who moments before were scheduled to have their first pick of the day at 17th overall, landed the third overall draft pick and drafted All-American and SEC Defender of the Year Christen Westphal from the University of Florida.
Breakers head coach Matt Beard summed it up after the draft: "By trading for extra picks, since we only had our earliest pick at 17th [overall], we have brought in one of the best defenders in the college game."
Shipping Up to Boston
"Going into the draft, I knew that nothing was going to be set in stone, so I wasn't planning on going one certain way or getting my hopes up about going to a specific team," said Westphal. "So when I talked with Becky [Burleigh, Florida's head coach], she just said to keep an open mind through the whole process. So when I found out about the trade, it was kind of a surprise because it was literally the last minute."
The Boston Breakers were looking for a talented defender and it seemed from the get-go that the Florida center back was the one they had in mind, even if that meant trading their top spot in the Allocation Ranking Order to land her.
Burleigh feels that not only have the Breakers received a talented defender who has a knack for scoring goals but also one who has grown into a savvy leader over her four years with the Gators.
"As a freshman," said Burleigh, "she was put into a starting role but due to some injuries she was also put into a leadership role right away as well in the back line. And so she had to grow up quickly, even through mistakes. So that was a real positive that it happened, even when we didn't think it was at the time. And I think the other big part of her growth has just been her as a leader. This year in particular, she was so great at reaching out to her teammates, being a good teammate, pushing the standards high, and creating an environment that was welcoming to players but also at the same time was getting them to understand the standards that we wanted."
Versatility is a Plus
When you watch video of Westphal during her time at Florida, not only is she a strong defender in the traditional sense but she also has the ability to facilitate attacks out of deep-lying positions on the field. She also possesses good pace on and off the ball and was also a set-piece specialist for the Gators, including scoring the game-winner off of a free kick in the SEC tournament championship game against Texas A&M.
With all of those skills, Westphal can play anywhere on the field and produce. Burleigh believes she will be successful at whatever position she plays at the next level, partly because she's already played in so many positions in the past few years.
"We play a 4-2-3-1 and 3-5-2," explained Burleigh, "and she has played in the three-back in a 3-5-2, and she has played out wide in a 3-5-2. When we play in a 4-2-3-1, in fact for an entire spring season, we did not play her in the back, we made her play in the three (midfield), and that was to get her a 360-view of the game, especially to have her get used to having the game played behind her as opposed to having everything play in front of her. And she hated playing that position but she was really good at it. Even this year, when we were behind we would push her up and so she is a very versatile player and can really play anywhere except playing with her back to goal or as a goalkeeper."
Westphal credits her flexibility to being open to playing multiple positions while growing up. Having the opportunity to move around on the field is something she relishes.
"I've always had that for each team that I've played for, even at the youth level and high school. It was always just a different position. I've always found it fun, and I don't think that a lot of people would have enjoyed [playing different positions], but I thought it was cool to kind of know what each position was like and what it each one entails."
That seemed to be one of the main reasons why Boston traded up to get Westphal. Boston's current roster returns the majority of the back line from a year ago and has added Whitney Engen. But Beard believes Westphal has a good chance to fit into his system, especially on the flanks.
"We were looking for an outside back," Beard said. "She can also play center back so she gives me a little bit of flexibility. We needed another defender and a top defender for that matter. For me, that was important. And when we realized that trading up to get her was available, we had to go up an get her because she was the player I wanted."
A New Environment
While NWSL preseason doesn't begin for a few weeks, Westphal had the opportunity to get a week of high quality training out in California at the U.S. U-23 camp in January, which included a 3-0 victory in a match against Ireland.
Outside of the week of training, Westphal had the chance to pick the brains of a couple of players at the camp who had played in the NWSL this past year. Unlike in previous U-23 camps Westphal had participated in, she was keen this time around to gain as much information about the league as she could in the lead-up to her first professional season.
"I definitely asked a lot more questions this time around. I wanted to know what their experience [in the NWSL] was like, how the team worked, and how it was different from college, not just playing-wise but also about the environment and daily schedule."
Having that unique camp opportunity was one that Burleigh knows will be key for her former player. She also believes Westphal has all the tools to not only be successful this coming season at Boston but for many years to come in her professional career.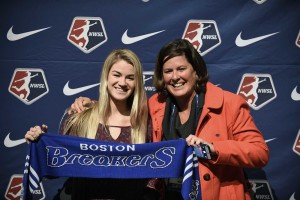 "She is much more equipped at this point just because of her experience here and not just in soccer but in terms of her personal development," Burleigh said. "[Christen] has come a long way in her confidence, in terms of her ability to lead, her resilience to overcome things, especially when she makes a mistake. And we have talked about this already as I told her that this is the pros, and she has aspirations to be on the national team, and I said that there is going to be adversity on the way, there's no question about that. The thing is that I am really confident is that she is ready for that."
[dropcap]F[/dropcap]or Westphal, it's all about embracing the new opportunity ahead of her and enjoying her first professional season.
"I'm just honestly really excited about going to a new team and a new environment," she said. "Not that I was over college or anything, but I was looking for a change and I definitely want to make it at this level and improve both my game and myself as a person. I don't know if there is one thing in particular to take away from this coming season, but what I want to do is to embrace the full experience, not be hesitant about anything, and allow myself to become comfortable with the team and the environment."