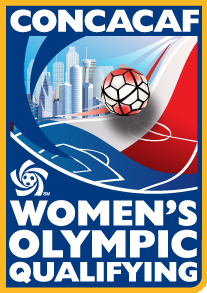 The U.S. Women's National Team (USWNT) will face Costa Rica, Puerto Rico, and Mexico in the group stage of the 2016 CONCACAF Women's Olympic Qualifying Championship to be held in Frisco, Texas, and Houston, Texas, from February 10–21.
Eight teams were drawn into two groups of four for the tournament. In addition to the United States (host), Canada, Mexico, Costa Rica, Guatemala, Trinidad & Tobago, Puerto Rico, and Guyana, will compete to see which two teams will head to the 2016 Summer Olympic Games in Rio de Janeiro.
As hosts, the U.S. was seeded in Group A. The top two finishers in each group will advance to the semifinals, which begin on February 19. The winners of each semifinal will qualify for Rio 2016 and meet in the final on February 21.
The USWNT has won all previous qualifying tournaments (2004, 2008, 2012). In 1996, the squad automatically qualified as hosts of the Games and in 2000 qualified through its top-seven finish at the 1999 Women's World Cup, which it won.
Guyana is making its first appearance in the the qualifying tournament after upsetting Jamaica, 2-1, in the third-place playoff match in the Caribbean Zone's qualification tournament for the CONCACAF Qualifying Championship.
The Groups
Group A
United States
Puerto Rico
Mexico
Costa Rica
Group B
Canada
Guatemala
Trinidad & Tobago
Guyana
Schedule
Matches will be played at BBVA Compass Stadium in Houston and Toyota Stadium in Frisco. All times listed are Eastern. Local time (U.S. central) in parentheses.
Group A

Toyota Stadium, Frisco, Texas
February 10
6 pm (5 pm)
 Puerto Rico vs. Mexico
8:30 pm (7:30 pm)
 USA vs. Costa Rica
February 13
1:30 pm (12:30 pm)
 Costa Rica vs. Puerto Rico
 4 pm (3 pm)
 Mexico vs. USA
February 15
 6 pm (5 pm)
 Mexico vs. Costa Rica
 8:30 pm (7:30 pm)
 USA vs. Puerto Rico

Group B

BBVA Compass Stadium, Houston, Texas
February 11
6 pm (5 pm)
 Guatemala vs. Trinidad & Tobago
 8:30 pm (7:30)
 Canada vs. Guyana
February 14
 1:30 pm (12:30 pm)
 Guyana vs. Guatemala
 4 pm (3 pm)
 Trinidad & Tobago vs. Canada
February 16
 6 pm (5 pm)
 Trinidad & Tobago vs. Guyana
 8:30 pm (7:30 pm)
 Canada vs. Guatemala

Semifinals

BBVA Compass Stadium, Houston, Texas
February 19
5:30 pm (4:30 pm)
Group B Winner vs. Group A Runner-up
8:30 pm (7:30 pm)
Group A Winner vs. Group B Runner-up

Final

BBVA Compass Stadium, Houston, Texas
February 21
 5 pm (4 pm)
Semifinal #1 Winner vs. Semifinal #2 Winner