Editor's note — This article originally appeared in the print edition of Our Game Magazine's 2015 College Issue. With the college season in full swing, we're publishing articles from the issue online.
---
When I got to hold the trophy, I was overwhelmed with emotion thinking of the journey I had traveled and all that I represented. I was not only representing UCLA as a Bruin but also as a proud woman who represents my family, Hawaii, the many teams I have played with, and my former and current coaches.
by Caprice Dydasco
February 2, 2011. Tuesday. I can still remember it like it was yesterday. As I sat in a Waikiki hotel ballroom ready to sign my letter of intent, my parents at my side, along with dozens of other high school students like myself, when it hit me — "I'm going to UCLA! I'm going to the University of California at Los Angeles! I'm gonna be part of the nation's top women's soccer recruiting class of 2011! Me, Caprice Dydasco, from a little island in the middle of the Pacific!" Here I was thinking, "I made it," and that my journey was complete just being able to play Division I soccer in college. Little did I know that the journey was only beginning. If I had to sum up my soccer-playing career as well as what's important to me, it's the idea of "Finding My Place." It means finding out who I am, staying true to myself. It means being my own person. It means establishing myself so that people know who I am. It means navigating my way around. It means going to new places, trying new things. But it also means finding some place where I feel needed, loved, accepted, and valued.
Finding My Place… The Early Years
There was no question that I would play soccer. In fact, it was expected. My dad and mom both played and won high school state championships and then went on to play in college. My aunts played. My uncles played. So there really wasn't much of a choice, I guess. Funny though, I never felt any pressure to play. I just assumed that everyone played soccer and it was part of life. So I looked forward to it when it became my turn.
Yep, it started when I was four years old. I played in the local recreation league for about three years. I loved it. My older brother had made the jump to club soccer and my dad was one of the coaches. So at seven, I moved up, too. This is when it started getting a little more serious. It wasn't about the matching ribbons in my ponytail or the oranges and cookies for snacks anymore. It turned into the five-mile "short runs" around the valley, the daily kick-arounds in the back yard, footwork drills twice a week, the ad-hoc practice sessions with Coach Dad and the "Hey, we'll just put you on the boys' team."
Even though I had a hectic soccer schedule and it did put a crimp on my social life, I did love soccer. In fact, I started getting pretty good at it. All those years of practicing for hours, playing against boys, traveling with my club team, running forever, and working out endlessly started to pay off. At 14, I made one of the U.S. youth national teams and have been playing at the different levels over the years ever since. I found my place — I'm a soccer player!
Finding My Place… Which College?
This is also about the time that I started to think about college and where I wanted to go. The number one goal was to play soccer. The other things I thought about were "How far away is the school? How big? How small? Does it snow?" However, my parents gave me some of the best advice. They said, "Caprice, choose a school that if soccer wasn't there, you'd still be happy at. Just think if you didn't want to play or you got injured." That stayed with me as I looked at and visited schools.
Again, I was able to travel quite a bit for soccer with my club team and the national team. During those trips, I would visit schools occasionally, but never quite found what I was looking for, especially when using my parents' advice as a major decision factor.
I remember one summer traveling to tournaments in California with my club team. Most of the girls on the team were trying to decide which school to go to, so our coaches planned some college tours. We visited a few and they seemed okay. Even though I could see myself there, it always felt like I was settling. It wasn't until we visited the UCLA that I immediately fell in love! I loved the campus, the location, and everything about it. At that moment I knew I wanted to go to UCLA. It felt like home. I found my place — I'm gonna be a Bruin!
Finding My Place… Soccer at UCLA
I arrived in the fall of 2011. I was a freshman moving from Honolulu to Westwood. I couldn't believe it. It certainly was a dream come true, especially from the time I toured UCLA on that summer trip to actually being recruited, applying, and being accepted. I was scared. I was nervous. Luckily for me, entering UCLA at the same time was my good friend, Abby Dahlkemper. She was a teammate from the national team.
When I entered the locker room for the first time, I was amazed. I couldn't believe how many All-Americans UCLA produced. At that time, I was given my UCLA gear and began to realize the importance of those four letters across my chest and what it meant. I knew that I made the right choice and was proud to wear the blue and gold. On the field, I believed the adjustment from high school to college would be easy. Hey, I played for U.S. youth teams and competed against countries from all over the world. Wow, was I mistaken! College soccer was a whole new ball game. It was a game of speed, power, and quickness. I began to doubt my abilities. "Am I fast enough? Am I strong enough? Am I good enough?"
Thank goodness for a great coaching staff and teammates that believed in me and helped me grow. Even though I had three different head coaches during my time at UCLA, they each taught me more about the game, about life, and more importantly, about myself. I found my place — I'm a UCLA soccer player!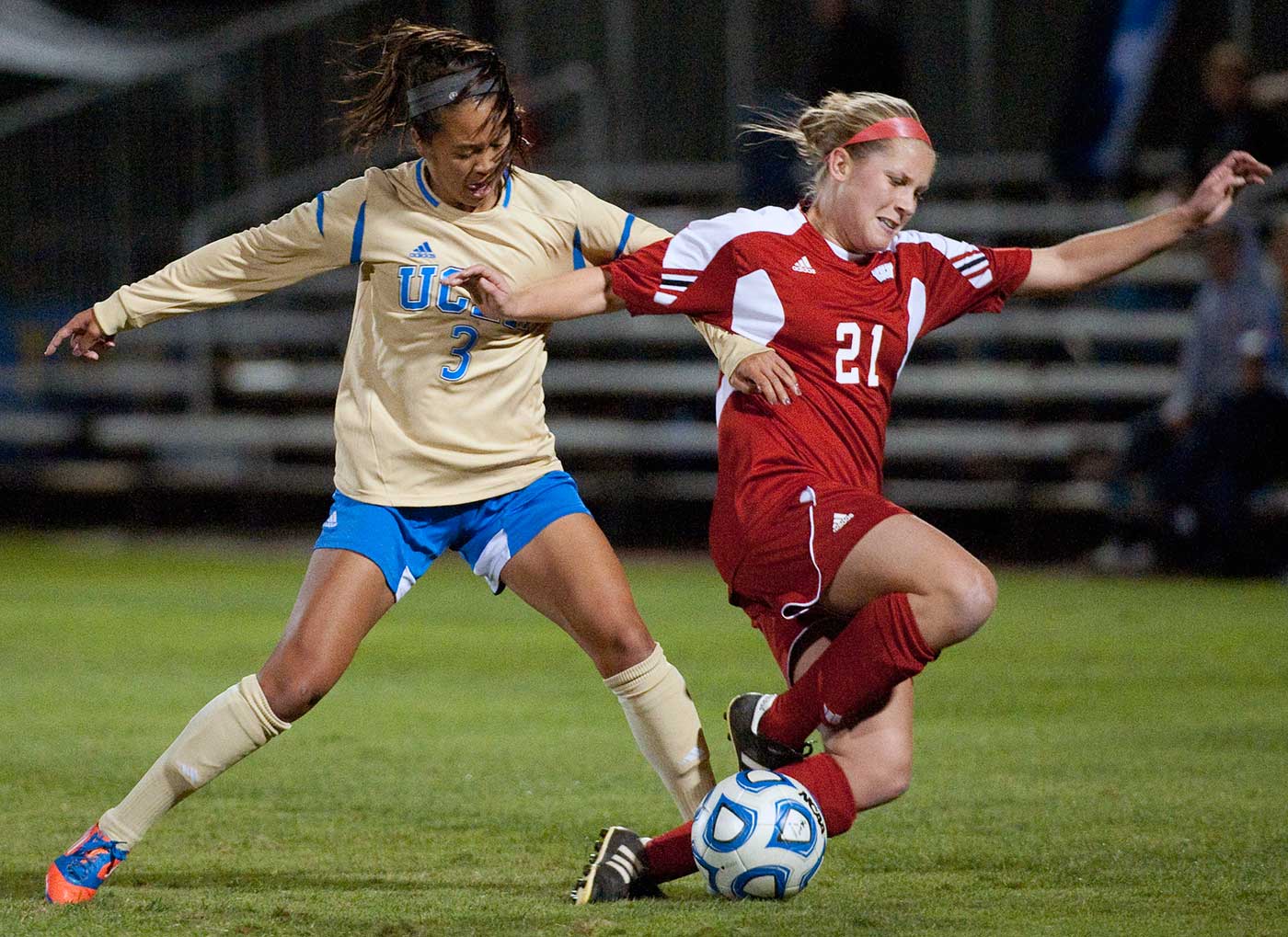 Finding My Place… What's My Position?
Head coach Jill Ellis and assistant coach BJ Snow recruited me as a forward/midfielder and I was ready to contribute to the team in my "usual" role. The first day of preseason was the day I found out where I would make the biggest impact. It was nowhere I was too familiar with; I found myself on the wrong side of the field playing left outside back. I was confused why he put me there in our first inter-squad scrimmage. After the inter-squad scrimmage, Coach BJ came over to me and asked, "How did you like that position?" I vividly remember saying, "Coach BJ, you know I don't play there" and he responded with a smirk saying, "I know, it was my plan for you to play out there the whole time." After hearing this I knew nothing would come easy and I would have to work hard every day to be the best at whatever position I had the opportunity to play. My position at UCLA and on the national teams was to be as a defender. It was hard to get used to seeing a "D" next to my name after all these years.
Luckily for me, Coach BJ saw something in me that would be beneficial for the team and later on, my future. After that training session, I had to remind myself that this was only the first day in my new position. I was scared about what the future held with this big new change. Then, I remembered something John Wooden said, "Things turn out best for those who make best of how things turn out."
My new position had challenges and growing pains. I had the best coaches and teammates supporting me in my new role. I found my place — I'm a defender!
Finding My Place… in History
At the beginning of the 2013 season, we had one goal — to be the first women's soccer team at UCLA to win a national championship. In my first two years, we made the playoffs, but both times came up short. It wasn't until my junior year it all came together.
Typically, in the past, the offseason was just that: take time off, rest, relax, and recover. Do fun things like barbecues, beach days, traveling, and spending time with family. However, that summer wasn't like any other offseason. We got a new coach (my third coach since being in Westwood). We didn't know a whole lot about our coach, except that she was coming from the University of Central Florida. With the last coaching change, we knew what Coach BJ expected of us and he knew us since he had been our assistant coach before being promoted to head coach.
In this case, it was a brand new staff. It would have been a perfect time to slack off and wait until the fall to begin to work. However, as Bruins, we knew that this was a time to work harder. In the summer of 2013, the whole team had the same goal: We wanted to be the best. The women's soccer team wanted to bring the 110th national championship to UCLA. It didn't matter that UCLA had 109 national championships before us, we wanted to be a part of UCLA's winning tradition. The winning tradition and the goal fueled our fire. The best thing is other sports were behind us, cheering for us and wanting the 2013 UCLA Women's Soccer Team to win its first national championship.
At preseason camp, we were pushed by Coach Amanda and Coach Josh to be the best. They understood our drive to be the best and what UCLA represents. As a team we were able to achieve the goal of winning UCLA's first women's soccer national championship and become the school's 110th national champion. When I got to hold the trophy I was overwhelmed with emotion thinking of the journey I had traveled and all that I represented. I was not only representing UCLA as a Bruin but also as a proud woman who represents my family, Hawaii, the many teams I have played with, and my former and current coaches. UCLA was a great experience for me and I am truly blessed to have met my lifelong friends there. Though I may not wear the four letters on my chest anymore. I found my place — I am a Champion, I am a Bruin!
[divider]About Caprice Dydasco[/divider]
Caprice Dydasco is a defender for the Washington Spirit of the NWSL. A Hawaii native who starred at UCLA as a four-year starter, Dydasco won a national championship with the Bruins in 2013. She has represented the United States with the national team at various levels and has played throughout the world. When not playing soccer, she enjoys time with family, relaxing at the beach, and spending time with friends. Follow Dydasco on twitter at https://twitter.com/capricedydasco.