Editor's note — This article originally appeared in the print edition of Our Game Magazine's 2015 College Issue. With the college season in full swing, we're publishing articles from the issue online.
---
Once I had done all the research, made visits, and talked to players, there was still no one "right" answer. I had to follow my gut, which is what I recommend to all players.
by Yael Averbuch
Navigating the college-selection process is one of the most stressful, yet exciting parts of every young player's career. There are often many options, logistics to consider, and everyone loves to offer his/her "two cents." Experts have formulas to help players make the "right" decision, but at end of the day, it often comes down to some research, some guesswork, and a gut feeling.
Beginning in my sophomore year of high school, I started to seriously consider college programs all across the country. I went on unofficial visits with my dad, where we toured campuses and watched teams train. I spoke to coaches, players on those teams, mentors at home, and was still left with brutal decisions to make. I've provided some of the wisdom I gained throughout the process, and also some of the perspective I came away with from my experience playing for Anson Dorrance at the University of North Carolina.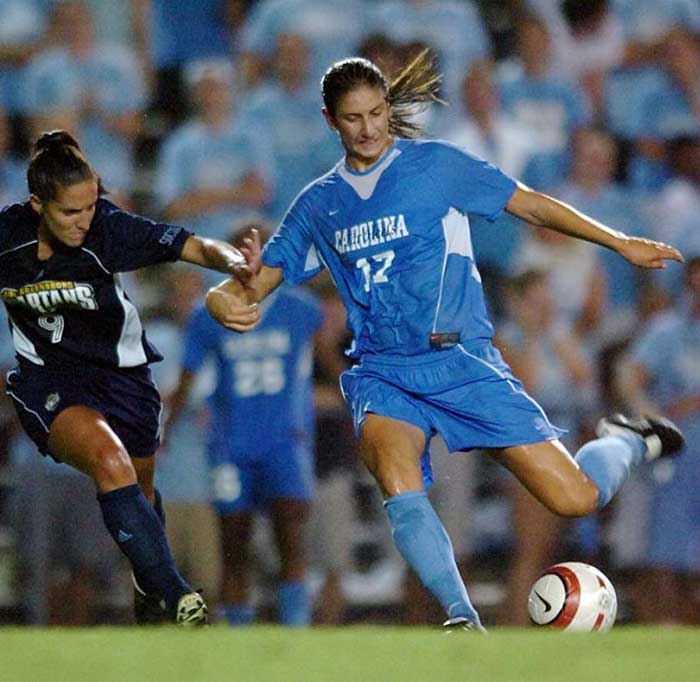 DON'T

pick your college based solely on the soccer program.

I literally did what EVERYONE tells you not to do — I chose my college only for the soccer program. North Carolina was where I thought I would develop most as a player, so at the end of the day, it was a career decision for me. I ended up getting lucky and completely falling in love with Chapel Hill, North Carolina, the university, the people I met there, and the experience as a whole. Those elements that played very small roles in my decision ended up being the best parts of my experience by far. So although I didn't follow my own advice on this one, do as I say, not as I did. You are choosing where your life will develop for four years. Don't just make that decision based only on a soccer team.
DO

select a college with a soccer program that matches your level of intensity and commitment.

Although you shouldn't choose an educational institution solely because of the soccer team that represents it, it is vital that you're self-aware enough to put yourself in an appropriate soccer environment. I knew that my ultimate goal was to be a professional player. So I knew that I wouldn't be happy at a school whose soccer team wasn't helping me get closer to that goal. If you just love playing but don't plan to play after college, make sure that you choose somewhere that will be enjoyable based on that. Each program has a unique feel and team environment. North Carolina is incredibly intense and competitive. In Anson Dorrance's "competitive cauldron," every single drill we did in practice was recorded and we were ranked within the team. This created a very stressful experience that was wonderful for development, but it isn't right for everyone. That is exactly what I wanted and I knew that going into it. There are other top programs that still have a great deal of success, but may have more of a laid-back approach.
DO

be proactive.

Some athletes will get heavily recruited, while some may be less sought after. It's important to realize that this should not determine how you go about YOUR side of the decision. Just like schools may be evaluating and selecting their players, you can evaluate and select your school. I didn't simply sit back to see which colleges sent me letters. I reached out to the schools I thought I may be interested in and told them of my interest, sent them my club team tournament schedules, and let them know where and when they could watch me play. There were rules against them writing me back, but I'm a big believer that no one should simply sit and wait to see what comes her way. If you have a school(s) that you're interested in, the ball is in your court. Be proactive and let them know.
DON'T

be afraid to leave your comfort zone.

Some college decisions can be comfortable for various reasons. Maybe the school is close to home, you will easily be a starter all four years, or you have friends going there. These elements shouldn't deter you, but they also shouldn't keep you from exploring elsewhere. For me, playing at UNC was way beyond my comfort zone. There were other programs that offered me more scholarship money, were closer to home, and where I would have easily been the best player. I chose UNC, in part, because I wanted to be pushed out of my comfort zone, particularly on the field. I'm not a typical UNC recruit. Anson likes to get extremely fast, athletic players who have a very combative mentality and playing style. I'm much the opposite. I rely on technique, understanding the game, and am not a particularly physical player, despite my size. I knew that I would not leave UNC without thoroughly addressing every weakness in my game. And I was correct. Every day I sprinted against some of the fastest players in the country. I lifted weights with some of the strongest. I got into tackles with some of the grittiest. I tried to dribble by some of the most agile. I didn't always feel the best about myself, but it helped me build enormous confidence and I doubt I'll ever improve as much over four years as I did during my college days.
DO

talk to current team players.

It's important not only to observe and hear about a place but also to speak to the people who are experiencing it firsthand. On my official visit to UNC, I stood on the sideline next to an injured player and watched the team do fitness. She was actively cheering on her teammates and seemed very invested in the team's success, even through her injury. I left that day thinking, "No other team deserves to beat this team" because of how hard they work and because of how much each player genuinely cares about her teammates and the program as a whole. You can learn a lot from asking questions of current players. You'll always find players who both love and hate a coach, love and hate a place, love and hate a system. But what's most important is to pay attention to why they either love or hate those things. Every player loves a coach who thinks she's a wonderful player. But you know a coach is special if you talk to a non-starter and she still has positive feedback about the coach.
DON'T

forget that the team will change greatly over four years.

My freshman year at UNC, our team was absolutely stacked with national team players. The senior class that year included (just to name a few) Lindsay Tarpley, Kacey White, Kendall Fletcher, and Lori Chalupny. Going into my sophomore year, eight or nine players had finished their eligibility and we had an incoming freshman class of nine. Within a year, I went from just trying to stay afloat and holding my own, to being a leader and relied-upon player in the team's success. Yes, I improved, but like a high school team, there is great turnover in personnel within four years. So remember that the college team you observe as a high schooler is a different team than the one of which you'll be a part.
DO follow your gut instinct.
At the end of the day, I honestly felt that I could be happy at one of several schools I had on my initial list. My decision came down to this: I felt that if I went to any school besides UNC, I would always wonder "What if… ." I wouldn't feel that way about any of the other schools I didn't choose if I were at UNC. Once I had done all the research, made visits, and talked to players, there was still no one "right" answer. I had to follow my gut, which is what I recommend to all players. You can make lists of pros and cons; one school may have something you love in one respect, and another will fulfill something different in your eyes. At some point, however, you will have to trust your instincts based on what you prioritize. And once you do choose your college, enjoy yourself and never look back!
[divider]About Yael Averbuch[/divider]
Yael Averbuch is a professional player playing in the National Women's Soccer League for FC Kansas City. She has 26 caps with the U.S. Women's National Team. Averbuch studied psychology at the University of North Carolina at Chapel Hill, where she won two NCAA Championships. She played in the Women's Professional Soccer league for three years, winning championships with Sky Blue FC and the Western New York Flash. Averbuch is originally from Montclair, N.J.