Editor's note — This article originally appeared in the print edition of Our Game Magazine's 2015 College Issue. With the college season in full swing, we're publishing articles from the issue online.

---
If I had 100 chances to do it over again, I'd choose the University of Michigan every single time. — Haley Kopmeyer
by Haley Kopmeyer
Like every other women's soccer fan in 2007, I spent the summer glued to the television watching the FIFA Women's World Cup. I watched Hope Solo, who is now my teammate, get benched in the semifinals so that Briana Scurry could play. The controversy saw the winningest coach in U.S. soccer history, Greg Ryan, relieved of his duties as head coach. Little did I know at the time that this decision would lead to a series of events that would lead me to crossing paths with Greg Ryan for a second time.
This story needs to go even further back before it can go forward (sorry if you were just hoping for the juicy college stories). In 1991, Greg Ryan led the University of Wisconsin to an NCAA national championship finals appearance. Mia Hamm, Kristine Lilly, and the University of North Carolina defeated the Badgers, 3-1. The Kopmeyer family had driven from all over the Midwest to cheer on Margaret Kopmeyer, the youngest of six children (five girls!), who anchored the Badger's backline. Margaret's lone older brother, Joe, and his wife Patty didn't make the trek as they had a one year old. Yes, in case the last name didn't give it away already, I was that small child. My Aunt Margaret played another season at Wisconsin and in that time her older sister, my Aunt Nancy, fell for Greg's assistant coach, Dean Duerst, and the two went on to be married. Dean took over the head coaching job in 1994. All over my grandma's house are photos of me and my cousins bundled up in snow gear cheering on Wisconsin soccer.
Despite being a Badger fan by way of family, there was never really a doubt where I would attend college. I grew up bleeding Maize and Blue in a (mostly) Wolverine family. My dad, my grandfather, and several aunts and uncles had all spent their glory days in Ann Arbor, Michigan. The school had it all — academics, sports culture, and was the epitome of the perfect college town. That is, they had it all except a relevant soccer program. In my junior year of high school, I committed to the University of Michigan. The team won five games that season and I dreamed of the day I could go to Ann Arbor and lead the movement that would turn the program into a national power. In my senior year of high school, the team won three games and fired the head coach a week before National Signing Day. I signed to a losing program without a coach — it would take a hell of a lot more to keep me from my dream school.
A couple of months went by and I received a call from an athletic director at UofM. She informed me that Greg Ryan had agreed to become the second head coach in the history of the women's soccer program. To say I was conflicted between nervous and excited would have been an understatement. My new coach was the man who had become a household name and who I knew set higher expectations upon his goalkeeper and backline than anyone else in the world. He was also a man who had won at every single level and was both feared and respected by his players and the soccer community. Two weeks later, my parents informed me that Greg had decided to reunite his old coaching crew, hiring Dean Duerst (also known as my Uncle Dino) as his associate head coach. History sure has a funny way of repeating itself…
I arrived for my freshman season anxious to make my mark. There was a senior goalkeeper who had started for three years but I knew with a new coach that the playing field was level. To say the three-win team needed an overhaul was an understatement, but if there was ever a duo qualified for the job it was Greg and Dean. I went through (survived) preseason in Jekyll Island, Georgia, and got the nod along with seven other freshman for our season opener against national powerhouse Notre Dame. To say the game didn't live up to my naïve dream of freshman domination would be another understatement. I let in four goals in 45 minutes and the last goal saw me get taken out by All-American forward, Michelle Weissenhoffer. I blew out my ankle so badly I had to take a medical redshirt for my freshman year. I watched from the sidelines as the team went 4-10-5. If you look at my stats from that season, my goals against average (GAA) is 8.0… horrifying.
For the first time in my entire life I was sidelined. I watched my teammates get battered week after week and felt helpless. To make matters worse, I finally returned during winter training and fractured my finger after just a few weeks of being able to practice — sidelined. That eventually healed and we moved outdoors for spring season and I re-injured my ankle — sidelined again. Admittedly, more than once I flat out cried and "made up" my mind that my playing career was meant to be over.
They say during the recruiting process that you select a school where you'd be happy even if your career ended. I'm proud to say I did that and I could not have been more grateful for the University of Michigan. My freshman year wasn't about soccer, it was about stepping into my own as a person. I grew my relationship with my longtime teammate and dorm roommate, Clare Braun (née Stachel), who is still my best friend to this day. I fell in love with my Political Theory 101 class and set a course for my academic career that both challenged and inspired me. My Uncle Dino became more than family for me; he become a confidant and mentor. I met friends who shared the same passions and interests that I did and picked me up each and every time I felt my life was falling apart. I went dancing, tried new foods, dated non-athletes (crazy, right?), let loose, and learned to take life a little less seriously. The University of Michigan was everything I needed and more.
In my second year, I started as the back-up despite finally being healthy. I learned why my Aunt Margaret had described Greg and Dino as a dynamic pair. Greg was the enforcer, brilliant but unafraid to push people to their limits. Dino swooped in and kept the sanity in our tensest moments. Quickly into preseason Greg told me I wasn't performing well enough to represent the team on the field and put me on the bench. I was devastated but it was the kick in the pants I needed to step up my game and I waited for my opportunity. I took over as the starter four games into the season. As a team that year we played defense, just defense. To be fair, we didn't have the personnel for much else so we sat-in and prayed for the counterattack. We finished 6-9-5, which was better, but still not good enough by University of Michigan standards. Despite all the losses there still were signs the program was headed in the right direction. Players who didn't represent Michigan ideals and standards had been released by the team and the coaches had been recruiting like mad to raise the level of talent. We defeated our middle conference in-state competition and tied Michigan State, which had been better than us for several years. Finally, I had managed to lower my GAA from 8.0 to 1.16. I saw a ton of shots. Too many shots. But I was gaining the experience I craved even if the results didn't come as quickly as I would have hoped.
My final three years were full of peaks and valleys but luckily, there were far more peaks. We went on to have three winning seasons, two NCAA Tournament appearances with a run to the Sweet 16 in my final season. I remember losing to Oklahoma State, 2-1, in the first round of the NCAA Tournament my redshirt sophomore year. I let in two bad goals and then watched film with Greg with tears in my eyes knowing I had let down an entire senior class. I remember massive overtime wins against Minnesota and Central Michigan that were turning points for our seasons. I remember being the only keeper on the roster for the better part of a season and my keeper coach, Angie, training/ playing alongside me during practice. I remember battling big town power Penn State in 2012 to a 1-1 draw and making save after save after save. I remember my Grandma crying and hugging me in her "Michigan Grandma" shirt after the whistle blew on my last game in the incredible, newly built Michigan Soccer Complex. I remember my senior year banquet receiving an All-American plaque and hugging my coaches knowing they had pushed me to heights I never thought possible. Finally, I remember my relationship with Greg Ryan coming full circle when he described me as the most improved player he had ever coached. In four-and-a-half years, I'd become a player who was beginning to hit her stride and had finally performed well enough to get a shot on the professional stage. Regardless of the circumstances that saw Greg and Dean pack their bags for Ann Arbor, Michigan, I'm forever grateful that they did.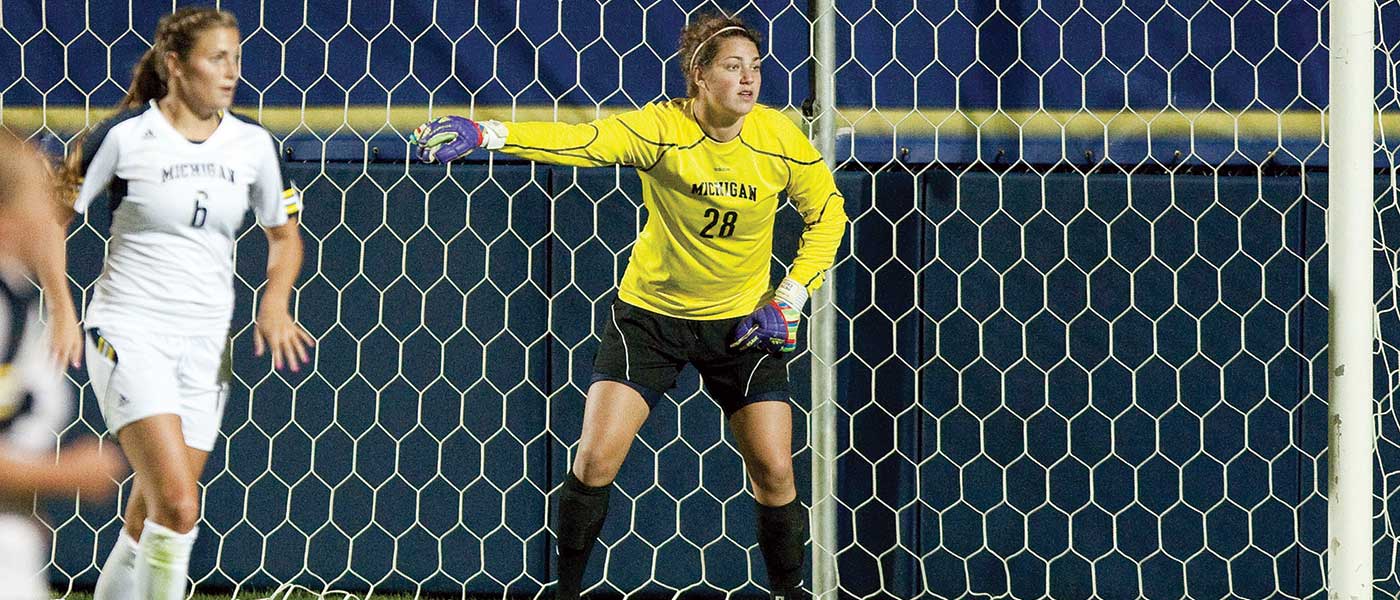 Today, I am in my third season with the Seattle Reign FC in the National Women's Soccer League. There are few players who would call the transition from college to the pros "easy" and while it certainly wasn't easy for me, playing and growing at the University of Michigan prepared me for the work, attitude, relationship building, and accountability it has taken to even begin to succeed at the highest level. Every single day I train with the best players in the world, the best goalkeeper in the world, and a coaching staff who believes in my abilities and pushes players to reach their potential every single day. I may not be making as much money as my classmates who have gone on to be doctors and lawyers, but I love my job and am genuinely happy to wake up and go to "work" every single day.
A month ago my best friend Clare came to visit me in what has become my new "hometown." She has since stayed in Ann Arbor with her husband and every time I go back, I get the chills and can't help but envy the current students. We got to reminiscing about our glory days and realized we're not nearly as young as we used to be. We talked about our teammates and where they are now. We talked about coming back for all the amazing food in the city (Zingerman's, Frita Batidos, and Pizza Bob's — trust me). She reminded me of football tailgates in the fall, with perfect fall leaves and the indescribable excitement and buzz that keeps alums coming back year after year. We laughed about the ballet class I took my junior year and the Halloween photos that should probably be burned. We looked at pictures from her wedding, surrounded by love and college friends who have impacted the course of our lives. To know us both, you'd know how different we were and that our lives couldn't have gone in more different directions but we shared a bond over our love for a game, a city, and a school that we will share for the rest of our lives.
Since I've left the program, Michigan has made the Elite Eight and become a consistent power in the Big 10 conference. Greg and Dean continue to pull some of the top talent in the country, making Michigan an easy sell to anyone hoping to get the ultimate college experience. I befriended Olympic gold medalists. I was taught by Nobel Prize winners. I worked with (current and future) Fortune 500 CEOs on class assignments. I cheered with 116,000 Maize and Blue fans in the largest stadium in the United States. I was coached by two of the greatest soccer minds in the game. At the University of Michigan, you can become whoever you want to be and will make lifelong friends with people from all walks of life. If I had 100 chances to do it over again, I'd choose the University of Michigan every single time.
[divider]About Haley Kopmeyer[/divider]
Haley Kopmeyer is a professional goalkeeper with the Seattle Reign FC of the NWSL. She has also played in UEFA Champions League with Apollon Ladies of Cyprus. Kopmeyer grew up in Michigan where her family still resides. When she isn't playing soccer, she enjoys coaching, being near water, drinking good coffee, and country music.