We are friends, teammates, and now business partners. I think playing together and really getting to see each other's drive and competitiveness has made our team in business even stronger." — Taryn Hemmings
Sweat Cosmetics may have just launched this summer, but the idea for creating this innovative cosmetics line started swirling about nearly 10 years ago.
At the University of Denver, then Pioneers teammates Taryn Hemmings and Emily Hines talked about the idea of a line of makeup for female athletes, something that could be worn during training and matches.
"We talked a lot of creating something that would be healthy and safe for women to wear while working out, along with the importance athletics held in empowering them and maintaining their femininity," Hemmings said. "While we probably talked about it for longer, I think it has taken three years of seriously sitting down and making it a real business."
Hemmings, a defender for the Chicago Red Stars, is the chief operating officer of Sweat Cosmetics. She and Hines believed in their dream, and over the next few years, started making it a reality.
"During my second year in Boston, I really started doing research and trying to take our idea and prove why it was something our world needed," Hemmings said. "I started carrying around this binder on our trips and told Leslie [Osborne] about it. She loved the idea and was super supportive. Eventually, Emily and I asked her to join the team."
Hemmings was drafted by the Boston Breakers in 2010, the team's second year in Women's Professional Soccer (WPS). That same year, Osborne was signed as a free agent by the Breakers. That's when the friendship and eventual business partnership began to flourish.
"When Taryn came to Boston, she started talking to me about it. I talked to Dan Nova — then owner and current venture capitalist — about the idea, and he encouraged me to go after it," said Osborne, who played in WPS for three years and most recently worked for FOX Sports as an analyst during the 2015 FIFA Women's World Cup in Canada. She is now the chief marketing officer for Sweat Cosmetics. "It was over the course of 2011 where we finally did something about it. I talked with Taryn, and we talked with Emily and started to actually figure out how we would do this."
The well-thought-out plan that began at Denver University went cross-country to Boston, but the cosmetics line still had a long ways to go before it made its debut.
"We've started down a lot of different paths to where we've actually ended up today. We've had to learn so much along the way, and a lot of times we've been about to make a big decision and suddenly realized it wasn't what we wanted," Hemmings said. "But I think that's an important part of it because being forced to make those decisions really pushes you to think that it's a reality and make sure they are the right ones for us."
Once the 2011 season ended, so too did WPS. The three-year league folded shortly after the 2012 WPS Draft in January. But the Breakers remained a franchise and joined forces with the Women's Premier Soccer League (WPSL) to form WPSL Elite, a division for the top teams in the country. Hemmings and Osborne remained with Boston, and a new teammate during that 2012 season quickly became part of the conversation.
"Taryn approached me our first year playing together in Boston. I was the fourth girl added to the mix, and when she told me the idea, I was immediately in for the long haul," said former University of North Carolina star and NCAA national champion Courtney Jones. "I am a makeup and beauty fanatic, so the idea of a company that puts fitness and beauty together, wow, there was no stopping me."
It didn't take long for Hemmings to realize that Jones was the perfect fit on her team.
"Courtney knew more about makeup and products than anyone I'd ever met," Hemmings said. "We told her about it, and I remember her being so excited. The great thing about Sweat is how much of a passion it is for all of us. Throughout all the years and all the ups and downs, the one thing this has never wavered is how much we all believe and love what we are doing."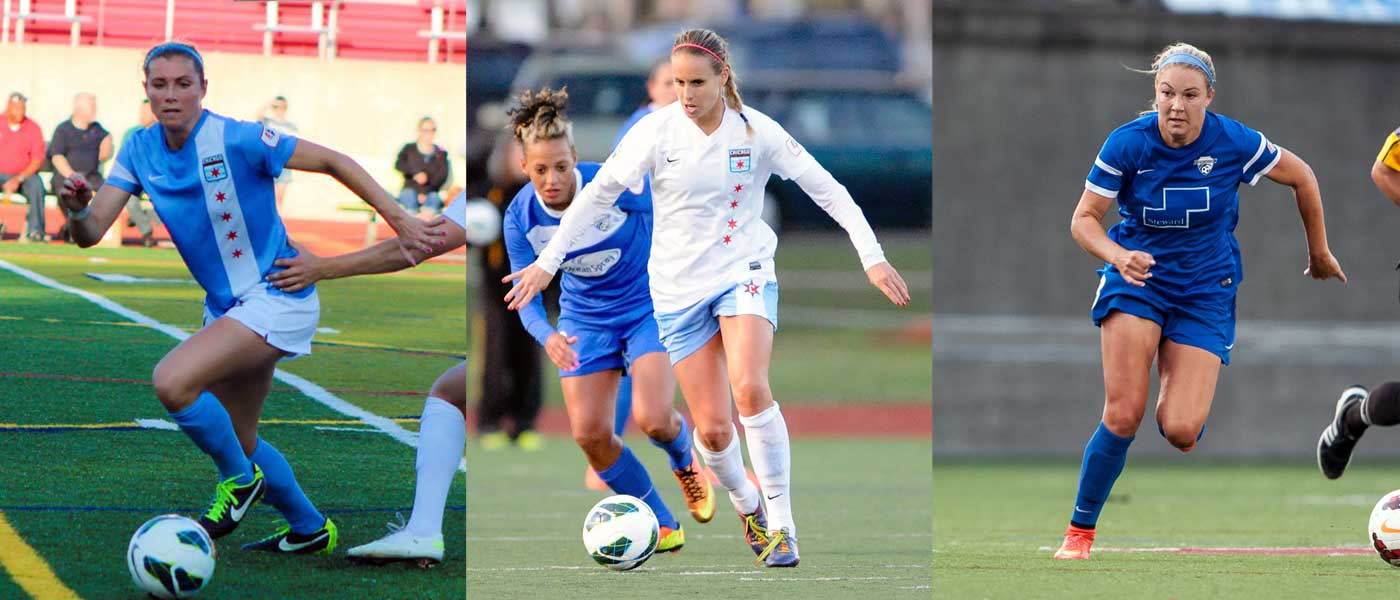 With Hemmings, Hines, Osborne, and now Jones all on board, the foursome quickly went to work, brainstorming ideas, meeting regularly, and coming up with plans to make Sweat Cosmetics come to life.
"We formulated the product for over a year until we found something that was exactly what we needed," Hemmings said. "We mostly tested the products on ourselves at our practices and games. I actually have worn our product — and prototypes — of our product every day since we started making them. Even when we didn't have the formula perfect in the beginning, it was still the best I could find."
Osborne remembers the meetings vividly.
"We had journals, took notes, had sleepovers and talked and came up with our dream products, vision boards, and just started to take the initial steps in early 2012. The idea has always really been the same: create a product for women who work out, a powder that could provide coverage, and provide protection."
Jones knew that every single detail about the products needed to be ironed out before they took the next step.
"About a year and a half was spent on testing the products. Our chemist in Los Angeles would send us a batch of powders, we would test them out for about a week, and then tell him what we like and what we didn't like," she said. "He would make a new batch, and we would do that same thing.  We honestly spent a lot of time on making the formula and the product perfect. No shortcuts were taken."
Most important, the testing wasn't done on animals. The players tested out the products.
"We tested ourselves in the beginning because we didn't want to give out a formula we didn't like," Jones said. "We finally got to the point where we had about three formulas that we couldn't decide from.  They were all relatively similar, but a few different ingredients and qualities in each.  That's when we went to our friends. We passed them out to current and former friends and players, asked them to try it out next time they practiced or worked out.  We sort of put together a research group and had them report back to us."
After months of testing and getting down the formula that they felt best suited their target audience, Sweat Cosmetics officially launched, making its debut in June 2015.
"As cliché as it is, it's been a dream come true," Hemmings said. "Seeing Sweat become something real and being able to get it out to active women in the U.S. to fulfill a need has been amazing."
Her business partners feel the same.
"It truly is incredible," Jones said.  "When our inventory arrived, we celebrated like we just won the World Cup. All the phone calls, meetings, team calls, trips to Los Angeles, testing, networking, pitching to investors, was all worth it. We are extremely proud of ourselves and what we have accomplished."
Osborne added: "It's crazy. We have worked on this for so long. It's funny running into friends who are like, 'Oh, my God, remember when you guys were talking about that in 2010 and 2011.' I just ran into [former Breakers head coach] Lisa Cole who said the same thing. It's been a journey and a story and pretty incredible we actually did it. I'm so proud of everyone."
Sweat Cosmetics currently has two major products: a translucent powder, which is made for women who really don't want coverage, Jones explained.
"It's a simple powdered SPF, that's 40-minute water resistant, and has a few added ingredients to protect your skin from the elements," she said.
The foundation powder is made for women who want to cover up.
"Because this product is a little thicker in powder, it's 80-minutes water resistant and still has the same SPF as the translucent powder," Jones said. "We have plans to expand the foundation colors that are offered, and we definitely have plans to grow our line. We are going to start slow, and come out with more powder products.  Then, once we are more established, we hope to evolve even more and create other beauty products, such as mascara."
Hemmings, Jones, and Osborne credited several people for making Sweat Cosmetics a success, including former U.S. Women's National Team midfielder Lindsay Tarpley, who is the public relations director, and current Real Housewives of Orange County star Meghan King Edmonds, the company's sales director. The team also said Sweat Cosmetics would not be where it is today without people like Theo Van Blyenburgh, the creative and brand director, and Valerie Patton, a chemist for Paul Mitchell.
"She is our go-to girl and has been extremely influential in making this product come to life," Jones said.
"She's been with us since we started formulating, and I honestly don't think we would be where we are without her," Hemmings added. "She brought a background in the cosmetic chemist world and knowledge that's been indispensable."
Once teammates on the field working together for a common goal, Hemmings, Jones, Osborne, and the Sweat team are now working together again, looking to live out a dream that began more than 10 years ago in Colorado.
"Its great," Jones said about being business partners with her former teammates. "I wouldn't have it any other way. We are so close as friends that sometimes it becomes difficult to make the best decisions for the company, and not have personal circumstances get in the way.  We have gotten through some tough times and obstacles, and we all still love each other."
"We all get it," Osborne said. "We work together, and we made a good team. We have had a few challenges and miscommunications, but like any great team, we work it out. It's been a ride and a special one."
"We are friends, teammates, and now business partners. I think playing together and really getting to see each other's drive and competitiveness has made our team in business even stronger," Hemmings said. "We have another level of trust and reliability that I don't think we would had we not played soccer together."