The United States defeated Nigeria, 1-0, in Group D play to advance into the knockout rounds of the 2015 FIFA Women's World Cup in front of a crowd of 52,193 at BC Place in Vancouver, British Columbia.
The U.S. made three lineup changes from the match against Sweden. Abby Wambach and Alex Morgan got the starts in place of Sydney Leroux and Christen Press. For Morgan, it was her first start since April 4, 2015, as well as her first World Cup start. Tobin Heath replaced Morgan Brian, starting out left and pushing Megan Rapinoe to the right side.
If you like tackles, this Group D finale was the match for you. The game was physical from the outset, with Nigeria giving up two free kicks in the first five minutes. Both teams combined to commit 20 fouls; Nigeria committed 12 while the U.S. committed 8.
The U.S. started with a sense of urgency lacking in its first two group-stage matches. In the 8th minute defender Julie Johnston scored after Wambach knocked a header down but it was ruled offside.
Though her goal was nullified, Johnston came up big in the 24th minute, tracking back and perfectly timing her tackle to block Asisat Oshoala's shot in a 1-v-1 with Hope Solo.
The game's only goal came just before halftime when a Rapinoe corner kick found Wambach, who left-footed the volley into the back of the net.
The goal was Wambach's 14th World Cup goal, tying her with Germany's Birgit Prinz and placing her second behind Brazil's Marta on the all-time goal leaders list.
Goalkeeper Precious Dede kept Nigeria in the match, twice denying Morgan. The first save came just after halftime when Megan Rapinoe sent Morgan in on goal with a well-weighted ball over the top. Morgan's chip wasn't high enough and Dede was there to easily scoop it up.
In the 62nd minute, right back Ali Krieger finished off a forward foray by crossing the ball to an oncoming Morgan, but Dede was again there to make the sliding save.
Nigeria was not without its chances, however, but they were few and far in between. Outside of Oshoala's 24th minute run in on goal, Desire Oparanozie's dipping free kick in the 55th minute was just over the crossbar into the top netting.
In the 69th minute, Nigeria was reduced to 10 players, after Sarah Nnodim was sent off after receiving her second yellow card of the game for bringing down substitute Sydney Leroux outside of the penalty box.
Shannon Boxx entered in the 75th minute for Rapinoe, who was sitting on a yellow card, and saw her first minutes in this World Cup. Christie Rampone was sent on in the 8oth minute for Heath. Rampone's appearance makes her the oldest player to appear in a Women's World Cup.
With the win, the U.S. advanced into the Round of 16 as Group D winners and will face Colombia on June 22 in Edmonton. Nigeria was eliminated.
Live Your Goals Player of the Match: Julie Johnston (USA)
What We Learned but More Like What We Knew and Won't Change
It's clear the strategy is the old direct, Route 1 approach, which is fine if the team is committed to this approach. The trouble is the team doesn't look as if they've fully bought into it. Play thus far has been sloppy and choppy: predictable movement off the ball and wasted possession, together with a lack of urgency, makes the U.S. a very easy team to defend against right now.
Here is what's been reinforced.
Central Midfield is a Black Hole of Square Peg-ness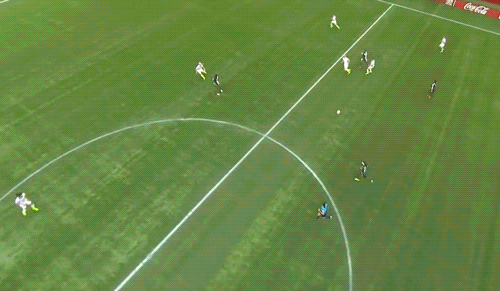 As in forcing players into unnatural positions. United States' head coach Jill Ellis likes routinely referring to positional numbers in conversation. On Tuesday, Ellis said she had the starting central duo of Carli Lloyd and Lauren Holiday play as two 6s, which is a role that doesn't suit either player. Square pegs, round holes.
Anyone who watched will easily see that neither Lloyd nor Holiday were playing the 6 role on Tuesday, and that's a problem. Look at the space Nigeria has on this counterattack and how out of position the central midfield is (image to the right).
Now appreciate center back Julie Johnston and her well-timed tackle to deny Asisat Oshoala a 1-v-1 opportunity against Hope Solo (below). More clinical teams will finish this opportunity and unless adjustments are made by Ellis, will make for very long matches for the defense should the team advance into tournament's latter stages.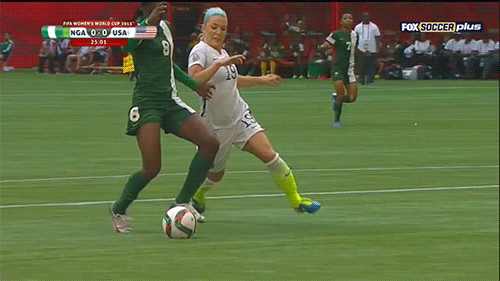 The Team Missed Alex Morgan
She was rusty but the team is more confident with Morgan and Wambach up top, and their partnership melds well with the team's direct style of play. And the U.S. will need a sharp Morgan to make intelligent runs while Wambach holds the ball. The U.S. looked more dangerous in the attack with Morgan; she didn't convert on her two best chances, but the finishing will come as she rounds back into full-match fitness. The positive news is Morgan and the team have an easier path through to the quarterfinals, which will allow her more time to gain full-match fitness and allow the team to re-adjust to her return.
What a Difference Four Years Makes for the Defense
In 2011, the U.S. back line was much maligned. In 2015, it's been the team's saving grace. Julie Johnston and Becky Sauerbrunn have been the best players of the tournament for the U.S., routinely tracking back to shut down counters. That's Johnston in the gif above stopping Oshoala's run in on goal.
Meghan Klingenberg is coming into her own on the left side. Klingenberg's 81st minute header-save off the line in the game against Sweden stood out in a game of smart defensive plays.
On the right side, Ali Krieger has been typically strong but more understated, due in part to being asked to play a slightly different role under Ellis. Krieger still gets forward but when the offense runs through a right-sitting Rapinoe or when paired with Heath and Press, both of whom tend to drift centrally, her first responsibility is to stay home and defend.
All still images courtesy of Cynthia Hobgood.
[divider]About the Photographer[/divider]
Cynthia Hobgood is a Washington, DC-based digital communications consultant, photographer and writer. Hobgood started covering soccer as a journalist in 2000 for weekly/daily publications and ultimately, the Associated Press (while also covering other pro and NCAA sports primarily in the DC area.) She previously helped launch a national youth sports nonprofit and started Full 90 Communications earlier this year. Hobgood has a master's degree in sports management from The George Washington University School of Business and master of arts degree in English from Baylor University.