Nine Squads, Nine Stories is a series that focuses on one story per club, highlighting a player or theme within a team. This feature focuses on Kendall Johnson and her return to Portland to play for the Portland Thorns FC of the National Women's Soccer League.
---
"It's been just awesome being back in Portland. Playing away on the East Coast before was awesome and was something really different since I've been in Portland my whole life, but being back makes me more appreciative of how great the city is." — Kendall Johnson

Professional athletes usually play for teams located hundreds, sometimes thousands, of miles away from their hometowns. And maybe once or twice a year, if they're lucky, the team will go on the road and play close enough to their hometown for family and friends to come and see them play in person.
So it's no surprise when athletes who get the opportunity to play for a team close to home, more often than not, jump at the chance.
For Portland Thorns defender Kendall Johnson, moving back to her hometown of Portland, Oregon, for the 2015 season has allowed her to continue her career in a place where she's spent almost her entire life playing soccer.
Sky Blue FC selected the University of Portland graduate 12th overall in the 2013 National Women's Soccer League draft and Johnson spent the past two seasons as a starting outside back for the club. This past offseason, however, Portland Head Coach Paul Riley was looking for a specific type of player for the upcoming 2015 season and set his sights on the former Portland Pilots defender.
"We needed a left back because we knew that [Australian National Team defender Stephanie] Catley wouldn't be back until July from the World Cup, so we were in the market for a left back," said Riley. "And we felt that there was only one that could fit our system and that was Kendall. And we went pretty hard after her and Kendall wanted to go back to Portland. And Sky Blue did not want to let her go. Jim [Gabarra, head coach of Sky Blue FC] thinks really high of her and I think we were pretty persuasive to get her and to bring her home."
When Riley completed the trade for Johnson this past January, he knew he was getting a speedy left back who was also a local product, but didn't realize how good Johnson was until she arrived at the team's preseason camp.
"We ended up with quite a complete player [in Kendall] to be perfectly honest, a bit more complete than we thought that we were going to get. She has a tremendous left foot, has great delivery with the ball. And can attack and defend, which is always so crucial for me."
Growing Up in a Soccer-Crazed City
"My Dad and I would always go to Timbers games at PGE Park [now Providence Park, where the Portland Thorns play their home games] before they were in the MLS. And when the U.S. Women played in the World Cup in Portland, I was there. It was really awesome growing up watching those teams play there and now that I get to play in the same stadium, honestly, it is so cool to do that," Johnson said.
Everything has come full circle for the 24-year-old defender who grew up playing for her high school soccer team on a field that's walking distance from Providence Park. Johnson credits her hometown's soccer scene, namely, the storied atmosphere at Portland's home games, as a driving force that fueled her aspirations of one day playing for her local college team.
"There were huge crowds every time I went [to Portland Pilots games] and when they won the national championship [in 2002 and 2005], it was so awesome to see the girls playing at such a high level," she recalled. "I've always loved playing soccer, but going to those games really gave me the drive to play the game at an elite level and the college level. And watching the U.S. team on TV and watching them play at PGE [Park] in person, it put the fire underneath me a little bit more to play at a higher level."
Johnson did indeed choose to play at Portland and excelled with the Pilots in the three years she played (she missed one season due to knee surgery). She helped her team reach the NCAA tournament in all three of those seasons and was named the West Coast Conference Defender of the Year in 2012. She also represented the United States at the 2010 U-20 Women's World Cup in Germany, where she started all four matches the team played before bowing out in the quarterfinals.
Certainly, staying close to home was a factor in choosing Portland, but it wasn't the deciding factor. Rather, it was the foundation that legendary Portland Pilot Head Coach Clive Charles laid down with the program, especially the team chemistry and atmosphere that surrounds the team every year.
"It all starts from Clive and how everyone that goes to UP, they have passion to play soccer, and I think he made it fun and now with [current Portland coach Garrett Smith], he made practice fun and everyone wanted to work for each other, and it was just a really good learning environment. He made sure that everyone had their shirts tucked in, polished their shoes before every game — and how it combined that professional and family aspect in the program."
New Adventures
In late December 2012, Johnson graduated from the University of Portland and declared for the 2013 NWSL draft. In the days leading up to the draft, there was a sense of excitement for Johnson as her goal of playing professional soccer grew closer to reality, regardless of where soccer would take her.
"It had always been a dream of mine to play professionally and it was always in my mind that it was something that I wanted to do," she said. "I honestly never doubted that there would be an opportunity to play professionally after college, I didn't know if it would be here or overseas. I was a little surprised but super excited to get drafted and my dream finally came true to play professional soccer. I was excited about going to the East Coast to Sky Blue and, for me, growing up in Portland, it was great to get out and see a different part of a country."
Over the course of the next two seasons, Johnson appeared in 37 matches, including starting all 22 games for Gabarra's team in her 2013 rookie campaign. While it was a new experience playing at the professional level, Johnson gained valuable insight from the teammate positioned to her immediate right on the field: Christie Rampone, one of the most capped players in international soccer history. After spending two seasons playing alongside the U.S. Women's National Team veteran, Johnson has learned a few things to help elevate her game.
"For me, I want to see how good I can get and while that was happening, it was awesome to play with players like Christie Rampone, who is so professional and who is the ultimate veteran and she took me under her wing and it was great to learn from her," Johnson said. "Just watching how players like her and the rest of the players from the national team, how they carry themselves on the field — they have this presence about them that they know they are super confident on the field, and having that mental edge at this level is so important."
Coming Home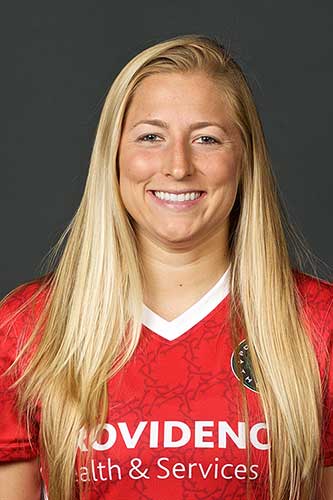 "I always thought it would be awesome to come back to play in Portland and I always wanted to go back there to play again someday. But I also really did enjoy playing with Sky Blue and was open to staying there. But when I found out I was traded, I was really excited to come back," Johnson said.
So far, so good for Johnson. While being back home in the Rose City, she has helped the Thorns to a pair of wins at home to begin the season and picked up an assist in the 4-1 win against Boston in week one of league play.
In Paul Riley's system, Johnson's role has changed. She has been moved up to an attacking outside back in a 3-2-4-1 system, using her speed up and down the left flank to provide service and to track back and defend. Riley believes Johnson's game will rise to a higher level in this role and give her some exposure this season and perhaps beyond.
"When you watch her play, she is more complete of a player than most players realize," said Riley. "She's composed on the ball, she's intelligent, and she reads the game well. And the one thing that the national team is crying out for at the moment is a left back that is left-footed. Currently, [Meghan] Klingenberg is in that position but I think that Kendall can compete for that spot soon and give it a shot because she's got all the tools in the shed to be able to do it. And I think she can do it."
It could be a challenging year for Portland. The 2013 league champions are vying to return to the final after falling short in last year's semifinals but will have to re-invent themselves a bit during the middle of the season when missing seven players due to national team duty during the Women's World Cup. But Johnson, who can become a mainstay in the lineup from the start of the season to its finish, has the full season ahead of her to strengthen her game and to help the Thorns progress through the season.
And while Johnson works to meet the challenges of raising her game and solidifying her place in the starting lineup, the extra support she gets from playing in her hometown in front of familiar faces and the Thorns' supporters will certainly help as well as bring her full circle to years past when she played in front of raucous crowds with the Pilots.
"My family is very supportive of me and all my relatives are in Portland, and it is so cool to have them all there at my games. And [the Rose City Riveters] are incredible, it kind of brought me back to my days at University of Portland, days of having the stadium packed and having avid soccer fans rooting for you."