[dropcap size=small]I[/dropcap]t was widely expected that Swedish side Tyresö would reach the finals of the world's finest club competition in women's soccer: the UEFA Women's Champions League. Indeed, in just a few weeks from now, on the 22nd of May in Lisbon, Portugal, Tyresö will take on title holders VfL Wolfsburg from Germany.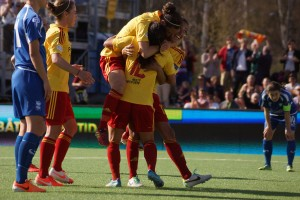 Tyresö swept away Austrian side SV Neulengbach in the quarterfinals (8:1, 0:0) and Birmingham City Ladies in the semifinals wasn't able to pose a serious threat.
After a goalless draw on English soil, Christen Press (scoring twice) and Marta sent their team to Lisbon. Ninety minutes of pure domination against a very young English side — three of the four defenders were 20 years or younger. Marta, as always, played a leading role in this game. The Italian referee missed a situation after 28 minutes when both Marta and Birmingham defender Chelsea Weston went down. When Weston tried to get up again, Marta gave Weston a smack against the legs. A pretty obvious red card situation that many people saw — though not the referee. In the second half, Marta missed a penalty kick, sending the ball two meters above the cross bar of Birmingham's goal which was extremely well guarded by 23-year old Rebecca Spencer.
Tyresö is a club that isn't able to pay its own players and are close to bankruptcy. The day after the game, the Swedish soccer federation, SvFF announced it will not grant Tyresö a license to play in the 2015 Damallsvenskan season because the team had not delivered its financial report in time.
Team manager Tony Gustavsson, one of the main candidates for the U.S. Women's National Team head coaching job, told me after the game that he will very likely play with a lot of rotation in the forthcoming games in the Swedish league.
"Many girls are away with their national teams, I don't want to risk any injuries and at the same time, we have to start to establish the team we will have after the UWCL final," said Gustavsson.
The days close to May 22 will be very special. Tony Gustavsson declared that he has never had such a talented roster before and how much he appreciates working with such extraordinary personalities. Thursday night in Lisbon in three weeks' time will be the last night out with the gang, Gustavsson told media.
After that, however it will end. Christen Press, Meghan Klingenberg, Whitney Engen and Vero Boquete will move to the United States to play in the National Women's Soccer League. Where Marta, Caroline Seger and goalkeeper Carola Söberg will play is still unknown. Arne Utvik, the club owner of Norwegian side Avaldsnes IL, has told press in Norway that he has the money to sign Marta ($305,000 p.a. according to newspaper Aftonbladet).
Quite a lot of people though do believe that Tyresö could fold shortly after the final in Lisbon, which would immediately release all of the players to the open market with no restrictions. Still, Tyresö's club president Hans Lindberg claims that he is negotiating a deal with an unnamed African state that will give the club more than $600,000 each year for four years to come. Development assistance not from Europe to Africa, but vice versa.
Birmingham City had little chance with their young team in this match. However, they won a lot of new supporters during a campaign that took them as far as being one of the four best teams in Europe this season.
Team manager David Parker said, "There's a bright future for all of us. We had an extremely young team. Just look at our back four. There was a 16-year-old, an 18-year-old and a 19-year-old out there today playing against a star-studded front three from Tyresö, so that bodes well for the future for us. I think we have given women's football in this country a boost because we have shown what is possible."
Parker, being asked of his thoughts losing against a team that can't pay its players, chose to praise his young side and said only that the salary of the whole roster is much less than only Marta's income. Most of the Birmingham Ladies is about "heart and passion," team captain Karen Carney told me the day before the game.