Editor's note — This article originally appeared in the print edition of Our Game Magazine's 2015 College Issue. With the college season in full swing, we're publishing articles from the issue online.

---
Generally speaking, from my freshman year, I was always wanting to play professionally here in the NWSL. But the way the league's taken off in England, it may have changed things, I'm not entirely sure. So when the time is right, the offer is right, I will decide then. — Rachel Daly
by Howard Megdal
Not that long ago, Rachel Daly faced teasing on her school bus for even wanting to play soccer. The idea that a women's soccer team would captivate her home country in a run to the World Cup semifinals didn't even enter her mind.
"I think it's a great opportunity for the game in general," Daly said in a phone interview from California, where she spent much of the summer playing for amateur side SoCal FC of the Women's Professional Soccer League (WPSL). "Obviously it's great for the United States to win. And it's going to do wonders for U.S. women's soccer overall — college level, pro level.
"As for England, I think more people are watching it there. I don't think we deserved what happened, but these things happen. And it all made a huge impression on the pro league at home. The fans have come out since the World Cup, [attendance] has been significantly larger. You're seeing an explosion on social media. It's just taken off."
The aftereffects of both England's success and the third star on the jerseys of the United States women have combined to create the kind of soccer landscape for Daly that will give the talented scorer more than just a place to play. It's going to give her options.
"I think it's crazy. Because when I was a kid? There were no opportunities," Daly said. "I played with the boys until 12, 13, whenever I was allowed to. And then the local girls' team, they finally started one, because some of us wanted to play. I knew it would take off, because I knew it was going to be a growing sport. But the way it's grown over the last five years is phenomenal."
Daly herself has represented England at numerous levels — U-15, U-17, and U-19 — and is currently part of the senior national player pool. But while she watched other World Cup matches with teammates, watching her home country was a solitary experience.
"The English, that was a different story," Daly said. "I liked to watch the England games on my own. I have my own thoughts about a lot of the players on the field. And I had to focus on them solely."
That isn't to say that Daly's routine helped her process any easier the way England went out of the tournament, with that unforgettable own-goal from Laura Bassett in the final seconds of the semifinal against Japan.
"Honestly, you just gave me goosebumps just thinking about it," Daly responded when asked about that moment. "It's sad. It's the worst thing that could possibly happen. The team has come forward, such leaps and bounds. And I've trained with 99.9 percent of the girls on that team. And the coach, Mark [Sampson] is utterly brilliant."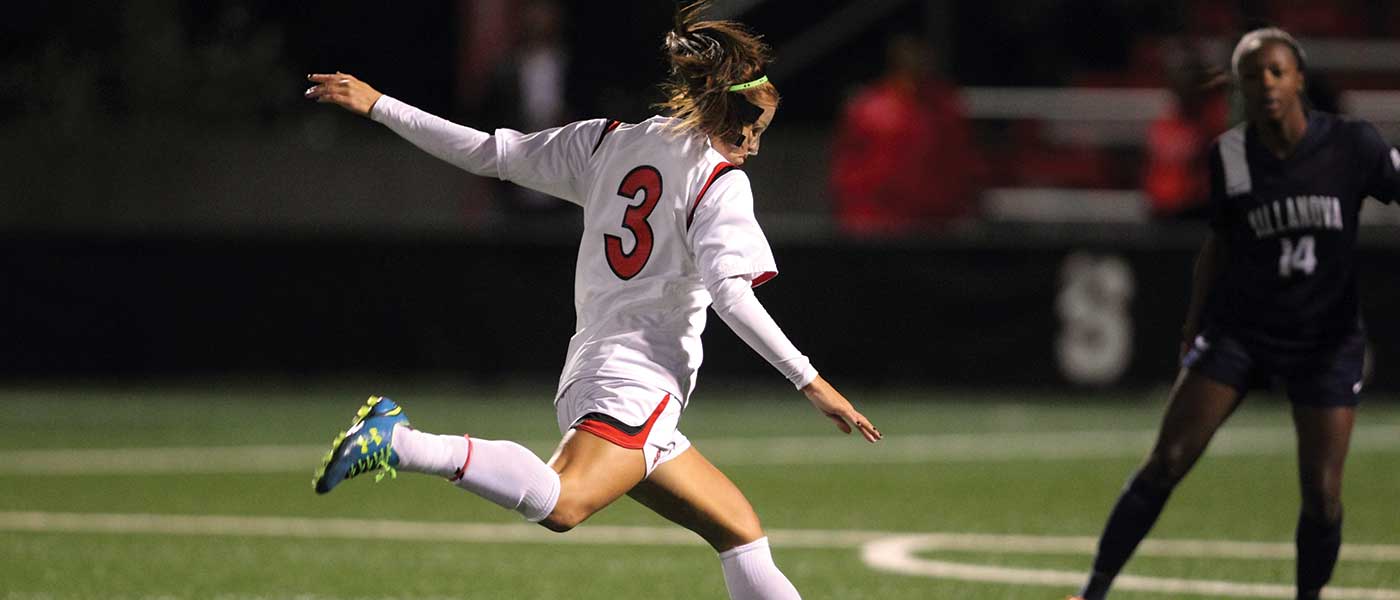 What the moment didn't do was slow down the progress of the English game. And that has consequences for players like Daly, who will soon be entering the professional ranks. As recently as when Daly made the decision to come to St. John's three years ago, to want to play professionally meant trying to play in the United States.
But Daly spoke about the power of serving as a role model for the next generation of girls in her home country. It's a driving force for so many players in the National Women's Soccer League (NWSL), creating an opportunity for the domestic game. For Daly, however, that would mean the FA Women's Super League (FA WSL) back home. She said several teams had been in touch already.
"It's everyone's dream to play at home," Daly said. "But to play professionally in America: that's where it was. The home of women's soccer. But now it's taking off lots of places. They're catching up. Pushing ahead. The Swedish league, French league, German league, of course. They're all phenomenal… Generally speaking, from my freshman year, I was always wanting to play professionally here in the NWSL. But the way the league's taken off in England, it may have changed things, I'm not entirely sure. So when the time is right, the offer is right, I will decide then."
First, Daly returns to Belson Stadium in Queens. She's a bit under the radar as her senior season dawns. Her sophomore campaign was revelatory — 23 goals, tied for the nation's leading scorer, St. John's first NSCAA All- American. But her production dropped somewhat in her junior season, with just eight goals, though she did score the lone goal in a win over league rival (and alma mater of England legend Kelly Smith) Seton Hall.
"I had a great sophomore year, one of the best I could ever ask for, individually. I wish we'd gone further as a team," Daly said. "But coming into my junior year, it was tougher — I was marked, I was double-teamed. That happens when someone makes a mark like the year before. But this year, I think it could be the strongest year we've had. We've got a great team, great people coming in, great returners. To me, the pressure is good. I like the pressure, I like the fact that they're coming for me, and I know that there are 10 other girls who can do just as well on the field."
And after St. John's, Daly can decide her professional path. She's actively following the World Cup bump here for the NWSL, and is hopeful that the kind of investment and partnerships that have buoyed the FA WSL will be coming for the American top league as well.
At stake is nothing less than keeping the Rachel Dalys of today and tomorrow, and making sure the NWSL remains the highest level of competition in the world.
"I think it's huge, they need to expand it," Daly said. "There needs to be a sense of urgency in terms of putting money into it, and developing it while it's fresh. Because the English league, the money that's gone into that league right now is incredible."