Andy Spence is sat at home, taking in what he has witnessed in the opening weekend of the Barclays Women's Super League, but with different motivations to when he would religiously follow the league as the manager of one of the teams in it.
The former Everton manager's new role as assistant head coach of the Canada Women's National Team mean his Monday mornings are now more about sitting in front of a laptop screen then marching out onto the training pitch.
Having been at Manchester United versus Reading and Liverpool versus Chelsea, both close to where he still calls home on Merseyside, to watch several Canadian internationals, Spence is embracing his new challenge less than a year after taking the job.
"I know the landscape here fairly well," he said with a laugh, referring of course to his lengthy stint as not just manager, but assistant manager to Mo Marley at Everton, a stint that lasted over a decade.
"It's good to get out to games and see our players. It keeps me connected to the game here and it's always nice to be able to have that contact with the players between camps."
Spence only travels to Canada for national team camps, a combination of being able to stay closely connected to a growing number of Canadian players in England — and around Europe — as well as his family still residing in Liverpool gives him the best of both worlds, but he admits there is an ambition to make the move permanent eventually.
"The mid- to longer-term ambition, and it's based on seeing how it all goes because we know in this game things can change, but I'd love to move out if I'm being honest.
"For a life experience as much as anything, but to also be connected to Canada more. That might be part of the plan longer term. We had a Vancouver camp in April, but there's not a ton of camps in Canada, a lot are overseas. I think I've been more to countries in the last nine months then I have in however many years I care to believe I've been on this planet!"
Over the course of the next 45 minutes, Spence goes in-depth about the challenges he's faced swapping the club game for the international scene, being reunited with Canada head coach Bev Priestman, his own growth as a coach, and the biggest question for any fan: Can the nation follow up their Tokyo gold medal with a first World Cup next summer?
After leaving Everton after more than 15 years of service in various roles in 2018, Spence took on a job working with the England youth teams, where he remained until he saw an advertisement for an assistant manager's role with Priestman, who he has previously worked with before, at the end of last year.
"I was really happy with that [working with England], but it was just a little bit by luck I saw the Canada job. I was online and saw they were looking for an assistant. With England at major tournaments, there's always youth staff support for the first team, and at the Olympics the team I was looking at was Sweden, but obviously you're keeping track of all the games and knowing Bev as I do, it was a good opportunity.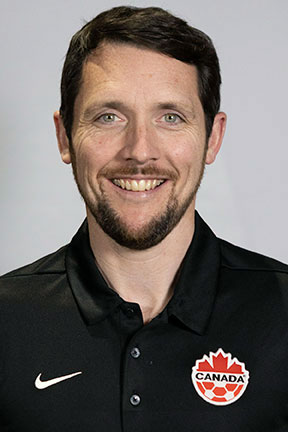 "It's weird how life works out, I suppose. Probably back in 2004 or 2005 when I was very new at Everton, Bev was a student at John Moores University, similar to myself. She reminded me that she was my assistant with one of the Everton youth teams. I remembered working with her so we'd known each other for a long time, but people's paths go different ways and Bev went and did a lot of different jobs abroad. When she came here with Phil [Neville], we started seeing each other again and around St. George's Park and when it came up, I reached out to her and it kind of went from there. I applied, went through that process from afar because of the COVID-19 world we lived in at the time. Fortunately, I was offered the position."
It's the first time Spence has worked in international football, a world away from the day-to-day routine of getting out of the pitch to coach and manage his Everton team in the WSL.
Now, many days are spent at home, analyzing clips of the weekend's games from all around the world, virtual meetings with staff, or simply spending a bit time with his family.
Speaking about the new challenges he has had to both face and embrace during his 10 months in the role so far, Spence is clearly thriving and enjoying having something new and exciting to get his teeth into.
"It's definitely different, there's no two ways about it," he said. "You go from the daily contact. I would describe the challenges as different, but still as demanding. In the club environment, you're always planning, your season cycle becomes tested on a daily basis in terms of individual training sessions and linking that into your fixtures.
"You have that flow and that's where you can get in a proper process because you're on it on a daily basis. The international environment allows you to zoom out to a degree, because it's camp to camp, but you're also looking at a broader picture of a World Cup cycle, CONCACAF games, the Olympic cycle, it's a bit more long-term rather than week to week and your process then is having the opportunity to do deep dives into individuals.
"Having that chance to go out and watch games, watch your players, so you're looking from afar, but it's not afar really. We have a million WhatsApp groups to make sure we stay connected and the biggest change is a lot of those happen virtually rather than in person every day. But whether it's club or national team, you're aims are the same, you want to challenge the players and obviously win games of football. It's the same thing, just dressed slightly differently."
As someone who has known Spence a long time, I remind him of the bemusement I felt, having spent many days and nights watching his Everton team in front of a few dozen fans, watching him take charge of the Canada defense during the warm-up against England in the Arnold Clark Cup in his first full camp with the squad.
A defense that included truly world-class players such as Kadeisha Buchanan, Ashley Lawrence, and Vanessa Gilles, it begs the question of how has Spence adapted, and potentially had to raise his own game, coming directly out of an environment where he was only tasked with working with young players, rather than some of the sport's current elite.
"Deep down, that's probably what I wanted," he admitted. "It's a challenge for me as a coach. I'm really blessed with this team having a fabulous set of players. Canada are famed for their real high-quality defenders like the ones you mentioned, we have lots of options there and taking this role on, what I've always said if I've been an assistant, my ambition is to be the best assistant you can possibly wish for.
"Hopefully, the head coaches I've worked for will say they know what they're getting with me and for me to have that challenge myself, being super accountable for everything you say and those messages you deliver the players. The nice thing is all my previous experiences that have built up made me feel fine coming into an environment where I had trust in what I've learnt, but also being a coach open to learning about each and every player, what they want to learn and how they want to develop. I don't have all the answers to football, that's for sure, but I feel I can add by working together and hopefully that approach has stood me in good stead."
Canada, though, does have some promising young players coming through, with Jayde Riviere the fourth member of the defense on that evening in Middlesbrough, while there's a whole host of bright young talents in both North America and across Europe.
With a mix of players that includes the likes of Jessie Fleming, Jordyn Huitema, Deanne Rose and Co., combined with the experienced heads of Christine Sinclair, Desiree Scott, Sophie Schmidt, and many more, Spence has quickly gained an appreciation for not only how the veterans drive the squad forward but also how they still want to learn and develop.
"Ultimately, the age factor for me is an arbitrary number to a degree, in a sense of how diligent the players are," he said. "When we do presentations on game plans and opposition, the veterans will be the ones there with their notepads, as a role model aspect for the younger players that is just incredible.
"I've seen younger players where it's forced upon in youth teams. To turn up with a book, show your due diligence, but I internally smiled in my first meeting to see those players with their books, wanting to know every detail, even with their experience, that was so powerful. The best never stop is what I say, they continue to seek out individual and collective improvements.
"When you have a group of players who drive their own standards, you don't overly have to speak about it, the accountability is there, and that feeds from the older players to the younger players and that's a testament to your system. Your young players come in and know what world-class really looks like, they should be on board with seeing what a Sinclair, Schmidt, Scott, Chapman are doing. I only ever say to the young players, just observe, ask questions, but it's nice when those connections naturally take place."
Spence describes it as an "absolute pleasure" coming into a setup which recently experienced success, winning gold at the Tokyo Olympics just over 12 months ago, finally ripping away the tag of the nearly team, knocking out geographical and sporting rivals the United States along the way.
Now working with a coach he knows well and the addition of goalkeeper coach Jen Herst, who held the same role under Spence at Everton, it's now an all-English coaching staff leading Canada into next summer, and Spence jokes his players may still be getting used to his broad Scouse accent, while Priestman also holds a distinct Geordie accent, having been born and raised in the north east.
"I've tried to tone it down a little bit, but back home I'm back to my normal scouse! Some of them probably still don't know what I'm saying — that might not be a bad thing.
"I've got Bev as my translator just in case! I get in trouble when I come back here now because I'm picking up Canadian phrases."
Being the new boy in town when he took the job in January and wary he was inexperienced in the international scene, Spence says learning about the journeys of the individuals he would be working with, as well as their journey as a group, was vital in terms of his own appreciation of the squad and has allowed him to work closer with the players to understand what they both want and need heading into the World Cup.
"Listening to their journey was really important because I saw what happened from afar, we all did. You know how it is, from the outside you get little snippets, but you don't really know the story. I wanted to get under the skin of how and why the Olympic gold medal happened. Hearing that and Bev speaking about changing the color of the medal was a really smart way of framing it and changing the psyche of the past, of it being nearly gold.
"Winning that match was everything and I wasn't part of that, so I can't say what the difference was, but being here now and seeing the expectation level of individuals, and the nation itself, if you're going to be a top side you will have to face expectation. Then it's how you improve and that's the beauty of what I've learnt, everyone is seeking to how to get better, how to beat the Olympics and a successful World Cup campaign.
"They're humble enough to know they're not the finished article, but it feels like a countdown now, there's no getting away from the fact you're thinking about the squad and what the team will look like come July 2023 and for us it's about making sure Canada is in the best place possible to challenge. Bev has been really clear on that; all our behaviors are focused on being world-class as players and staff to give us the best chance possible."
One big variable Spence and any national team coach has to adapt to is a lack of control over what happens at club level, as he found out seeing Deanne Rose pick up a potential season-ending Achilles injury at Manchester United, one that likely rules her out of the World Cup.
But it's not just whittled down to injuries, which can happen at any level. Spence for many years worked in the side of the game where if things weren't going your way, you could chop and change freely via recruitment.
At international level, however, within an admittedly growing pool of players, you can't go out and spend money to fix your issues, you have what you have. But it does mean your players move clubs, systems, managers, and formations, with Canadians particularly prominent in the summer's transfer window.
Adriana Leon moved from West Ham United to Manchester United, Buchanan swapped Lyon for Chelsea and a new league, Janine Beckie and Jordyn Huitema returned to the National Women's Soccer League with Portland Thorns and OL Reign respectively, and Gilles left Angel City FC to come the other way for a year at Lyon.
Speaking about the challenges of seeing players move between clubs, countries, and coaches, Spence offers a great insight into what affect it has on national team preparations.
"It's a brilliant question. To try and answer that, it's where understanding the individual is absolutely critical, and that might be a boring answer. All those players and more might be now playing different systems, positions, styles of play. Position is huge, it might look different and from the outside people might question that if you play them somewhere else [with Canada], but it's all about the partnerships and relationships and what the international game demands.
"What we challenge the players with is play the most minutes possible in the best environment possible for them. They make decisions based on a huge set of factors, but we just want to see them in environments where they're happy, they're challenged, they're thriving and pushing their own individual game forward. That's why we do our due diligence off camp. As a club coach, I'd wonder what international staff would do and I'll tell you now it's just as demanding. You can't get around and watch every game live, you might watch footage online. You have to be smart and connect with the player and the club about what's being expected of them compared to our international environment.
"That collaboration is really important. When day one starts, we're bringing in 26 players with 26 different ways of playing, then they're back to Canada's way of playing, without taking away that individual way. There's an art to it, you don't want to strip away too much, but that experience comes with good players, switching onto international football. We want them to bring it in if they're doing well or not doing well. Embrace it, showcase what's been good or let's work together to change the narrative if it's not so good. That's a constant balance and why our due diligence is everything to us because we want to know how every single one of them is feeling and where they're at."
So, what was Spence looking at specifically when he went to watch Manchester United versus Reading and Liverpool versus Chelsea, where three of the clubs have current Canadian players in their squads?
From our point of view, we have an individual development plan for every player," he said. "We observe from an international lens with the appreciation at club they might be doing something different to when they're in a Canada shirt.
"Ultimately, we're observing and layering up our thinking around our fundamentals and are we seeing some of those football behaviors? Are they looking for passes to split lines, to be aerially dominant, can we come away with a checklist of what in our opinion is to look like world-class player behaviors?"
He adds: "Sometimes they will play against low blocks, England's a different league to France or Portugal or NWSL. In NWSL our players might play a more transitional game, whereas Liverpool versus Chelsea was more a mid-block and counter, so how does Kadeisha look to break down a mid-block playing out from the game? Our players face different challenges every single week and that's what we want as a coaching staff."
T
here's no doubt while discussing some of the names we have over the course of our interview, Canada has the players, and indeed the staff, to be one of the favorites in Australia and New Zealand next summer, especially with the extra knowledge and experience they now have of winning a major honor on the international stage.
It therefore leads us to the final topic of our chat, what is it going to take for Canada, or anyone else, to topple the U.S. and win what will likely be the most competitive World Cup to date next summer?
"What it takes probably hasn't shifted in the fundamentals. What comes with it now is the growth of individuals, the growth of nations, the number of staff.
"What it will take to win is all of those different individual parts, they have to be genuinely world-class in every area. That's an easy statement for me to make, but what does it look and feel like? That's up to each individual nation. But from now, everything has to be right. Your preparation, who are you playing? Top 10 teams, 10-20 teams, your teams below 20, getting those ranges of experiences and arming yourself with as many different opportunities. Teams who press, teams who counter, teams who play in a low block, you have to be ready and adaptable.
"You will have to be physically prepared. We had a great experience on our last camp going to Australia and exposing ourselves to the travel, that was something I'd never done, the 20-hour flight. Getting the players to go through that, when you land, how do you adapt to the time difference? Those things all add to the fundamentals. Everyone knows how each other plays now, there's few secrets. Set plays is a huge part. The Euro 2022 data and previous World Cups, around 30 percent of goals come from set plays on average, so your delivery and aerial threat is important. The ability to have knockout experience, history tells you, you might have to go through extra-time and penalties at some point, so all the processes around that and being durable are really important."