As the 2022 European Championships grow closer, so does the anticipation. Going hand in hand with a rise in quality across the board, one that has left us with four mouth-watering groups to enjoy over the coming weeks, is a rise in the quality of players across all 16 teams. Many of these teams are now stacked with top class talent, and even the weakest sides on paper have talented and recognize names within their squads.
With more exciting young players on show than ever before, OGM picks out 23 players under the age of 23 who could light up towns and cities around England over the next four weeks.
Selma Bacha, France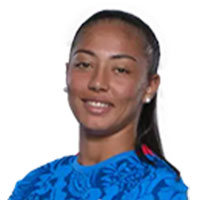 The young left back has been a semi-regular presence in the Olympique Lyon side for five years now, but still remains in single digits for international caps when it comes to her country. Competing with the more experienced Sakina Karchaoui for one spot in Corinne Diacre's starting XI, how much we see of Bacha at Euro 2022 remains to be seen, but if she gets the nod or gets an opportunity at any point, there's little doubt Bacha will show why she's one of the most exciting young fullbacks in world football.
Sandy Baltimore, France

Bacha's teammate and counterpart down the left side of the pitch is definitely someone we will be seeing a lot of in the next few weeks. Baltimore hadn't even made her senior debut at the time of the last major tournament in 2019, but a couple of goals later and some stunning standout performances on the wing for Paris Saint-Germain, plus Baltimore's link-up and connection with Marie-Antoinette Katoto and Kadidiatou Diani, could offer France the most hope of picking up their first major trophy in the women's game. With trickery and smarts in abundance, Baltimore could light up the tournament.
Hanna Bennison, Sweden


It's testament to the experience within Sweden's squad that 19-year-old Bennison is actually the only player who qualifies for this list. After winning an array of personal awards over the last few years and being touted as one of Europe's brightest young talents, the attacking midfielder's big money move to Everton brought about plenty of anticipation. Peter Gerhardsson is smart and not rushing Bennison, and it may be that we see her more from the bench than the starting lineup, but as the only under 23 player in a squad many people believe could go all the way, her talents will be worth keeping an eye on.
Celin Bizet Ildhusøy, Norway


All the focus when it comes to Norway's forward line might be on the returning Ada Hegerberg and the genius that is Caroline Graham Hansen, but 20-year-old Bizet is one worth keeping an eye on. At 20, Bizet is yet to become a regular in a stacked PSG attack, but has four goals in just six appearances for her country. Three of them have come this year, two against teams who qualified for Euro 2022, and she has proven she can offer Norway plenty when on the pitch. Should they need to rely on their youngsters on the bench at any point, Bizet can be trusted to come on and make an impact.
Sofie Bredgaard, Denmark


The 20-year-old Dane may only have one senior cap to date, but that doesn't mean we won't see her on the pitch over the next few weeks. Bredgaard has been in fine form since joining Swedish giants FC Rosengård at the start of the year, only scoring five goals in the Damallsvenskan and earning herself a call-up to the Euro 2022 squad. Given she only received her first call-up back in April, it shows how highly the attacker is thought of that she's already heading to a major tournament.
Julie Blakstad, Norway


Twenty-year-old Blakstad won't be too far from where she now calls home this summer after joining Manchester City last season. She has been able to show her quality in glimpses in Manchester, but given she is being deployed largely as a left back for Norway, it will be interesting to see how Blakstad finds the upcoming tournament. There is no doubt her attacking instincts mean she can offer plenty for her country going forward and she already has a couple of goals in her 12 senior caps.
Jule Brand, Germany

Brand has rocketed onto European football's radar over the past 12 months. At 19, she is not just one of the most discussed prospects in a Germany squad filled with young talent, but anywhere in Europe. Her big move to Wolfsburg post-tournament says all you need to know and for a player who isn't a forward, her five goals in just 16 senior caps so far tells another side of her story. After an impressive year for club and country, keep an eye on Brand this summer.
Klara Bühl, Germany

One of Brand's Germany teammates is warming up for the European Championships in the best way any striker wants to — scoring goals. The Bayern Munich forward scored three of them in a friendly against fellow Euro 2022 side Switzerland last week. At 21, Buhl already has 12 goals in 24 caps, averaging a goal every other game, and if you want an outside bet on someone to take home the golden boot this summer, youngster Buhl looks ready to make an impact, but Martina Voss-Tecklenburg also has plenty of other attacking options to consider.
Athenea del Castillo, Spain


England has already had a taste of Athenea this year, when her late call-up to Spain's Arnold Clark Cup squad saw her come on against the Lionesses at Carrow Road and put in a cameo that still lives long in the memory. The Real Madrid star is going to be one of the most exciting players to watch whenever she's on the pitch this summer. Given the incredible depth on offer to head coach Jorge Vilda, Athenea may often be an impact sub, but what an impact sub to have given her ability to twist and turn even the freshest fullbacks in the game. Potentially the young player of the tournament?
Damaris Egurrola, Netherlands

Damaris will be as intriguing to watch as anyone given how new she still is to the Netherlands setup. The fact the defending champions, along with Spain and the United States have all vied for the midfielder's services in the past couple of years tells its own story, and her technical ability and reading of the game certainly adds another dimension to the nation looking to defend the trophy it holds for at least another few weeks.
Hannah Eurlings, Belgium


Not many people are tipping outsiders Belgium to make too much of a big splash at the Euros, but Ives Serneels has several exciting young players available to him, with Eurlings at the top of the list. The 19-year-old already has four goals for the senior team and is in good form for her club OH Leuven. A tricky and agile forward with plenty of skill and end product, Eurlings is going to be one to watch for the Red Flames.
Mille Gejl, Denmark

Creative midfielder Gejl has been on a constant upward curve for some time now. Since starring for Brøndby at domestic level in Denmark, Gejl earned a move to Swedish champions BK Häcken last year where she's been in good goal-scoring form when on the pitch. It's the same story for Denmark, with Gejl having scored six times in just 15 senior appearances so far. Her 91st-minute winner against Brazil last week may just have been the perfect statement of intent from a player ready to show herself on the biggest stage.
Lauren Hemp, England

Every England fan, and many more around Europe, are now starting to see what Lauren Hemp is all about. Definitely one of the most frightening wingers on the continent already, Hemp enjoyed a superb season for club and country and has started to add an end product to her ability to beat a player with ease. Her assist and goal against the Netherlands last week was hopefully a sign of things to come for Lionesses fans hoping to see their team win on home soil, and if they do, Hemp will no doubt have a huge say in things.
Sveindís Jane Jónsdóttir, Iceland


Undoubtedly the most exciting prospect to come out of Iceland in some time. The 21-year-old has already secured a big move to Wolfsburg back in 2020 after stunning goal-scoring form for both Keflavik and Breiðablik at home in Iceland and has taken that form into the national team. Named Icelandic Footballer of the Year last year, Jónsdóttir will spearhead Iceland's attack and is most certainly the one to watch.
Sydney Lohmann, Germany

With so much exciting young talent in Germany's attack, Lohmann will be one of those tasked with holding down the midfield as the forwards go and do their thing next month. With more than 100 senior appearances for Bayern Munich since joining in 2016 as a teenager, Lohmann's role may be more important than ever with key midfielders missing for Germany. She's never looked like she's been away since a long-term injury and is one of the brightest young midfielders in Europe.
Melvine Malard, France

The fact Malard is not even a guaranteed starter for France shows just how exciting their attacking depth is, especially when it comes to young players. The soon-t0-be 22-year-old has often stepped up for Lyon in the absence of Ada Hegerberg over the past couple of years and now has four goals in just 12 appearances for her country. If Diani, Katoto, and Baltimore can't break a team down, also having Malard as an option is an unbelievably great problem to have for Corinne Diacre.
Francisca "Kika" Nazareth, Portugal


Potentially one of the most fun young players to watch anywhere in Europe right now. Portugal's late call-up as replacements for Russia may make making an impact as a squad difficult, but Nazareth's footwork, skill, and general raw ability with a ball at her feet should make her a joy to watch this summer. The tricky forward scored her first senior goals against Greece last week and has been in excellent scoring form for Benfica.
Clàudia Pina, Spain


Clàudia Pina may only be 20 years old and only have four senior caps for Spain, but circumstance may just mean we saw more of her than first thought this summer for one of the tournament's biggest hopefuls. Pina regularly puts in the goals when she gets on the pitch for Barcelona and with Jenni Hermoso out injured and now fellow youngster Salma Paralluelo also out, Pina may see more game time than first thought. If she does, the youngster has proven at club level she can be trusted to find the back of the net.
Maria Plattner, Austria


Austria isn't being talked about too much with all eyes on England in next week's home opener for the Lionesses, but it will be a defensively solid side in the way, as the Lionesses found out in last year's World Cup qualifiers. Austria has several talented players in their squad, many of whom ply their trade in the German Bundesliga, with 21-year-old Plattner being one of them. Having only made her senior Austria debut last year, the midfielder has four goals in just nine caps and if you're a Lionesses fan, she might be a name to remember.
Elisabeth Terland, Norway


Terland may be competing with Ada Hegerberg and fellow young forward Bizet this summer, but with six goals in just 13 senior appearances so far, there's no reason why the 20-year-old isn't one to keep an eye on this summer. Norway has an abundance of exciting youngsters and Terland played a key role in helping Sandviken (now SK Brann) to the Norwegian league title last year, making her definitely an exciting young striker to watch.
Ella Toone, England


Manchester United's goal scoring, assisting, creative midfielder may not have been on this list had the tournament gone ahead as planned 12 months ago. Toone has enjoyed a rapid rise to stardom on the domestic stage and has turned that into making herself a player not only certain of making a first major tournament squad but quite possibly the starting 11. Toone's impact against the Netherlands last week will have done her cause no harm at all, with 10 goals now in just 13 appearances for her country.
Lynn Wilms, Netherlands


Another youngster on this list who has been snapped up by German giants Wolfsburg in recent years. Wilms was just 16 when the Dutch won the Euros five years ago, but at 21 has already made herself a regular starter at fullback, with 20 caps since making her senior debut. With plenty of energy and ability up and down the pitch, Wilms adds an extra dimension to a Netherlands side looking to defend their title this summer.
Riola Xhemaili, Switzerland

Switzerland is another side not being talked about too much this summer, but with 2017 runner-up Nils Nielsen at the helm, who knows if the Swiss could spring a surprise, albeit in a tough group. Midfielder Xhemaili is one of just two teenagers in the squad and has been a shining light in Germany for SC Freiburg. She's still a relative newbie to the squad and only has 13 caps and two goals to go with it, but her ability on the ball and ability to dictate games is going to make her one to watch for years to come.