"I'd always considered playing abroad for the experience and put myself out of my comfort zone, but at times it hadn't felt right, so for this one to come when I wasn't expecting it, I wasn't expecting to have the feeling I did, that I was ready for it. I knew it would be hard, I was leaving literally everything I have."
Gemma Bonner
G
emma Bonner walked away from everything she'd ever known, including a settled contract at Manchester City, to "pack up her life" as she put it and make the 3,922 mile journey from the northwest of England to Louisville, Kentucky, and new National Women's Soccer League expansion side Racing Louisville FC.
Over the course of an hour from her club's base in Kentucky, Bonner opens up about the tough decision to leave behind her mum, dad, and boyfriend, her first half-season in the United States, why she walked away from Man City, trying to get into the NFL, and the upcoming new season with Louisville, which starts with the Challenge Cup on Friday night.
But, it's critical when two northern people come together for an interview to start with the really important topic:
The weather.
"It's been so warm, but then tonight it's going to go to like -6…" said Bonner, with a slight tone of bewilderment. "It can be so cold in the mornings, then well over 20 degrees in the afternoon.
"It's not too bad though. You know like how at home the wind and rain really gets you? It's not like that here, it just varies between hot and cold."
Midseason Arrival
With the important business concluded early, we move on to discuss Bonner's first few months in the NWSL where she joined midseason last year at the end of the English winter season in May.
Bonner has never known any other way, spending predominantly the whole of her career in the north of England where she for so long called home.
But with game time under her belt, several months to adapt to life across the pond and a club that has done everything it can to make her feel at home, the 30-year-old is ready to attack her first full year in the U.S.
"It's probably my first proper preseason for a long time, partly because this is the first time I've had my knee pain-free, so that's been quite exciting because I've been able to do every session.
"Last season it was difficult coming in partway through the season. I'd had a period of not playing for so long, so it's been exciting to be here from the start this season. We've had a lot of changes with players and staff, so it's completely fresh for everyone and we've started off really well in terms of how preseason has gone so far."
Louisville's first season went as many would have expected, with just five wins from 24 regular season games seeing the team finish second bottom of the league.
Major change has occurred over the winter, with European coach Kim Björkegren now at the helm and seemingly already making a positive impact, and Bonner credits the club's willingness to move forward and succeed, as well as remaining cautious over their expectations heading into season number two.
"We have a really close bond already," she said. "We're not silly, we know it's going to take time with a completely new coaching staff and a new way of playing, but it's definitely been a positive start and we're looking forward to starting the Challenge Cup this week.
"The first year was always going to be difficult. As an expansion team, there's always growing pains, nobody expected us to hit the ground running, but now I think we're better equipped as a club. We've made great additions on and off the pitch, and we know there's plenty of time for us to learn more before the season starts."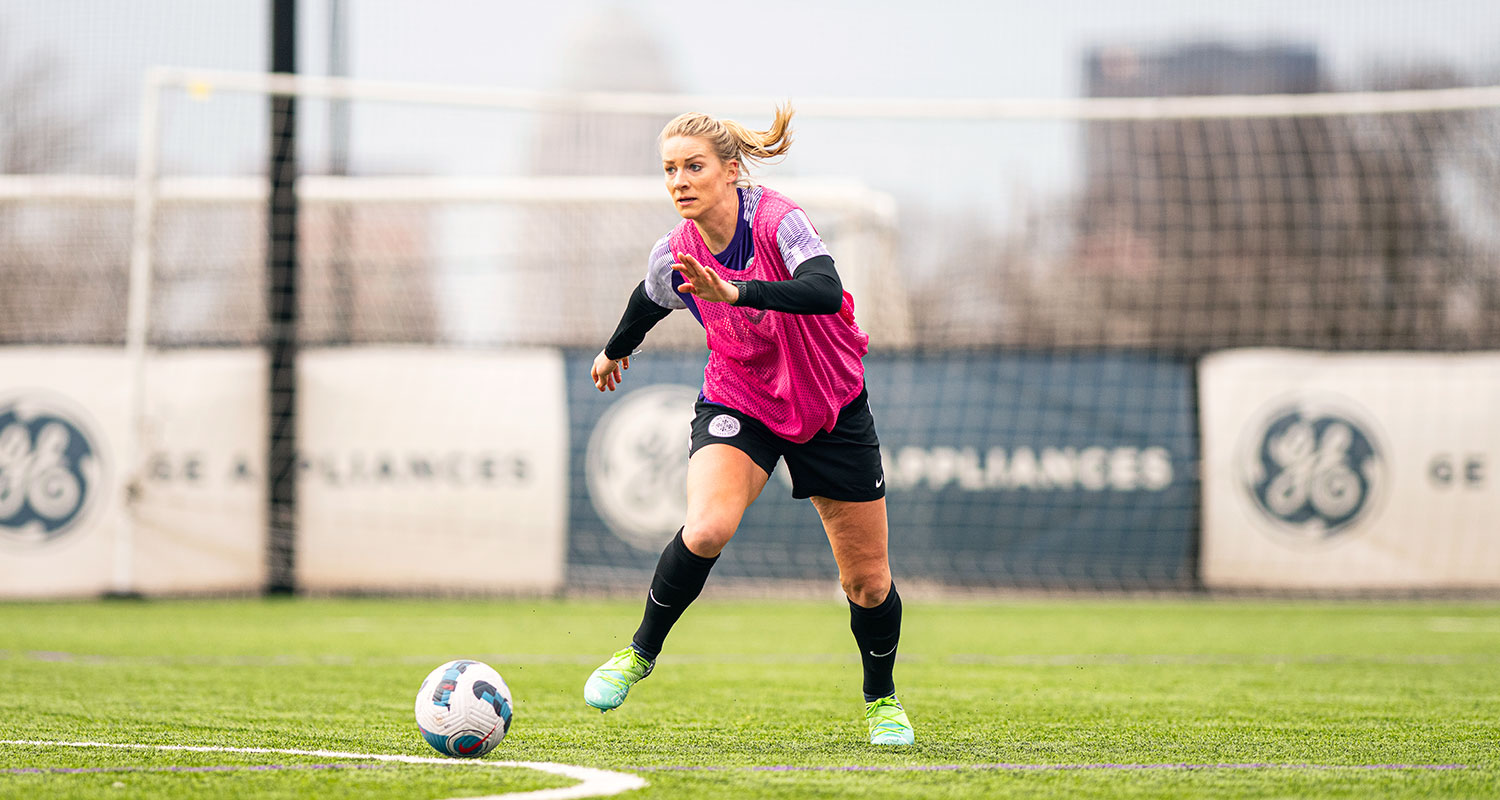 Since arriving, Bonner says she's felt welcome by everyone.
"Everyone here, whether it's the players, staff, fans, the community, has been so welcoming and that's made the transition so much easier. I'm really enjoying it out here and I think that's partly because it has become home away from home.
"That's not changed going into this year in terms of the turnover and that's going to be such a strong thing to have, how close-knit this group is and how quickly everyone new has settled in. Everything the club has in place here, the facilities we have available to us, as players we have been given the platform to go and perform and do our jobs."
Making the Move
Bonner would be the first to admit that a move away from home, from family and her first move abroad wasn't in anyway shape or form part of any plan.
The center back had signed a new two-year deal at City less than a year before making the decision and that contract still wouldn't have expired until this summer, and she admits she wasn't planning on going anywhere else until the offer arrived.
"I was completely shocked to be honest, I wasn't expecting it all," she said, before hesitating as she mulled over what a crazy period it was in her life. "I was under contract; my life was set in England. I had no reason to look anywhere else and it wasn't until it was proposed to me as a new challenge, a new setup — it kind of almost excited me, you know, that challenge.
"I'd always considered playing abroad for the experience and put myself out of my comfort zone, but at times it hadn't felt right, so for this one to come when I wasn't expecting it, I wasn't expecting to have the feeling I did, that I was ready for it. I knew it would be hard, I was leaving literally everything I have.
"I'm such a family person," Bonner added, "that was a big decision for me, but the chance to play in this league and how this club is run was something that really pulled me towards it. I know there's been so many things that have publicly gone on about the league and the disparity between teams, but I feel genuinely grateful for the opportunity they've given me here because it's one of the best environments I've experienced in terms of how the club is run.
"A lot of things often get said. 'You'll get this, you'll have that,' then you wait for it to materialize, but everything the club has said they'll do, they've delivered. You're waiting for the 'but,' but for me as a player I have the things I need here to make me better. To leave Man City, it had to be a good setup, I wasn't just going to move for the sake of moving."
Bonner, though, had to wait some time to make her Racing Louisville debut, with a mixture of injury and a wait for a visa delaying her move across the pond.
Her final appearance for City came in December 2020 and the center back wouldn't make her NWSL debut until June 2021, with COVID-19 complications delaying the process of getting her visa sooner than she did.
"The wait was like four months," she recalled. "I was just waiting, 'Is it going to be any earlier?' Just waiting and waiting and I didn't want to disrupt anything. I'd not told many people, I was just focused on getting back fit and then I had to move my whole life, but I didn't know when that was going to be.
"The time difference isn't very friendly but I'd wake up and watch the games. It was hard knowing I'd be part of the team but I wasn't able to be."
Bonner hasn't even been able to have family over due to the ongoing pandemic, but said her dad will be coming across for the team's opening Challenge Cup game this weekend, and the defender herself did return home to see family over the offseason.
The bond with her family goes as far as meaning they were really the only people she confided in when the opportunity came to move to America, along with her long-term boyfriend.
Despite an array of former club and international teammates playing in the league and three U.S. Women's National Teammates at City last season, Bonner didn't confide in them as she admits she didn't want to be swayed by either the positive or negative experiences of others.
"I knew I was the one who was going to have to move and live with that decision," she said. "I spoke to my mum, dad, and boyfriend because they've supported me from day one, but ultimately I was the one who had to go and live it.
"You can have 10 players, ask five and they'll love everything about it and the other five will hate it, and I didn't want any comment or opinion in my head to sway that decision, I had to make that decision for myself."
"It did make me nervous." she added. "I was always questioning if I was doing the right thing and at times it was almost hard to believe they would have this setup. They were promising us these new facilities, a new stadium, a 'Is-this-really-true?' kind of thing, but having the support of my family really helped. I think they'd have told me if I was wrong."
Straight Into It
There were few familiar faces to greet Bonner in Louisville. Fellow English forward Ebony Salmon had arrived too but the pair had never played together, but she was joined by former Man City teammate Nadia Nadim soon after.
The addition of former City coaching staff member Julie Twaddle last month has only extended the number of people Bonner now has at the club from her past life in England, and Bonner emphasized the importance of having someone like Twaddle on the coaching staff, joining as Head of High Performance.
"Twadds has really added something to the team in terms of she's been at every single level across different sports. She has that knowledge and I think we're really lucky to have someone like her, and on the flip side I think it shows the club's ambition and what they want to do.
"The leagues [NWSL and FA WSL] are very different in terms of their demands. With her experience, she has enough expertise and she's played the game too. That's important when you try to correlate all the gym and fitness work but also making sure we're on the pitch in the best physical condition. She understands it because she's done it. She's worked at City, she knows what it takes to win, and to have that in such a new environment is only going to benefit us and help us get to where we want to be."
Bonner made an immediate impact and became a first-team regular from the moment she stepped foot in Louisville.
Thirteen games and 13 starts later, the defender has plenty of NWSL experience now under her belt heading into this weekend's Challenge Cup opener, but it was life away from the field she had to adapt to quickest.
Having come from a small nation where each and every game would be a coach journey, life in the U.S. meant flying to most games, and her first experience of it went about as badly as possible.
"You kind of get used to it and that probably helped me because I was thrown straight into it," she laughed. "Within two days of landing I was on a flight to Portland and we got delayed at Louisville airport. Six hours! It's probably got two gates, it's not somewhere you want to be stuck. That meant we missed our connection and got to Portland 24 hours later than we planned. We went to the hotel, trained, and then had a game. I didn't even know what time zone I was in, but the girls said that was probably the worst it had been, so hopefully it can't get any worse than that!
"Every team has to do it, part of this league is who deals with it best. There's not many places you can drive to, although apparently it's quite normal to drive like 12 hours here, which I'm still trying to get my head around. The closest for us is Chicago, which is a 7-hour drive — that's classed as close here!"
A lack of preparation meant Bonner wasn't involved in the Thorns game in a playing capacity, but made her debut two weeks later and was a starter in every game from there on until the end of the season.
After spending her whole career, spanning over a decade, in England and the FA WSL until last year, the 30-year-old has now had a chance to compare the two leagues and believes the style of the NWSL will test her more as a defender.
"The games are very different. Here, no one game is the same. I think in England it was always kind of… I wouldn't say comfortable? But you could usually predict how the possession would go or how a game would play out and that's great when you're winning, but I only really realized when I came out of that and I was like, 'Okay, this is going to be a challenge,' because there is no easy game here.
"There are some players on teams who aren't the biggest names, but you will always have a tough game because the top players are spread across the league and that's something I've had to learn more about. The allocation, the draft, the trades, I think the competitiveness contributes to their winning mentality because everything here is competitive, everything is a fine margin."
Expanding on her point about the U.S.'s winning mentality off the back of back-to-back World Cup successes, Bonner believes the higher levels of concentration needed and being put into difficult positions has contributed to the nation's success at international level.
"I still watch every FA WSL game I can and I see the technical and tactical level, it's so much more detailed than here. You can see the control and sometimes I'm like, 'Wow, I miss that calmness,'" she laughed.
"But here, I'm put into positions where I can't afford to switch off because the game is so transitional, you don't have too many periods of sustained possession. You have to stay switched on because in a split second you can have Mal Pugh running at you or Lynn Williams or Trinity Rodman, who can hurt you on the fly. The tactical and technical level in England for me is so much higher but the concentration level you need here is so high, that's the excitement of different leagues."
Off the Pitch
With her first season done and a quick trip home secured, Bonner is now full steam ahead and looking forward to her first full campaign in the NWSL, starting this weekend with the Challenge Cup.
After being thrown straight into it when arriving in June, Bonner has now had time to enjoy some quality time exploring her new surroundings, living in a set of waterfront apartments where most of the squad call home, where you can walk along the water's edge or across the bridge into neighboring Indiana.
"There's a lot of coffee shops, which is essential after training! They have these waterfront concerts, which we really want to do. They have a good work/life balance here. You might have three games in a week but then you'll have three days off.
"I went to Nashville the other week and that was a really cool place. Have you ever been to Nashville? I was only there for a bit as my cousin was out there for work, the girls said it's one place you have to go. I'd recommend it."
The nature of the league means Bonner gets to travel to locations such as Orlando, Los Angeles, San Diego, Chicago, and so on, which sounds like a dream for any person in any job, but she admits a busy schedule means it's not all about enjoying the local culture.
"There's rarely direct flights from Louisville, so you might get a night to go and experience another city you're playing in," she said. "A lot of the girls here aren't from Louisville, they've moved here, whereas in England a lot of players could just go home to their houses and their family. Emina [Ekic} is our only player who can go home to her parents, so we have to create that environment because after a bad game people don't get to go home to their families.
"We had a training camp in Florida over preseason and we had one day off, so they took us to a beach where we could escape. The other days are games and training, so it is intense when you're away. You sometimes forget where you are because all you really see is the field and the hotel."
When I suggest she should have used her day off to sneak off for a day at Disney World, Bonner is one step ahead of me.
"I did that after Florida last year…"
It's likely she doesn't miss the northern weather too much while enjoying some downtime on a Florida beach, but she admits there are other home comforts she misses, and she's trying to get her American teammates as involved in her culture as they are trying to involve the defender in theirs.
"I'm a big fan of Yorkshire tea," she said. "We've just managed to get a kettle for the team area. We have a few English people here now and we were like, 'We need a kettle!' We've got a few of the girls drinking English tea now.
"My cousin brought me over one of those big bags from Costco — 480 tea bags! It doesn't go far, sometimes now I'll ask who wants a drink and I'll be making half a dozen. Twadds is a big tea drinker. Ebony not so much, but she's young, she's got time," she laughed.
On the flip side, Bonner has tried to embrace the U.S. life and admits she'd like to attend more MLS 9Major League Soccer) games and has been to see basketball matches in the past, but is struggling to get involved in the nation's biggest sporting league, the NFL.
"I'm trying to understand that because it's so big over here. Everyone's like, 'Oh, the football's on,' and I'm thinking, Great, it's going to be a Premier League game,' and it's a college football game or something.
"The Superbowl was on and we watched that, so I'd like to get into it. Over here, a sporting event is a huge occasion, it's like a full day out. I couldn't watch the whole game. I came for a bit, but sometimes four minutes lasts 34 minutes — I was out of there!"
B
onner, though, is getting used to the vastness of where she is ahead of their home opener against Kansas City Current on Friday, and she's now been joined by other England players with three youngsters picked in the draft, while former Leeds United, Chelsea, and England teammate Carly Telford is the most recent addition having joined Casey Stoney's San Diego Wave.
It seems her fellow Englanders are having as much trouble acclimating to the nature of the U.S. as she did.
"I messaged CT and she was like, 'Are we near each other?!' and I was like, 'Nope, definitely not!'
The pair will eventually meet when the two teams face off on May 18, but for now there's just the small matter of 2,069 miles between them.