The small things are important, life outside of football has a big say in how you enjoy your life inside football.
Rachel Corsie
I
t's 6:52 a.m. Portland time, but Rachel Corsie is up bright and early on what will be the penultimate day ahead of Kansas City NWSL's first National Women's Soccer League game since the team relocated from Utah at the end of 2020.
Corsie is on the way to get her morning coffee, which she messages to say will "help her brain function," before we speak ahead of the 2021 NWSL Challenge Cup kickoff in which Corsie will make her return to the U.S. game after a spell in the FA Women's Super League with Birmingham City.
Coincidentally, our chat is postponed five minutes as I react to the news bang on 3 p.m. UK time that Corsie's former club released a statement to combat recent news reports about the club's treatment of its women's team and confirming they will now play at the club's main St. Andrews stadium starting from the 2021/22 season.
"That's good," says the Scotland captain when we do finally link up on the phone. "I know from being there, a lot of these conversations were being had. It's a shame it has to go to the media before there's more substantial movement, but as time went on it was kind of clear that was maybe what was needed."
Windows of Uncertainty
Corsie, like many NWSL players, sought sanctuary in England when the COVID-19 pandemic took hold of the regular 2020 domestic season in the United States, but now is back in her new home, new city, and ready to get back on the pitch on Friday when Kansas City takes on Portland at Providence Park, which will kick off the biggest NWSL year to date.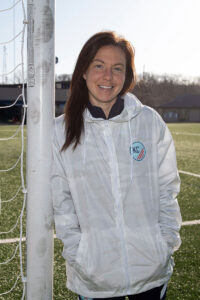 "It's hard to imagine off the back of last year you could have the longest season we've ever had," Corsie mused. "Everyone's excited. You want to play in a league, to mirror with what you associate as a normal season, if you can still say that!
"From my experiences, Portland is one of my favorite trips, it's always known to be from a football perspective a great game, the buzz they create around their women's team, the fans are great, and it's a game you look forward to every year."
When Corsie left NWSL partway through last year during the pandemic to be closer to family, she didn't know she'd never return to Utah after the franchise relocated a three-hour flight away to Kansas City, a city that had previously enjoyed success in the NWSL under now U.S. Women's National Team head coach Vlatko Andonovski.
The 31-year-old is now on her third "home" in the U.S. Corsie initially played for the Seattle Reign (now OL Reign) after leaving England and the FA WSL in 2014. For a player who admits she dislikes uncertainty, she's had to deal with a fair share of it over the past 12 months.
"Even though I was in England, I was aware of what was happening; however these things move and change quickly," the defender admitted. "We were prepped something might be about to happen, but you have no idea if it's coming tomorrow or in a month.
"That's sort of the unsettling part, but once it became known it would be Kansas City it moved pretty quickly. I'd spent three years in Utah; you build up a life there and I haven't been back since. The club took care of making sure everyone's belongings came to Kansas, so I jumped on a plane in February to Kansas and on the whole it's been a really smooth process given we've moved a three-hour flight across the country."
Corsie laughs when reminded she's just left behind a country in which every journey to away games is made on the road, with the prospect of flying to games a non-starter in a much smaller country than the U.S.
"I used to joke in Scotland all the Glasgow teams used to moan if they got Aberdeen in the cup. Now, a two-hour coach ride would be the nicest thing ever!"
On a more serious note, Corsie admits she has her ways of settling into life in a new city and she prepares to plant roots down in her third U.S. home.
"You have to adjust your expectations, be open-minded towards what you're going to face. The small things are important, life outside of football has a big say in how you enjoy your life inside football. I'm a big coffee fan, so where is going to be my coffee spot is high on the list and it means a few mornings I can just go for a coffee and have some time just for me.
"I think you learn those things as you get older, what you need, it helps. Naturally as humans, change unsettles us and it's hard when you're away from home, you have to have things in place to help you do that."
FA WSL Return
Between Utah and Kansas, Corsie briefly relocated to Birmingham (not the U.S. version) for a spell back in the FA WSL, her first since playing for Notts County in 2014.
One of many players to search for playing time in England over the winter period, including former Utah teammate Christen Press, Corsie was less than 48 hours away from getting on her plane home when Blues manager Carla Ward picked up the phone.
"There wasn't really a clear structure at the time for the NWSL after the Challenge Cup and I knew I had Scotland dates all the way through to December and that's where I started to look at what other options I had," she said.
"I hadn't been home since January. I'm not someone who is typically homesick but suddenly when you can't go home it changes your perspective and suddenly I was really keen to get home. I knew the FA WSL was a good league, but it was difficult because a lot of players had the same thought. Many did get moves, but many more didn't make it. It almost became this saturated market where an opportunity was difficult to find because everyone had the same idea!"
With new manager Ward in place but severely lacking in squad depth, Birmingham turned out to be the ideal place for the center back to get some regular game time under her belt while also being close to family and near home for her national team camps.
"I was meant to fly back on Monday 17th, August, and Carla phoned me on the Saturday," Corsie recalled. "I can remember exactly where I was, she'd had a conversation with my national team coach I think about a few players because there's a Scottish contingent at Birmingham. She wanted a chat and to get my thoughts but I told her I had an 8 a.m. flight and if there was no reason for me not to go get on it, I'd be getting on it."
While perhaps not quite as tense as Ross and Rachel in the Friends finale, Corsie also very much didn't get on the plane, as Ward was back on the phone the next day and suddenly the Midlands became Corsie's temporary home for the next few months.
"It is stressful. Some people would handle that stress a lot better than me! I'm all about stability, which is crazy given I'm a female footballer," she laughed. "Those windows of uncertainly are the worst for me, but often the stars align to provide an opportunity and I'm pleased it happened. It was a good experience and I still speak to Carla relatively often and I still follow how the team is doing."
Her first experience of the FA WSL for six years, Corsie admits to mixed feelings about how the league has progressed during her time away.
"A lot of people have talked to me about that and I'd honestly say both yes and no. The top teams have definitely driven the game forward, but there's a little bit of a gap and I suppose the stories from Birmingham play to that too.
"I think there's room for growth and more opportunities. Chelsea and Man City lead the way and set an example of how to value your players and I think it's up to other teams to drive themselves forward. Of course there's going to be differences in budgets, but smaller things that play into how you get the best out of your players by showing how you value for them, I think that will be the next big driver for a lot of clubs."
National Team Duty
If things for Corsie have been uncertain at club level, it's been no less turbulent at international level either. After the highs of qualifying for the World Cup for the first time, Scotland's dramatic and heartbreaking exit after leading 3–0 against Argentina in 2019 has been well documented, and the era well and truly came to an end when Shelley Kerr left her post as head coach at the start of 2021.
Like most countries, Scotland's schedule has been impacted by the pandemic, but failure to qualify for the European Championships mean all eyes will be on the qualifying draw for the 2023 World Cup at the end of this month, with the positive side of things coming in the shape of a very talented and exciting national team squad.
"I think we have to have that outlook," Corsie said. "The current squad we have is exceptional and a lot of them are young, so the potential is there and there's no ceiling to that. The last campaign was really painful in a lot of ways for the team, but I know it's such a united group and that's rare because at national team level you only spend a limited amount of time together and I think we have to use that to our advantage."
Almost two years have passed since that fateful night in Paris, and Corsie hopes the experience will help the team in the future, even if it was painful at the time.
"Everyone says you have to learn from it and maybe we won't know if we've learned from it until we're back there, so we need to get back there and find out. You will probably never be in an exact same scenario to that, but probably a similar one in terms of the pressure.
"As a country, getting to tournaments was our first accolade, now we need to think about what is the next real drive for us and it has to be getting out of the groups and pushing those teams ahead of us. Let's hope we get to the next World Cup and then we can look back and see if we've learned or not."
There is, of course, one other opportunity for Corsie and some of her teammates to grace the world stage with the postponed Tokyo Olympics moving ever closer onto the horizon.
Hege Riise's squad selection will be the most intriguing in some time given the difference in criteria, the smaller squad size, and the potential to select players from all four home nations, meaning competition for places is at an unmatched peak.
Despite her status as national team captain and a consistently solid performer in one of the world's top domestic leagues, Corsie's name has somewhat gone under the radar, with the main Scottish names on many people's lips the domestic-based players such as Kim Little, Caroline Weir, and Erin Cuthbert.
Coy on her chances of selection, Corsie does believe whatever happens it's an exciting opportunity for all 18 players who get selected to represent Team GB.
"I think it's a wait-and-see," she said. "It's been clear the expectation is you focus on your club, but it's easy to see it out of the corner of your eye. What I will say is there is a huge amount of quality to pick from and whoever goes there's a real chance a gold medal is possible.
"It's a phenomenal opportunity and it's brought a real buzz to the women's game. I'm really glad there will be a Team GB on the Olympic stage and it will be a really, really tough task to pick just 18 players from those four nations, so whoever goes it will be a really privileged opportunity."
B
ack in the present and coffee trip complete, Corsie is now all eyes on her meet up with the Thorns on Friday evening, even if she is still adapting back to the long journeys and not the short coach journeys around England on a Sunday morning.
"I think Kansas City must be one of the smallest airports in the U.S.!" she laughed. "It was an hour's flight to Denver and then two-and-a-half hours on to Portland. I left my apartment at 1 a.m. and got to Portland at 9 p.m. Kansas City time — the joys!
"When I was in Seattle and we used to go and play Sky Blue, the flight home from Newark was longer than if I'd jumped on a plane and gone home to Edinburgh."