Last year was such a boost for us. It rubs off on everybody, a cup run. Everyone gets really excited because I think everybody at every level follows the FA Cup.
Linda Fox
T
he impact of COVID-19 and the ongoing pandemic has thrown England's domestic fixture schedule into chaos at almost every level. While some semblance of normality is starting to return, some competitions from last season are still being completed, and thus overlapping with their 2020–2021 equivalents.
The Vitality Women's FA Cup is no different. This Sunday's final between Manchester City and Everton will be contested more than five months later than previously scheduled.
The push back of the final has created a novel parallel: the final qualifying-round games for this season's competition are being played on the same Sunday, with most happening at the same time as the final at Wembley.
The third qualifying round will involve the likes of 2006 and 2008 finalists Leeds United, 2002 and 2003 winners Fulham, Marieanne Spacey's Southampton, and a local derby between Norwich City and Ipswich Town.
It will also include Actonians, a fourth-tier side currently playing in the FA National League Division One South East.
Fourth-Tier Life
Actonian are currently second in their league, just ahead of newcomers Hashtag United and behind last year's runaway side, Ipswich Town, who once again are looking strong after the pandemic curtailed their promotion hopes last season.
The club plays their football just a few miles from the national stadium and it's just a 10-minute drive between the two stadiums, one of which holds 90,000, while the other holds just standing space.
On Sunday, the fourth-tier club hosts sixth-tier side Worthing, hoping to recreate a run that saw them reach the third-round proper last season.
"Last year was such a boost for us," said Actonian chairperson Linda Fox, who has been with the club in different capacities for more than 20 years, almost since the club was created in 1998. "It rubs off on everybody, a cup run. Everyone gets really excited because I think everybody at every level follows the FA Cup."
Fox first joined as a player in 1999 when the club was known as Cheswick United, and as she puts it, "trained in the park next to people having a picnic and a beer."
After a lengthy spell, Fox moved into coaching and became player/manager for five years before reverting back to solely being a footballer as the team moved up the divisions.
As her playing career reached its end, Fox became club secretary and eventually chairperson, a role she continues in today.
"I suppose I got frustrated with a few things, which led me to getting more involved. I wanted to create a club that I'd want to play for."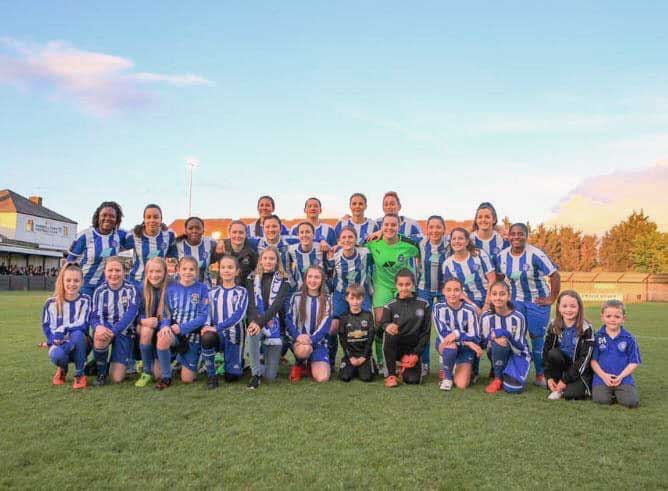 Despite surviving on a more than modest budget, a pay-to-play model that sees their players have to give a monthly or annual fee to play for the club, Fox has taken the club to a point where they now have both a reserves and development side to complement their first team, plus youth teams for girls from the age of nine all the way up to 14.
The team train just once a week, for two hours on a Thursday night, with the stresses and strains of part-time football all the more evident the further you get down the pyramid.
"We've had discussions about training twice, but in London especially, everyone's so busy and some of the girls have big jobs and getting them to train twice a week is really difficult. They keep active, they go to the gym, play five-a-side, so they keep themselves fit."
There's an eclectic mix of careers within the squad, ranging from teachers, police officers, players who run their own businesses, human resources staff, and even a model.
Fox herself works full-time for a greeting card publisher while manager Danny Harrigan, now in his second season, is a coach at Queens Park Rangers' academy around his role with Actonians.
Harrigan himself admits Actonians are probably one of just a few at that level that still asks players to play, but believes it has helped the club strengthen the squad as well as create a pathway for local youngsters.
"We've recruited a little bit further out this year," he said. "This year we have a couple over from Japan, one from New Zealand, and one from Italy. In the last year, we've been able to create a pathway for the young girls to come through and stay with us. Just last Sunday we had our youngest ever first-team debut."
However, he does admit getting players to buy into moving to a club where they have to part with their own money just to be able to play is a tough one to sell to players, especially if they are moving to the area.
"It's something we've had to adapt and improve at. Some players here could go a league higher, so we have to control what we can control and make sure we pride ourselves on giving them the best we can, whether that's the best training, the best kit, whatever else. We have to build a personal relationship with the girls; I think that collectiveness is what get us over the line."
Critical to the club's sustainability has been the prize money that comes from the FA Cup, particularly last season when the club reached the third round, ensuring they brought in almost £3,000 for their hardship.
"That money would cover the cost of our pitch for a whole season for our three teams," admitted Harrigan. "That's great, but if you get knocked out early, financially it starts to make less sense."
Should they win this weekend, they will receive a more than modest £600, while they'd only receive £150 if they lost, less than it costs Fox to actually put the game on, so much so she admits she would actually prefer a local away game than a home match.
"It takes the pressure off," she said. "We'd like it to be a little bit more given home games come with all the associated costs. We've been at home in both rounds already this season. Now we don't have to provide food on match day, it's around £250 just for the pitch and the officials, anything extra would up it a bit but there's other things we're not providing at the moment with the pandemic."
Harrigan added: "You don't budget for these games, it's a little bonus if you can get it. At home, you incur those costs so it does cost a lot to put the game on, but the money does make a massive difference at our level, especially last season."
Promotion Hopes
It's a world away from the glitz and glamour of Wembley and what Manchester City and Everton will have available to them on Sunday.
As a local side, the squad and staff would usually attend the final as they have done in previous years, but this Sunday it's all about booking themselves a spot in the first round proper of this season's competition, which Harrigan is grateful for.
"It's strange times, but it's positive we've got football back and it's good they didn't sacrifice the FA Cup and they've decided to finish last season's too."
His role with QPR has also given the manager a head start in being able to prepare for what might be to come when the FA WNL finally got the nod to start their new season last month.
"I've seen how we came back with the academy," he admitted. "We were always one stage ahead of the women's game, so I could start forward-planning and not just wait for the league to drop an email with the new rules."
Promotion to tier three will be tough, with Ipswich Town once again looking like the strongest side, having recruited the likes of former England Under-20 midfielder Georgia Allen.
But the club is somewhat punching above their weight, given they cannot pay their players and remain on a pay-to-play model, they are currently best of the rest behind the league leaders.
"It's tough, because the competition gets stiffer every season," said Fox. "To sustain the team is a challenge really and for us as a smaller club it can be difficult to attract players. Once they come down, the majority tend to stay, but it's getting them to look at us in the first place."
Fox admits she's involved in "almost everything," but hopes to be able to spend more time planning a sustainable future beyond relying on FA Cup prize money and aims to earn promotion to the league above.
"I'm probably involved in too many things," she laughed. "I do all the registrations, organizing the matches, I'd like to spend more time long-term planning and looking for sponsors, but week to week the little things sort of take over.
"I think if we're going to progress further we need to focus on strategic planning, how will we fund ourselves to move to the next level?"
Harrigan's experience of coaching in both the men's and women's game may be vital to that. The club has given themselves a fighting chance with a positive start to the season, but the manager admits the ongoing pandemic has altered the outlook of many of his players, more the understandably.
"Going to training should be straightforward, but obviously we could only have a certain amount in at first with the new protocols. It's quite difficult for us to ask girls to come halfway across London after work to train in a group of six.
"Some of them come straight from work and we couldn't always guarantee facilities, somewhere for them to change, everyone's just had to be more than adaptable. Things we took granted for before, the social side of it, that's been difficult to keep. We only have them for two hours a week and now you can't congregate, can't really integrate new players, there's so many new rules we have to abide by. I think it's something we'll never take for granted again."
W
ith only two hours to prepare his current squad for this week's FA Cup match, he admits they have to "just get what you can done," and can't look too far behind ball work on the pitch, while the top clubs spend money on improving the likes of strength and conditioning and other outside factors.
"For a lot of girls, work is now the priority. You get a lot of messages on the day saying they've had to work late, it's been difficult to plan the squad we have. We didn't know how each individual would come through this pandemic, some still haven't.
"Some went home because they had no work, some are now starting new jobs, some can now only come to training every other week. It's about being open-minded because everyone's trying to make ends meet and football is on the back-burner for a lot of people at the moment."