"I don't know if I'll cry but I'll definitely be emotional."
— Nick Cushing on his last match
It was New Year's Eve when Nick Cushing was first informed of the possibility he may be heading to New York City FC in MLS to become Ronny Deila's assistant manager.
The following week, the Manchester City Women head coach sat down with key figures at the club to discuss the move and everything was agreed upon just three days before the announcement earlier this month.
"We're consistently looking at how we challenge and develop staff and I was in no way told I had to leave," said Cushing. "If I wanted to carry on, I could carry on, but I'm also aware we're going into our seventh season and at some point in time it would have ran its course, whether it's my messages, a familiar face, or new players."
Cushing's final seven days in charge got off to a good start with a FA Cup victory against Manchester United, but City failed to reach another Continental Cup final after 1–2 defeat at Arsenal on Wednesday night.
Cushing will jet off to New York on Monday, 24 hours after his final game, once again against Arsenal in a huge league encounter in front of his home crowd at the City Academy. And with such a busy week of big games to occupy him, Cushing admitted it has felt like the last week at school but also glad it's been a week with such important games.
"I'm so glad that the games are so important because it means I've got to park the New York thing. I've been in regular contact with the coach, I've been sent the training sessions and preseason friendlies but I've not watched any of it because this team means so much to me.
"Obviously, I'm leaving at the end of the week and going to New York but these games are so important. Nothing will make me prouder than being able to leave with the team top of the league. It's been difficult because I've had to park a lot of personal things. I've got a house to sort out, I've got kids to sort out, I've got a wife I've got to see before I leave, all of those things have been parked. I could have done with a home tie on Wednesday night if I was honest!"
"…being in the congregation at your own funeral…"
[dropcap]C[/dropcap]ushing has had praise poured on him since the announcement at the beginning of January and described the feeling as "being in the congregation at your own funeral," but admitted he feels like he has simply just done the job he was asked to do when he took over six years ago.
"It's really nice to hear people say nice things," he said. "It's strange because I'm not trying to sensationalize, I just felt like I've done my job. When I took this job on I didn't want to just coach a team, I wanted to do more, that's why we went with the strategy of having young players, trying to get the best young players in England, trying then to get the best young players in Britain, trying to win with a good style of football. Ultimately, we started this off in 2014 and decided we wanted to challenge the perception everyone had of the women's game.
"I was looking at Steph Houghton, Jill Scott, Toni Duggan, Karen Bardsley, who were working incredibly hard. We started that journey off and I think we have done well at that. I'm disappointed we've never won a Champions League. I think I look at our football CV and I would like another league title on it, I think we probably could have won another league title but I am aware we have done good things. It's nice to hear people say that I personally and we have played a part in developing the game."
Does that growth surprise him? Seemingly not.
"It doesn't surprise me, I did say earlier on in maybe 2017 I used to go on these little rants at press conferences where I didn't feel we were getting the praise we should be getting in the sense of playing all these younger players, Georgia Stanway, Keira Walsh, Ellie Roebuck. They were well ahead of their development curve in playing in the England team if I look at previous England teams.
"I'm not just saying this because you guys are here, but I've met some great people, I'd never done any media before I did this job, I'd never had to go on television and everyone has been kind, no one has ever really hammered me in the press, people have always given me a chance. I have made mistakes, there's been opportunities for people to do that potentially but no one has ever really done that. I could probably say just as nice things to everyone I have worked for, whether it be coaches, the media, players, they've all helped me in huge ways."
Beginnings
Cushing set out in 2014 to build a team of young British players and develop them across the course of time into players who could win titles with Manchester City and play for the England senior team.
Major foreign signings were few and far between and Cushing admits it frustrates him to see young players elsewhere go off to the United States instead of being offered the opportunities to play regularly in the FA Women's Super League (FA WSL).
"The more WSL minutes they get the more England senior minutes they get, the better team we are going to have because they are the future. When I see younger players going off to America and playing there I think we are missing a trick really, but I understand every club has their own operation and their own decision-making to make.
"I looked at the two center halves that played at Arsenal in the spring series, Anna Patten and Lotte Wubben-Moy, they would have fit right into our team and probably made us stronger and they went off to America and while I'm excited to see those come back and play in the league, that would be my only frustration. I judge everyone on our standards and our success but I agree that everyone is different."
Elaborating on his own philosophy, Cushing said he built his first squad on players who could give him "enthusiasm and work rate," in the knowledge his squad wasn't at the level of the top sides, a philosophy that would earn him his first trophy by the end of that first season against a superior Arsenal squad.
"I remember Carlton Fairweather at Sunderland asking me how we did it," he recalled. "I sometimes think we are not brave enough. The one thing I've found is there are players in development squads around the country that are good enough to play in our league, you've just got to go and find them. Keira Walsh and Georgia Stanway were playing in Blackburn's U-17s — within seven days they were playing in our first team at the top of the WSL.
"I think it is about being brave, spotting talent, and understanding that having a real clarity around how you want to play and what players fit into that. Ellie Roebuck, we knew straightaway was going to be a goalkeeper of ours. We knew we had to be really brave and put her in during a period which we knew she wasn't ready. Maybe that is why we didn't win in 2017 but are definitely bearing the fruits of that now."
Cushing joked that there is no hiding place for him when it goes wrong though.
"That is what I love about the club. Lou, who you see doing the dinner for us here, she will tell you that I got subs wrong on Monday morning," he laughed. "It is what it is, there is no hierarchy. She tells me in front of the players and I have to accept it!"
On a more serious note, Cushing is not ignorant to the fact not every decision he has made on and off the field has been universally popular among supporters, but that his philosophy and strategy has always been clear.
"The strategy is really clear. Not every fan agrees with it. People want us to go and sign the world's best and most expensive players but it is really clear how we have done it. Where we have had the budget, how we have tried to develop at a rate that is sustainable for Manchester City.
"The Swedish team that won the UWCL but don't play anymore [Tyresö FF], Frankfurt were the best team and now they've fallen away — we didn't want to be a team that chased winning a UWCL for a ridiculous amount of money and then decide all of a sudden when we won it, we've got to pay this amount of money for the next 10 years. I think is what teams do, they chase that and when it comes it's almost like, what do we do now?
Arguably Cushing's biggest signings were his first ones. With a squad coming up that largely wasn't at the level of a team of Man City's ambitions in 2014, Cushing recruited four England internationals in Karen Bardsley, Jill Scott, Toni Duggan, and England captain Steph Houghton.
Three of the four remain at the club six years on and Cushing admitted he's "proud" of the fact Bardsley, Scott, and Houghton have become mainstays of the squad.
"I've got a really good relationship with them as players and I always have had," he said. "We're pretty similar; me, Steph, Jill are pretty similar in the way that we think but that doesn't necessarily mean that the other players that aren't here were bad people.
"Toni, Nikita Parris, Jen Beattie, Abbie McManus, all those players that played over those consistent periods were great people, and everyone has the opportunity to make decisions for their career and I fully support them in all of their decisions, and discussed it with all of them across leaving — none of them left on bad terms. I think those three will probably leave a legacy here and I think you'll see those three players being involved at this football club for as long as they want to be involved."
It therefore feels somewhat apt that Cushing's last piece of business before his departure wasn't a glamorous new January signing, but to award his captain a new contract that ties Houghton to the club until 2022.
A player who has regularly had her form for club and country questioned, Cushing is adamant Houghton is still pivotal to both Manchester City and Phil Neville's England side.
"I'd have liked to have carried on with Steph, I think she's an incredible person and somebody that I will stay friends with. She inspires me every day. We all know Steph's family situation, even before that her drive and desire and her ability to put in consistent performances.
"You know, I read things about Steph when she plays for England from fans, and I get it, everyone has an opinion, but if we don't play Steph Houghton in our England team we have no hope, and you can hold me to that. She is by far the best defender we have, by far the most driven professional we have, and I think if we are going to win at Manchester City, just the same if we are going to win at England, Steph has to be the leader and has to be at the forefront. Same for us at the football club, to pin her down to two more years gives us more chance of being successful in the future for sure."
AC, After Cushing
When he departs after Sunday's game, Cushing will leave the side in the hands of his trusted assistant, former professional footballer Alan Mahon.
Mahon will take interim charge of the team until a decision is made on a permanent successor and will have the chance to lead the team into a title charge and possibly the opportunity to defend the FA Cup won at Wembley last season.
While Cushing now has no further influence on whether City succeeds or not this season, he admits it will be "hugely disappointing" if the club ends up with no trophy come May.
"I'd be just as disappointed as I have been every time we haven't won a trophy over the six seasons," he admitted. "But for me, I think when you don't win a trophy you have to look at why you don't win it. There's always a reason. In 2015, we didn't win the Continental Cup because the FA made us play after two days. I think we'd have gone on and won that trophy that year, and we didn't win the FA Cup because we gave a goal away to Chelsea in the last minute, but if you look at the team, we had Jill Scott suspended, and we had Karen Bardsley that was injured — we had Alex Brooks in the goal and Chelsea Nightingale in the center of the midfield, you can't play Chelsea with that team.
"In 2016, we played the FA Cup earlier on, we were one-nil up, Jane Ross had scored, and then we gave a goal away. Ji So-yun scored a free kick and Fran Kirby scored in the last minute — we got too deep in extra time and didn't manage the game well enough. It was down to our mentality. In 2017, we lost the Spring Series because we changed the team against Arsenal, we put players in that weren't at the level, we got beat one-nil and we lost on goal difference."
Cushing continued, "In 2018 Arsenal didn't take any of their players to the SheBelieves and we took all of ours, so we got back a day before and their team had a seven-day break, so there was no way we could've won that trophy. Then in the league we didn't win because they were so fatigued, we ran out of gas, we got the team wrong in 2017–2018 and we ended up playing Liverpool away at Chester and we didn't win that game, we just fell apart from there. Probably the staff didn't manage the team well enough and then the mentality of the team just went, we didn't manage well-being at all. The league last year, we drew too many games. We drew here against Reading, one-nil up, we drew here with Chelsea, two-nil up, we drew against Bristol two-nil down, and we drew against Bristol one-nil up — you can't win the league if you drop those points."
And as he carried on to dissect how this season's league may pan out, he said it will be the games against the teams outside the top three that will decide the title, rather than games like Sunday's encounter with Arsenal.
"If I was to say City would go undefeated until the last game of the season and Arsenal would walk the league after getting beat by City and after getting beat by Chelsea, you would never think that could happen, but because we dropped 10 points, the draws are so harmful. If we don't win the league it'll be because we've not been consistent.
"For me now, the away game against Man United is a real key game for us, because it's a difficult game. I think Chelsea's game against Everton will be a key game, Chelsea's game against Man United, because teams like Reading have been inconsistent this year. Liverpool have got a good squad, right? But they're not getting any results, they will get a result. Birmingham City will get a result off somebody, Bristol will get a result off somebody because you just don't know. Last year Liverpool got a draw off Chelsea, it's so difficult to be consistently winning for Chelsea, Arsenal, City all the time because slip-ups are just around the corner.
"We played Bristol here, we're 2–0 down with 10 minutes to go, we drew the game 2–2, we should have celebrated getting a draw, we were flat on our back and Bristol were celebrating like they won. They were 2–0 up and that taught me everything about the league, that maybe the mentality or the thinking is a little bit different. For us here, to win the league, do I think we can beat Chelsea and Arsenal at home? 100 percent, but it'll be difficult. The fear is that you drop points in a game where you take your eye off the ball and you think you're going to win. Arsenal didn't do that last year and it doesn't look like they're going to do it this year, they consistently won every week, 4–0, 5–0, and then when they got beat by Chelsea, it wasn't so harmful because Chelsea lacked in goals last year and we lacked in our ability to shut out games."
By this point it's clear Cushing has an almost photographic ability and an inability to switch off from his love of the game.
He is now so familiar with Chelsea and Arsenal that he feels there's not a lot of point in offering Mahon any advice ahead of his own encounter with Chelsea later in February.
"Alan said to me, 'I'll probably still ring you to get some insight on the Chelsea game at home because if we beat Arsenal that's going to be a really important game,' and my answer is, 'You know exactly how that game is going to go.' We've played them that many times, what are you expecting me to say? Bachmann, Kerr, England, Kirby are incredible when you let the ball go into their feet and allow them to create, Millie Bright's a really good defender, you know it is what it is."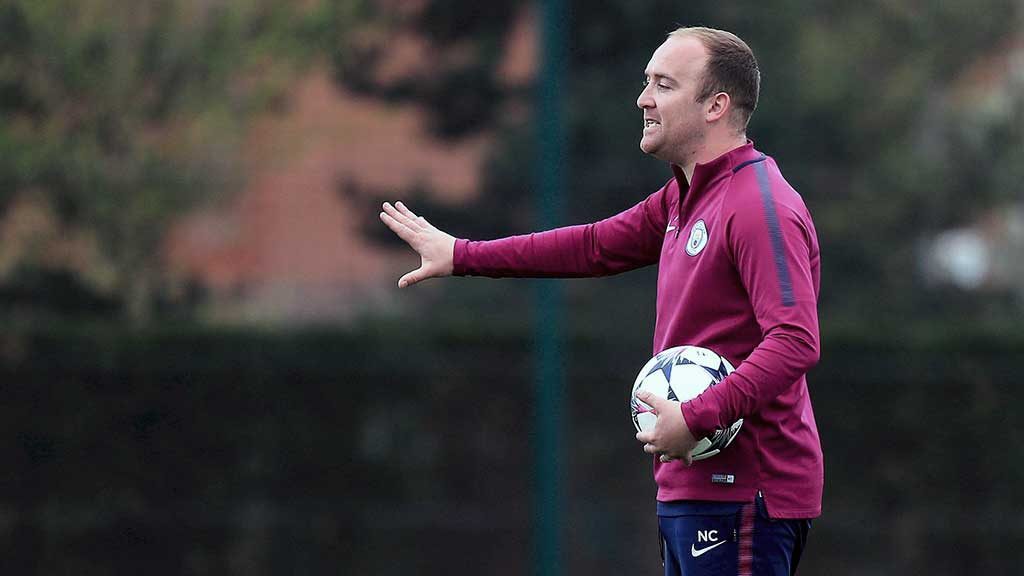 League Growth
Cushing now hopes the FA WSL continues to develop at a vast rate after he's departed. Man City's season started in front of 36,000 supporters at the club's main Etihad Stadium against Manchester United, but he believes it is the "little things" that still need improving to really move the sport on.
"I hope as an FA and a league we have that strategy and we hit those milestones as we go. Do I think that they've got that? I think little things show me they haven't, in the sense we're still having fixtures on the same day as the men's team and we waited seven months to find out where we're playing the Continental Cup final.
"It's those type of things that don't help you guys, because you're just as important as the teams. We have to put the product on the pitch that you can report about and that businesses want to invest in and if you can't report with real clarity then why would people? We only found out two days before the [Continental Cup] semifinals that they're going to be on TV."
Cushing also hopes there is a plan in place to improve officiating standards as increased scrutiny after bad decisions in big games has come to the fore in the league.
"I consistently hear people complain about referees and I think, 'Well, let's not complain about it, let's put a plan in place.' Surely, we've got enough money to make the referees full-time, surely? The clubs are putting money into it to make sure the players are full-time, why can't the FA make the refs full-time? Or come out and tell us, 'We don't have the money.'
"I think you've got to grow it from the top down. I think in 2015, we could have done that, and I think we're playing a bit of catch-up. But I think this is really key. We're now seeing Jill Scott on Deliveroo adverts, and those things really help, because my son says, 'Look at Jill Scott doing a somersault into her seat with Harry Maguire.' That's where I think we get into football — exposure is really key.
"People say all the time, 'Oh, it's not really worth watching women's football. I don't go.' But people go and watch the Conference and League One and our standard is a million times better than going and watching the Conference. It is, whether people like it or not. We've just got to try and shape that perception, and that's where the FA, I think, can help you guys to sell it better and then the businesses come in. I hope I'm not looking back in 2021 and thinking, 'Not really made much progress.'"
Cushing is also not too fussed about whether or not the Premier League ever completes a takeover of the league and takes it away from the FA.
"I see why people go, 'Premier League! Premier League!' Because of what they've done with the Premier League. To me, it's irrelevant what organization runs the women's game as long as the right decisions are made. I don't ever think we'd be waiting for the Carabao Cup final [venue announcement] until four or five weeks before — it would never happen.
"So I don't understand why it happens in the women's game, unless it's just at the bottom of the to-do list and someone decides, 'Oh, we haven't done that yet.' If somebody's saying to me that the Premier League would run it better, I think we'd all go for that. But it's the same if someone said to me Kellogg's would run it better, I'd go for that. We just want the small little bits that frustrate us as clubs and as managers. I say to Phil [Neville] all the time, I don't think it helps him that we play on Sunday before the camps meet up, because his first two days are recovery days and he only has a seven-day camp, so that would frustrate the life out of me."
He added, "I look and think, surely we can all get around a table, we're still debating now when the season's going to start next year, and I'm like, 'How are we supposed to plan a preseason with this?' It's so difficult. They're the type of things that I think whoever the organization is has just got to iron those things out, because we're looking at 2021 — Phil's got an incredibly hard job, because the season goes right up until the end of the Olympics. Then the Olympics finishes and the season starts.
"By the time we get to 2021, there is an absolute possibility that our players will be absolutely flat on their back. We've got to put things in place now to make sure that happens, and I think Phil's doing a great job at leaving players out and not selfishly taking them all the time, and we're also doing a little bit back the other way, but I think he's almost having to find solutions to really difficult problems."
Those are problems, though, that Cushing admitted would never turn him away from returning to Manchester City, but he admitted the speed in which has career path has changed in the past few weeks means he could never predict where he might be in another five years.
"I would come back to Manchester City Women tomorrow, because I know that the mind-set of the club is full integration, do things properly, train. The players have every opportunity to achieve their potential. I don't think I could work for a club that didn't do that. Ultimately, I think that makes the job impossible. I think if you're trying to win — and my first question going to New York, and my first question at any club, would be, 'What can we win? What's the first trophy we can win? Let's go and have a go at it.' If we're perceived as a lesser team, then let's go for a Conti Cup or an FA Cup if we're not going to win the league. If we're in the Championship, let's try and get promotion.
"But if a club's almost not giving you the opportunity to do that when they do have resources, that really confuses me. If you're a club that hasn't got any money and no resources, then it is what it is, but if you do have a lot of resources, and a lot of experience and a lot of knowledge and a lot of opportunity, and you're not giving it to one of your teams? That is crazy."
On his future and the possibility of ever taking over a potential New York City women's team, Cushing said he has "zero idea" what the future holds but admitted a women's team in New York would be a "natural progression" for the City Group after Man City and Melbourne City in the W-League.
"If you'd have told me in the summer of 2013 that I'd be doing the next six years with Manchester City's women's team I wouldn't have believed you," he smiled.
"I'd never watched the women's game before — I told the players in the first week of preseason, 'I have no knowledge of the women's game, but we'll go at this together' — use the likes of Steph and Jill and KB, and Toni and Izzy [Christiansen] to really help me. I ate my Christmas dinner this year pushing for three trophies and by New Year's Eve was going to New York, so I couldn't tell you. We've got teams in Mumbai and Melbourne, in China, In Japan and in Spain. Somebody once said to me, to be a successful football coach you have to build your house on wheels, and this is a great example of it."
[dropcap]S[/dropcap]o as Sunday looms, the final whistle against Arsenal will mark Cushing's farewell from Manchester, from the club, and for now, the women's game as a whole.
He's been keen all along to play down the emotion of the occasion and wants to keep his mind and his players' minds fully focused on the job, but admitted there have been plenty of emotional occasions during his tenure.
"My wife will tell you I have zero emotion," he laughed. "I don't know if I'll cry but I'll definitely be emotional. I've had emotional times in this job. It's not all been plain sailing, a lot of things that for personal reasons of those people I wouldn't bring up, but the team has been incredibly professional, in following things that have happened to us as a team with performances and I've been emotional.
"You've seen when we won the Continental Cup, I was sitting on the icebox and Janine [Beckie] scored the penalty and everyone celebrated, that was a huge relief for me. People see me as this winning head coach but we hugely messed it up in 2017–18 and, while I didn't ever feel under pressure here from anybody, there is that doubt in your head, you're like, 'Is that our time up? Have we had our three years and now the cycle has come in where Arsenal take over?'
"To go on and win the first trophy, in my own head, just pushes you to go on. You only let that happen if you allow that to happen and then we went on to get the FA Cup in the same year, I was so proud. I read everything, whether you're supposed to or not. People slaughtered our recruitment this summer and we're still in a place where we sit top of the league, people would see this revolving door of people leaving Manchester City and think 'Ah, they've got no investment and they're on the wane,' but we're still exactly where we've been for six seasons. I'm proud of that."
He added, regarding Sunday's game itself, "If we go out on Sunday and we lose and Arsenal are better than us then it is what it is. I think our mentality here is for us to push ourselves into a place where we are under a bit of pressure, I want to go out winning and I won't be happy if I go out losing, but there will be a reason. I always say to the staff, there's always a reason why you lose."