"It's a big one, isn't it?" remarks Casey Stoney in unremarkable and understated fashion. The Manchester United manager is preparing for the club's first game of the new Barclays FA Women's Super League season, their first at this level, against neighbors Manchester City.
Sitting in one of the executive boxes at the club's Leigh Sports Village home, Stoney is hampered in her preparations by the international break, but the manager is always looking ahead to the future and what the sport needs to do to ensure Saturday's big occasion at the Etihad Stadium doesn't become an anomaly.
"Obviously being at the Etihad, it's a showcase. I think they are projecting 25K–30K, I believe, something around those numbers. It will be fantastic but it's then keeping that.
"We can all do it for a one-off game. The big thing is about the advert out on the pitch. If you make it an exciting game with quality then people will want to come back. It's obviously in a FIFA men's window, which helps. It also depends on how many people want to watch the men's game compared to coming to the women's but it looks like the projections for ticket sales are good."
Stoney has been involved in the women's game a long time, ever since breaking through as a youngster at Charlton Athletic. The center back has played for Chelsea, where she had a brief spell as player-manager, for Arsenal, for Liverpool, and for both England and Team GB; she also captained her country for a period under Hope Powell.
Despite her vast experience in the game and the fact she's seen it develop over time, Stoney admits she didn't expect to be involved in such an occasion this weekend.
"When I was playing we were playing on parks, picking up dog poo, and playing in a kit that was four sizes too big that was handed down and told we shouldn't play. When you look at how far the game has come, it's incredible.  I am incredibly proud to be part of an era that has moved the game in such a forward trajectory. I am really proud to even be a tiny part of that.
"I didn't envisage it — I didn't envisage that in 2016 I would be walking up the Wembley steps to lift an FA Cup. That was an absolute dream come true and I never thought was going to be possible. The game is changing but we've still got so much work to do to keep it changing. We talk about 13, 14 million people watching on TV but we have to get them out of their houses and into the grounds and watching the game that way as well."
Still in the Building Stages
How to do that has become the million dollar question in women's football. The launch of a new live streaming platform which will broadcast every FA WSL game around the world has raised further questions about attendances increasing or decreasing, while World Cup hosts France didn't see a huge spike in attendances when their domestic league kicked off last weekend, though Stoney isn't overly surprised.
"Clubs have to invest in their marketing," she said. "I think the attendances at the World Cup were poor, if I'm honest, so I'm not surprised it hasn't translated into their game. We have to focus on marketing, make sure it's a time slot which is accessible to families because that's the demographic of our game.
"Try not to compete with the men's team. We try as much as we can — unless broadcasters makes changes — to never ever play at the same time [as the men]. I think we had one clash last year and that wasn't due to us, I think the men's game changed because of broadcasters."
On the perks of working for a club like United, Stoney added, "It's easy for me to sit here as the head coach of Manchester United, it's an easy club to sell because of the reach it has and the fan base it has. For those clubs who don't have that, it's about letting people know where it is, putting it on at a time that is accessible, and getting people through the door. Whether showing every game online is going to go against that or not, we'll have to wait and see, won't we?"
United and City will clash again in October in the FA Continental Cup, this time with Stoney's side at home and the game is currently scheduled to be at Leigh Sports Village and will likely remain so with the men's side facing Liverpool on the same day.
Stoney admits she hasn't ruled out playing at Old Trafford in the future but wants to focus on regularly selling out their current home before moving onto a larger stadium.
"I don't think we're near that yet," she admitted, frankly. "I get the question about playing at Old Trafford all of the time. My answer to that is let's sell this out first — and let's continuously sell this out and let's make this a target so we can sell out 10–12K every week before start thinking of going to a 70–80,000-seater with 10,000 people it, then it's soulless. Again, it's about putting it on at the right time and on the right stage with the right marketing around it. I don't think we're anywhere near that yet."
Stoney's interview is briefly interrupted by the arrival of defender Millie Turner, one the few players remaining at the club during an inconveniently timed international break.
Stoney has several players away on international duty, including all of her new signings, while City manager Nick Cushing is affected even more and has had less than five players in training at times during the international break.
Both managers will only get to see their players 48 hours before Saturday's fixture and Stoney isn't exactly thrilled with the schedule.
"Two days prep? I get frustrated that we've had an eight-week preseason and then all of a sudden we've got two days to prepare for the biggest game of the girls' careers. Some of these players won't have played in a stadium like that, in front of fans like that. It's not ideal.
"Do FIFA consider these windows when we're planning the season? It's hard for The FA as well because they've tried to bring the season further back because of the World Cup and give the players the rest time, which they needed. Our players had a minimum of three weeks off which is vital for them going into a season. We couldn't have gone any earlier but yeah, it's not ideal but we're both in the same boat. Nick Cushing has probably got more players away then I have so we're both preparing in the same way."
Working Through Departures
So how has the former England captain harnessed the time she does have with her team? Several players, including captain Alex Greenwood, have departed but Stoney has recruited international talent in the likes of Jackie Groenen and Lotta Ökvist, as well as Abbie McManus, Mary Earps, Hayley Ladd, and Jane Ross.
"We've had the weeks prior to them going away so we have utilized that time as best we could," said Stoney. "We worked out that from the World Cup players coming back in to us kicking off, we had 16 sessions together. That's not a lot to prepare for a season.
"You utilize everything: analysis, on the pitch, off the pitch, we've got subbuteo boards. We sit down and do clips with them, we've had preseason friendlies. We utilize the time we've got to best prepare them collectively and individually. During those two days, it'll just be topping up information and making sure they're ready to go."
Stoney admits not all her signings were pre-planned, but she does all her planning well in advance and doesn't back away from the fact for the first time in management she was left reacting to players departing, compared to last season when the only focus was on arrivals.
"I hope we're done," she smiled, ahead of the transfer deadline on Thursday. "Obviously, Siobhan Chamberlain's pregnancy was a curve ball, hence Mary Earps. I have to say Mary's been an absolute breath of fresh air around the place with great character, great with her feet, and she's been real good addition to us.
"And then obviously, Alex's departure came late in the day as well. Would I say we were prepared for it? No, we weren't, we will be better prepared next time. We'd already had our eye on a couple of left backs and Lotta was one of them. What you can expect is, hopefully a good partnership down the left, because I think Leah Galton will be one of our standouts this year, I really do. She's left-footed, she can come inside or outside.
"She's only 22, so she's still young. I think we can make her to an even better player. I would target the senior Sweden squad for her. I think she's good enough to push that if we can develop her. Very good on the ball, very calm, very composed. Positive first touch all the time, she likes to go forward and will be tested defensively at times this year. You know, we know she will, but that's my job. My job is to make sure she's right there, and if she's not right there, then it's my responsibility to make sure she is. I think she'll be a fantastic signing, what a great addition to the group as well as a character."
Eye on Arrivals
On the wider issue of recruitment, Stoney says she looks as much at the person as she does the player, but wants to keep intact the club's British core and started looking at new players for this summer as early as before Christmas.
"I'm really particular about my recruitment in terms of the characters that I am bringing in because I just think talent only gets you so far. It's your attitude, your character, and your work ethic that will determine how far you go and how long you stay here.
"We won't get surprised again, because we've now got an entire recruitment strategy in place, which we had half in place. But now we've got to make sure of that and also we don't have a license yet, so we can't sign anybody non EU, which isn't a bad thing."
She added, "I want to have a British core as much as I can and I want to keep that. Jackie, I went and started the recruitment in November last year, so I am quite proactive. I'll do the same again this year, you know, I will highlight where I think we need to strengthen, and I'll be very productive on that.
"I always think you need to be ahead of the game. Jackie was always going to be a key signing for us in terms of strengthening in that midfield area, with a bit of experience and a bit of know-how, somebody with the ability to play forward as well. So, you know, I'll identify early where I need to recruit and then we go to work. I do that myself because if a player is going to come here, yes, they are going to want to play for this badge, but they have to want to play for me, and the way I work and my philosophy as well. So it's important they buy in and pretty much everyone we've met in person we've signed, so it's been good."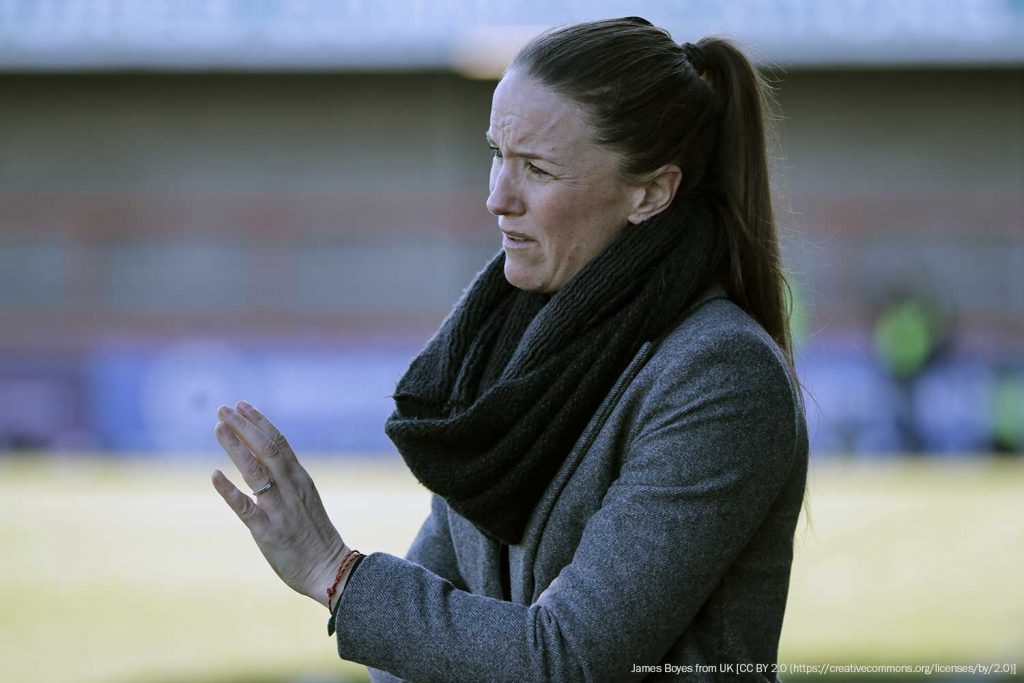 Captaincy Questions
Stoney is yet to name her new captain after the departure of Greenwood to Olympique Lyon. With a team filled with young players, options for the captaincy look thin from the outside, but surprisingly Stoney isn't fretting about the decision and isn't even sure she'll have a permanent captain in place ahead of this weekend's Manchester derby.
"It's a big decision, it's massive because you are captain of Manchester United," she said. "I have to go back to last year, though. Alex was the captain on the field but I've got lots of different leaders off the pitch. I have two different leadership groups and one is still being formed, which will be voted for by the players, because it's important they have their input and it's people they need to trust and respect. The captain will be part of that. What I did say to the group early doors, and I've said it to my staff is I'll take the time with it; if I go into the City game without a permanent captain, I'm not bothered.
"It needs to be the right person for the group, it needs to be the right person for me, it has to be someone I can trust. So when they can trust in someone we both respect, someone who's brave enough to challenge me, challenge the players then be the go-between. As a captain, sometimes in the women's game you have an awful lot to take on because as women we're quite emotional, so we end up going for the captain quite a lot. But also, there's numerous people they can talk to, and what we try and do is encourage leadership within the groups that don't do tasks themselves, they'll have to run certain workshops."
However, it does sound like the manager has a few people in mind for the job.
"I've got a couple of names that are, you know, right. And I always think that person will rise to the top, that person will show themselves. It needs to be someone that leads by example. We've got some great, great characters in this group. It also needs to be someone that can deal with the pressure, the expectation, the exposure, the media, and all of that — all of that comes with it. They'll be fully supported by me, my staff, and the players. We will get there but I'm not there yet."
Burgeoning Supporters' Group
The departure of Greenwood caused questions to be asked by some members of the club's hardcore support, but Stoney sees it as a positive that so many are now invested in club football and not just coming to the women's game when there's a major tournament every two years.
"Fans want to know and fans get angry when you move people on and they're happy when you bring someone in," said Stoney. "It's great because then the conversation is still happening and that's good. I am bored of every four years excitement and then interest dropping off until another four years."
Despite some of questions directed at Stoney during the Greenwood saga, the United manager has only praise for the club's supporters who have followed the team up and down the country during their first 12 months.
"They're a proper fan group," she said. "In terms of football, they are the nearest to what I've ever seen transfer across because they have transferred across from the men's team. They sing like they would at Old Trafford, they behave like they would Old Trafford, they get behind the team home, away, loan signings, et cetera.
"They've given me absolute stick for Alex before they knew the full story. So you know, we expect it. I always say if you're a fan, you support your team through thick and thin, win or lose. I hope they'll continue to do that this season and, you know, they'll have to understand that it's not going to be like last year. Last year was probably too easy at times. I don't mean that disrespectfully but we were a full-time team and we did very well. We're going to come up against tougher times this year and that's where we need the fans to stick with us."
Managing Expectations
With her squad in place, attentions have now fully turned to Saturday's opener at the Etihad, the team's first FA WSL game and the first Manchester derby in the modern era of women's football, though the sides have met before several decades ago before their relative relaunches.
Nobody is expecting United to immediately challenge the top sides, they are, after all, a newly-promoted side, but Stoney appreciates the name carries a certain extra weight and expects people to criticize if her team isn't performing, but to keep things in retrospect as the team looks to establish themselves at the top level.
"I think if we go to Man City and we don't win, which there is every chance it could happen, we're going to go to there and try, but if we don't, you can't get on the team's back on game one against a team that's been top two in the country for the last four years — against a newly-promoted team. You've got to have a bit of reality to it. I also think, say it as you see it, if it's a poor pass, it's a poor pass. It's not, 'Oh, well tried,' because she's a girl. I don't believe in that.
"That's what I say to the girls, as well: 'Just remember, you're only as good as your last game and if you don't like it, don't read it.' Because actually, the fans don't know what our game plan is, the fans don't know what job I've given you, and you might have been a nine out of 10 for the job I've given you," Stoney said.
"But on an outsider's point of view…," she continued, "you know, when we played under Mark Sampson at England and we bypassed our midfield a lot, and our midfield would have got criticized for not getting on the ball and not delivering and not doing the things they needed to do. Jade Moore for me would have been a nine out of 10 every single game because she did the job she was asked to do. But for an outsider, she hasn't gotten the ball, she hasn't affected the game, do you know what I mean?
"If we've given you a job, and you've done it, the only one that should matter is your teammates and your coaches, because you've delivered what we've needed you to do. If you want to read the noise, I'm always saying to the players, just be careful because you are only as good as your last game. Fans will criticize you now and rightly so because that's where the game [is at] and I think that's a positive place for the game to be in — that we're talking about performances. You'll get rated now and you might get a four or five. You're going to get that and it's up to you if you want to read it."
Manchester United has somewhat become a beacon of women's football over the past 12 months. One of the most talked about, most controversial talking points of the past 12 months. The full-time nature of their program in a part-time league, it's rare that the club hasn't been talked about in one or another over the last year.
But with a talented group of youngsters, Stoney is constantly working out how she can protect her players, nurture them, and ensure they don't get overcome by the challenge and scrutiny ahead of them over the next 12 months.
"It's my job to try and balance that with the players because it is really unfair to put that expectation on a group of young players," she admitted. "Let's not forget we started 14 months ago with four weeks to build an entire squad and staff. It's credit to the players and staff that we got promoted because they work exceptionally hard.
"We're now in a new season, we've just been promoted and then all of a sudden there's an expectation to do things that we might not be ready to do yet. We will make sure we are in a good place to compete. We will always equip ourselves in a positive way. Wherever we go, we want to leave people with a good feeling and that the fans know that we've left nothing out there and we have given 100 percent. We are building a team that are ready to do that. We also know we've come a long way in a short space of time and people are going to have to be a little bit more patient with us."
Stoney also says she hasn't tried to downplay this weekend's occasion to her team. "I've not shied away from the fact there is 25K–30K people out there and it's going to be a different atmosphere. What a great experience for those players to go out there, they will develop so much. As long as we give our everything and give a good performance then the result will be what it is.
"Nick Cushing is a fantastic coach. I have a lot of respect for Nick. They are a great side and they continue to win things every year. It's a great test for us in our first game. How do you replicate that? You can't. We went to Norway and played in front of seven and a half thousand there. We played a team we knew that we probably physically weren't in a place to compete with at the time, but we almost wanted to lose if I'm honest, to give us a bit of a barometer of where we are and where we need to go. I haven't needed to sell preseason because there you go: there's Man City first game.
"I don't want to fear failure. You have to fail to learn and grow, so don't go out and fear it. Let's go out and have a go and if we make mistakes, we make mistakes, we learn from them. And actually, I'd like them to see it as an opportunity because it's an opportunity to go out there on that grass and show everybody watching what talent you've got and what team you can be."
For the first time apart from potentially last season's Continental Cup semifinal against Arsenal, it's a game where the majority expects little from the league newcomers against an established side who were minutes from an unbeaten domestic campaign last season and won both domestic cups.
United's fast-track into the Championship also ensured they bore the brunt of criticism from fans of other clubs as they went straight in with a full-time model in a predominantly part-time league, but Stoney doesn't mind being the team everyone will want to beat.
"We weren't very well liked in the Championship. I think it is a great thing if everyone wants to beat you, it helps you to have a little bit of a siege mentality. We know what we can control. We know what we can't control and we can't control how other people feel. We can't control if people like us, don't like us, but what we can control is how hard we work day to day, how much we focus on our game plan, how much prep we do on the opposition, and how we can perform. And sometimes I say to them, 'You're not always gonna have the best day, but you can always control how hard you work and that is in your control every single day.'
"I'd like to think that we're in a good place. We do a lot of work away from the grass as well in terms of togetherness and cohesion. We ground people here, we do things a bit differently. Like, we need to get to know each other as people, they need to know that when they cross that white line that they're together. They're not going to be best mates but they need to know that they've got each other's backs and try to do things that are human because with this bad come so much pressure. I just want to take that away from them sometimes and let them be human beings."
Aiming for Sustainability
It's clear Stoney is focusing her mind on players who want to be at Manchester United. She admitted after Greenwood left the club she wouldn't stand in the way of players who wanted to play for another club, but her passion is for ensuring players want to play for the club and who love playing football.
"This is not the way we want to grow it because if I throw money at it, I get a player comes over for two years, wants to take the money, and then disappears. It's more about a long-term project here, about people who are invested into the club, invested into the team, invested into where we want to go.
"Yes, there are times when you might want to sprinkle a bit of stardust on your team but that little bit of stardust still needs to be invested. It still needs to be buying in, we work the players really hard here. You know, we want them to have the right attitude and application and we do want to grow it slowly. We want to try to aim towards sustainability. If I want to aim towards sustainability, then I don't think we should be paying the salaries that, you know, reportedly are being paid elsewhere, because we will never get there.
"We always focus on the 'why.' Why here? What do you want? Like, what's your 'why'? And every single one of them on their things that they fill out all say because 'I love playing football.' I don't want to take that way. I want to encourage them. I want to keep that love and harvest that love and make sure that whether they stay for a year like some of them did last year, or they stay for five years, they walk away having had a good experience."
Stoney does, though, support the equal pay battle going on with the U.S. national team at the moment, but believes England is a long way from being able to have the same discussion.
"Someone asked me a question about equal pay the other day in relation to the America team. Absolutely, because they bring in more money than the men, so they should be getting paid more than the men, it's all relative.
"If we have 12,000 in here every single game and then we go to Old Trafford, we sell that out, we have 70,000 every game, we've got commercial deals and we've got a broadcast deal, then we can start talking about paying players at more value."