Nashville Rhythm FC came out strong in the first half of the 2019 Women's Professional Soccer League (WPSL) season, recording four wins, including two on the road, and a tie. They outscored their opponents, 9–3, with two shutouts. This season is the club's third season in the WPSL, and head coach Scott Davidson is determined to push his team to the next level. In the previous two seasons, the Rhythm finished third in their conference with a single point keeping them out of the second-place spot.
This isn't the first WPSL club to plant roots in the Music City. The FC Nashville Wolves debuted in 2014 before disbanding two seasons later due to financial mishaps and a lack of funding. Despite the club's statement of "taking a leave of absence" to prepare for future seasons, the Wolves never returned to the WPSL.
In 2016, Obed Compean, owner and CEO of the Rhythm, decided to bring the WPSL back to Nashville with even more passion and ambition for developing soccer in the area. To avoid the same fallout as the Wolves faced, Compean knew that to be successful one key element was establishing strong partnerships with sponsors to help support the club. One such sponsor is Ibiza Night Club, who they have partnered with this season.
"It has been great to have them as our jersey sponsors and we are very grateful to have their overwhelming support," Compean said.
On top of adding a jersey sponsor, Compean says building his marketing and social media team "has been a wonderful addition to help the club continue to grow and push forward."
For a club to be successful it needs three things: talented athletes, a community-driven outlook, and a head coach to fuse everything together brilliantly on and off the pitch. Compean had one person in mind for this position when he decided to start this club: Scott Davidson.
The Owner–Coach Bond: A Decade in the Making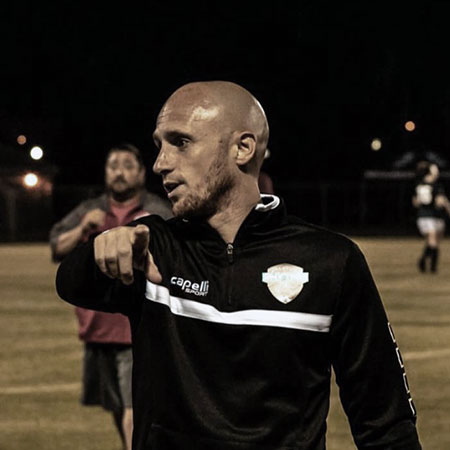 The history between Compean and Rhythm head coach Scott Davidson is more than a decade long. When Davidson was approached for the head coaching position, he immediately went for it.
"I have known Obed for a long time and when he started this club and we discussed the position, I never thought twice," Davidson explained. "I knew to be part of an organization from the beginning and the opportunity to coach elite female athletes was an exciting challenge and one I just couldn't turn down."
Davidson, a Scottish-born former professional footballer first met Compean when he played under him at Bryan College in Dayton, Tennessee, during the 2004–2007 seasons. Prior to earning All-American honors at Bryan College, Davidson played in the Scottish second and third professional divisions.
From 2007–2010, Davidson played his way through the Premier Development League and in 2009, traveled back to Nashville where he played for the PDL club, the then Nashville Metros, and reconnected with Obed Compean.
As he transitioned from playing into coaching, he returned to Bryan College as the assistant men's coach. After two seasons, Davidson recorded a 22-13-2 record with the NAIA Division I program. He climbed his way up the coaching ranks through NCAA Division II men's and women's programs before taking on his current positions with Nashville Rhythm FC and Cumberland University.
The history and bond between owner and head coach is a sure reason this club should see success.
"It's difficult to find the right person to coach your club, one who shares the same goals and teachings as you, and Scott was, of course, the right guy for this role in which we are very lucky to have him," Compean said.
Compean, who also coaches the varsity boys' and girls' soccer programs at Father Ryan High School, shares the recruiting role with Davidson and they haven't been short of talent.
In their three seasons in the WPSL, Nashville has had players from each collegiate division including the Power Five conferences in Division I such as the Pac-12, ACC, and SEC. They've had players from the U.S. Youth National Teams, players who've earned defensive and offensive player of the year honors, and All-Americans. The Rhythm have even developed players who went on to play professionally overseas, including Audrey Baldwin and Olivia Mills (Maccabi Kishronot Hadera FC of Israel's Ligat Nashim soccer league for women) and Anna Buhigas (Hellas Verona FC of Italy's Serie A).
"I think players choose our team as they are looking for that next level and we are a great springboard," Davidson explained. "We are fully invested in helping these girls not only achieve their goals but go way beyond that, whether it's to be prepared for college or at the next level professionally."
Off the Pitch Character Creates Success on the Pitch
This pool of talent is great for a growing club, expanding the fan base, and developing the youth soccer scene in Nashville but Davidson doesn't solely look for talent alone when recruiting.
"We are looking to create a family atmosphere with a focus of trust and respect. Combine this with talent and we have a group that is willing to go above and beyond for each other on and off the field," Davidson said.
Community is also a huge factor with recruitment and the atmosphere Davidson is building within the club.
"It is important to understand that we have to give back and help others, especially the youth in and around the Nashville area, so we look for people who want to be involved in the community," Davidson said. "After all, there is so many young kids that come to practice and games, and they look up to the ladies we have so we encourage them to give back as much as possible and try to impact lives in the community any way we can."
Several of the players are connected to Tennessee or Nashville in some way, as either local collegiate players or calling the state home. This brings in a lot of the home team crowd the fans and community can connect with.
As for this season, the club has a mixture of newcomer talent as well as returners from the previous seasons. It's a group Davidson says he is very excited about.
"Despite our very tough conference that includes top coaches and teams, we feel we have the right group of players to make a strong push in conference and hopefully go even further," Davidson said.
The Final Push
The Rhythm currently sit in second place in the Southeast Conference with just two games left in the regular season. Davidson's squad came out sharp in the start of the season but have since hit a rough patch.
Their first loss came to current first place holders — Chattanooga Red Wolves FC — making their last win coming on May 31st. The loss to Chattanooga sent the Rhythm on a slow decline; their last four matches consisted of two draws and two losses while being outscored 3–5.
With the regular season ending this weekend, the final two matches will be must-wins versus North Alabama FC and Memphis Lobos as the table is still tight between second and fourth places. Nashville is currently just one point ahead of Memphis and Peachtree City — a scenario all too familiar to the Rhythm.
Two wins this weekend will swing the momentum back in the Rhythm's favor as postseason looms. The top four teams in the conference will play in a mini-tournament in which the No. 1 and No. 4 seeds face off while the No. 2 and No. 3 seeds battle it out in two semifinal matches on Friday, July 5, at 7:00 p.m. The subsequent winner of this conference tournament will move on to the regional playoffs.
The talent is there for Davidson's roster to end the regular season on a high note and make a real push in the playoffs. Although soccer can be unpredictable, and despite playing in the tough Southeastern Conference, one thing is for certain — the Rhythm is building something special in the Music City that is sure to stick around for seasons to come.