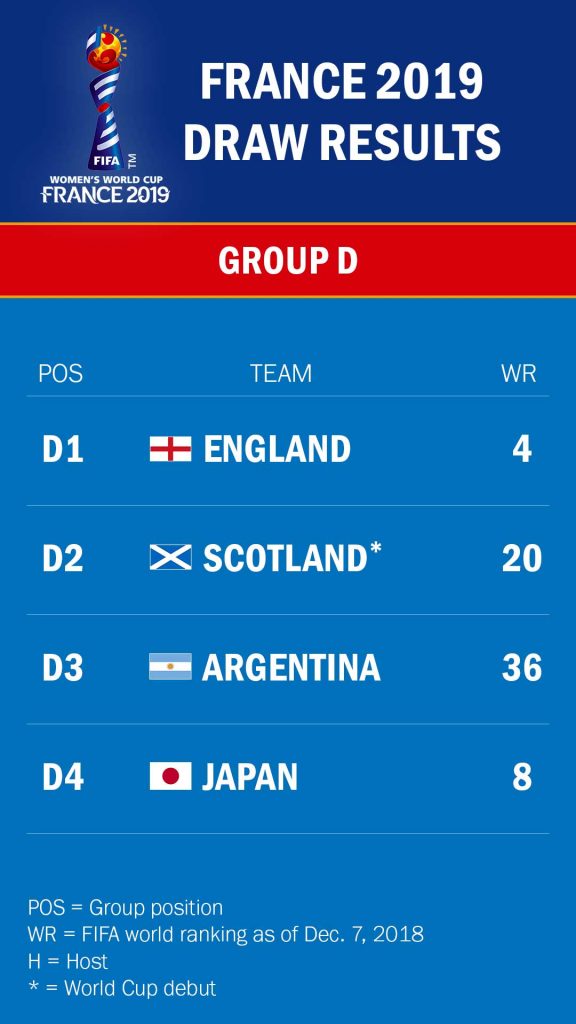 England head coach Phil Neville says all three of England's group games will be a "special occasion" after the Lionesses were placed in Group D alongside Japan, Scotland. and Argentina.
It means a rematch of their 2015 semifinal against Japan who they will also face in March at the 2019 SheBelieves Cup, plus a rematch of their Euro 2017 encounter against Scotland that saw England run out 6-0 winners.
"Every one of them has a different meaning," said Neville. "We're playing against a side in Japan that will be aiming to win the World Cup.
"The Argentina game has special historical meaning and Scotland will be a special occasion. I always dreamt about going to a World Cup and you want the biggest and best occasions and that game will be one of them. I watched them against the USA and thought they were fantastic. They've got players in the FA WSL that not just make up the squads but are some of the key players."
After England's 2018 ended with a disappointing 2-0 home defeat against Sweden, Neville admitted his side will have to reach a new level in the summer.
"It will be a top-class game of football and we'll have to be at our very best and reach a level we've probably not produced before while I've been manager.
"Scotland have a fantastic manager who I've spent a lot of time with and have a lot of respect for."
Neville also said England will have to "manage" the occasion but referenced August's victory in Wales as a good example of his side showing they won't get distracted by the sideshow.
"It's a game of football," he said. "It's no different to the Argentina game and it will be equally as important and just because it's Scotland it's still only three points.
"I thought we handled it really well [in Wales] and we'll have to handle that again."
After a best ever bronze medal position in 2015, Neville says England won't be settling for that again this year.
"If I stood here now saying we're going to France to win a bronze medal, I'd have 28 players texting me telling me you're not the right manager for us. My players are ambitious, they want to be challenged, they want to win a World Cup, and that's what I was brought in to do. If you go in wanting anything less than hold and you're ranked as high as we are you're going in with the wrong mentality."
The group has thrown up two games in Nice on the south coast but sandwiched in the middle is a trip the length of the country up to Le Havre, but Neville isn't worried too much and actually sees the positives in the schedule.
"Playing in Nice twice will be fantastic for supporters and we'll get to know the venues, hotels, pitches. et cetera. At that time of year it's quite a nice place to be; logistically, I think we'll be fine."
Despite three difficult tests, Neville also believes it's a group supporters will want to follow and says the match against Scotland could help inspire the next generation.
"As a supporter you'd look at that group and think there's three games you'd want to go and watch. From a UK sport point of view, it's a great game against Scotland to capture the imagination of that young girl at school tuning in to watch the game and go out after to play football on the field — that's what this game can do."