[dropcap]I[/dropcap] didn't choose the women's game, the women's game chose me," said Pedro Martínez Losa as he reflected on a career on a now decade-long association which has seen him win three La Liga titles in a row, one Copa de la Reina, a Continental Cup, and an FA Cup final at Wembley, plus a National Women's Soccer League (NWSL) regular-season shield as assistant coach and recognition three coach of the year recognitions from the Spanish FA.
Now 41, the former Arsenal manager, who left the club in October 2017, has taken on a new and exciting challenge outside of football — fatherhood.
"There's been a lot of sleepless nights. Bottles, changing the baby, that kind of thing," he laughed. "It's been an incredible experience, being there for the birth in the hospital and watching my baby grow day after day.
"It's tiring but my family from Spain are here to help and to make sure they can spend time with her. It's harder than being a football manager, I've been a manager a long time so that has become natural but there's been some things to get used to."
Beginnings
Losa's association with the women's game started back in 2005 and lasted until 2017 when he left Arsenal three years after taking over from current Scotland head coach Shelley Kerr.
His first job was with Pozuelo Alarcón, a club on the outskirts of Spain's capital Madrid. Losa's success there saw him take on the job of Rayo Vallecano manager where he would win three consecutive league titles.
"Pozuelo had a young team but the president was a close friend of mine," he recalled. "He convinced me to coach the women's team, being in the first division of La Liga made it probably the most important team in the club because the men were in the third division.
"From there, I had a great experience with Vallecano and that opened the next doors for me, I can only be thankful and grateful to the women's game."
Losa's growing reputation saw him hired by NWSL side Western New York Flash as assistant to Aaran Lines. The Flash finished joint top of the NWSL in his first season there before Arsenal came calling at the end of his second year in New York.
"After two years they offered me the head coach role but I wanted to go to London," said Losa. "I met with Clare Wheatley [Arsenal's general manager] in New York City and she told me I was the right person for the job, the person to bring the club from one level to the next level of professionalism.
"I think people don't see too much from the outside because the situation when I arrived was not ideal. A lot of players had left and we were trying to bring the club to another level."
Roster Overhaul
Arsenal's reign of dominance in English football had been ended by Liverpool in 2013; Arsenal were also on the brink of falling out of the title race by the time Losa took over for the final four games of the 2014 season.
With plenty of work to do, Losa set out to improve the club's fortunes both on and off the pitch in time for the start of his first full campaign with the team in 2015.
"I arrived on September 10th and there were only four games left so I just wanted to know what I could do for the three key things moving forward. One was to create the most professional environment possible and to give the players the best possible chance of achieving. Two was to understand everything about the club and to get to know the players, and three was to see which players could be better, which could engage quickly, and which might take a little more time."
Losa added, "I remember my first session with the team. We didn't have a goalkeeper coach, we didn't have a strength and conditioning coach, and I didn't have an assistant. Kelly [Smith] coached with me but at the same time she was a player and I promised the players I would fight to bring the standards to the best level in England. We were talking about the most successful club in England so we fought to have the best resources. To be honest, we worked a lot and the club made efforts to achieve the level where they are now."
The Spaniard wasted no time forcing his imprint on the club as a big turnaround in players left Arsenal lagging behind their rivals once again in 2015.
Japanese international duo Yukari Kinga and Shinobu Ohno returned to Japan while Niamh Fahey, Christie Murray, and Caroline Weir all left the club, too.
Losa recruited familiar faces, including Spanish trio Natalia Pablos, who Losa worked with at Rayo Vallecano, Vicky Losada, and Marta Corredera. Jemma Rose was also recruited alongside U.S. youngster Chioma Ubogagu, and they were joined in the summer by Dutch duo Dominique Janssen and Sari van Veenendaal.
Losa also recruited Daniëlle van de Donk, Heather O'Reilly, Katie McCabe, Anna Moorhouse, and other youngsters who came through the youth system.
England striker Lianne Sanderson also joined but left the club halfway through Losa's first season in charge and the new boss admits recruiting players wasn't as easy as it looked.
"I found it difficult to attract players at that point but with hard work from the club we managed to put together a good squad of twenty-two players. At that time, we didn't have a huge budget and I have to give credit to those we did sign. I believed in Dom and Sari, I scouted them in Holland and also Daniëlle van de Donk who eventually joined us, she was a fantastic player."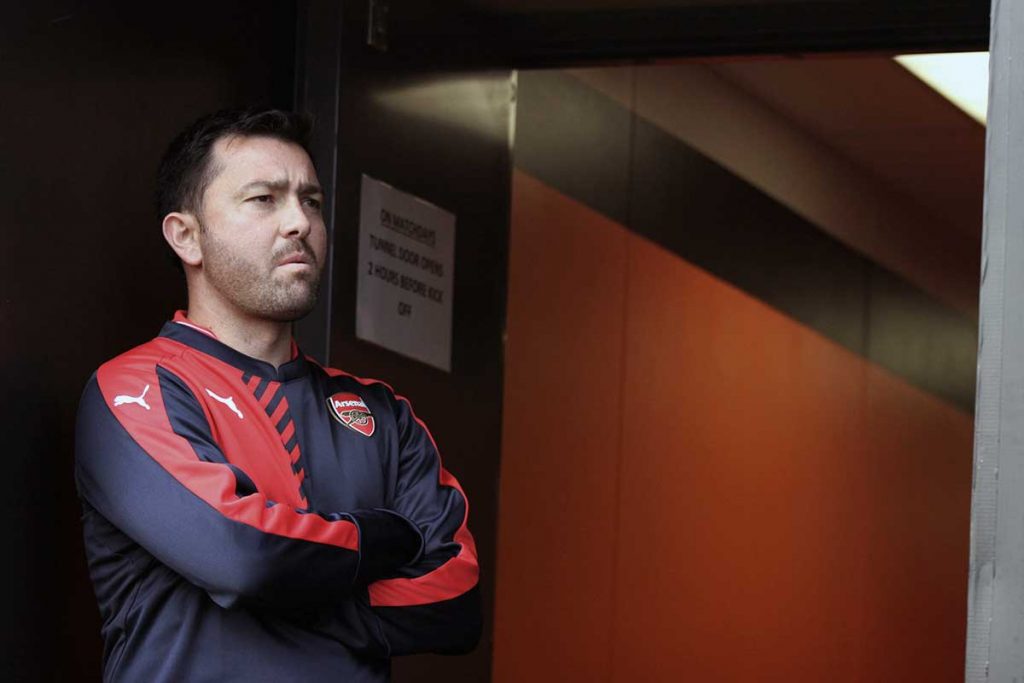 But aside from an array of big signings from across the continent, Losa also tried to stick to the tradition Arsenal had of bringing through their own talented youngsters to follow in the footsteps of Smith, Rachel Yankey, Alex Scott and Co.
"When I arrived, we had eighteen players, a couple of injuries, and the challenge we had was we had many players who were already over thirty," he said. "It was a chance to plan for the future and my focus was to give opportunities to young players. We brought through the system forty-five players who at one point trained with the first team. The likes of Leah Williamson, Lotte Wubben-Moy, Anna Patten, Charlie Devlin, Carla Humphrey, Chloe Kelly, Lauren James, Ava Kuyken, Anna Filbey, Shannon Cooke, Jess Ngunga, et cetera were all players we believed in and they were willing to take that opportunity.
"We had a strategy: One: to create the most professional environment; two: to attract top players around the world; three: deep the core of the club; and four: give opportunities to the youngsters. I think we achieved all four.
"But it's not possible to have ten players ready at that age, no club could do that," he added. "We had two Japanese players who played at the World Cup but they didn't speak any English, Yukari spoke a little bit. It didn't make too much sense to me to have another right back who wanted to play when we had Alex Scott at the club."
Losa does accept that alongside the players he did sign, one talented youngster slipped through the net come the back end of the 2015 season.
"One of our main targets was Fran Kirby when she was at Reading. We tried to find the balance between experienced and young signings.
"Lauren James is a young star for the future, she was with us in the first team when she was 16 but you can't expect young players to bring you success straightaway. One of the main objectives that season was to be really respectful to those players already there. To Alex, Kelly, Rachel, Casey [Stoney], and Emma [Byrne]."
While Arsenal failed to mount an assault on the FA WSL as Losa tried to get his squad in shape over the course of the season, the Gunners did continue their tradition of winning silverware with a 3-0 win over Notts County in the Continental Cup final, giving Losa his first trophy in English football.
"I worked with the players to change our situation, I had to convince them we could win and get into that space with Chelsea and Manchester City. I always insisted a lot on mental strength and belief in what we were going to do.
"We were good enough and we had a plan. In women's football you have an obligation to your fans all the time to play well, to play exciting, offensive football because if you want to promote the game you have to bring fans to the stadium. Hard work on the pitch was nonnegotiable, playing attacking football was nonnegotiable."
Tough Choices
It was another on-off season in 2016 FA WSL season as Arsenal once again finished outside the Champions League spots and 10 points behind champions Manchester City at the end of a campaign, which did see them pick up silverware in the form of the FA Cup.
Inconsistency at home was the big issue as Arsenal won away at both Liverpool and Chelsea but lost at home to both sides as well as Nick Cushing's City team.
But Losa's hard work was rewarded with the chance to lead his team out at Wembley for the FA Cup final against the previous year's winners, Emma Hayes's Chelsea.
Danielle Carter's first-half strike was enough to ensure Losa could do what many greats have done and walk up the famous Wembley steps to collect the trophy.
"Wembley was probably the most remarkable [trophy] because I never thought I'd coach at Wembley," he recalled. "Everything went well from the tactical plan to the player's performance — the players were phenomenal."
But behind the scenes Losa was preparing for a moment that would be crucial to his future at the club and how the team moved forward into 2017.
Long-term legends of the club Rachel Yankey and Emma Byrne left the club at the end of 2016 after Casey Stoney had agreed with the club to leave before the season ended, and the ultimate club legend Kelly Smith announced her retirement early in 2017.
Losa admits letting go of so many club legends wasn't an "enjoyable" moment but something he didn't question himself on ahead of the 2017 Spring Series.
"When you talk about players leaving, you have to make decisions, you don't need to have everyone on your side," he said. "We all go through that but I was clear in my head of what I wanted to achieve and I think it was the right decision for the club.
"It was never personal, it was professional and it was in the best interests. It wasn't about Pedro Losa, it was Arsenal and we all agreed it was best for the club. I was the man who had to be in front of these players and it was not easy to have these conversations with Casey or Kelly or Rachel or Emma; you'd rather be having a coffee but someone had to do that job and Arsenal chose me to do it.
"I was the man to make a lot of changes and I was the man to win the FA Cup. I don't regret anything, I was professional and you have to follow what you feel inside your heart and be honest with yourself and your players. Maybe fans or people outside don't see everything that goes on inside a club but that was part of my job. It wasn't a part I felt proud of or enjoyed but I never questioned myself. I had to be honest with what I see in training sessions and what is best for the future of the club."
Despite the big changes in the playing staff, Losa says it was a club decision to make minimal additions ahead of the eight-game Spring Series in order to give chances to the team's younger players.
Defensive duo Anna Patten and Lotte Wubben-Moy played every game of the series before leaving for the U.S. and only Heather O'Reilly, Beth Mead, Anna Moorhouse, and the returning Kim Little joined the club during the offseason. Arsenal finished the Spring Series unbeaten with a young team, one point behind Chelsea and Manchester City.
"We didn't win that league because of one or two games where we conceded late goals but it didn't matter really. For us it was a time to develop and from there we made more signings for the start of the new season. In three seasons we lost just nine games and made progress in many areas. I honestly think I left the club in a much better position"
After recruiting Netherlands sensation Vivianne Miedema and several other players to bulk up the squad, Losa suddenly found himself caught between a rock and a hard place as he tried to launch an attack on the league's top two teams while still giving chances to the club's young talent.
"Kim Little, we were trying to sign for three years; she came to London from time to time during preseason and has always been an incredible player," he said. "She was the number one objective and Vivianne, we spent a year signing her. We had big competitors like Man City and PSG whilst Heather came over for a very low salary for the level she represented and she loved the experience of coming here.
"One of the big challenges with the young players was the difference between top level and the development league, it was big. My strategy was very clear; to have them train with us for two seasons, educate them, and after that, it was up to them. They spent one season training with us and one season going on loan to find opportunities in case they didn't have it here."
Losa added, "They had opportunities to play in the first team, even other players like Vyan Sampson and Taome Oliver. We started sending players out on loan for game time but it became challenging with the international calendar. They got good experiences with England's youth teams but with them going away we couldn't always work with them considering the international breaks every month and they were missing so many training sessions."
It led to Chloe Kelly moving to Everton on loan, Charlie Devlin to Millwall, and Carla Humphrey to Bristol City as Arsenal kicked off the new season with a last-minute win against Birmingham City followed by a damaging 2-5 defeat away at Manchester City, a ground they'd won on during the Spring Series.
A 1-1 draw with Bristol City followed and Losa's fate at the club was practically sealed, but the former manager says his preparations were hindered by the European Championships ahead of the new campaign.
"After the Euros we had a lot of players out there and they came back in different groups. We played [Turbine] Potsdam in preseason and it was really our development team because everyone else was resting.
"The beginning of the season was difficult, the last group to come back, including the English and Dutch players, came back quite late because they all went very far in the tournament. I was very proud of course that Netherlands won but we knew it would make things difficult for us."
Despite the announcement of Losa's departure not coming until the October international break, the manager believes his time was up after the defeat against Manchester City in September.
"I love the club, it is a special club, I am happy to have been given the chance to contribute and I was treated always following the principles of the club. I will never say a bad word.
"I've never seen a team even in the Premier League change a manager after four games but I understand football and I respect the decision. The team is in the same position in the table, there's no magic fix. I think we lost nine games over three years and only one match in the whole of 2017, not many teams can say that."
Losa still wants his former players to do well and believes his team always competed well with the top sides.
"I don't think we lost away to Chelsea when I was there and with Manchester City it was always very close, we beat them in the Spring Series.
"I wish the team all the best for the FA Cup final and the rest of the season. Arsenal is a much, much better team than when I took over in 2014."
The Road Ahead
So, what does the future hold? Plenty of attractive jobs have come up within the women's game during Losa's time out of management, including the England job after Mark Sampson was sacked shortly before Losa himself left Arsenal.
"There was an agency who contacted me for the job and many other managers," he admitted. "We had some discussions, but in my opinion the FA were always looking for someone different and I wish all the best to Phil Neville and his staff"
But Losa has received plenty of interest from clubs in the women's game both home and abroad and he admits he'd like to stay in England with his family settled in the country unless something really attractive comes up.
Despite his long-term association with the women's game, Losa says the closest he came to a new job actually came in the Championship in the men's side of the game.
"We had a very close option with a Championship club but it didn't happen, I was really excited about that one and now I think I'll wait until the end of the season. There's a few options in the air, I'm open to any position if a club thinks I can help to develop players and win trophies.
"I was lucky to receive some interest in the women's game but I wanted to take a little time to reflect and refresh my mind. There was interest from the USA and China but I believe my future is in England. I'm married and I have my daughter so I don't intend to move."
[dropcap]L[/dropcap]osa's learned plenty about fatherhood since his daughter Anabela was born last month, but he admits the one lesson he has learned the most in his job is to say no to more things.
"I think I was too soft at times and I think maybe you have to be a little harder, stick with your ideas constantly, and don't let anyone convince you other things are going to happen."