Ten Squads, Ten Stories is a series that concentrates on one team in the National Women's Soccer League (NWSL), and highlights a player or theme. This installment features Boston Breakers head coach Matt Beard and the trio of his former Liverpool Ladies players who have reunited with Beard in Boston for the 2016 NWSL season.
"I'm still convinced as a team we can finish this season on a real positive note." — Matt Beard
The Boston Breakers began searching for a new head coach after the 2015 National Women's Soccer League season ended. The ideal candidate was one who could help turn around a team that struggled for two seasons under then head coach Tom Durkin.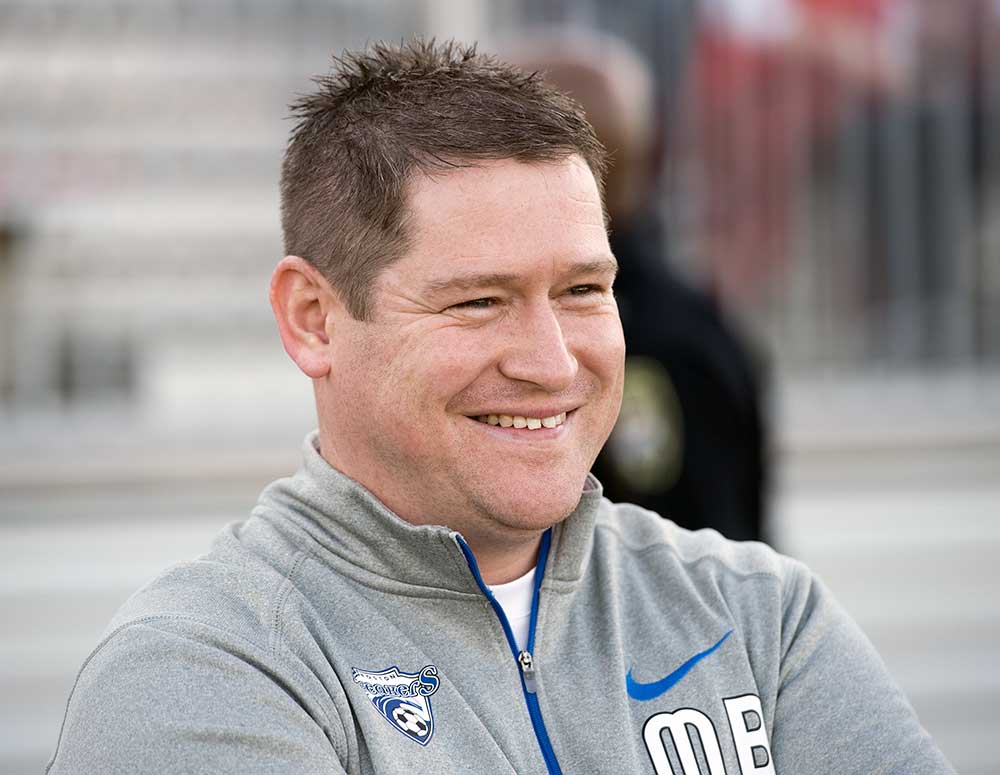 In late September, the Breakers announced they had come to terms with Matt Beard, the man responsible for turning England's Liverpool Ladies into two-time FA Women's Super League (FA WSL) champions after inheriting the team in 2012 when it was near the bottom of the table.
With Liverpool finishing in the middle of the table in 2015, and with the FA WSL's top teams making investments to their squads that no other teams in that league could compete with, Beard decided it was time for a new challenge and a new opportunity.
"With the Boston Breakers, it was club that was struggling over the past two years, and I felt like I could come in and do a good job and help structure the club in the football perspective," said Beard. "It felt like it was a good challenge for me and it was a similar picture when I started in Liverpool as well. The club also has that European structure to it with the pyramid setup and it is important for me to be involved in an environment where I can help young players develop."
Unlike prior moves for Beard — he has coached previously with Charlton Athletic, Millwall, and Chelsea — this was a move to a foreign country with a different league structure and style of play. However, the stars aligned themselves in such a way that when the Breakers' 2016 season kicked off, the roster featured three players who had won titles with him at Liverpool: Whitney Engen, Louise Schillgard, and Libby Stout.
For someone like Engen, who played with Liverpool in their 2013 FA WSL title-winning campaign, she was especially excited to have the chance to work with a familiar face after coming to Boston this season via a trade.
"I was really excited," she said. "I thoroughly enjoyed playing for Matt when I was in Liverpool and I think playing for a coach that you know, especially in this league, is definitely a benefit. I know how passionate Matt is of the game and I was excited for the opportunity to work with him."
Making the Liverpool-Boston Connection a Reality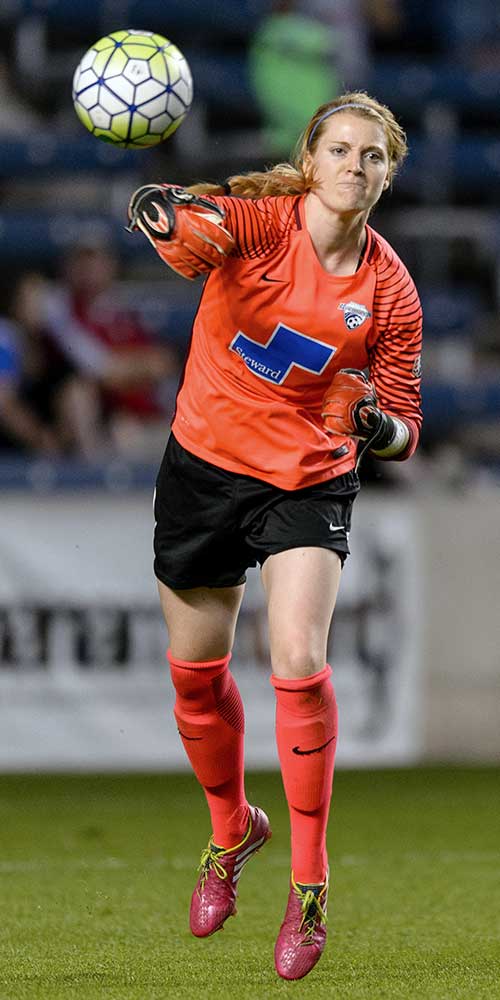 "When I came in here, I wanted to have a goalkeeper, a defender, and a midfielder that understands how I play and makes transition for other players a little easier," Beard said.
When the Breakers announced the signing of Beard in September, he immediately started to bring in players who knew his system. One of the things that he noticed while watching archived games of the Breakers was the need for a center back who could keep the back line organized and be a leader. He knew Whitney Engen was exactly the player who could fill that role. The Breakers had to trade long-time goalkeeper Alyssa Naeher to the Chicago Red Stars to acquire Engen, but it was a move Beard was willing to make.
"We have a great working relationship and what I love about Whitney [is] that she is a fantastic trainer and that she is a leader, and when I was watching film of the Breakers from the year before, they had leaders but they didn't have a leader that would grab the game by the scruff of the neck — and obviously, she's won the league championship with me, she's won the World Cup, she got to the Champions League final — so she's been successful. It's important to have players who know how to win games and she is a fantastic person as well."
Next up on the list was to acquire a goalkeeper, and more specifically, a goalkeeper who could come in and start from day one after the Naeher trade. Libby Stout was the player Beard had in mind, and a move already in the making. Stout had played four seasons in Europe and the previous two with Beard at Liverpool. While Stout was considering moving back to the United States, she had an opportunity to continue her career at Liverpool, a place where had grown so much during her young professional career.
"At the time, I was in talks with Liverpool about getting my contract renewed," said Stout, "and almost immediately, he pulled me in for a meeting and said that he wanted me to come to Boston. And that was something that was certainly flattering for me, having someone bring you into this new situation and having that confidence and belief in me, that was really cool for me. I loved my time in Liverpool and at that time, I wasn't sure if I wanted to give up what I had there and come back home to the states. But it really became clear through some talks with my family and some former coaches that coming home and giving it a shot here was my next move."
So with the spine of the defense set in stone for Beard, he went searching for a midfielder who could adapt to the quick pace and physical play of the NWSL. However, the ideal player in his mind to fill that role had retired from soccer more than a year ago.
Louise Schillgard had been playing at professional level since the age of 14 when she first suited up for Hammarby IF in the Swedish Damallsvenskan. She also featured with Linköping and AIK, also in Sweden, as well with RCD Espanyol in Spain and Western Sydney Wanderers in Australia. Schillgard would help Liverpool win the 2013 FA WSL title, scoring the first goal in Liverpool's title-clinching 2-0 win over Bristol. By this time, she had also made 23 appearances for the Swedish national team and played at EURO 2009. But in June of 2014, she announced her retirement at the age of 24 to focus on her family life.
In January of this past year, Beard reached out to Schillgard about possibly coming out of retirement and joining him in Boston. And that was an offer she couldn't refuse, even with being out of the game for 18 months.
"My passion for the game is big," said Schillgard via email. "I love the game. And [playing in the] USA has always been a dream. But of course this time was a bigger step to move because I am married and have a kid. But my husband and I decided to take the chance and it has been great to live in Boston."
Making the Transition
It's been no secret that 2016 hasn't been the ideal season for Beard and the Breakers. Heading into their match against Sky Blue this weekend, they sit in last place having won just one match in 12 played while conceding 26 goals in the process. Injuries and bad luck have played a part in the Breakers season while Beard has had to work with a young roster while he attempts to integrate his tactics and adjusts to the American game.
Beard recognizes that this season has been a challenge for him as he has transitioned from the FA WSL's style of play to that of the NWSL.
"[NWSL] reminds me of the men's Premier League where the tempo is high and there is a lot of transition in the game" he said. "So getting to know that side of the game has been another curve as well. And the coaching style is different here; in England, you could put sessions on and tell the players 'Right, we want to get this and this out of this session' and let them problem solve within the session if they need to. Whereas here, you've got to go back to as if you are coaching an academy team and being very structured and give a lot of detail."
Stout noted that the two leagues feature completely different styles of play. In the FA WSL, teams build through each third of the field and play more centrally. In the NWSL, there is a lot of counter-attacking and flank play. Even for Stout, who played her collegiate career in the United States at Western Kentucky, there has been a transition period from playing one style to the other.
"I think it's taken him some time to get used to the style of American soccer here and to be honest, it's taken me a little time for me to get re-adjusted to play back here again as well," she said, "because I've been playing in Europe for a while. I think he has tried to bring in the mentality of [players] being comfortable on the ball and he has always loved really technical midfielders who can deliver the ball and that is the way that he wants to play — building in the back and go through the thirds. That being said, he has to be cognizant of players who aren't used to playing that style so he has tried to mesh the two styles together."
The one thing the players have noted about Beard is that while the on-field results have not come their way, it is not for a lack of game preparation. Engen said that similar to her time playing with Liverpool, there is no tactic forgotten when the team is getting ready for their next match.
"We do a lot of film work and he does a great job of breaking down the film, analyzing our opponent and their style of play. One of the things that has been really beneficial here is getting everyone on the same page. Obviously a lot of coaches put together a game plan of how they want to play but with Matt, everything is a little more thought out and I feel the team is more prepared every weekend."
Keeping the Passion Alive
It's tough to keep your spirits up when you lose week after week. But what all three players discussed about Beard is that his passion for the sport is what keeps them going and building toward better results.
"He just wants to be out in this football atmosphere and loves it and that is something that you can just buy into, latch onto, and emulate because he is such a positive guy in that regard," said Stout. "And he just believes in you. He says it all the time that he believes in us as a team and as individuals and when you have somebody that has belief in you, it makes you a better person and player, and makes you more happy about being in that situation."
Schillgard echoed Stouts' thoughts in her email: Beard, based on her time at Liverpool, "knows how to build a good team together. I like the way he wants us to play," and that has carried over in his time in Boston.
Part of Beard's passion for the game comes from a soccer-playing family in which his father worked in the game his entire life and his brother played professionally. That passion was also fostered during his coaching days with Liverpool where he had opportunities to watch and learn from the head coach of the men's team. He watched how the coaching staff went through their daily routine in training and saw how passion for the game was expressed from all of the players on the field, something he emulates now during his sessions.
"I am fortunate that I have worked with big clubs, especially at Liverpool, where I could go to Brendan Rodgers [now with Celtic], the men's manager, and watch his training. I have made a lot of good relationships with a lot of people at Liverpool where I could improve my coaching abilities and my understanding of how to prepare teams for upcoming matches."
[dropcap]W[/dropcap]hile the Breakers are all but mathematically eliminated from making the postseason this season, Beard believes his club is making the right strides toward improvement and getting results on the field. With eight matches left and five of those at home, there is still time to make a push into the middle third of the standings before the offseason begins.
"We are making improvements as we have gone through the season and the club has supported a lot of the things that I have wanted so, as I say, as long as we have learned from the first part of the season, we can be a team that can compete. I'm still convinced as a team we can finish this season on a real positive note."