Ten Squads, Ten Stories is a series that concentrates on one team in the National Women's Soccer League (NWSL), and highlights a player or theme. This installment features Havana Solaun of the Seattle Reign FC as she attempts to break back into the Reign starting XI after missing her entire rookie year due to injury
Last year was kind of a tease, you know with getting into preseason and then getting injured, and I didn't really get to experience what it was like to be part of the team.
— Havana Solaun
April 3, 2015…
Seattle Reign FC were concluding their 2015 preseason schedule with the annual friendly against the University of Washington.
Lining up at forward for Seattle was Havana Solaun, the 15th overall draft pick out of the University of Florida in the 2015 NWSL College Draft. Solaun had just signed her first professional contract days prior to the game after a strong preseason. There were some real conversation around the organization that, with a good performance against Washington, she would be in the starting XI for Seattle's opening match against the Boston Breakers.
Shortly before halftime, Solaun came off with an injury to her left ankle after what seemed to be a harmless misstep. That misstep cost her that starting position and an entire season due to a severe broken ankle. Now, after two surgeries and a full year of recovery, Solaun finds herself back within the Reign for her second "rookie" season.
It has been a long and arduous road for Solaun to get back to full fitness after the injury but she is relishing her opportunity to play professional soccer again and enjoying her time back in Seattle.
"It's really exciting," said Solaun. "Last year was kind of a tease, you know with getting into preseason and then getting injured, and I didn't really get to experience what it was like to be part of the team. Obviously I was still, you know, kind of a part of the team but it was different. So now it is exciting to be an actual part of the team and playing in the games and traveling, and all of that."
Developing in a Great Soccer Environment
During her collegiate career, Solaun was a key part of the Florida's changing tactical transformation. The team was looking to separate itself from the direct style of play that it had used in the past to a possession-based attack. Within that system, Solaun was featured as a creative attacking midfielder and saw her game reach new levels. Twice she was named as an all-SEC First Team honoree and helped the Gators to multiple NCAA Tournament appearances.
A resident of nearby Gainesville, Florida was practically in Solaun's backyard, but it had to take a little bit of convincing from the Gators coaching staff for her to stay home for her college days.
"At the beginning, I wasn't really looking at Florida," said Solaun. "I had a relationship with Becky [Burleigh, the current head coach at Florida], and I said that at that time, 'I don't know that the way you play is kind of the player that I am, as I am not a very direct player.' And she said that, 'we are changing out of that and working towards something different.' And for me at college, the biggest thing for me is, I wanted to go to a school that wanted to play."
Playing in Florida's evolving system not only grew Solaun's game but also helped the other players around her as well. Nearly a double-digits worth of Florida players who have graduated since the 2012 season have featured in the NWSL, with a few more playing overseas. Solaun credits that number to the possession game the Gators play and how it helps them transition into the professional game quicker.
"The coaches had this belief that this was the way we want to play and we trusted them. I think that it works because [the players] buy into that and playing that way, and I still talk to players who go overseas or who even play in this league and say how that they missed the way we used to play, because it is so much fun," she said.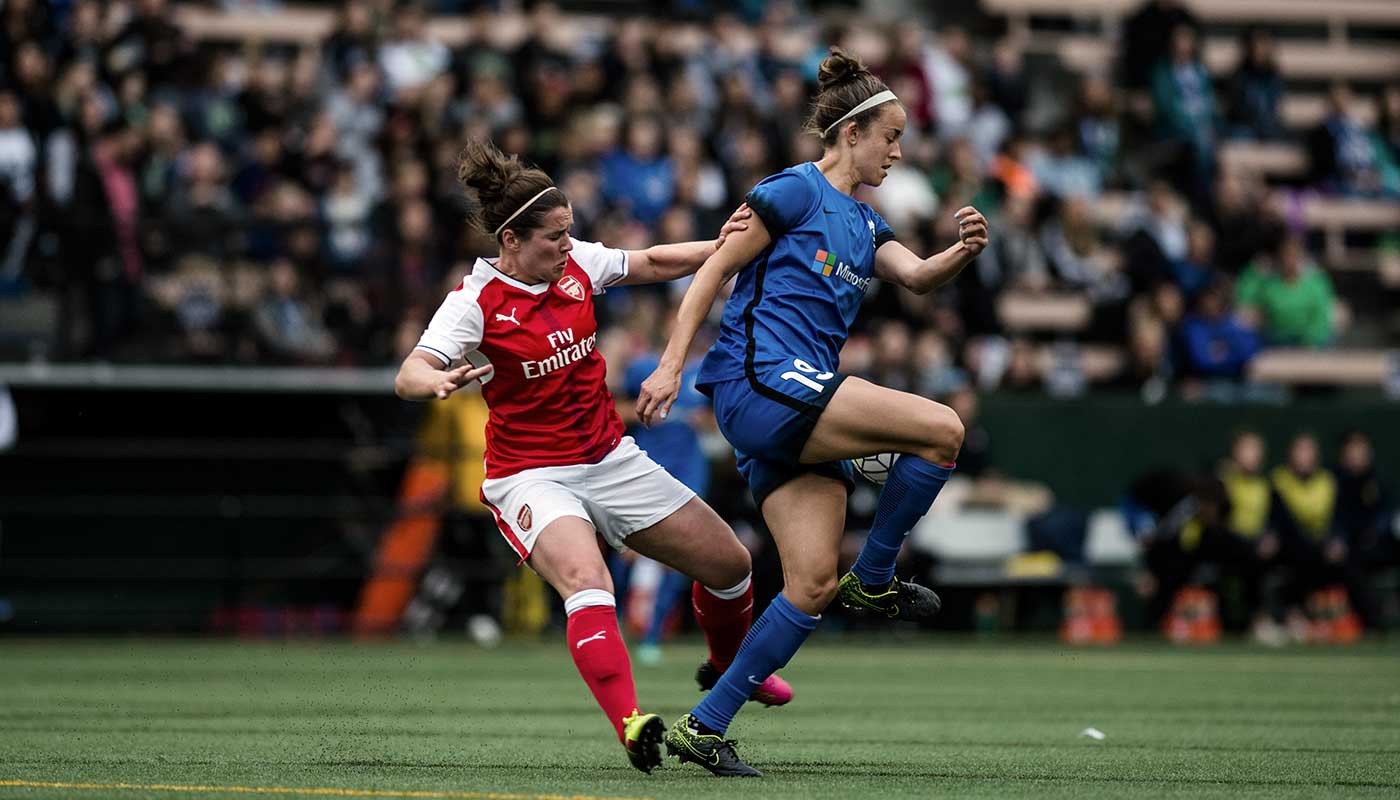 After wrapping up her senior season in 2014, Solaun was hopeful that her body of work from college would lead to an opportunity at the 2015 NWSL College Draft. She was coming off of a torn ACL after her junior season and while her offensive output in her senior campaign was a career best — she scored nine goals and assisted on nine others — she was just getting back to the level she wanted to be at and believed that some NWSL coaches may not have been as keen to draft her that highly.
But that past injury didn't stop Seattle Reign head coach Laura Harvey from selecting her 15th overall, as Solaun was the best piece to fit the puzzle that Harvey was looking to solve that season.
"In the year that we drafted and signed Havana," said Harvey, "we wanted a player who could technically fit the way that we wanted to play. Havana definitely fit that mold and I felt technically and tactically, she had the capabilities to come into our squad and could do well."
The thing was, Solaun didn't even know she had been drafted, as watching the draft announcements trickle out on social media was too much to bear.
"So after the first seven or eight picks went by," said Solaun, "I decided I needed to do something. So I went to the track and started working out, and when I finished up my workout, I looked at my phone and I saw I had like, tons of text messages. The first one was from Becky and that's when I realized I got drafted and then just after that, Becky called me and said that Laura wanted to talk to me to let me know that I was drafted."
A Solid Preseason Cut Short
"In fairness to Havana, we signed her before the start of the season and we started her in the game against UW," said Harvey. "She not only got herself in a position where she got a contract, but she was actually in the conversation of starting in the opening game. That was how good of a preseason she had. So when she got the injury and when we learned how severe the injury was, it was devastating for everybody."
In that game against the University of Washington, Solaun thought the initial injury was far less severe than it was. She stepped on top of the ball after a tackle and when her foot made contact with the ground, she heard something snap in her ankle. She assumed it was a sprain or something along those lines. When she found out it was a broken ankle, it crushed her.
"It was an extreme high to an extreme low for me," Solaun said. "I was just over a year out from my ACL [injury] and I was just getting to the point of being confident and getting my game back. And [the injury] happened so quickly, that I couldn't believe it — like this could not be happening again."
Within 48 hours of the injury, Solaun and the Reign decided it would be best for her to fly back to Gainesville, have surgery there, and recover at home. It took two surgeries to fully correct the injury, one immediately after the injury and the second one toward the end of the season.
Because of the two surgeries and the recovery, Solaun never made it back to Seattle during the season and with no other NWSL team close to home (Orlando would join the league in the following season), she could only keep an eye on the team via texts, social media, and watching the games on YouTube.
However, Harvey and her staff made it a priority to keep tabs on Solaun throughout the rehabilitation process and assure her there would be a spot on the team when she came back.
"I think it is hard for players who are so young, or any player for that matter, to have injuries and to be scared that the club will look somewhere else and figure it out without them," Harvey said. "And I wanted to make sure to her that whatever happens, she would be given the opportunity to come back with us. I felt that was really important as mentally with her having such a long rehab, that little things can be a big difference."
Re-starting Over Again… Again
"The first part for Havana was to get past the mental block of being able to play again," continued Harvey. "The first tackle, the first roll of your ankle, the first kicking the ball in a weird way. In preseason, that was it for her."
Solaun knew there would be setbacks and difficulties on her road back this season after already going through recovery from a long-term ACL injury during college. The difference between recovering at the college level and at the professional level is the speed of the play in professional matches is far beyond the pace at college. That was what Solaun felt was the biggest hurdle to overcome as she worked back to full fitness.
"Practice has that high intensity and productive as far as getting in that tactical work but you can't replicate the intensity of a game and I think that is the hardest part of coming back. You have to get used to the pace of the game, in addition to the game fitness. It's really hard to get game fitness without playing in actual games and I think that has been the hardest part."
After appearing in the majority of the team's preseason games, Solaun has been used as a substitute in two league matches for a total of 13 minutes. Recently, she had an opportunity to show how far she has come against quality opposition in the Reign's international friendly against Arsenal Ladies F.C. of the FA Women's Super League in England.
Solaun played the full 90 minutes and while there were some shaky moments, there were moments of brilliance from the former Gator: late in the first half she held her run on the right flank with Arsenal's high defensive line, collected a through ball from Kim Little, and played in a low driven ball that nearly connected with Beverly Yanez at the far post.
Harvey believes this is all a part of the process for Solaun in 2016. Now with a couple of comeback phases complete, it's time for Solaun to take it to the next level, especially with the opportunity to start in front of her with the Reign battling injuries.
"I think in a squad of 18, you've got to push to start," Harvey said. "And I'm very mindful of the fact of how to manage her, coming off of that injury, and what she's been through, but now we are at that stage of having her push on and obviously with the injuries that we've had, there is a huge opportunity for her. But there is no given in a squad, saying that so and so got injured so that person will now start. It doesn't work like that, you've got to earn it and earn that right."
[dropcap]S[/dropcap]olaun is hopeful that with the growing confidence in her game returning and building off of her performance against Arsenal, she can challenge for a starting position. At the same time, she is enjoying being back doing what she loves and wants to continue growing her game at every turn.
"Every athlete will tell you that being in season is the best part of their job. I am just looking forward to growing as a player. Seattle as a program in general is amazing and the talent within this team is amazing. And for me, it's another comeback year but I would love to contribute to the team in any way I can and the goal is also to get better every day."