"It's also a great life experience off the field to move away from home, I've made good friends here already, which has really helped."
[dropcap]A[/dropcap]rsenal midfielder Carla Humphrey admits it wasn't an easy decision to temporarily leave behind the club she has spent 10 years of her life at but is "excited" to get a chance to make her mark at new club Doncaster Rovers Belles.
Humphrey, 19, joined the newly promoted Football Association Women's Super League 1 (FA WSL) side last month on loan for the 2016 season and is thought of as one of the biggest talents in the women's game currently. Despite moving away from family and friends for the first time, the England youth national team star has settled in well in her new surroundings.
"It's been really good," she admitted. "The girls have made me feel really at home and so welcome during my first few days here. You can see the togetherness in the squad; you could see that as soon as I arrived."
Making a Move
With Arsenal's midfield already packed with talent such as Jordan Nobbs, Vicky Losada, and Humphrey's close friend Leah Williamson, along with the addition of England's all-time leading capped player Fara Williams and Dutch international Daniëlle van de Donk, meant her chances of regular football would be difficult at Borehamwood this year.
With a big year ahead for youngsters in the women's game and the European Championships just around the corner, Humphrey said manager Glen Harris was a big influence in her decision to move north to Doncaster.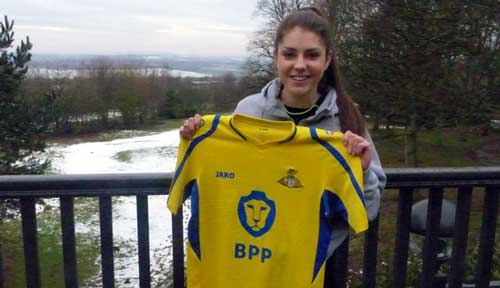 "I was always looking at the chance of a loan move," Humphrey said, "and when I had a chat with Glen I was really excited for it to come off. I just want to get some more experience and play some games in the league."
"Seeing the players that have come in, I believed we could all complement each other's games and I already know a few of the girls here, which has helped. I heard a lot of good things about Glen and what a good coach he is."
But the move isn't just important for Humphrey on the field. Born and raised in Brampton near Cambridge, the midfielder has spent more than half her life training at Arsenal alongside close friends such as Williamson and Jade Bailey, the latter recently departed to champions Chelsea.
Though she admits it was difficult to temporarily leave her "home," the excitement of a new challenge with Doncaster is evident in her voice as she discusses the team's aims for the new FA WSL season.
"I've been there since I was nine so it was incredibly difficult," she said. "I did shed a few tears on my last day, that was my comfort zone, I called it home for so long and Arsenal have done so much for me as a club. But to settle in here so quickly has been really great and I'm so excited to get going and to play some games now."
"It's also a great life experience off the field to move away from home, I've made good friends here already, which has really helped."
From Day One
One friend Humphrey will certainly miss during her time in South Yorkshire is England U-19 captain Williamson. The pair played together from an even younger age at Rushden & Diamonds before turning up for trials at Arsenal together on the same day, without the other knowing they were going.
Always a keen sport fanatic, Humphrey was once a skateboarder and recalls when she allowed an expensive skateboard bought by her parents to roll under the wheels of an oncoming car while out with Williamson! As a result, Humphrey wasn't allowed to stay at Williamson's for a bit. Although she laughs about it now, Humphrey has always been set on a sporty lifestyle.
"I used to cry if I had to wear a dress," she said, laughing. "I wore football shirts everywhere I could. Leah knows that and knows my life has rotated around football for as long as either of us can remember."
"I'm quite girly now though. The girls here have already given me the nickname 'Princess!'"
Friendly Foes
Though her new club kicks off its season against champions Chelsea and another of her old friends Jade Bailey in March, Humphrey will face her childhood side Arsenal when the teams meet on May 21.
"To play against any of those girls would be a great challenge, Arsenal is a huge club and I'd relish playing against them. Obviously it would be strange but I would give it my all, my team is Doncaster this season."
Although Humphrey shares a dressing room with players who are twice her age, she's no stranger to being around experienced players and feels a sense of pride to be part of a young set of players continuing the legacy being left by the likes of Kelly Smith, Rachel Yankey, and Alex Scott.
Arsenal were the club to be at for any young girl 10 years ago and the likes of Humphrey and Williamson have managed so far to continue the tradition of bringing trophies to North London. The midfielder says it's a long-term aim to keep the run going.
"Arsenal appreciate all their players, the Yankeys, the Smiths, et cetera," she said.
"There is a real legacy at that club, so for me and Leah and Jade and others, it's been great. We want to keep striving to be those players who carry that on for a long time. For now, I'm just concentrating on improving; playing more league games this season, and I want to help Doncaster finish as high as possible."
"There's so much to play for; we've said we want to get to a final and I don't doubt it can happen. We've looked at what Notts County managed to do last season and we want to emulate that."
Strong Support System
One thing Humphrey can, and always has, been able to call upon is the support of her family. Her dad and granddad travel to watch every game and she can't help but be thankful for what they've done for her since her first day kicking a football.
"I get so emotional talking about family — my dad and granddad never miss anything," she said.
"I know I've got my parents' support behind me no matter what I do. People always say 'I couldn't do it without them' but I couldn't. They'd drive me to training every day when I couldn't drive, they'd help me eat right, they've been amazing."
[dropcap]W[/dropcap]hile keeping her feet on the ground and looking forward to making an impact at Doncaster in 2016, the 19-year-old does have one dream in her head that could easily become a reality in the future.
"Going to a major tournament with my best friends, that would be a dream. It feels closer now so I'm going to push myself for it."