All we've done during preseason is build on what we did at the back end of last season. It was good for us to go on such a positive run of results once we got most players back fit after the World Cup. — Lucy Bronze
[dropcap]A[/dropcap] second season in a row without any silverware come December won't be acceptable to anybody involved with Manchester City Women's Football Club.
From the very top, the club shares everything with its male counterparts and have an incredibly driven Head of Women's Football in Gavin Makel running the show, an equally driven young manager in Nick Cushing, and a host of international stars who are used to winning countless trophies and medals elsewhere. Given her time at Arsenal, there are few who have a more impressive list of accolades than that of captain Steph Houghton. The 27-year-old most recently picked herself up a World Cup bronze medal in Canada last year and has already won the Continental Cup with City, plus a host of trophies during previous spells with Leeds United and particularly Arsenal, as well as a richly deserved MBE (Member of the Order of the British Empire) at the start of 2016.
Like most, Houghton has a real taste for winning and firmly believes Cushing has improved the squad over the winter sufficiently enough for her side to push champions Chelsea even further this season.
"The players we've brought in to improve the squad over the winter are a credit to themselves. You have to say well done to the manager; they've fit in so well so far. It will improve us," she said.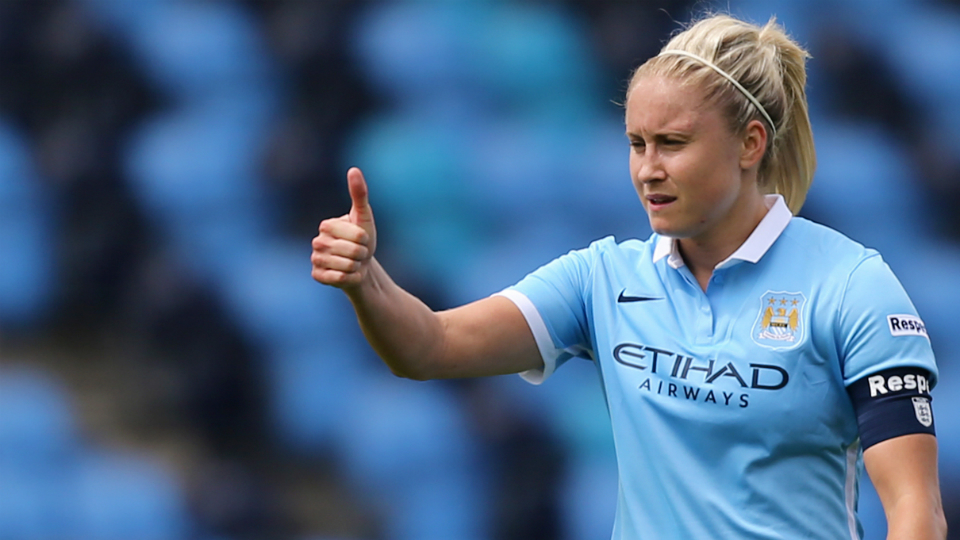 The additions of Sweden international Kosovare Asllani, along with the likes of Jane Ross and Megan Campbell, will undoubtedly improve on City's chances. This is a side coming off a season in which they lost out to Chelsea on the final day of play despite being some way behind Emma Hayes' side post-World Cup.
Like several key members of the team, Houghton missed a lot of action during the first half of 2015 through injury but was pleased with how the team responded after the action resumed after the World Cup.
"In the second half of 2015 we were fantastic. We were so close [to winning the league] but we got the Champions League spot, which was great for the club," Houghton said. "The spine of the team was missing so much before the World Cup, so if we keep everyone fit then we've got a real chance this season."
Another marquee player who missed plenty of games in 2015 is striker Toni Duggan — the Liverpool-born player ended up with six goals in last year's FA WSL — but it could have been more if injury didn't curtail both ends of her season.
The striker ended 2015 in a protective boot, which ended potentially the best run of form of her career, including adding herself to the Goal of the Season awards list after a frustrating World Cup. Like Houghton, Duggan is chomping at the bit to get going on Wednesday night.
"I was disappointed," admitted Duggan. "I was on such a good run but I'm happy to have picked up from where I left off during preseason. I know it was a long time a go but I was enjoying my form and scoring goals so I'm really happy to have got back among the goals already."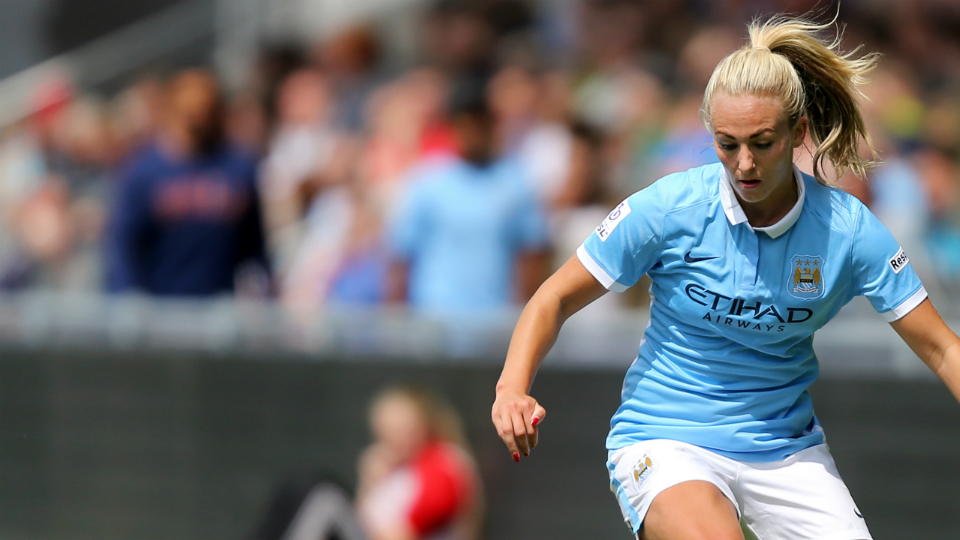 At just 24, Duggan already has experience playing in the Champions League during her Everton days and found the net in City's preseason encounter with current quarterfinalists FC Rosengård, a side City could easily meet when it enters the competition at the end of the current calendar year.
And Duggan accepts it is another big year for the club in terms of moving forward as a team with the addition of Champions League football.
"To play against some of the teams that we have done in preseason has been a real test for us, but I think we've shown out there what quality we have going into the Champions League," Duggan said.
"It's important that we've brought new players in — they're going to be difficult for the opposition. As strikers, we all bring a different variety to our game, it will push the team on, and hopefully get us more goals — goals win you games!"
After a rush of goals between July and her injury soon after, Duggan tied for City's top scorer with attacking midfielder Isobel Christiansen. It was a breakthrough season for the midfielder who had joined from Birmingham a year earlier and ended 2015 receiving her first call-ups to the England squad post-World Cup.
At the same age as Duggan, Christiansen has flown under the radar for some time but is now well established as a key player for City and was again part of Mark Sampson's squad that recently took part in the SheBelieves Cup.
"I don't really base my performances around goals but obviously it's always pleasing to get on the score sheet," Christiansen admitted.
"It's been good to get back on the pitch. I'm not going to deny it's the best feeling in the world to score in front of our goals at the CFA [City Football Academy]."
City followed up their impressive 3-1 win against FC Rosengård, in which Christiansen scored the opener, with further wins over Melbourne City and Piteå IF, and the midfielder admits City has given itself something good to build on.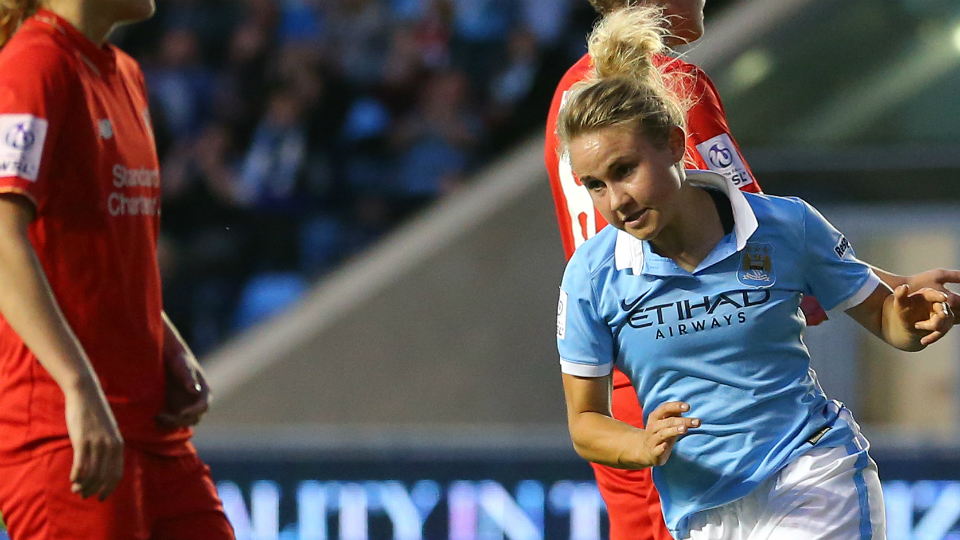 "We won't get carried away, we're very fortunate to be able to train together as a team every day, every week. We learn about each other on and off the field," she said.
"We just have to concentrate on what we're doing, and I think so far we are doing that well. This league will be even more competitive than it has been in recent years and we just want to be the best we can be. We've got our eyes on the prize this season."
If Christiansen was one player who was happy to go quietly under the radar at times last season, defender Lucy Bronze certainly shot to prominence with two crucial goals for England at the World Cup in Canada.
Though the 24-year-old was by no means an unknown — winning back-to-back FA WSL titles with her previous club Liverpool — she certainly became a household name and ended the year on stage after being nominated for Sports Personality of the Year.
But like her teammates, Bronze is now only focused on bringing some silverware to Manchester and believes the team is in a good position to challenge.
"We're in a really good place," said Bronze. "We've won all our preseason games and we've got to know the girls a lot better in the last few months and the team is looking good. The manager's happy so we're happy!"
Bronze has only been at Manchester City a year and like several of her high-profile teammates, has also had trouble with consistency at the start of her first season with the club. But the defender says the second half of last season has served as a platform for City's preseason in 2016.
"All we've done during preseason is build on what we did at the back end of last season. It was good for us to go on such a positive run of results once we got most players back fit after the World Cup," said Bronze.
"We've looked for that consistency to continue during preseason, that's what it's all been about for us and hopefully it gets us off to a better start than it did last year!"
[dropcap]U[/dropcap]nfortunately for City, that consistency doesn't look like it's coming any time soon, with Keira Walsh and Megan Campbell already picking up long-term injuries during preseason; the former will miss the next five months of the season.
Christiansen herself picked up a serious looking injury on Saturday as City opened its SSE Women's FA Cup campaign with a 2-0 win at Liverpool Ladies. The midfielder was spotted on Sunday in a protective boot and on crutches.
Cushing's side kicks off their FA WSL campaign at home to Notts County Ladies on Wednesday night at the CFA and welcomes Arsenal Ladies on Monday before a short international break.