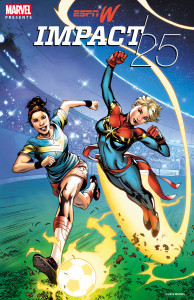 U.S. Women's National Team midfielder Carli Lloyd, Golden Ball winner at the 2015 FIFA Women's World Cup, is one of espnW's IMPACT25 honorees. As part of the celebration, Lloyd has been illustrated in comic form by Marvel artists and is featured alongside Captain Marvel.
The IMPACT25 list honors female athletes and influencers each year. This year in partnership with Marvel, each honoree will be illustrated in comic form. The full IMPACT25 list and illustrations will be revealed on Monday, December 7.
Lloyd scored a hat trick in the final of the 2015 World Cup to help lead the United States to its third world title, defeating Japan, 5-2. Lloyd's hat trick was the fastest in World Cup history and included a strike from midfield, which has been nominated for the 2015 FIFA Puskás Award.