Editor's note — This article originally appeared in the print edition of Our Game Magazine's 2015 College Issue. With the college season in full swing, we're publishing articles from the issue online.
---
The hardest part about the initial decision to transfer was accepting the fact that I was unhappy. — Reilly Parker
Transfers
by Adelaide Gay
The most popular topic when it comes to high-school-aged players is "the college process." It seems like every time I train a large group of players, their coach asks me to give them advice on selecting a college. I usually laugh and ask whether they're sure they want me giving advice. After all, I did it wrong. I had to transfer. I say "had to" because transferring isn't an enjoyable experience. Going into college thinking you might transfer is like going to get your teeth cleaned thinking you might need a root canal. Yeah, it might happen, but you sincerely hope not.
Most people don't even think of it as an option because it's so unappealing and taboo. It's sort of like hiding a dead body in that if you need to, you don't even know how to go about doing it because no one talks about it. You upset people when you transfer. You may even get a reputation for being a difficult player to handle. Usually things aren't going well where you are. You want to defend yourself, The program you're leaving wants to defend itself. No one wants to look like the bad guy and it can get ugly. "I heard she isn't very good but can't accept it." "I heard their coach is crazy." You get the idea… Who wants to be any of those people? The system is also set up to discourage transferring. You have to get a piece of paper saying that you're released from your team in order to talk to other teams. You have to essentially jump without a net, and be okay with wherever you land. Or be okay staying where you are and not playing soccer. That can be hard to come to terms with, and toughing it out may be more appealing.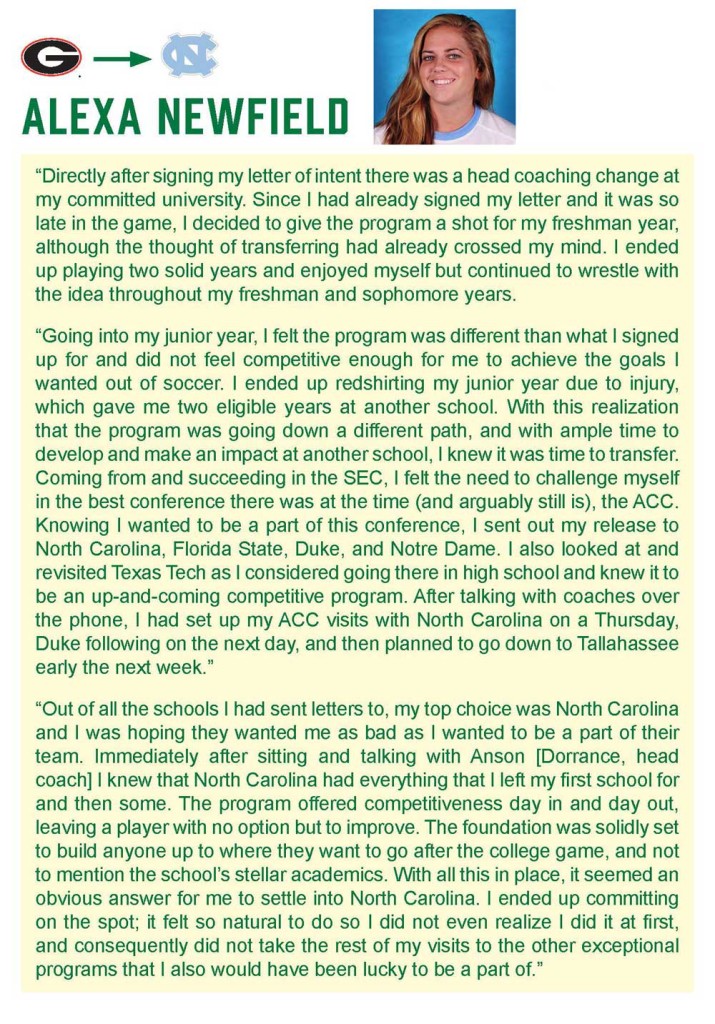 The greatest thing about writing this article is that I got to speak with a few of my friends who have transferred schools about their experiences. Getting to hear about the factors that went into their decisions, and the emotions that they experienced, was liberating for me. When you transfer, you can feel isolated and alone. Like I said, you take a leap all by yourself into the unknown and hope things don't get worse. Even though it was after the fact, it was nice to hear from players who felt the same way that I had.
Why
"Why?" was the first question I was always asked after I transferred. As in "Why on Earth would you leave Yale?" Technically, I think this was a rhetorical question so I never felt too obligated to answer. At the time, I guess my response would simply have been "soccer." I just knew that I wanted a different soccer experience.
When you've devoted most of your life to your sport, it's no wonder that it becomes a strong enough impetus to transfer. "My decision to transfer was solely based on soccer," Alexa Newfield explained. "In looking at new potential schools, my biggest factor was the caliber and competitiveness of their soccer programs."
Others, like Morgan Andrews, described it slightly differently. "I knew that I wanted to improve as a person, a   player, and a   student. I believe that the improvement of the mind, body, and soul is the key to happiness, and that happiness is an ingredient to success. I   needed to make a change in order to help myself succeed," she said.
Happiness is often tied to success and general well-being. Being unhappy with one aspect of your college experience can spill over into other aspects of your life. I know that was the case for me. Once I got to UNC, I enjoyed other aspects of the university more because I was happier in general.
Reilly Parker discussed how difficult it can be to come to terms with this. "The hardest part about the initial decision to transfer was accepting the fact that I was unhappy. It was difficult for me to accept that my old program just wasn't a good fit for me personally."
Leaving
Transferring isn't easy and if things had gone slightly differently at Yale, I might never have left. I'm not used to not finishing the things that I start. Part of me absolutely felt like a failure. It didn't help that it was Yale and people kept making analogies about what I'd done. "Imagine that you were driving down the road and you swerved and crashed your car."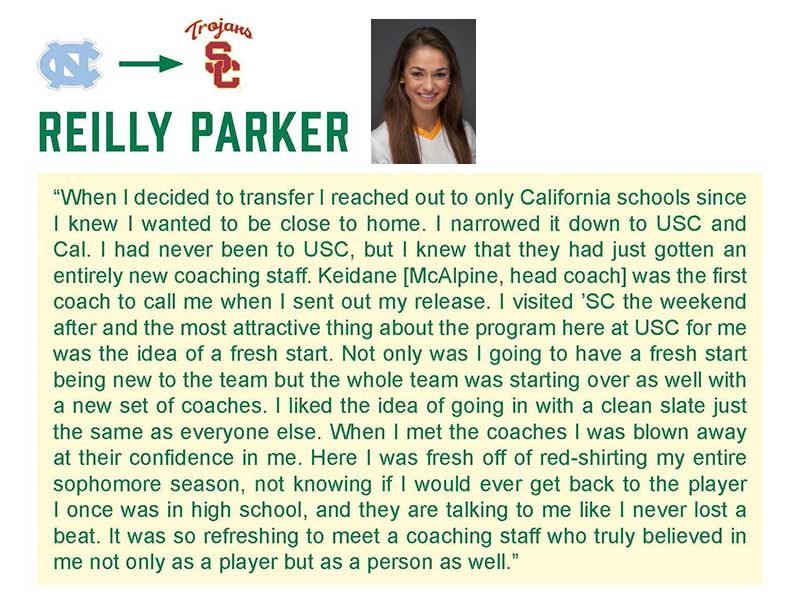 Parker echoed this sentiment, describing herself as being "absolutely terrified" to transfer. "I was so worried that people would view me as a failure if I were to leave that it inhibited me from accepting that staying with that program was counterproductive to my well-being. Once I took the initial leap and asked for my release it was like the weight of the world was off my shoulders."
"I was completely petrified to transfer," Newfield said when I asked her about making the decision to transfer. "There was a whole litany of reasons to be afraid and not to transfer. I was worried my teammates and best friends at my first school would be mad and angry at my decision. I was afraid of the backlash from the coaching staff at the time and all the other faculty in the athletic department I had become close with over the years. I remembered the usually painfully awkward recruiting process in high school and did not want to have to suffer through those nerve-racking moments again. And most obviously,   I was afraid of the unknown, which is exactly what transferring is."
Soccer isn't the only reason that players decide to transfer. For Rachel Wood, the decision was one that she made for her health and the longevity of her career. Wood was diagnosed with Crohn's disease at the end of her freshman year at UNC. After taking a year off, she returned and played for two years. As her teammate (and housemate) I can remember all the IV fluids she would need in order to play a full game and the days that she would come downstairs with dark circles under her eyes looking as close to death as I've ever seen a person outside of the hospital.
"I struggled with my health and medical care being 3,000 miles away from home." Wood told me when we discussed it. "I had a great doctor and athletic trainer that took great care of me; however, my parents are both in the medical field. I wanted to be closer to home, be taken care of in the health care system my dad works for, and have family support both medically and emotionally within reach."
For Wood the experience was a little bit different than it was for me or for the others that I interviewed. During her junior year, she participated in all the senior traditions and trained with us in the spring. It felt more as though she were graduating than leaving to play somewhere else.
Starting Over
When I walked into preseason my first year at UNC I was (I think) understandably nervous. I wasn't nearly as nervous as I was my first season at Yale. I was a little bit older, and I didn't feel like I had much to lose. Being a freshman is terrifying, being a transfer is actually a little less scary.
Newfield, who transferred in as a redshirt junior, had even more experience under her belt than I did. "Transferring in at the age of a college senior, I felt way more comfortable and relaxed than I did as an incoming freshman at my previous school. By surviving freshman year preseason and the terror of facing all new talents and team members in practices and games, I learned that no matter what the situation, it is still just soccer and everyone puts on their shorts the same way."
Wood was also able to take the experience that she gained on and off the field with her to UC Irvine.
"Anson not only helped me develop as a player but also as a person. I learned how to connect with people, how to care for them and what it means to be a teammate. I won a national championship in 2008 and had the privilege to play and gain experience on the biggest stage in college soccer. All of this helped me enter my final year at UCI with confidence and joy.   I was the oldest on the team and I felt like I was able to give a lot of what   I had learned at UNC to the players at UCI."
"I don't regret my time spent at ND," Andrews said of transferring. "It helped me grow and I am a firm believer that everything happens for a reason. I am a stronger individual and a better teammate  due to my experiences."
Transferring is starting over, but it isn't really starting from scratch. You have a clean slate, but you also have everything you learned from doing it the first time around. You are a little wiser, a little tougher, and you often feel more in control.
Worth It?
Transferring is hard. I've said this quite a lot. Mostly because it is, and no one talks about it unless they're making a snide comment about a player or a school being overrated.
Transferring takes guts, when maybe it shouldn't. I wouldn't want to see players transferring every year or talking to other schools constantly to see where they can get a better deal. But isn't it possible that a player and a school just aren't meant to be?
There are millions of teenagers out there, kids that we don't even trust to drive or vote or drink alcohol, making decisions about what they want from soccer and school and life. Sometimes they're just going to get it wrong.
But correcting your mistake, recognizing that you've changed, or looking out for your health can take a good deal of courage.
Is it worth it?
"YES!!" Newfield practically shouted. "I am forever grateful I took this journey into the unknown. I know now that I have no regrets and will never have to wonder about 'What could have been if I had just transferred.'"
"Before I transferred," she continued, "transferring seemed like the end of the world, a huge ordeal, and even weird to me. But now that     I have gone through the process and survived, in hindsight I realize just how simple it is and the fear of transferring should never hold anyone back."
For Ani Sarkisian, the "second time was the charm." "I couldn't be happier with my decision. The team dynamic is something so incredible, you wouldn't think possible. Being able to compete with girls you call your sisters creates an incredible bond that I have cherished ever since I transferred."
Parker, who I am personally happiest to hear found a great new home, couldn't say enough about how happy she is with her decision. "It was the hardest but most rewarding decision I have ever made in my life. I wouldn't change a thing about my college experience at either school because where I was before made me into the person I am now and for that I could not be more grateful. USC has been the biggest blessing I could ask for."
Wood simply felt twice as blessed to have played for two different programs. "Although it was a tough decision, I ended up with two great soccer families instead of one. I feel incredibly blessed and am happy with my decision."
"It took me a few tries, but I have found my home," said Andrews.
So I suppose they all lived happily ever after.
You can probably guess where I come out on this issue. I didn't love transferring. Yale and the coaching staff made it easy on me by granting my release and supporting my decision. I would change a lot of things if I could go back in time. I would have handled things differently; I would have hopefully realized what was making me so unhappy sooner. Mostly though, I would want my younger self to know that it wasn't as big a deal as I thought it was. I was scared, and I didn't know how things would end up, even if I pretended like I did (which I didn't). The minute I started preseason at UNC, I knew I had made the right decision. National championship or not (helps to get one, though), I felt like I had found where I belonged.
[divider]About Adelaide Gay[/divider]
Adelaide Gay played for three years at the University of North Carolina at Chapel Hill after playing her first year at Yale. She started for the Tar Heels her last two years and was in goal when the program won its 21st NCAA National Championship. In her rookie season, she was a member of the 2013 NWSL Champions Portland Thorns FC. In 2014, she played for the Washington Spirit Reserves in the USL W-League. She currently plays in Sweden for Kvarnsveden IK.