Editor's note — This article originally appeared in the March 2013 (Issue 18) print edition or Our Game Magazine. We hope you enjoy it.
---
We heard the shake, but we didn't know exactly what was happening. But after a while, we realized it was an earthquake, and what had happened to our country. — Fiorda Charles
by Ray Curren
The white van meandered up the dirt road, splitting the corn fields before finally arriving at its destination. The seemingly bleary-eyed young women disembarked at differing rates, trudging slowly to a bench underneath an awning in the shade.
It was a warm summer morning, but it had been worse the week before in western Indiana, with highs reaching into the triple digits for several straight July afternoons.
For most of the lives of the women about to take the field at the brand new Legacy Sports Club, the temperature was the least of their worries.
The route that the majority of the Haiti Women's National Team took to the cornfields of Indiana is not as convoluted as you might imagine. On January 12, 2010, a 7.0 magnitude earthquake struck outside of the Haitian capital, Port-au- Prince. Perhaps the poorest country in the Western Hemisphere, Haiti's infrastructure was no match and by the time the stunned nation was able to assess everything, 300,000 of its citizens were dead and another 1,000,000 were homeless, lacking running water, or basic life necessities.
Ironically, most of the Haitian team was spared the worst of the disaster because, of course, they were on the soccer field training.
"We heard the shake, but we didn't know exactly what was happening. But after a while, we realized it was an earthquake and what had happened to our country," defender Fiorda Charles said.
Thirty-two members of the Haitian soccer federation weren't so lucky, including women's coach Jean-Yves Labaze. Charles said she had talked with him hours earlier before he went to Port-au-Prince for a meeting.
Soon, though, Haiti was back on the field, remarkably winning the Caribbean Cup and qualifying for the Gold Cup in Mexico (which you might remember as the time Mexico upset the United States in the semifinals). Haiti was outgunned, including a 5-0 loss to the U.S., but managed to beat Guatemala, 1-0, in its final game.
Haiti also qualified for the CONCACAF Olympic Qualifying Tournament last January in Vancouver. After an opening 6-0 loss to Canada, Shek Borkowski — through his agent — made an inquiry. Borkowski is Polish-born, but had built a reputation at FC Indiana, bringing in international players from all parts of the globe to create a winner both in the Women's Premier Soccer League (WPSL) and the USL W-League. Would Haiti be interested in Borkowski's services?
The answer quickly came back in the affirmative. Borkowski made plans to try to bring as many Haitians as he could to train with him in Indiana, which he figured would give him access to better facilities than he would get in Haiti.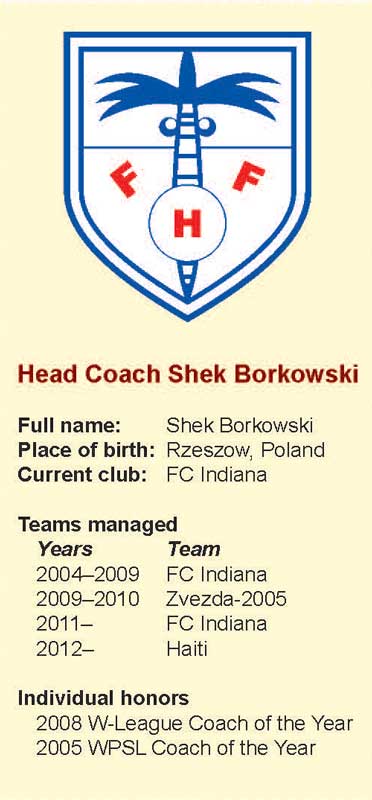 And so here they were, getting ready for a morning practice on a Tuesday in July next to a corn field in Indiana.
Borkowski had several people helping him, including a few members of the FC Indiana men's squad. Every practice starts with a prayer, and this day was no different.
Of course, a training session is a training session, no matter who or where you are. Borkowski split the squad, leaving assistant Christian Castro to work with the back four on dealing with crosses and moving their line up quicker. One of the biggest obstacles for the Haitians became apparent almost immediately. Castro gave orders, but all he got were confused looks in return.
Most of the Haitians speak Creole (French-based), obviously the coaching staff does not. So Castro, with some help from Corie Moore (an FC Indiana veteran) would give the information to Charles, not only the leader of the defense but also the best English speaker of the group. Charles would translate, the rest would nod their heads, and off they went.
At one point, Moore gave the ball away and was forced to do 20 sit-ups for her transgression. The Haitian players looked at each other, and collectively dropped to the ground to join her.
"No, no, it was my mistake," Moore pleaded. Yet the whole FC Indiana defense did the sit-ups together.
With a match the next night in Indianapolis, training was kept to 90 minutes, and soon the van – a little livelier than it was two hours earlier – filled up quickly and went back down the dirt road toward the players' apartments in Lafayette. Thanks to some benefactors, all the players have their lodging and meals accounted for, which immediately gives Borkowski a leg up over many national programs in the Caribbean.
"It's a situation where it is beneficial to the federation and to the players, because if they weren't here, they would not be doing anything," Borkowski said. "That's just the way the game is played in Haiti because of climate, because of field conditions, because of a variety of things. There is pretty good individual skill and effort, but very little collective play. And even then, it's a very pedestrian pace as you can see."
It's not an ideal existence for the young Haitians. They don't speak the language, there are very few Haitian-Americans in the area, and although they know better than anyone that things could be much, much worse, they aren't exactly making enough money to live the high life. As a couple of the players admitted, a trip to the movies qualified as a major outing.
Tragedies like Hurricanes Katrina and Sandy give us some idea, but it's impossible for most Americans to fathom exactly what it's like to see the world around you collapse. Literally. With no real way to rebuild it.
Charles admitted some homesickness, but that's the price the Haitians are willing to pay to go after their ultimate goal: qualifying for the 2015 FIFA Women's World Cup in Canada.
"Everybody misses their family because we don't have many people we know here," Charles said. "Our family, our friends, our boyfriends, everyone is in Haiti, and we miss them a lot. It's the first time I've been out of Haiti for six months at a time."
With the collapse of  Women's Professional Soccer (WPS) last winter, WPSL Elite was hastily formed in its place, and the league turned to a person they knew could put a competitive team on the field at a high level, Shek Borkowski. Of course, Borkowski was now the Haiti coach as well. He knew it would be a challenge and winning might be darn near impossible, but he agreed to put his Haitians in the top women's league in the country anyway.
"Right away, I went to the people at the club [FC Indiana] that have supported us and told them that in terms of WPSL Elite, we're going to struggle for one year," Borkowski said. "If you're willing to put up with that, I think down the road we can achieve something at the international level, and build it for 2013 WPSL Elite. Come March, we just didn't have enough time or enough resources to make it all happen for us to be competitive [in 2012]."
The night after that practice, the almost exclusively Haitian outfit was staring at the Western New York Flash on the other side of the field, the final WPS champs the year before. Although they didn't have Alex Morgan or Christine Sinclair, the semiprofessional Flash routed FC Indiana, 5-0 (and eventually captured the WPSL Elite title a few weeks later).
"These girls have been through a lot," Flash head coach Aaron Lines said. "I admire the way they approach the game, even when they got down, they didn't put their heads down. They played hard until the end, and that's to be admired."
Other coaches and fans weren't always as nice toward the Haitians, as their style of play was deemed overly aggressive and dangerous by opposing fans and, sometimes, coaches.
"We didn't play in WPSL Elite like we want to play eventually," Borkowski said. "We got off to a rough start, we were overmatched, so the girls tried to compensate, physically they couldn't cope, so they were just trying to survive, basically."
Despite finishing just 1-11-2, FC Indiana did show improvement, nearly knocking off New England in their finale before falling, 1-0. Since the season ended, the team has been back to Haiti, picked up a couple of new players, and will look to qualify for the 2014 CONCACAF Women's Championships (expected to be held in the United States) through Caribbean competitions this spring.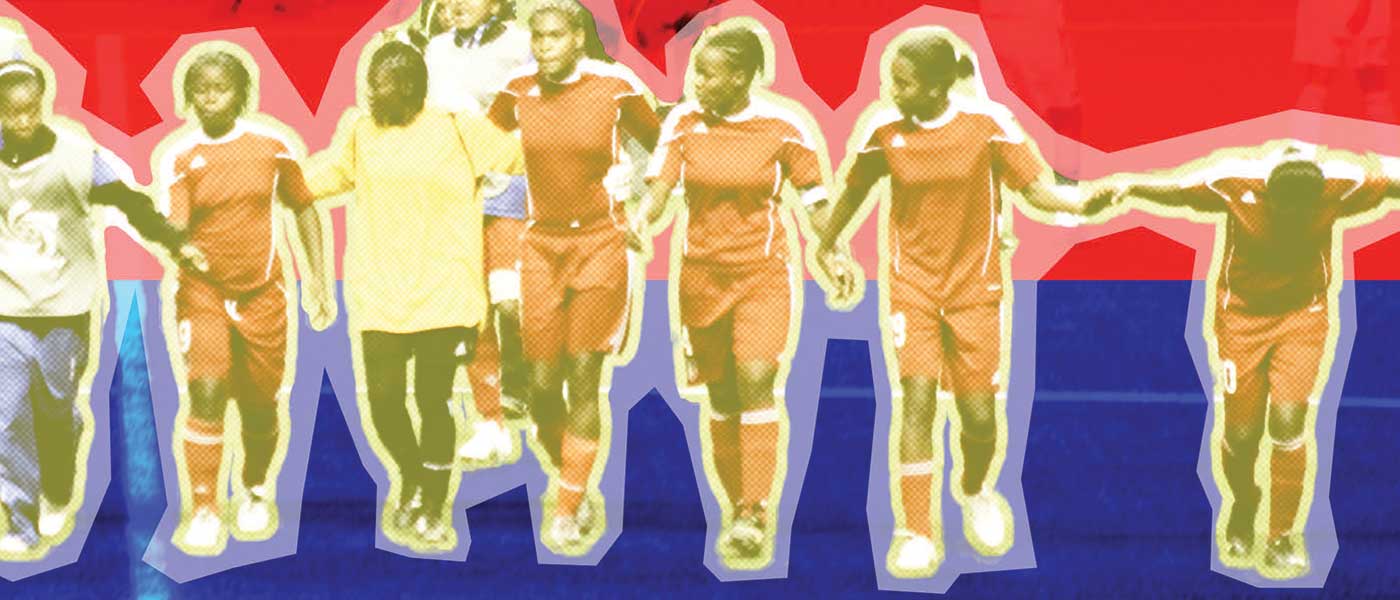 There are so many obstacles that players and coaches from the United States, Canada, and other world powers take for granted that Borkowski has had to try to fight through, starting with the fact that the country still hasn't recovered from the earthquake (and the earthquake wasn't the first natural disaster to strike Haiti — in 2008 back-to-back tropical storms left 1,000 dead and the country's infrastructure in tatters) and might never do so.
"Port-au-Prince still hasn't really come back, part of it is still a disaster area," Borkowski said. "Destruction is still visible everywhere, on every street with ruins and rubble everywhere. FIFA has invested some money, a brand new synthetic turf stadium with lighting to television standards. But that's mostly FIFA. Most of the money coming from the FA is coming directly from the government."
Needless to say, good training facilities at home are few and far between. And little things continue to get in the way of progress, although Borkowski thinks with time, he can change the bad habits.
"You wouldn't think of it, but their diet is completely different," Borkowski said. "What we do typically is before a game try to have a meal, like solids and lean meat, chicken and such. But two or three hours before the game, they want to have a double cheeseburger, and they'll complain that they can't play well unless they eat a heavy meal. Forget it."
Yet the country loves soccer, always has. Haiti's men's teams have always punched above its weight, and the women's  teams — even with the unimaginable hardships and lack of funds, have done fairly well against similar competition.
FIFA announced after the dramatic 2011 Women's World Cup that it was expanding the field for Canada 2015 to 24 teams. This may serve to increase the number of lopsided scores in the group stages and make it all but impossible for teams like the U.S. to get eliminated before the knockout rounds; however, for Haiti, it was a ray of hope, one that got even bigger when FIFA decided that CONCACAF would get 3.5 berths in 2015.
With Canada hosting, the U.S. and Mexico — barring upsets of historic proportions — will cruise into the World Cup, but there are still 1.5 spots to be had. Costa Rica is probably next in line (fourth place will go to a playoff against the second-place team in South America), but the Haitians can at least see themselves on the ladder, and by next summer, hope they will be pulling at their ankles for that World Cup berth.
"Quite honestly, it's a big step, but that's what we're shooting for," Borkowski said. "The [Haitian] FA asked me if the World Cup was feasible, and with 2.5 spots, I don't think we had much chance, but with 3.5, I think we have a glimmer of hope depending on how we progress as a team. Realistically, we're trying to close the gap on Costa Rica, which seems to be the standard-bearer between the Caribbean and Central American countries."
Even though there is a new North American professional league (the National Women's Soccer League) that FC Indiana will not be part of, the plan for Haiti in 2013 hasn't changed. They will play in what is left of WPSL Elite, and the slight drop in level of opponent may even serve to give the Haitians more confidence in their second season in the United States.
"We have many things to improve, but the coach [Borkowski] believes in us," Charles said. "If we keep working hard, and we keep getting better every day, we will be ready."
And they can dream of taking the field in the summer of 2015 somewhere in Canada, coming out of the tunnel to the FIFA theme song, and listening to their national anthem as the whole world watches.
There might be some tears on the day that happens. For once in Haiti, they will be much-deserved tears of joy.
[divider]About Ray Curren[/divider]
Ray Curren has written about professional soccer since the dawn of Major League Soccer nearly two decades ago for various publications. More recently, Curren wrote about women's soccer, especially major international events like the FIFA Women's World Cup and Olympics, for All White Kit. Last summer, he covered WPSL Elite. A resident of Hamden, Conn., Curren has coached girls' soccer for South Central Premier and varsity high school in the area since 2000.