Nine Squads, Nine Stories is a series that concentrates on one team in the National Women's Soccer League, highlighting a player or theme. This installment focuses on Tori Huster and her commitment to the Washington Spirit and continuing to grow and develop her skill set.
---
"I am wholeheartedly with the Spirit. So whatever the team needs from me, I'm willing to give it. Being here with the Spirit for the last three years, now I look at how we fared in the first season in comparison to now, and it is completely reversed and on a good note as well. I think we are headed in the right direction."
On the verge of gaining her 60th career appearance for the Washington Spirit, Tori Huster has been one of the few mainstays since the team began play in the National Women's Soccer League (NWSL) in 2013. Whether she has featured in the midfield, center back, or outside back, more often than not fans will see the number 23 inserted in Mark Parsons's lineup.
Versatility and a willingness to do whatever it takes to help the club win make Huster successful on the soccer field. Whether playing for the Florida State Seminoles in college or taking part in three separate campaigns in both the Australian Westfield W-League and in the NWSL, those traits have allowed Huster to continue to grow as a player and become a fixture wherever she plays.
Those traits will be beneficial in the final weeks of the 2015 NWSL regular season. The Spirit locked down a playoff spot with a draw against FC Kansas City, but the team also wants to secure one of the top two seeds in the table and host a semifinal game at the Maryland SoccerPlex. With that team-first mentality, Huster made it clear that getting a home playoff match is the top priority for the squad and she'll do her best to make it happen.
"We have one of the best facilities in the league and in my opinion, it's the best. We want to have it here and it is going to take a lot, especially playing these last few games on the road, but I definitely think we are capable of doing it."
Adaptability
Rosters are filled with talented players who might not get the opportunity to play because of the team's depth. In a league like the NWSL, with a limited number of teams and roster spots, it's not uncommon to have two or even three quality players battling for playing time for a given position.
According to Washington Spirit head coach Mark Parsons, Huster has had the ability to play multiple positions on the field while striving to become the best player she can be at those positions. Which is why her play and effort caught his eye before he took over as the head coach of the Spirit.
"At the end of 2014, we made a comment that we need to find more players that hold themselves to the high standard that Tori does," said Parsons. "We used her as an example of how we want other players to work as hard as she does and compare to what she does. It 2013, she played center back [against Western New York] and Abby Wambach did not get a touch of the ball and the difference in physical stature between the two is huge. That was one of my first moments of watching her as I was the [Spirit] reserve coach at the time and I watched that game and I said to myself that this girl has some heart."
It takes a a special player to play more than one position on the field, especially on short notice due to national team call-ups or injuries. Huster has played almost every position at some point in three years for Washington. It's not the most ideal situation in the world, but she has been up to the task ever since donning a Spirit jersey.
"Is it always fun to change positions? Not necessarily," said Huster. "But I do enjoy playing in the midfield the most, but when Mark needed me to play in center back in the first two seasons or play outside back, that's fine because I would expect my teammates to do the same exact thing if they were called upon to do that."
She finds being versatile on the field and learning to play more than one position helps with developing skills as a soccer player. Huster mentioned that being thrown into a position she hasn't played in for a few games "always takes a little getting used to" in finding her rhythm in that position.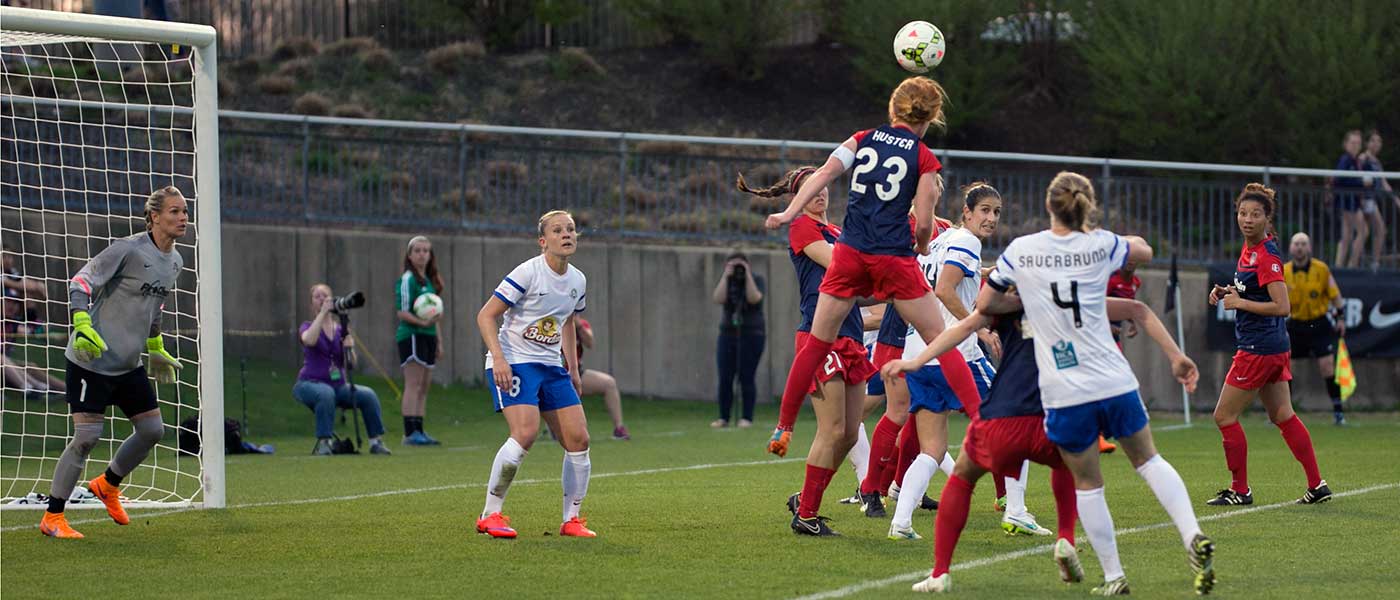 All-Year Round
Another major key to Huster's success has been continuing to play after each NWSL season. Since beginning her post-collegiate soccer career in 2012 with the Western New York Flash in the WPSL-Elite, Huster has traveled to Australia and played in the Westfield W-League. In 2012-13 and 2014, she played for the Newcastle Jets and spent the 2013-2014 season with the Western Sydney Wanderers.
Some might think playing more soccer after a grueling NWSL campaign would burn out the body. For Huster, it's the complete opposite.
"Having the games and the training when I go down there [Australia] and having that team atmosphere, it really helps me stay fresh to an extent. I have to watch my workload when I come back from Australia into preseason in the NWSL so I don't pick up injuries. But it's kept me focused on how I want to play and learning different styles of play. And I think it has kept me in tune to what my goals in soccer are."
Huster said there's a possibility she won't be going back to Australia after the conclusion of the 2015 NWSL season but would "highly recommend to players to go to Australia or to go anywhere because it keeps you fresh."
Heading in the Right Direction
A rough start to the 2013 season, saw the Washington Spirit close to the bottom of the NWSL table. After a run of bad results, the organization made a coaching change and brought in Mark Parsons, then manager of the Spirit Reserves in the USL W-League, to manage the first team as well. After finishing the 2013 season, Parsons spent the offseason changing the dynamic of the club in player personnel and style of play.
In 2014, the Spirit made a complete 180-degree turnaround from 2013 and made the NWSL playoffs before falling to Seattle in the semifinals. Huster truly believes Parsons is the main reason why the Spirit have been able to get to where they are today.
"He's young but he brings all of his new ideas and I think he is really the reason why we have been successful. He is a great recruiter in the offseason and he gets players that he wants to get. And he is able to have those players get on board with all of the things we want to do as a team. He really stresses the team aspect of everything, where you can't win if you aren't a team and you can't beat great teams if you aren't a great team yourself. He really stresses that and he is one of the main reasons why we are successful."
When players buy into what the coach says and have a the coach who acknowledges the effort the players put in, success will come.
"She's been a pleasure to work with," said Parsons, "and someone who holds herself to the highest standards. And sometimes she gets too frustrated because her standards are so high and she demands a lot from the players around her, but knowing you have someone that is going to give you everything, you can't ask for more out of a player."
The team's style of play and having Huster feature prominently within the Spirit's  system has helped her so much so that in February 2015, she received her first call-up into the senior U.S. Women's National Team camp and traveled with the squad for friendlies against France and England. While she didn't get to make her first appearance with the national team, she did receive good feedback and believes that down the road, she'll have another chance to make the squad and impress even more.
"A lot of [the USWNT's] focus [during that February camp] was on the World Cup but I talked to Steve Swanson a little bit. I played against him a number of times when I was in college but we have a good relationship. Leaving the February camp, the message was keep doing what you're doing and try and do the good things that you're doing even better. I know that is pretty general but what got me in that camp was my consistency from the last couple of seasons with the NWSL and I think I need to remain consistent."
Finishing Strong
"I definitely think it is the mutual give-and-take. I've given a lot to this club and the club has given a lot back to me, too. I really respect that they have respected me as a player. D.C. is relatively close to home so I can have my parents and my sister come and watch me and that makes all the difference. But it is that respect that has been given to me through the organization."
Having that give-and-take relationship is a key factor that has allowed Huster to settle into Washington, D.C. With that mutual respect, she's enjoyed playing week in and week out for the team. The insertion of Parsons as the head coach and a revamped and developing style of play have the Spirit heading in the right direction at the right time. With Huster in Washington since day one, she isn't surprised to see the team she loves to play for on an upward trend.
"Being here with the Spirit for the last three years now, I look at how we have fared in the first season in comparison to now and it is completely reversed and on a good note as well. I think we are headed in the right direction. There are still things that we want to do, but Mark [Parsons] has us on the right direction and I've been really happy this season."