Nine Squads, Nine Stories is a series that focuses on one story per club, highlighting a player or theme. This installment focuses on Kim DeCesare, who explains some of the difficulties players face when moving from club to club.
---
"Going from team to team is challenging because I've been in the league now two years and I've been on three teams, which is kind of funny but at the end of the day, I just want to play, so wherever that happens, I will be happy." — Kim DeCesare

For professional athletes, it's never easy moving from one team to another. There's always the hope that an athlete who signs with a team will get the chance to grow and develop, and in doing so, stays with the team for several seasons or even an entire career.
The National Women's Soccer League, still a young entity in the landscape of professional American sports, follows a similar trend, one in which many players bounce from one team to the next on a seasonal basis.
For Sky Blue FC's Kim DeCesare, this is NWSL club number three that she has been a part of within the first 18 months of her professional career: first, the Boston Breakers in 2014; second, the 2015 preseason with FC Kansas City; and now, Sky Blue FC. If you include her stint in Sweden with Eskilstuna United DFF at the end of 2014, that's four clubs and a lot of miles logged in between.
But for the former Duke University Blue Devil, she has settled in New Jersey and has found a home in the Garden State. And even with the quick transition to her environment, she has enjoyed the new experience.
"Everyone has been really welcoming to me since coming in," said DeCesare. "It was difficult for me to change teams after missing preseason with Sky Blue because that is the time where the team comes together and clicks on and off the field. But everyone was very welcoming, and after maybe two or three weeks, I felt like I worked my way into the team."
The Transition
DeCesare, from Massapequa Park, New York, was a heralded youth player in Long Island and won the Gatorade High School Soccer Player of the Year award for New York state in 2008-2009. After missing her freshman season at Duke University due to an ACL injury, she made 92 appearances over the next four seasons, including starting the last 43 of 45 matches. She also scored the opening goal in Duke's 4-1 win over Wake Forest in the 2011 College Cup semifinals.
After her college career, DeCesare was drafted 34th overall by the Boston Breakers in the 2014 NWSL College Draft, where she joined Mollie Pathman, her Duke teammate who Boston had also drafted. But playing time wouldn't come for DeCesare while at Boston, where she played with the club's reserve team and in one match with the first team came on as a substitute in the 81st minute as a substitute.
That was when DeCesare felt it was time to start looking elsewhere for playing time and it ended up being with Eskilstuna United DFF in the Damallsvenskan, Sweden's top league. Based on the opportunities available and what she had heard about the club, DeCesare felt it was the best option for her at the time to play and grow as a young professional.
"I think in order to really develop on a team, being there for just one season is not enough. And in my situation, I was looking for the best opportunity to play. Which is one of the reasons why I left to play in Sweden because I had a good connection there playing in a top league and I was playing, so I couldn't pass that up."
DeCesare moved to Sweden in mid-July and, despite picking up a knee injury, appeared in eight matches during the stretch of the Damallsvenskan season. But the big positive she took away from that first year as a professional soccer player was taking in little pieces from each team she played for and learning from the new opportunities. After playing for both FC Kansas City and Sky Blue FC, it's an approach she still uses to help her game develop.
"Even when I was at college, I basically played every position and every year was something different. When I went to Boston, I was used both up front and as a center midfielder in college the year before, but when I got to Boston, they had me at center back. So I trained at center back consistently. Then when I went to Sweden, we played a different style in a 4-4-2 system and I was playing up top and then the same in FCKC and Sky Blue. So I think I feel like the different types of styles and the different positions I've played have opened my eyes and I have learned so much in the past two years from playing."
Creating Chances
"With this year, I knew it was a World Cup year and I wanted to come back to play because there were opportunities as well to not only make a team but to play," DeCesare explained.
For DeCesare, as with many other professionals players abroad, the beginning of the year was major decision time. With the World Cup beginning in the middle of the NWSL season, it's given many players a chance to make teams and earn valuable playing experience while players are on national team duty. So choosing to come back to the United States and play in the NWSL was almost a given.
But when you don't have a current club to call home, getting opportunities to try out for teams falls squarely on the players. They need to promote themselves by contacting coaches and showing them game tape or hope former coaches will give good references.
DeCesare decided to attend the National Soccer Coaches Association of America (NSCAA) Convention held in Philadelphia in January to spread the word that she was open to playing with any team. With the NWSL Draft held in conjunction, she knew this was her shot, and maybe the only opportunity, to talk to coaches directly and make her case for a try-out.
"I was fortunate to have a couple of coaches make phone calls for me and I met with a couple of NWSL teams at the draft during the NSCAA Convention. I was at the draft for the second year in a row and that was where I talked with some of the coaches beforehand and told them, 'Hey, I'm going to be at the Convention,' and then at the Convention, I had some meetings with teams about potentially coming into camp and what they needed in terms of players for the season."
FC Kansas City was one team looking for a forward as the club knew attacking players like Amy Rodriguez would be away during the Women's World Cup. So DeCesare trialed with the Blues during the preseason and put together a nice camp, including scoring a pair of goals in FCKC's preseason match wins over the University of Kansas and the University of Missouri.
But as the preseason winded down and FC Kansas City didn't offer her a contract, time began to run out. A few days before the 2015 season started, DeCesare's phone rang and it was Sky Blue on the line with an offer.
"It was a time where other teams were allowed to contact me since I wasn't going to be signed by FCKC. So on, I think it was April 6th, I had a phone call from Sky Blue saying, "Hey, we want to offer you a contract." And I went to my coaches with FCKC and explained the situation and it worked out that Sky Blue took over my player rights and I was on a plane the next day."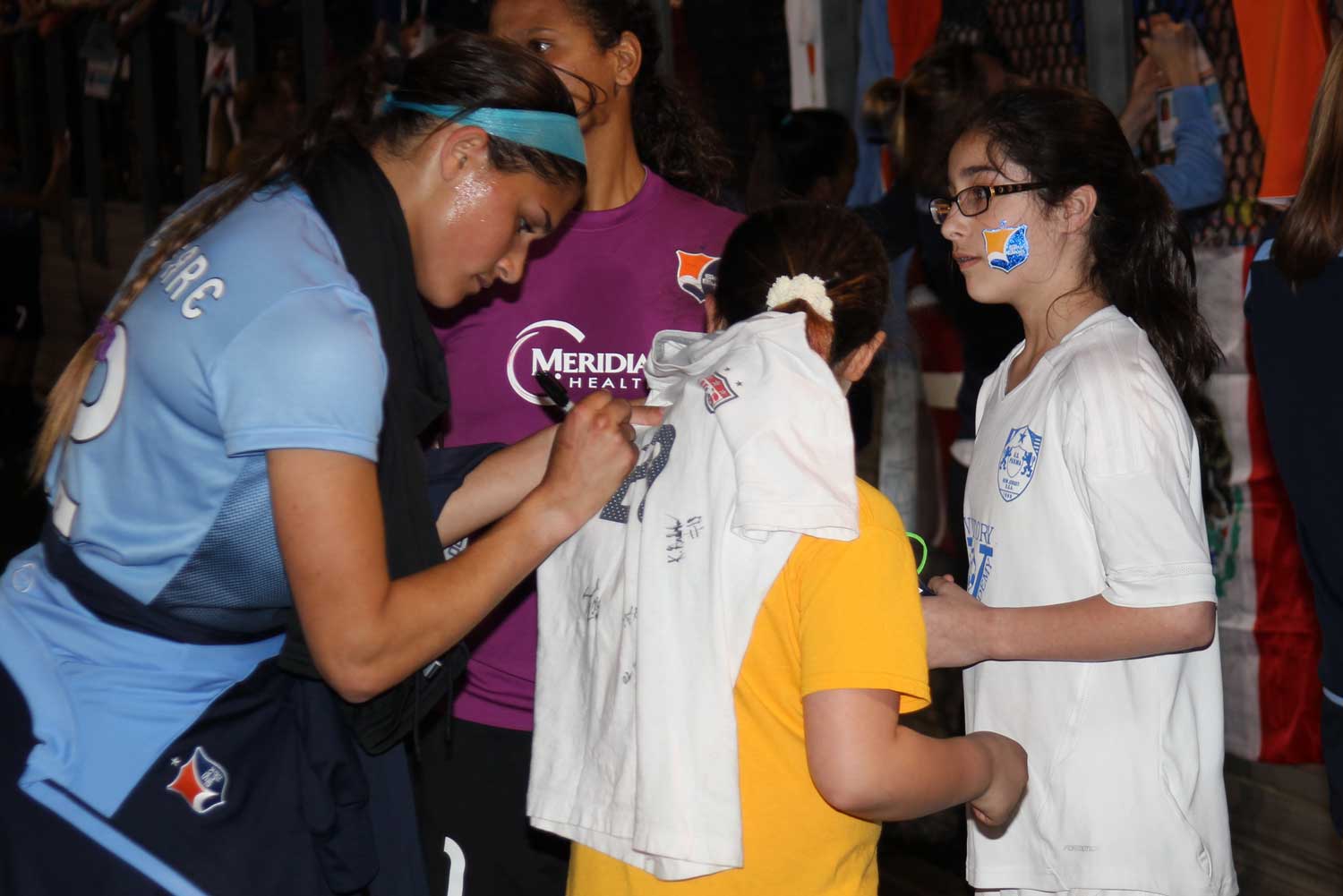 Settling In
So far, DeCesare has appeared in all nine matches that Sky Blue has played and has started four. While she admitted that the journey to this point hasn't been the smoothest, DeCesare has adapted nicely into the squad.
Sky Blue will have some turnover in its roster when six players competing in the World Cup, including attacking players such as Monica Ocampo and Samantha Kerr. But DeCesare believes that every player has a role within the squad and she wants to continue performing that role to the best of her ability, even if her role in a month changes from what it is at the moment.
"First and foremost, I want to have success for the team. And I don't know what type of situation I will be asked to play in for the next few games ahead of us, but whatever is given to me, I want to play well and score goals and to do everything to help the team win. I know that when the World Cup is over, we will have six players coming back into the team and I know roles are going to change. So I know that I will have to compete for a spot, especially when those players come back and [I] see how my role changes and do what I can to help us win."