Nine Squads, Nine Stories is a series that focuses on one story per club, highlighting a player or theme. This installment focuses on Amy LePeilbet, defender for FC Kansas City of the National Women's Soccer League, who has returned to the field after an injury sidelined her for 16 months.
---
 "For me, my goal was just to be playing at the professional level again because, at the beginning of 2014, I honestly didn't know if I could get back out on the field because I was struggling so much. So my goal was to play in the NWSL in 2015, and I've been really happy with what I have been able to achieve."
It's been a long road back for Amy LePeilbet. After missing the entire 2013 season of the National Women's Soccer League and half of the 2014 season recovering from knee surgery, she's found herself back to regular first-team soccer for FC Kansas City. So far, the 2015 season for LePeilbet and FCKC has been a good one as the Blues currently sit one point behind Chicago for top honors in the league and LePeilbet has started all six matches played. LePeilbet is feeling comfortable on the field again and has been enjoying the experience of being back in professional soccer.
"This year has been a lot of fun and a totally different year for me because I felt I was ready to play at the start of the year and went through the preseason with the team and grew with the team. I felt really confident when we started playing in the games and I just feel happy out there playing at a high level again."
Getting Back to Form
When the NWSL was formed in late 2012, the U.S. Soccer Federation allocated LePeilbet to the Chicago Red Stars. But in late January 2013, the Red Stars announced that the former national team defender would undergo surgery to repair a torn ACL in her left knee and miss the season. The recovery time was estimated at six to eight months.
After the 2013 season concluded, the Red Stars traded LePeilbet to FC Kansas City for draft picks and an international spot. After not taking the field at all in 2013 while recovering from surgery, she had reservations about her abilities and questioned whether she would be able to play again.
"I definitely doubted myself when it got closer to the season. I wasn't even sure if I could even achieve the level of play but when I ended up with Kansas City, they definitely took a risk on me and I wasn't sure if I could do it. I knew I was going to try every single day to get back but I hadn't even stepped on the field at that point when I got to Kansas."
LePeilbet still wasn't ready to hit the field once the 2014 preseason began and subsequently missed the beginning of the season. Once back on the field, it was all about getting back up to speed. After being out of the game for roughly 16 months, there was a lot of catching up to do before regaining full match fitness.
Once she was ready to go, LePeilbet made her first appearance of the season in an early June 2014 match against the Western New York Flash. From there, Kansas City head coach Vlatko Andonovski used LePeilbet as a role player off the bench during the latter part of the season. She appeared in 11 matches, starting four, and helped FCKC reach the playoffs, and eventually win the league crown on the road in Seattle.
Though LePeilbet was used mostly as a substitute, it was an ideal situation for her. She spent a good portion of the 2014 season playing catch up in terms of matching the speed of play and was still trying to shake off the rust from not playing competitive soccer in nearly two years. It was a role she would come to enjoy and readily embraced the challenges it brought.
"As a defender, you typically start or you don't play, but to be a player that comes in with 10, 20 minutes left and try to help and close and potentially win games was an exciting role for me. I really embraced it and enjoyed it and wanted to do my best when I was out there. It was the perfect scenario for me because I wasn't ready to start yet at that point but all I had to do was to play well for the 20-minute period or so that I was on the field."
While playing the "super-sub" role has it's perks, player don't grow up wanting to be substitute players; they want to be permanent fixtures in the starting XI. The same holds true for LePeilbet, who was a member of the U.S. Women's National Team that won the gold medal at the 2012 Summer Olympics in London. She wanted to get back into the starting lineup, and after a strong offseason, found herself in the starting XI for the team's first match in 2015. She's started every game since then.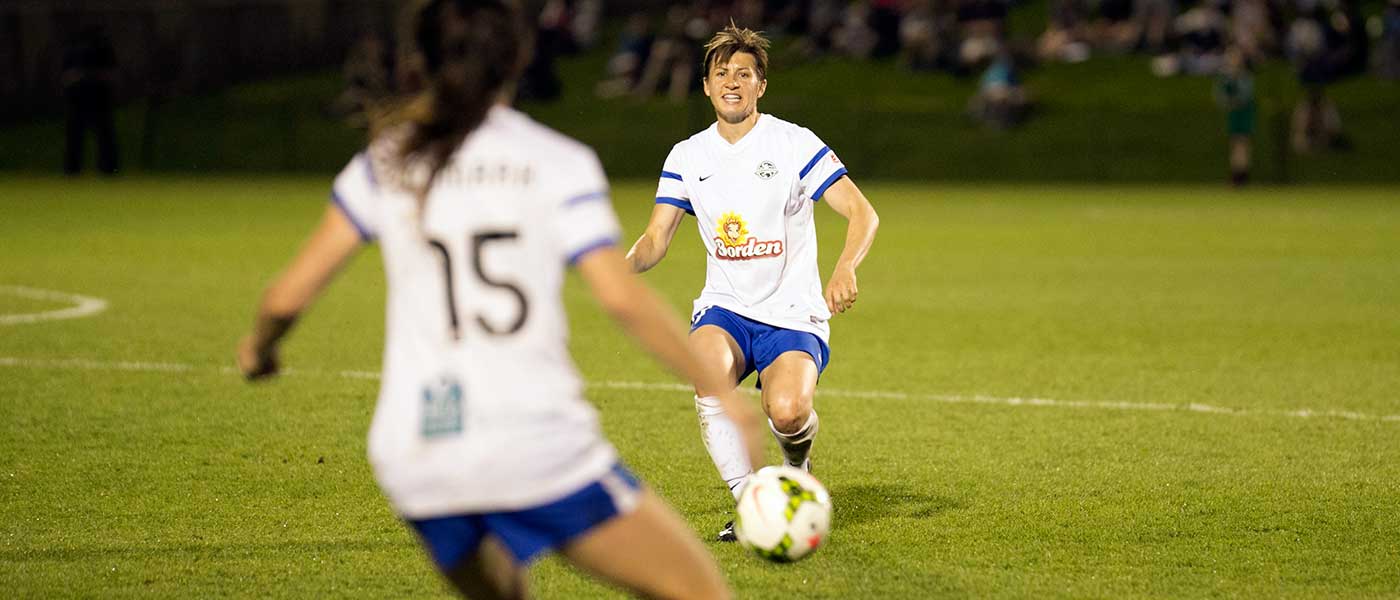 The Details to Success
"We couldn't really find the rhythm we wanted, we couldn't find the back of the net, and keep them from scoring in the first couple of games," LePeilbet explained. "So that was a little rough and disappointing. I wasn't too worried, though, because I believe in this team. We have a really strong squad so I knew we could turn it around and by the third game we did and I've been really happy with the past four games."
Though the beginning of the season opened with a 1-0 loss to Sky Blue at home and a 3-1 loss on the road at Washington, the FC Kansas City defense has tightened up and hasn't conceded a goal since. While scoring goals hasn't come as easily for the Blues this season as it did last year (five goals in six games), LePeilbet knows that at the moment her team may only need just a goal per game to get the job done with the type of defense the team plays.
"As a back line, we really take pride in getting a clean sheet and of course with our 'keeper too, we definitely want to get a clean sheet every game so we have the best opportunity to win. We've been really working hard to be a great-organized group defensively."
A big part of making the defensive duties easy for her and the rest of her teammates in the back is working under the direction of Andonovski. A former player in his own right, he stresses to his players about working on the small details and how they can make an impact on the field. And LePeilbet believes that working with Andonovski has helped her game with the focus to detail and the repetition that comes with it.
"We will have these 'defenders practices' where he really breaks a game down and we work on tactical things and technical things that defenders have to do. I've never worked with a coach before that breaks [defending] down to the teeniest, tiniest piece, which I love. It's awesome. We will work on the simple thing of zig-zagging through cones or stepping out and reacting to a through ball. But the drills move so fast so that your feet have to move incredibly quick, and when you've broken down that little piece, it almost seems like it's an individual session rather than a team session."
With the 2015 NWSL season broken up into three parts (pre-World Cup, during the World Cup, and post-World Cup), teams will have to rotate players in and out of rosters to deal with missing World Cup players. FCKC, however, doesn't have as big a drop-off in talent or experience to contend with as other teams will.
While FCKC is without four key players because of World Cup duty, there's still plenty of veteran talent on the team. During this part of the season, the Blues will still have LePeilbet, Nicole Barnhart, Yael Averbuch, Jen Buczkowski, and Leigh Ann Robinson among others available for selection. Having those experienced players around can take a little of the pressure off the younger players and allow them to continue to develop as opposed to carrying the work load.
"I actually see it as more of an opportunity for these young players," said LePeilbet, "because so many players that are in starting roles are not here for the break, so for these young players, they can get good minutes and gain that experience of playing professional soccer. I think many on our team have looked at it that way."
Finishing Strong
Although LePeilbet is currently focusing on her campaign with FC Kansas City, she well remembers four years ago when she was preparing to play in the 2011 FIFA Women's World Cup. Now, she'll be watching the tournament from a distance but it's something she's okay with, especially after all she's been through to get back onto the field. LePeilbet hopes the team has a successful tournament in Canada and wins the title that eluded them four years ago in Germany.
"I am really excited about this USWNT team," she said. "I believe so much in the team and I knew it wasn't in my path to be in this team [the 2015 squad], so all I've done is be there to support the girls that are on this roster. For this roster and some of the young girls that are on this roster that are in their first big tournament, I was incredibly happy for them because I've been playing with some of them. And for a lot of the veterans on the team, I am looking forward to watching them play and want them to win the World Cup."
Once the tournament concludes in early July, FC Kansas City will be back at full strength. As the defending champion, however, the Blues know they will have a target on their backs.
LePeilbet believes the team can win the title again but they'll need to continue to do the simple things that got them to last year's final and not worry about the big picture.
"We will need to continue to grow and develop and we have to get a good amount of wins to get [into the playoffs]. What is so cool about this league is every team is a challenge and every team is good, so every game counts, which is what you would want from a professional league. So for us to repeat, we definitely have to focus on one game at a time and not look so far forward just yet, and it is just one game at a time for us to win it all."