After dropping its first match to Costa Rica, Mexico took advantage of the schedule and the game, making nine changes to the starting lineup in a 10-0 win over Martinique. Seven different players scored for Mexico with Luz Duarte and Mónica Ocampo each scoring twice and an unfortunate deflection by a Martinique player resulting in an own goal.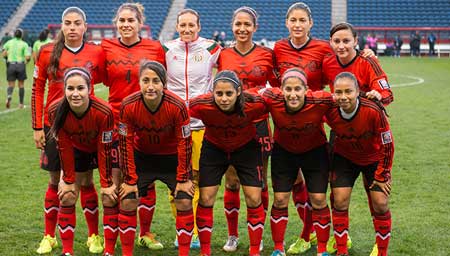 With Costa Rica securing a 2-1 win over Jamaica in the earlier Group B match, Mexico needed at least a win this evening to keep its semifinal hopes alive. Following the 10-goal shutout, Mexico can advance with a win or a draw in its final group match against Jamaica on Tuesday in Washington, D.C.
Tanya Samarzich put Mexico on the scoreboard in the 7th minute, but the attack would remain frustrated for more than 20 minutes before Luz Duarte scored her first goal of the night. The final 11 minutes of the first half included goals by Sandra Mayor and defender Alina Garciamendez, as well as Martinique's own goal. Mexico hit its stride toward the end of the first half, and fatigue would catch up with Martinique in the second. Duarte, Dinora Garza, Ocampo, and Teresa Noyola rounded out the scoring. Martinique was held to only three shots throughout the entire match and relied heavily on goalkeeper Cathy Bellune and a determined defensive effort to hold off heavy pressure.
Of Mexico's starters in its opening loss, only defender Paulina Solis and midfielder Sandra Mayor carried over to Saturday's starting XI. The condensed match and travel schedule had most teams working on recovery tactics rather than drastically changing lineups for the second round of games, but Mexico will have the option of fresh legs when closing out group play.
Up Next
Mexico face Jamaica and needs only a draw to advance out of the group and into the semifinals. Jamaica must win so expect the Reggae Girlz to try to find width and use their speed advantage to stretch Mexico.
Martinique faces a strong Costa Rica side that has already secured a spot in the semifinals and will most likely resting as many starters as possible. The Martinique side has been overmatched in the tournament, but has remained positive throughout.
Group Stage

RFK Stadium; Washington, D.C.
October 21
5:00 pm ET
Martinique vs. Costa Rica
7:30 pm ET
Mexico vs. Jamaica