Bella Sember, 10, was one of three girls in the United States selected by FC Barcelona coaches to train and participate in a tournament in Barcelona, Spain. Bella and her younger sister, Ruby, represented Team USA in the FCBEscola International Tournament, which started on April 14. Players from all over the world competed in different age categories. Bella shares her experiences with us below.
Bella's prior entries: Day 1   |   Day 2
Day 3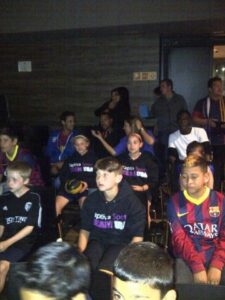 Today we had two games. Our first game was against Brazil and we lost, 1-0. The Brazilian fans had horns they blew the whole game and they were really loud. We were sad because it was the semifinals. This was the first game we lost, but Brazil was really good. They were strong and fast and knew how to pass the ball and move well.
Our second game was for third place against Barcelona. We lost, 2-0. Some of our players thought it would be an easy game so maybe we weren't ready for them. Unlike the real Barcelona team, this team was physical. In both games, I took good shots and I thought I was going to score, but I didn't.
Tonight was the Copa del Rey final between Barcelona and Real Madrid. Everyone took a bus to a big room near Camp Nou. There was a huge TV set up and rows of seats for us to watch. All of the kids sat together in the middle and we cheered for Barça. Barça lost, 2-1, and we were stunned they lost and Neymar missed his chance.
Here they have a channel called Barça TV and it's all FC Barcelona. I like falling asleep watching it.