[dropcap]A[/dropcap] roundup of what happened in women's soccer this past week and what's happening next week. Results, attendance where available and notes from leagues, teams and competitions.
It's the roundup you never knew you needed.
FA WSL
England's FA WSL kicked off its fourth season.
Results
Birmingham City Ladies 0-0 Everton Ladies FC
Fresh off of quarterfinal wins over Arsenal in UEFA Women's Champions League, Birmingham played to a draw against Everton. Both teams hit the woodwork but failed to see any shots find the back of the net. Birmingham will next turn its attention to Champions League, as it meets Tyresö FF on Saturday.
Attendance: 657
Notts County Ladies FC 1-1 Arsenal Ladies FC
Notts County went ahead in the first half on a Jess Clarke goal (26′), but Arsenal's Alex Scott put one away in the second half (54′) to tie up the game. Desiree Scott, Canadian Women's Team international and former FC Kansas City midfielder, played the full 90.
Attendance: 1,583
Bristol Academy 0-2 Chelsea
Chelsea started its campaign with a 2-0 win over Bristol Academy. Yuki Ogimi with a brace (12′, 37′) for Chelsea.
Attendance: 1,313
Liverpool 1-0 Manchester City
Natasha Dowie scored in the 70th minute for the defending champions as Liverpool downed Manchester City.
Attendance: 1,572
Damallsvenskan
Sweden's top league resumed play as new-name FC Rosengård (formerly LdB Malmö) blanked AIK, 4-0, and Vittsjö, 7-1.
Tyresö faltered 0-2 to Kristianstad and will have to regroup and refocus as they take on Birmingham City in the first leg of a Champions League semifinal on Saturday.
And Ali Riley returned after surgery in February to score off a left-footed strike against Vittsjö:
When she's not scoring goals, Riley and Rosengård teammate Anita Asante launched The A&A Show:

Riley's been named to New Zealand's squad for its upcoming friendly against Japan on May 8 in Osaka. Also returning are Ria Percival and Anna Green.
Results
AIK 0-4 Rosengård
Vittsjö 0-5 Göteborg FC
Piteå 1-0 Linköping
Jitex 0-1 Umeå
Kristianstad 2-0 Tyresö
Eskilstuna United 2-0 KIF Örebro
Rosengård 7-1 Vittsjö
KIF Örebro 2-0 Jitex
A Look Ahead
International
UEFA Champions League is back in action as the first legs of the semifinals kick off on Saturday.
April 19, 2014
Potsdam vs. Wolfsburg
Birmingham City vs. Tyresö FF
The second legs are on April 27, 2014.
Brief highlight package from all four teams available here: http://www.uefa.com/womenschampionsleague/news/newsid=2091964.html
NWSL
April 19, 2014
FC Kansas City vs. Washington Spirit
Western New York Flash vs. Chicago Red Stars
Portland Thorns FC vs. Sky Blue FC
April 20, 2014
Houston Dash vs. Boston Breakers
Watch For This
The season's first mid-week game features Seattle Reign taking on Washington Spirit, in a battle of the 2013 season's bottom-dwelling teams. It's a different year though, as the Reign are stronger from top to bottom and saw the results of offseason roster changes in a 3-0 win over the Boston Breakers to start the 2014 campaign. The Spirit have revamped but still have some work to do as evidenced by a 1-3 result against the Flash in its season opener. The Spirit will have their hands full not only with the Reign's offense but also dealing with cross-country travel after playing on Saturday. Travel fatigue is always a consideration but it's something to watch for as more mid-week games have been added to this year's schedule.
Bundesliga
Bayern München and Frankfurt meet, with Frankfurt needing a win to pull ahead of league leaders Potsdam, who host the first leg of a Champions League semifinal against current champion Wolfsburg on Saturday. Both teams are back in league action on May 1.
April 19, 2014
Duisburg vs. Freiburg
April 21, 2014
Sindelfingen vs. SGS Essen
Bayern München vs. FFC Frankfurt
USV Jena vs. Cloppenburg
So That Happened
The New York Times has a piece on the NWSL: http://www.nytimes.com/2014/04/18/sports/soccer/clinics-offer-national-womens-soccer-league-a-path-to-success.html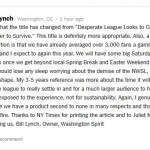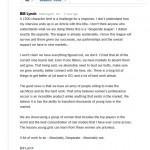 The article, originally entitled "Desperate League Looks to Connect in Order to Survive," has now undergone a title facelift to "Women's Soccer League Tries to Connect and Survive."
Comments, such as they are, include two from Washington Spirit owner Bill Lynch (click on images for larger view).
Several heads firmly scratched about several things regarding the article.
***
The Football Federation Australia fired Hesterine de Reus as head coach of the Australian Women's National Team. Alen Stajcic, head coach of Sydney FC, will helm the squad in the interim. The team heads to Vietnam next month for the AFC Women's Asia Cup.
FFA, I believe the phone number you're looking for belongs to a last name under "S" in your contact list.
Good So That Happeneds
Chicago Red Stars added CJ Wilson Mazda as the Presenting Partner on its jerseys for the 2014 season. The Red Stars open at home this Saturday against the Western New York Flash.
Western New York Flash partnered with Network Task Group for the 2014 season. The company's logo will be featured on the back of Flash jerseys.
Plug City
Interview: Tiffany Weimer
Fresh Perspectives, our interview series with players and coaches, kicked off with Washington Spirit forward Tiffany Weimer. When not nutmegging, Weimer is also the Editor in Chief of Our Game Magazine, so this wasn't awkward at all. Ruth Moore, OGM's design editor, caught up with Weimer to discuss NWSL and the Spirit.
NWSL Week 1 Review
JJ Duke reviews Week 1 of the NWSL. Check out the players who shined during the league's opening weekend of play, the storyline to watch, and what needs work.
Photos: Washington Spirit vs. Western New York Flash (04/13/2014)
Ruth Moore was at Washington's home opener and caught the action.
NWSL Attendance Watch
A look at the attendance for NWSL opening weekend. Plus, head-to-head attendance numbers for each team.