My name is Christine Nairn and I'm writing for Our Game Magazine. I inquired about the job because I wanted to put players in the spotlight who normally don't get a lot of recognition. We're entering the National Women's Soccer League's (NWSL) seventh year, and there are so many players fans may not know a lot about. So I'm going to tell a bit of these players' stories. Follow along as I (too) meet new players, acquire life advice, and learn about players' paths to and within the NWSL.
Editor's note — The interview has been edited for clarity.

My first guest is someone I grew up playing with on the U.S. youth national team when we were 14 years old. She is a Florida State University alum and currently plays center back for the Orlando Pride. Can you guess who she is? If not, here are five ways she describes herself:
Introverted.
Compassionate.
Foodie.
Poetic.
Loyal.
Know who it is yet? Toni Pressley!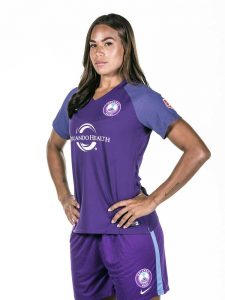 If you guessed correctly, well done! If not, continue to follow along as I ask Toni some questions about her outlook on life and soccer. Hope you enjoy this as much as I did!
Christine Nairn: What quote do you live your life by and why?
Toni Pressley: "Let it be."
I am a huge control freak and I give myself a lot of unnecessary anxiety because of it. This phrase reminds me to not get too attached to things, situations, or have expectations of how things should be. "Let it be" helps eliminate a lot of unwanted stress in my life.
Nairn: When you think of the word successful, who do you think of and why?
Pressley: When I think of the word success, I think about people who are doing the thing(s) they are truly passionate about. I do not think of success in the conventional way: rich, famous, et cetera. To me, success is defined as doing what you love and doing what brings joy into your life.
Nairn: As a professional athlete, nutrition can be a determining factor in a player's career. You recently become vegan. How did this start and how do you make sure you are prepared for training and games calorically?
Pressley: I have been a pro since 2012 and my 2016 season didn't go the way I envisioned it going. I became very stressed, unhappy, and gained weight for a number of reasons. I didn't feel like myself on the field; something needed to change.
I knew when the season ended I needed to get fitter and get myself in a position to better myself on the field. While at first veganism was something I had an interest in, it quickly became something I was really focusing on because of the positive impact it was having on my life. I saw that along with my offseason fitness program, I was losing weight and feeling better physically. I stayed in the Orlando area and was able to take advantage of the facilities and small-sided sessions with Alex Morgan, Ali Krieger, Ashlyn Harris, and some of the MLS guys.
A friend of mine, Adam, who worked in MLS as a fitness coach (currently now in the NBA), mapped out my entire offseason. With his help, along with this new vegan diet, I was seeing dramatic results. After losing 20 pounds, I was less sore after my weight training, I recovered better after field sessions, and was sleeping better. I was happy again.
With all this being said, I still needed guidance with the new diet. I spoke with our team nutritionist to understand macro and micro nutrients and the best way to obtain these on my new diet. Believe it or not, it was not until this point that I understood the phrase "food as fuel." When I was younger, I could get away with eating anything I wanted to, but as I got older that was not the case.
I gained a new understanding of nutrition and what it takes to fuel my body, and what it means to eat to live. It also taught me about animal suffering and environmental degradation by raising animals for food. Veganism certainly it isn't for everyone, but I think being a vegan has helped me tremendously on and off the field and has saved me in a lot of ways. Going vegan didn't happen overnight. It was a gradual process.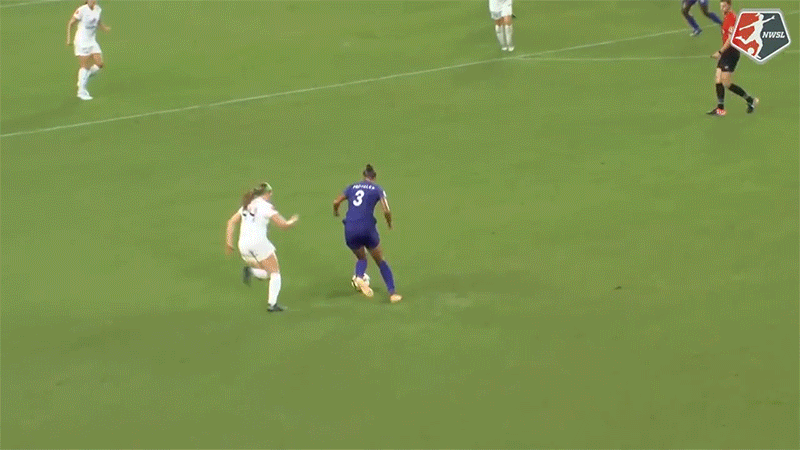 Nairn: With this being your seventh year as a pro, what is the best advice you could give a NWSL rookie and/or future NWSL star?
Pressley: Do not compare yourself to anyone else! 
Every player's situation is different. Everyone has a journey and role that evolve at different times. There are many avenues to reach a goal. What works for someone else, may not be suited for you. Sometimes it is hard to see in the moment, but it's not always a one-size-fits-all scenario.
Nairn: What is your response to people who ask, "When are you going to get a real job?"
Pressley: I never really have a definite answer when I'm asked this question. In my mind, I will play soccer as long as my body and opportunity allows me to. It's tough not making a substantial living playing pro, but at the moment I wouldn't want to be doing anything else because when the professional life is over, it's over.
Only a select few people get to experience this life, the friends you make, places you visit, and lessons you learn because of the game.
Nairn: As female professional athletes, we always have to be one step ahead of the game and plan ahead — you never know with injuries, league stability, et cetera. What is next for you after soccer?
Pressley: My dream job (post-soccer career) would be to own and operate an animal rescue of some kind. I have always loved animals and growing up I wanted to be a veterinarian or veterinary assistant.
My desire to help animals has always been there. There are countless animals being mistreated and abused, and I want to create a place where I have the ability to help any and all kinds: dogs, cats, cows, pigs, horses, chickens, you name it.
Nairn: As NWSL players, we have this strange addiction with soccer. At times we're on cloud nine after a win while at other times we struggle physically, mentally, and financially. What is one struggle that has molded you into the player/person you are today?
Pressley: Knowing that it's okay to have set backs and fail. It has made me stronger mentally, on and off the field.
I think just realizing and understanding that in soccer, a lot of things haven't gone according to plan.
After gaining insight into Toni's life, she has a simple outlook on success: "Success is about people who do what they love and what brings joy into their life."
It is a way of life to find your passions and euphoria. By changing her diet and training program, Toni was able to find her euphoria on the soccer field. Off of the field, Toni gives back to the community by volunteering at local animals shelters.
With Finding Euphoria, I'm trying to promote happiness through action. The secret to life is to actively seek your happiness. We all struggle with problems, at every stage in life, but what defines you as a person is how you react to those problems. Stop making excuses and go find your euphoria, whatever it may be!