"I'd like to get to 12, get to 14 teams, have a balanced schedule, that automatically means more games. That evolution will take some time. But we believe the marketplace will be responsive to that." — Jeff Plush, NWSL Commissioner
[dropcap]J[/dropcap]im Gabarra is a realist.
The Washington Spirit head coach headed south after three seasons with Sky Blue FC, but he's been a fixture in women's soccer for two decades. He's seen it all — the triumphs, the hopes dashed by failing leagues — the past, for Gabarra, always grounds the desire to see future growth in the sport.
So it was remarkable to hear him sound on National Women's Soccer League's College Draft Day 2016 as optimistic as he's ever been. Then again, there's never been a time when women's soccer in this country could inspire this level of excitement and faith in the infrastructure in place to support the next wave of players.
Cause for Optimism
"It's like my eyeballs are popping out of my head," Gabarra said, standing in the ballroom at the Baltimore
Convention Center shortly after the draft concluded on January 15.
"The analogy I gave someone is, it's like a hurricane going through a funnel. So many things are happening. To have a discovery rule created the night before the draft. To have a player come in and skip college — that's a huge step. I didn't anticipate it happen it yet. Just hold onto your hat and make sure your eyeballs are in your sockets, because I don't think you need to measure. It's going to move like technology — exponentially."
While that player Gabarra referred to as skipping college — Mallory Pugh — ultimately changed her mind, the reality of the NWSL as a viable option for her and many others with potential alternative destinations can't be denied. Whether it's Raquel Rodriguez of Costa Rica, the second overall pick to Sky Blue FC, Rachel Daly, the sixth pick to Houston who chose the NWSL over returning home to the FA Women's Super League (FA WSL), or even the Pugh of her time, Lindsay Horan, who returned home to NWSL from Paris St. Germain, players all over the world are looking at the league in its fourth season as a magnet, not a stopgap.
But the league is not at a destination point so much as it appears to be moving along the right track toward what everyone hopes it will be — a way for hundreds of players, domestic and international, to earn a living wage playing a full season available to fans to watch on television and at easily-accessible, soccer-specific stadiums.
Television Deal
A great deal of that progress rests with the television contract for the league. Both players and front office members alike grumbled at virtually everything that went along with last season's television deal with Fox, from just a half-dozen games to the fact that the deal itself wasn't announced until well into the NWSL season.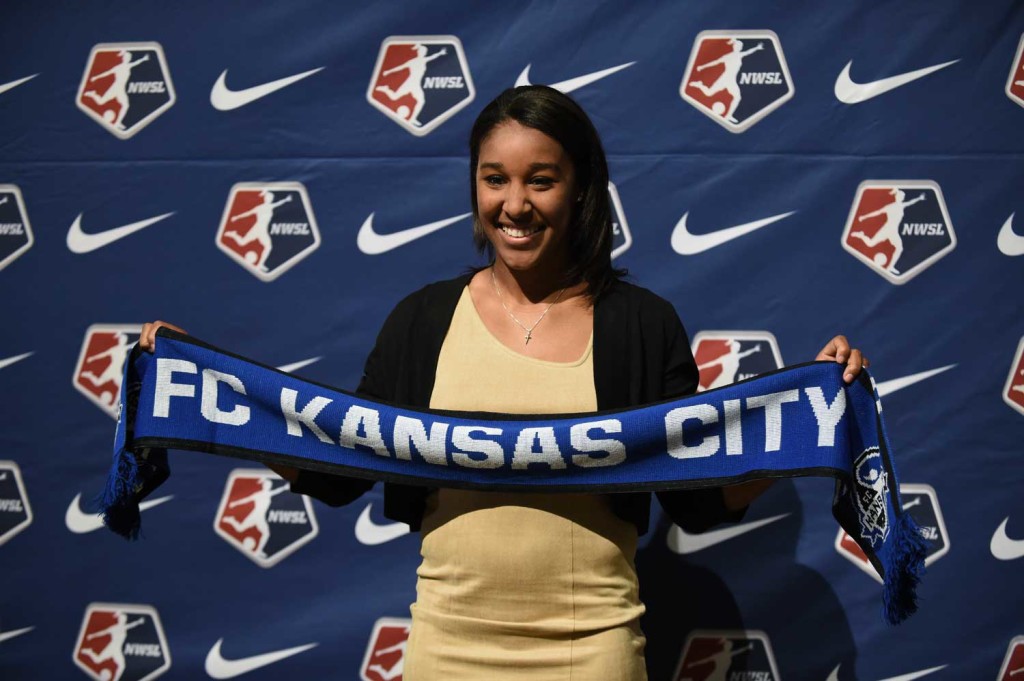 "We're looking for it sooner than we had it last year," NWSL commissioner Jeff Plush said while addressing the media after the draft, surrounded by reporters in front of an NWSL backdrop.
"I'm confident about that, I wouldn't give you a timetable just yet. We're looking for those who want to continue to be a good partner of ours. And out of that as a starting point, we'll continue to fight for the most possible games. Is there a possibility of more than one outlet? Sure, I think we'll look at that as well. At the same time, we're looking at how to elevate our streaming capabilities, to elevate our own content."
But without exception, the just-drafted players expressed their belief that for the league to more completely enter the larger sports conversation in this country, terrestrial television, not just YouTube streams, will be required.
"TV time is definitely important," Brianne Reed, eighteenth pick to FC Kansas City, said just after she was drafted. "It's one thing to live stream a game. But to be able to flip to a channel and see a women's soccer game, I think that's a really important part of it."
Or as Caroline Casey, 29th pick to Sky Blue FC, put it, "At the end of the day, almost everybody has a TV. At the end of the day, I watched almost all of the World Cup games on TV with my family and friends. So that's the most universal way."
Growth
The television issue is part of a larger desire to see the NWSL take full advantage of the enormous audience that the 2015 FIFA Women's World Cup demonstrated exists for the sport, and for the stars that populated both that tournament and this league. Plush said the league experienced 29 percent growth, year-over-year, in 2015, but without more television time, or new sponsorship deals — the league hasn't added a single new one since the end of the World Cup — tangible results will be harder to point out.
To Randy Waldrum, head coach of the Houston Dash, the sheer totality of enthusiasm itself made it harder for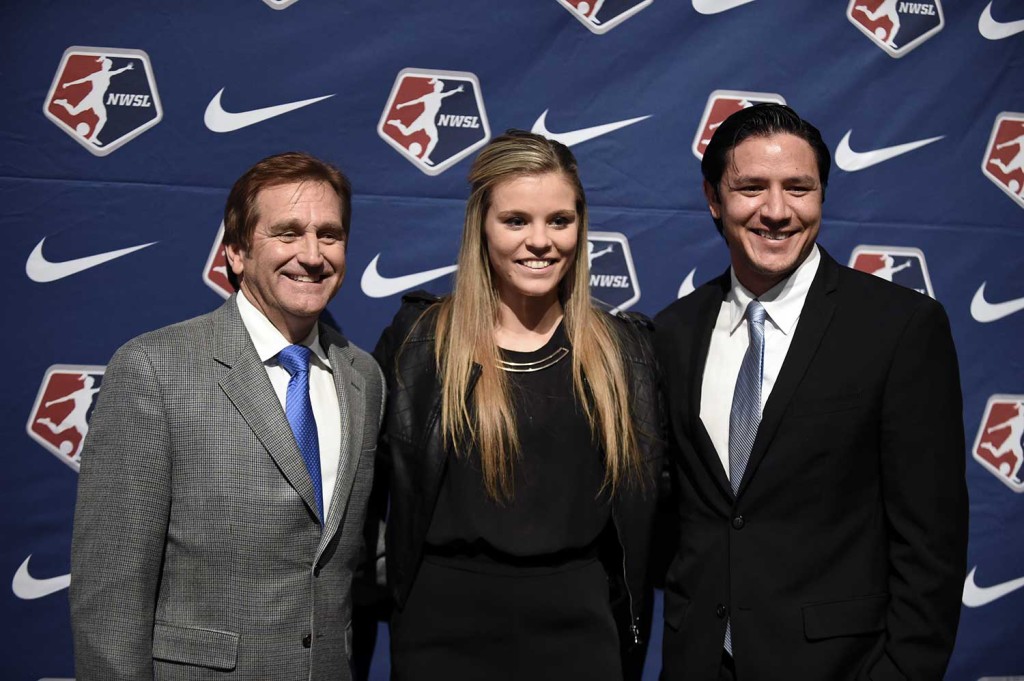 the league to convert it all into revenue and growth.
"I think where we struggled with it last year, where we struggled with it was that neither side, the national team or the league, was prepared for the demand of the players after winning it," Waldrum said during the draft. "So I think there were a lot of marketing things — we thought they were coming back the week after, into the market, in games, a lot of teams promoted it, and the players didn't want to do that. They needed rest and recovery. So we're a lot better prepared for it this time."
But Plush believes much of the pessimism that prevented such growth has disappeared with the simple passage of time, and NWSL's continued existence.
"We've got our renewals, of Nike, of Coppertone, and National Mango Board," Plush said. "[I'm] pleased with all of those things. And we're out there every day, and as you know, Soccer United Marketing, no one is better-equipped to sell soccer in the United States than SUM is. So there's a tremendous amount of activity. Feeling good that we'll get things over the line in time for the April openers. But sponsorships don't happen overnight. And if we're all being honest, there were as many conversations last year about whether we were going to be around for a fourth season. So we're often held to an odd standard — 'why haven't you sold sponsorships when we don't even think you're going to be around.' I think we've hopefully pushed through that."
Expansion
Another metric to use is the expansion of the league, now up to 10 teams following the addition of the Orlando Pride. Plush sees this not as anything close to the final expansion, not only in terms of number of teams but also for the league's season as well.
"Do we want to expand our season? Yes. Do we want to have more games? Sure. Does the footprint need to grow appreciably more? I'm not sure of that, but the number of games needs to grow," Plush said. "But I think we'll continue to grow. I'd like to get to 12, get to 14 teams, have a balanced schedule, that automatically means more games. That evolution will take some time. But we believe the marketplace will be responsive to that."
"For me, for the purposes of this answer, I'll say ten-year window. Because you don't want to put a time frame on it. You want to find people who are committed to it for the right reasons. People who understand, as we talk about development, that it's part of a pyramid system, that it's part of a larger soccer community. And that takes time. But do I think there's an appetite in, six more markets over the next ten years? Absolutely I do."
As for the teams themselves, Plush sounded more interested in a model that included larger rosters than he did in an NWSL Designated Player rule. More significantly, he talked about the need to increase salaries, of vital import when so many NWSL players still aren't making a livable wage from playing soccer.
"We'll continue to see salaries grow, year-over-year, as we have," Plush said. "You can make the argument for a designated player, but I think you could equally make the argument for larger rosters, which if you are talking quality of play, in terms of going to 24 to better weather injuries and call-ups. These are the kinds of conversations that are fun to have, because they're about the growth of the sport."
"We've successfully taken things up each year. We've taken the top-end up, we've taken the bottom-end up. The insurance coverages — we're trying to treat the players as well as we can, and do so within a sustainable business model. Our primary responsibility is making sure we're open for business, year after year, and against that backdrop, we'll do more and better by our players. There's certainly a commitment to that. It just has to be on a timescale that makes sense."
And that commitment to slow, steady growth is shared by many players, though the reality is that the slower it goes, the more significant soccer talent will be lost to the league every year from early retirements, women unable to continue playing when their financial needs increase as they reach their later 20s and early 30s.
And so to truly reach parity with other professional leagues in this country, crowds need to expand as well. Fortunately, the league knows precisely where to find those people.
""We've spent 15 years now pounding away at the soccer market, and then the other niche markets," Gabarra said. "I think it's got to overflow and blossom into those other markets — the casual fan, those people who just want to go to an event. It's very promising."
[dropcap]H[/dropcap]ow will we know it is working in 2016? Plush said it comes down to moving forward.
"I wouldn't put a number on it," he said. "We want year-over-year growth. We're the fourth year of a start-up company. That's the best way to look at it. If we show growth in the important metrics — that's ticket sales, and that's people in the building, that's digital media metrics growing — would I love it to all grow at huge proportions? Of course. But if it grows, it's a positive year. There's no lack of demand on our potential customers. I'll take slow growth every year for the next 20 years and feel great about where that will take us."
As for Brianne Reed, she has as helpful a metric as any.
"I think for me, it's hearing people on the street talking about the women's professional league," she said with a wide smile. "Being among the conversation for the NBA and the NFL. That would be really cool."